Belichick visits with Red Sox
March, 17, 2011
3/17/11
2:03
PM ET
[+] Enlarge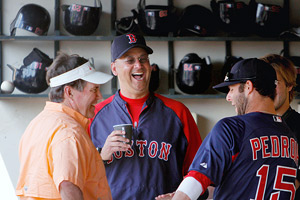 AP Photo/David Goldman
Patriots coach Bill Belichick has spent the last few weeks in Florida, mixing pleasure with college scouting.
One of Belichick's favorite things to do on his annual Florida excursion is take in spring training baseball.
Yesterday's stop: A visit with the Red Sox at their game in Lake Buena Vista, Fla., where he joked with Terry Francona and Dustin Pedroia in the dugout (photo on right).
By the start of next week, Belichick is scheduled to be in New Orleans for the NFL's annual meeting.
ESPN Staff Writer
Covered Patriots since 1997
Joined ESPN in 2009
ABOUT THIS BLOG

Gordon Edes
Gordon Edes, who joined ESPNBoston.com in Nov. 2009, has covered MLB for more than 25 years. He spent 12 years covering the Sox for the Globe. Ask a question for his next mailbag. Follow him on Twitter here.

Joe McDonald
Joe McDonald, a native Rhode Islander, joined ESPNBoston.com as a Bruins and Red Sox reporter in February 2010. He worked at the Providence Journal for 18 years and covered the Red Sox, Bruins, Patriots, PawSox and Providence Bruins. He's a three-time winner of the National Sportscasters and Sportswriters Association's state Sportswriter of the Year for Rhode Island. Follow him on Twitter here.
2017 AMERICAN LEAGUE EAST STANDINGS
UPCOMING GAMES
| | W-L | HM | AW | STK | L10 |
| --- | --- | --- | --- | --- | --- |
| TEX | 24-23 | 16-8 | 8-15 | L2 | |
| BOS | 24-21 | 14-9 | 10-12 | W3 | |
| | W-L | HM | AW | STK | L10 |
| --- | --- | --- | --- | --- | --- |
| SEA | 20-27 | 13-9 | 7-18 | L5 | |
| BOS | 24-21 | 14-9 | 10-12 | W3 | |
| | W-L | HM | AW | STK | L10 |
| --- | --- | --- | --- | --- | --- |
| SEA | 20-27 | 13-9 | 7-18 | L5 | |
| BOS | 24-21 | 14-9 | 10-12 | W3 | |
BLOG ARCHIVE:
CATEGORIES:
MAY 2017
JUNE 2017
JULY 2017
Sun
Mon
Tue
Wed
Thu
Fri
Sat

1

@BAL
7:05 PM ET

2

@BAL
7:05 PM ET

3

@BAL
7:15 PM ET

4

@BAL
1:35 PM ET

5

6

@NYY
7:05 PM ET

7

@NYY
7:05 PM ET

8

@NYY
7:00 PM ET

9

DET
7:10 PM ET

10

DET
7:15 PM ET

11

DET
8:00 PM ET

12

PHI
7:10 PM ET

13

PHI
7:10 PM ET

14

@PHI
7:05 PM ET

15

@PHI
7:05 PM ET

16

@HOU
8:10 PM ET

17

@HOU
8:15 PM ET

18

@HOU
2:10 PM ET

19

@KC
8:15 PM ET

20

@KC
8:15 PM ET

21

@KC
2:15 PM ET

22

23

LAA
7:10 PM ET

24

LAA
7:15 PM ET

25

LAA
1:35 PM ET

26

MIN
7:10 PM ET

27

MIN
7:10 PM ET

28

MIN
7:10 PM ET

29

MIN
7:10 PM ET

30

@TOR
7:07 PM ET

Sun
Mon
Tue
Wed
Thu
Fri
Sat

1

@TOR
1:07 PM ET

2

@TOR
1:07 PM ET

3

@TEX
8:05 PM ET

4

@TEX
8:05 PM ET

5

@TEX
8:05 PM ET

6

@TB
7:10 PM ET

7

@TB
7:10 PM ET

8

@TB
4:10 PM ET

9

@TB
1:10 PM ET

10

11

12

13

14

NYY
7:10 PM ET

15

NYY
4:05 PM ET

16

NYY
1:05 PM ET

17

TOR
7:10 PM ET

18

TOR
7:10 PM ET

19

TOR
7:10 PM ET

20

TOR
1:35 PM ET

21

@LAA
10:07 PM ET

22

@LAA
9:07 PM ET

23

@LAA
3:37 PM ET

24

@SEA
10:10 PM ET

25

@SEA
10:10 PM ET

26

@SEA
3:40 PM ET

27

28

KC
7:10 PM ET

29

KC
7:10 PM ET

30

KC


31

CLE
7:10 PM ET