Preview: 10 bold Red Sox predictions
March, 29, 2011
3/29/11
11:20
PM ET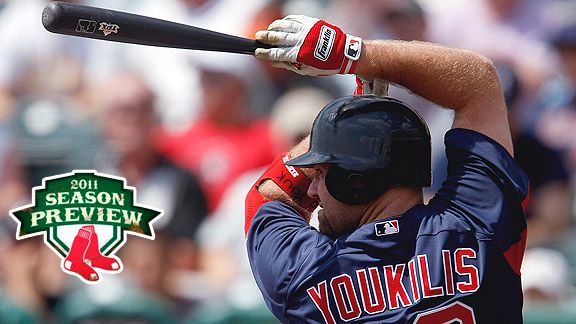 AP Photo/David Goldman
FROM FORT MYERS TO HOUSTON -- OK, so "bold" may be overstating the case, and predictions are usually best forgotten, especially those made by someone posing as a baseball savant who 1) never has had to recognize the tight spin of a slider a microsecond before it reaches the plate and 2) went to dinner in spring training wearing unmatched loafers and on another day left the keys in his car with the engine running (both happened; the white jackets in Bristol have been alerted).
But part of the fun of Opening Day is pretending to have an idea how the next six months will unfold. We all do it, we mock those who lack our wisdom, and then, when we finally reach October, profess no knowledge of what we forecast. So, in that spirit, let me offer 10 (ahem) bold predictions for the Sox in 2011.
(Click HERE for the photo gallery feature).
And check out our other Sox preview features from earlier this week and what's coming on Thursday and Friday:
•
MONDAY:
Can the Red Sox win 100 games?
•
TUESDAY:
The importance of Terry Francona
•
TUESDAY:
American League East team-by-team rundown
and
preseason all-star team
•
TUESDAY:
Ten things we learned about the Red Sox at spring training
•
WEDNESDAY:
Answering 10 burning questions on the Red Sox
•
WEDNESDAY:
Roundup of Red Sox predictions from across the blogosphere
•
THURSDAY:
Meet the 2011 Sox.
Running down the 25-man roster to give a player-by-player scouting report.
•
FRIDAY:
Season of great expectations.
The ownership group put the pieces in place, the baseball ops folks guided them through a smooth spring training, and now it's up to the players to perform up to their expectations. Will Gonzo and Crawford be hits in Boston? Will Kevin Youkilis, Dustin Pedroia and Jacoby Ellsbury bounce back from injuries? Can Lester and Buchholz repeat their success? Can Beckett, Lackey and Papelbon bounce back? Here we go …
•
FRIDAY:
We'll be in Texas for the season opener.
First pitch around 4:10 p.m. ET.