Pedro open to comeback with Red Sox
April, 10, 2011
4/10/11
4:40
PM ET
With the Red Sox pitching staff off to a shaky start, could Pedro Martinez provide some help?
[+] Enlarge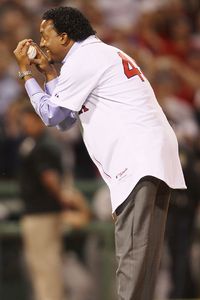 Elsa/Getty ImagesPedro Martinez throws out the first pitch at last year's Fenway opener. He says he wouldn't mind wearing a Sox uniform again.
In a
Q&A with the New York Times
, Martinez said he'd interested in returning to the major leagues and would prefer a return to the Red Sox to end his career.
Martinez hasn't pitched since the 2009 World Series, when he faced the Yankees while with the Phillies.
Asked how quickly he could be ready to pitch, Martinez said, "I'm in shape right now and I'm training and I'm playing catch, so getting to full strength would probably take me a month, month and a half, to be on a mound."
Asked which team he would choose among the Red Sox, Phillies and Yankees if the money were equal, Martinez said, "I'd probably have to say the Red Sox. I would like to win a World Series in the National League, so the Phillies are in there, too. But for the time I'm going to be playing, I think Boston is more suitable so that I can retire with the Boston Red Sox and go to the Hall of Fame with the same hat."
Before Sunday night's game, Red Sox manager Terry Francona had little light to shed on Martinez.
"It's hard for me to comment on something I don't know anything about," Francona said. "Believe me when I tell you, I haven't picked up a paper. I would be giving a comment that I don't know anything about."
Francona said the last time he spoke with Martinez was during the offseason when both attended David Ortiz's charity golf tournament in the Dominican.
"It was a real nice conversation," Francona said. "It wasn't about him pitching here.
In the New York Times piece, Martinez also predicted the Phillies would beat the Red Sox in the World Series.
"I believe if the pitching staff stays healthy, I'd pick the Phillies to win the World Series and National League," he said. "In the American League, I'd probably have to go with the Red Sox. They're loaded. They have pitching, they have everything, so I think they're due."