Lester vs. Price and a test for Crawford
April, 12, 2011
4/12/11
12:12
PM ET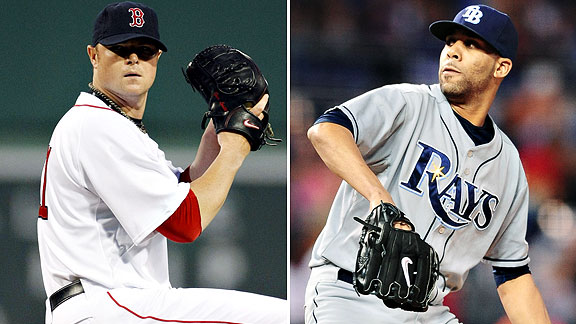 US Presswire
At the end of spring training, a panel of 45 ESPN experts were asked to predict the award winners for 2011.
Twenty-two selected
Jon Lester
to be the AL Cy Young winner. Throw in
CC Sabathia
(five) and
David Price
(four), and 31 out of the 45 votes went to AL East southpaws.
With a few notable exceptions (
Andy Pettitte
,
David Wells
to name two), the AL East has been dominated by righthanded pitchers the past 25 years.
The last 12 AL East starters to win the Cy Young have been righties. Mike Flanagan in 1979 was the last southpaw starter from the division to win.
From
Roger Clemens
to
Pedro Martinez
to
Roy Halladay
, the title of the best starter in the division has been passed down among righthanders.
But with Sabathia, Price and Lester, that torch has officially been handed to the lefties. They were the AL's only 19-game winners last season, the first time since 1978 (Flanagan, Ron Guidry, Mike Caldwell) that the AL East had three lefthanders win 19 games.
In the span of three days, all three will have taken the mound at Fenway Park.
Tuesday, Lester and Price face off for just the second time. Lester won the first duel last August, allowing two hits and one unearned run in seven innings.
In Price and Sabathia, the Red Sox will have faced a significant test to one of their few anticipated weaknesses: A lineup too reliant on lefthanded hitters.
It's an issue that extends far beyond two pitchers. In
Zach Britton
and
Brian Matusz
, the Orioles have two of the most promising young lefties in the majors. Toronto southpaws
Ricky Romero
and
Brett Cecil
combined for 29 wins last season, both pitching in just their second season.
And that's just the AL East.
Last season, Boston finished 28-29 against lefty starters, just the eighth-best record in the AL. Compare that to a 61-44 mark against righties.
When facing Price, Sabathia, Matusz and Andy Pettitte, the Red Sox were just 5-10.
Long-term absences to
Kevin Youkilis
and
Dustin Pedroia
played a role in those struggles, of course. However, the Red Sox also had two of the AL's best hitters against southpaws last season.
Victor Martinez hit .400 with 12 homers against lefties in 2010, ranking first and second in the AL in those respective categories. Adrian Beltre's .328 batting average against lefties was fifth best in the league.
Both left in free agency. They've been replaced in the lineup by two more effective all-around offensive weapons in
Carl Crawford
and
Adrian Gonzalez
, both of whom have mixed histories against southpaws.
Since 2008, Crawford has hit .256 with a .676 OPS against lefties compared to a .311 BA and .848 OPS against righties. That's approximately the difference between
Alex Cora
and Jim Rice.
Regardless of his early struggles in 2010, those numbers raise significant questions about Crawford's spot in the batting order against lefthanded pitchers.
Gonzalez is a bit more of a wild card. He hit .337 off of lefties last season, but just .223 in the two previous seasons combined.
The health of Youkilis and Pedroia is paramount. But which Gonzalez shows up will be a key factor in Boston's success against lefthanders.
The Red Sox managed nine hits off of Sabathia on Sunday. On Tuesday, Price provides an even tougher matchup.
Lefthanded hitters are batting .218 with a .579 OPS against Price over his short career. He's faced 351 lefties, but only allowed one home run (
Chase Utley
).