September, 30, 2016
Sep 30
4:15
PM ET
The Chicago Bears listed quarterback Jay Cutler as doubtful (thumb) and wide receiver Alshon Jeffery as questionable (knee/hamstring) for this Sunday's home game against the Detroit Lions.
Cutler, who did not practice on Thursday or Friday, was replaced by 30-year-old veteran Brian Hoyer. Hoyer completed 30-of-49 pass attempts for 317 yards and two touchdowns (93.7 quarterback rating) in Chicago's 31-17 defeat in Dallas in Week 3.
"Well I thought he, for the most part, made good decisions," coach John Fox said of Hoyer. "I think we had a little bit of a shaky start, really as a whole football team, not just him. But other than that, I thought decision-making-wise, I thought he played pretty well."
Fox continued: "He's a pro. Even when you're the backup you're one play away from being the guy anyway, so you've always got to be prepared because you don't know what's going to happen in the game. Much like drifting back to the Philadelphia game, where he didn't get all the week's reps. Even in that game I thought he went in and did a decent job, stepping in with not all the first-team reps that week in practice. And I thought he rose to the challenge last week."
Jeffery, who leads the Bears with 271 receiving yards, has been limited in practice.
Meantime, running backs Jeremy Langford (ankle) and Ka'Deem Carey (hamstring), nose tackle Eddie Goldman (ankle) and linebacker Danny Trevathan (thumb) are also doubtful.
Other players listed as questionable include: safety Harold Jones-Quartey (concussion), cornerback Tracy Porter (knee), cornerback Sherrick McManis (hamstring), outside linebacker Willie Young (knee), defensive lineman Jonathan Bullard (toe) and guard Josh Sitton (shoulder).
September, 28, 2016
Sep 28
5:27
PM ET
By
NFL Vegas Experts
| ESPN Chalk
ESPN Chalk's Vegas experts are here to provide analysis and best bets for all Week 4 games, including the Detroit-Chicago matchup.
Note: All odds courtesy of the Westgate Las Vegas SuperBook as of Friday morning.
---
Spread: Opened Detroit -2.5; now Detroit -3 (EVEN)
Total: Opened 46; now 47.5
PickCenter public consensus pick: 81 percent Detroit
Public perception: The stats say the public is on the Lions, but it's clearly a case of a lot of people fading a Bears team they've seen lose two straight weeks in prime time.
September, 30, 2016
Sep 30
7:00
AM ET
LAKE FOREST, Ill. -- The phrase "home-field advantage" does not exist for the Chicago Bears.
Coach John Fox's team has lost its last six games at Soldier Field, dating to last year. That slump is not unprecedented in Chicago. The Bears previously lost six straight home games spanning parts of 1972 and 1973, as well as in 1997 when Dave Wannstedt's outfit finished 4-12.
However, the Bears have never dropped seven consecutive regular-season home games, per the Elias Sports Bureau.
To avoid the dubious distinction, the Bears must knock off the 1-2 Detroit Lions. Easy, right? Well, the Lions have won six straight in the series, with the Bears' last victory occurring in Lovie Smith's final game on Dec. 30, 2012.
Last season, Detroit beat the Bears 37-34 in overtime at Ford Field and squeezed out a 24-20 victory at Soldier Field.
"We had two close games with them last year, both there and here," Fox said. "Those were both hard-fought battles. My experience with watching this division is that it's been that way, [with close, competitive games] for some time.
"The fact it is the Detroit Lions and a division opponent on Sunday, and seeing how we haven't won at home yet or beaten them yet, I'd say there is definitely an emphasis on that [breaking the streaks]."
The Lions can relate. When Smith patrolled the home sidelines at Soldier Field, the Bears won nine of 10 from the Lions from 2008-12.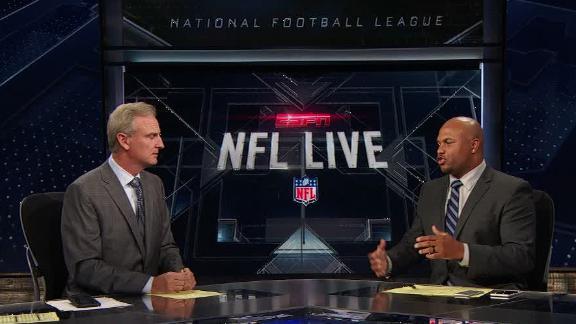 September, 29, 2016
Sep 29
2:53
PM ET
LAKE FOREST, Ill. -- Chicago Bears quarterback Jay Cutler did not practice Thursday, making it an even stronger possibility that backup Brian Hoyer makes his second consecutive start Sunday when Chicago (0-3) hosts the Detroit Lions (1-2).
Cutler had limited participation Wednesday, according to the Bears' official injury report.
Cutler is attempting to come back from a right thumb injury he sustained in the regular-season opener in Houston and aggravated the next week against Philadelphia. Cutler left the Eagles game following a critical third-quarter interception. He claimed after the game the sprained ligaments and bruising in the thumb on his throwing hand made it difficult for him to grip and control the football.
On the year, Cutler, 33, has thrown 1 touchdown and 2 interceptions, lost 1 fumble and been sacked 8 times for a 75.7 passer rating.
Cutler is coming off a solid season; under former offensive coordinator Adam Gase, he posted a career-high 92.3 quarterback rating. But so far in 2016, Cutler has underwhelmed, prompting many to speculate about the veteran's future with the organization. Cutler does not have any guaranteed money left on his deal after the year, meaning the Bears could open up $13 million worth of salary cap space if they trade or release him in the offseason.
Cutler's non-guaranteed 2017 base salary is $12.5 million. He can earn up to an additional $2.5 million in per-game roster bonuses.
Hoyer, 30, started Chicago's last game in Dallas, completing 30 of 49 passes for 317 yards and 2 touchdowns.
"Like I said, it's a day-to-day thing for me," Hoyer said. "I'm in here every day trying to prepare to play whatever Jay's status is. Until someone tells me different, I'm just preparing like I'm going to play. It was good to have him back out there [Wednesday] and be out there. For me, it really doesn't change anything."
September, 29, 2016
Sep 29
12:51
PM ET
September, 29, 2016
Sep 29
11:54
AM ET
September, 28, 2016
Sep 28
5:02
PM ET
Associated Press
LAKE FOREST, Ill. -- Chicago Bears quarterback Jay Cutler returned to practice on a limited basis Wednesday after missing a game because of a sprained right thumb.
Cutler was injured against Philadelphia on Sept. 19 and sat out last week's 31-17 loss at Dallas. Veteran Brian Hoyer went 30 of 49 for 317 yards filling in against the Cowboys and would likely start again if Cutler is not available against Detroit this week.
The Bears (0-3) have battled a long line of injuries, and on top of that, coach John Fox missed practice because of a stomach illness on Wednesday.
September, 27, 2016
Sep 27
5:42
PM ET
The clock is ticking on the Jay Cutler era in Chicago.
Cutler is sidelined because of a thumb sprain, and there doesn't seem to be a thumbs-up sign for his long-term future in the Windy City. When asked Monday about whether Cutler would return as a starter when he's healthy, Bears coach John Fox didn't exactly give the quarterback an endorsement.
"I don't think there are any givens, and that's not an indictment on anybody," Fox said.
Cutler is in the middle of a seven-year, $126.7 million contract he signed in 2014. The Bears haven't had a winning record since 2012. Fox and general manager Ryan Pace stuck with Cutler after taking over the Bears in 2015, in part because of a $10 million guarantee in his contract.
Working with offensive coordinator Adam Gase last season, Cutler responded well, cut down his interceptions, showed better leadership and had one of his best years statistically. But Gase is now in Miami, and Cutler looked back to his old self in the two games he started. His completion percentage is down and, most important, the Bears haven't won.
Cutting Cutler is no longer a money issue, either. He's signed through 2020, but his contract doesn't have any guaranteed money after this season. He could be cut in the offseason and count only $2 million under the 2017 cap.
I polled five NFL front-office executives about what's next for Cutler, and if he has a future in Chicago. Here's what they're thinking:
To continue reading this article you must be an Insider
September, 28, 2016
Sep 28
7:00
AM ET
LAKE FOREST, Ill. -- The Chicago Bears have lost six straight to the Detroit Lions, last winning a game in the series in Lovie Smith's final game as head coach in Week 17 of 2012.
Generally speaking, Detroit is a beatable team, except for whatever reason, the Bears cannot beat the Lions.
At 1-2, the Lions are not as bad as their record indicates, but John Fox's team is every bit 0-3.
The Bears can't expect to simply show up and collect their first victory of 2016. The game Sunday at Soldier Field should be competitive.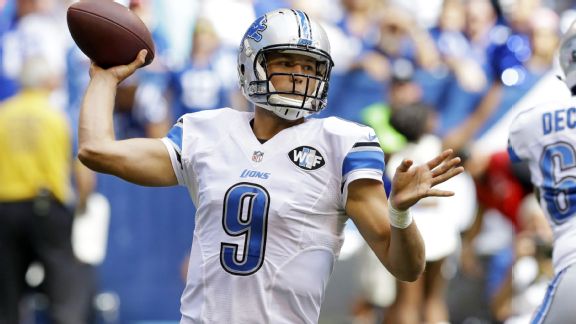 AP Photo/Michael ConroyMatthew Stafford has continued his hot stretch from the end of last season and is a top-10 quarterback in almost every area.
Here are six Detroit players to watch, courtesy of ESPN Lions reporter Mike Rothstein.
OFFENSE:
WR Marvin Jones: The NFL's receiving leader (408 yards) has turned into a bonafide No. 1 target for the Lions. He has a size-speed combination to cause issues for most cornerbacks and his hands are some of the best in the NFL. He's coming off the first back-to-back 100-yard games of his career (and he actually went for 205 yards Sunday against the Packers). Detroit may not have Calvin Johnson anymore, but Jones has picked up a lot of his production.
QB Matthew Stafford: He has continued his hot stretch from the end of last season and is a top-10 quarterback in almost every area. Stafford is in the top five in yards (985) and the top 10 in QBR (76.1), completion percentage (67.5) and passer rating (105.0). He's developed a strong rapport with Jones and has strong secondary options in tight end Eric Ebron and running back Theo Riddick. He's been one of Detroit's top two players this season.
LG Laken Tomlinson: Detroit's offensive line has been pretty good so far this year, but Tomlinson has struggled. If Chicago is looking for a place to get pressure against the run and the pass, look at the left side of the line. Left tackle Taylor Decker is still a rookie and has showed some inconsistency after struggling against Green Bay on Sunday. But with the right side of Detroit's offensive line playing well, the left side is where the Bears should exploit.
DEFENSE:
DE Kerry Hyder: The relative unknown is tied for second in the NFL with four sacks. He won't overwhelm you with his size or his speed, but he's a relentless player who has hard-worked himself into a roster spot and with Ezekiel Ansah likely out, a starting position. And he's done this in essentially one game's worth of defensive snaps (66 plays).
LB Tahir Whitehead: Detroit's middle linebacker is basically holding the middle of the field together by himself. The Lions linebackers are pretty beat up with DeAndre Levy having missed the last two weeks, Antwione Williams out last week, Jon Bostic on injured reserve and Josh Bynes released after an injury. Besides Whitehead and Kyle Van Noy, Detroit had a waiver claim pickup (Thurston Armbrister) and a just-signed practice squad player (Zaviar Gooden) at linebacker. So it's an area to exploit -- something teams have done all season.
CB Darius Slay: He's likely going to be matched up on Alshon Jeffery for a decent portion of the game against the Bears and it'll be a fun matchup to watch. Slay has been Detroit's top cornerback this season and typically draws the tough assignments. He did a decent job on Jordy Nelson last Sunday, often tackling him just after the catch. Teams are still looking away from him to pick on the other side of the Lions secondary. But this week will be a big proving point for him against a top receiver.
September, 27, 2016
Sep 27
9:05
PM ET
LAKE FOREST, Ill. -- The Chicago Bears placed former first round pick cornerback Kyle Fuller on injured reserve, signed running back Joique Bell and defensive lineman CJ Wilson, elevated linebacker John Timu to the active roster, and waived linebacker Jonathan Anderson and tight end Greg Scruggs, the team announced on Tuesday.
Fuller, whom the Bears claimed underwent a routine knee scope in the preseason, started 30 of 32 games for the Bears in 2014-15, intercepting six passes and forcing three fumbles. Ex-general manager Phil Emery selected Fuller 14th overall in the 2014 NFL draft, but current defensive coordinator Vic Fangio hinted last year that the club expected more out of the Virginia Tech product.
So far in 2016, the Bears have used Jacoby Glenn, Deiondre' Hall, Bryce Callahan and Cre'Von LeBlanc at the cornerback/nickel back spots, alongside veteran defensive back Tracy Porter.
Meantime, Bell has 2,234 career rushing yards on 561 attempts with 22 rushing touchdowns. He's appeared in 68 games (15 starts), primarily for the Detroit Lions from 2012-15. The Bears are thin at running back after Jeremy Langford suffered a right ankle sprain that is expected to sideline him 4-6 weeks. Reserve tailback Ka'Deem Carey is also battling a hamstring injury, and was inactive in Week 3.
Wilson spent time with the Lions, Oakland Raiders and Green Bay Packers, where he accumulated a combined 111 tackles, 6.5 sacks and 15 tackles for loss.
An undrafted free agent in 2015, Timu started three games at linebacker last year, but opened the '16 season on the practice squad. Timu takes over for Anderson, who also played linebacker as an undrafted rookie last season (three starts).
Scruggs, a four-year NFL veteran, was active in each of the first three games.
September, 27, 2016
Sep 27
4:19
PM ET
Joique Bell has a new home and he's staying in the NFC North.
The former Detroit Lions running back signed with the Chicago Bears on Tuesday, and his first game with his new team will come against his old team. The Bears also signed another former Lion Tuesday, adding defensive lineman C.J. Wilson.
In another move Tuesday, the Bears placed cornerback Kyle Fuller on injured reserve. Fuller hadn't appeared in a game this season after undergoing arthroscopic knee surgery in Week 2 of the preseason. A 2014 first-round pick, Fuller started 30 games and intercepted six passes over the last two seasons.
The Bears also promoted linebacker John Timu to the active roster. Linebacker Jonathan Anderson and tight end Greg Scruggs were waived.
Bell posted an announcement to his Instagram account before his signing was made official later Tuesday.
Detroit worked Bell out last week after the franchise lost Ameer Abdullah to injured reserve but decided not to sign him again after cutting him as a salary-cap casualty in February.
September, 27, 2016
Sep 27
12:36
PM ET
September, 26, 2016
Sep 26
7:29
PM ET
ESPN.com news services
Chicago Bears running back Jeremy Langford is expected to miss four to six weeks with a sprained ankle, a source told ESPN's Adam Schefter.
Bears coach John Fox confirmed earlier Monday that Langford sprained an ankle in the Bears' 31-17 loss to the Dallas Cowboys, but he did not provide a timetable for his return.
Langford wore a walking boot on his right foot in the AT&T Stadium visitors' locker room after the game.
Rookie fifth-round pick Jordan Howard replaced Langford and rushed for 45 yards on nine carries, plus he caught four balls for 47 yards.
The Bears on Wednesday will reevaluate running back Ka'Deem Carey, who sat out Week 3 with a hamstring injury. Chicago also recently signed tailback/returner Raheem Mostert after Carey got hurt.
ESPN's Jeff Dickerson contributed to this report.