October, 26, 2016
Oct 26
8:48
PM ET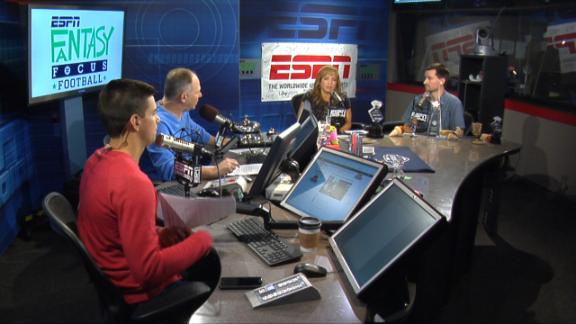 NFL Nation reporters assess the biggest injuries across the league for Week 8.
NFC East | NFC North | NFC South | NFC West

AFC East | AFC North| AFC South | AFC West
NFC EAST
Quarterback Tony Romo will not play Sunday against Philadelphia, but the fact that he was on the practice field Wednesday for some individual work and throwing shows that he is closer to being 100 percent. For Sunday's game against Philadelphia, the biggest injury concern is left tackle Tyron Smith. He has been bothered by a bulging disc in his back that kept him out of full practices for much of the past three weeks. The Cowboys are doing what they can to manage him through the week to make sure he has enough work for the game. This week's challenge is tough with Brandon Graham, who is tied for the Eagles' lead in sacks, with four. -- Todd Archer

October, 26, 2016
Oct 26
7:00
AM ET
LAKE FOREST, Ill. -- An upset win over the Minnesota Vikings (5-1) is precisely what the Chicago Bears (1-6) need after a brutal seven-game stretch to open the year.
Defeating the Vikings in prime time would allow the Bears to catch their breath going into the bye.
History is on Chicago's side. The Bears had a five-game winning streak at home against Minnesota snapped last year when the Vikings swept the season series for the first time since 2007.
However, scoring points will be a challenge for quarterback Jay Cutler in his return. The Vikings lead the NFC North in points allowed (84) and in points differential (+45).
The Bears have been outscored by 58 points on the season.
Here are six Minnesota players to watch, courtesy of ESPN Vikings reporter Ben Goessling:
OFFENSE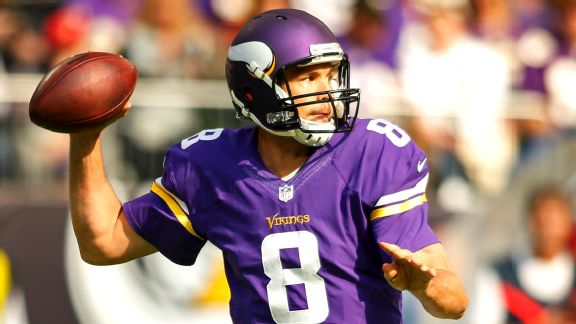 Bruce Kluckhohn/USA TODAY SportsSam Bradford could be primed for a bounce-back performance if the Bears can't get pressure on the Vikings quarterback.
QB Sam Bradford: He'll try to get back on track Monday night following his worst outing with the Vikings, but he could find it easier to work against a defense that doesn't pressure the quarterback as effectively as the Eagles did. Philadelphia threw lots of zone blitzes at Bradford, and after throwing only seven passes outside the pocket in his first four games, he was flushed from the pocket five times on Sunday. If he's able to make more quick throws and work from a clean pocket, he should be able to find success against the Bears.
T T.J. Clemmings: Coach Mike Zimmer said he thought Clemmings was actually better on the left side than the right side on Sunday against the Eagles, and he was the only member of the Vikings' three-tackle rotation to play every snap in Philadelphia. If he's on the left side again on Monday night, he'll get a challenge against Willie Young. Clemmings is athletic enough to deal with dynamic outside rushers, but his technique lapses have left him susceptible in pass protection, as Whitney Mercilus proved two weeks ago.
WR Stefon Diggs: He was instrumental in the Vikings' fourth-quarter rally in Chicago last year, and the Vikings will try to get him involved in the game plan again as Diggs plays his second game following a groin injury. He'll move around the Vikings' formation more than he did last year, which should make it tougher for the Bears to try and take him out of the game. Bradford has been at his best this year when he's been able to find Diggs downfield, and especially when teams sit on the Vikings' short passes, Diggs can help the Vikings cash in.
DEFENSE
NT Linval Joseph: He's one of the more underrated players in the NFL, and no player does more to put the Vikings in advantageous pass-rushing situations than the 28-year-old. His strength and size mean teams often have to assign two blockers to deal with him, and though he's the rare player who prefers grunt work to pass-rushing opportunities, he's posted four sacks already this season.
CB Xavier Rhodes: Alshon Jeffery has been one of the receivers Mike Zimmer has assigned Rhodes to shadow in the past, and it wouldn't be surprising to see the Vikings do that again on Monday night in an effort to take Jeffery out of the game. Rhodes helped take Kelvin Benjamin, Odell Beckham and DeAndre Hopkins out of games already this season, and if he can control Jeffery on Monday night, the Bears could have a tough time developing a productive offense.
S Harrison Smith: The Bears will need to be aware of where he is at all times, whether it's on the edge of the Vikings' formation as a blitzer, deep in coverage or possibly playing underneath Jeffery in some of the inverted bracket coverage schemes the Vikings have used this season. He can do it all, and the Vikings have unleashed him in some new ways this season. And as the Bears know from watching Smith knock Matt Forte out of the game last year, the safety packs a punch.
October, 25, 2016
Oct 25
4:51
PM ET
ESPN.com news services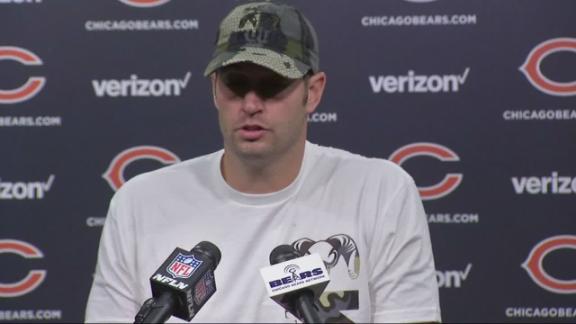 Bears quarterback Jay Cutler said Tuesday that coach John Fox has no choice but support him as the starter after Brian Hoyer's injury.
He also said he is putting off discussions about his future with the team until after the season.
Cutler, 33, addressed the media for the first time since he suffered a sprained thumb in Week 2 against the Philadelphia Eagles. On Monday, he was cleared to return from the injury.
Asked by reporters whether he feels he has Fox's trust, Cutler said, "He doesn't have a choice, I guess, at this point.
"Brian is out, so I've got to go. I've had good conversations with Foxy this week, last week, the week before. There's never been any strain in our relationship. We're both very open and honest, and we're on the same page. We just want to win football games."
Hoyer suffered a broken left arm last Thursday against the Green Bay Packers. He underwent surgery Sunday and is expected to be out six to eight weeks.
Although the Bears went 1-4 without Cutler, he said Hoyer did a "great job" in his place. He also said he didn't worry about his status on the depth chart while he was out, as he wasn't healthy enough to play.
As for his future with the Bears, Cutler said that's a discussion for another day.
"I think those are conversations for the end of the year," he said. "Right now I'm working with Dowell [offensive coordinator Dowell Loggains] and Rags [quarterbacks coach Dave Ragone] and we're just trying to find first downs and get our third-down conversion rate back up, score more points. That's all we're really trying to do, and that's all my focus is.
October, 24, 2016
Oct 24
2:09
PM ET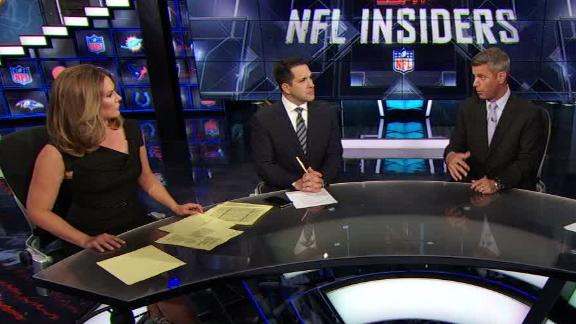 LAKE FOREST, Ill. -- Bears quarterback Jay Cutler has been cleared to play in Chicago's prime-time matchup versus the Minnesota Vikings on Oct. 31, coach John Fox announced Monday.
Cutler missed the last five games due to ligament damage and bruising in his right thumb that forced him to leave Chicago's Week 2 loss to the Philadelphia Eagles late in the third quarter.
"At the end of the day, Jay is our starter," Fox said. "Now that he's healed, he's back to being our starter."
Veteran Brian Hoyer did a decent job of replacing Cutler in the lineup, but Hoyer suffered a broken left forearm in the Bears' 26-10 defeat at Lambeau Field last Thursday night. Fox confirmed that Hoyer underwent surgery on the arm Sunday, and league sources tell ESPN NFL Insider Adam Caplan that Hoyer's projected timetable is 6-8 weeks.
Unproven Matt Barkley took over for Hoyer versus Green Bay, but completed just 6-of-15 pass attempts for 81 yards and two interceptions (18.3 passer rating); erasing all doubt that Cutler would get his job back when the medical staff deemed him ready.
Before getting hurt, Cutler committed three turnovers in seven quarters of play.
The guaranteed portion of Cutler's contract ends after 2016. The Bears can open up $13 million worth of salary cap space if they release or trade him in the offseason.
October, 24, 2016
Oct 24
7:00
AM ET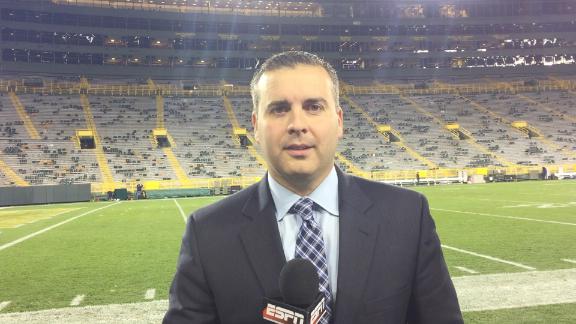 LAKE FOREST, Ill. – A top priority when the Chicago Bears return to work Monday is deciding on a starting quarterback for the Oct. 31 game against Minnesota.
The logical choice for John Fox is to revert back to Jay Cutler, whose right thumb injury has kept him out for five weeks.
"When he's cleared medically, we'll have him out there," Fox said after the Bears' 26-10 loss at Green Bay. "When exactly that's going to be, I can't answer that. He's getting closer."
Cutler sustained ligament damage and bruising in the thumb over the first two weeks of the season; an injury that adversely affected the way he gripped and held the football.
The decision to sit Cutler for a couple weeks was the appropriate one.
But it may be a stretch to suggest Cutler's thumb has to be 100 percent for him to suit up in Week 8.
Take a quick glance at the Bears' roster -- everyone is battling injuries.
Bears guard Kyle Long has played hurt all year. Can you imagine blocking defensive linemen with one arm? The fact Long even lasted until Week 7 is a testament to his ridiculous grit and determination.
When Long says that his arm was "f----- up pretty bad," trust me, it was.
And do think Danny Trevathan feels good playing with a cast on his hand after he severed a thumb tendon and underwent surgery? By the way, Trevathan missed only two games.
Veteran cornerback Tracy Porter could barely walk to the locker room after the Bears' home loss to Jacksonville on Oct. 16, but yet, on a short week nonetheless, he played versus Green Bay.
Pernell McPhee practiced three times -- all walk-thru workouts -- and somehow was activated off PUP for the Packers game. McPhee says quirky stuff from time to time, but you cannot question his heart.
The list goes on and on.
Players routinely make tremendous sacrifices, because they want to win. Cutler is no different. He routinely beats projected injury timelines, and it's well-known Cutler lobbied hard to come back weeks ago, but had to follow team orders.
The Bears do not suffer from lack of effort, but lack of talent. They badly want to win, and Halloween night is a good place to start. There is no World Series game scheduled for Oct. 31. The Bears will have the city's undivided attention next Monday night, for better or worse.
Even at 80 percent, Cutler represents the best shot to win. That's all you need to know. Matt Barkley did his best in a tough situation last Thursday, but he's not going to beat Minnesota (5-1).
Cutler may not either, but at least he gives the Vikings something to think about.
October, 23, 2016
Oct 23
10:22
AM ET
ESPN.com news services
Stacy Revere/Getty ImagesBears quarterback Brian Hoyer broke his left arm after taking a hard hit against the Packers. He was replaced by Matt Barkley.
Chicago Bears quarterback Brian Hoyer is undergoing surgery on his broken left arm Sunday and will miss at least eight weeks, a source told ESPN's Adam Caplan.
Hoyer could be placed on injured reserve.
He suffered the injury in the second quarter of Thursday night's 26-10 loss to the Green Bay Packers. Hoyer was hit hard by Green Bay defenders Julius Peppers and Clay Matthews on a third-down pass attempt that fell incomplete with 10:03 left in the quarter.
Hoyer stayed on the turf for several minutes but eventually walked off the field under his own power. The quarterback appeared to be clutching his left arm when examined by members of the Bears' medical staff.
Hoyer was 4-of-11 for 49 yards before he left the field. He was replaced by Matt Barkley, who finished 6-of-15 for 81 yards with no touchdowns and two interceptions. Veteran Jay Cutler was inactive because of a thumb injury.
Cutler hasn't played since suffering his thumb injury in Week 2.
October, 21, 2016
Oct 21
10:37
AM ET
(Photo by Robin Alam/Icon Sportswire)
Louisville announced on Friday that it will honor former quarterback Dave Ragone's No. 15 jersey at Saturday's home game against NC State. Ragone played at Louisville from 1999-2002 and is a three-time Conference USA Offensive Player of the Year.
Ragone is currently the quarterbacks coach for the Chicago Bears, but he has the weekend off after the Bears' 26-10 loss to the Green Bay Packers on Thursday night.
A three-year college starter, Ragone played a big part in building the Louisville program into the national contender it has become today as a member of the ACC. Ragone led Louisville to a 26-20 upset of then-No. 4 Florida State in 2002. With Ragone under center, the Cardinals won two Conference USA championships and made three bowl games. The Cardinals' 2000 C-USA title was the school's first conference title since 1972.
October, 21, 2016
Oct 21
10:00
AM ET
GREEN BAY, Wis. -- Pernell McPhee's highly anticipated return to the Chicago Bears yielded zero tackles in 19 snaps.
But McPhee's surgically repaired knee, which landed him on the physically unable to perform list for the first six weeks, held up OK on Thursday night -- a small victory for the Bears' defense moving forward.
"I was just a little rusty, man," McPhee said after the Bears' 26-10 loss at Green Bay. "But in due time I'll get back right. I was just happy to be out there, man, and whatever happened, happened."
McPhee barely had a chance to test the knee before Chicago activated him off the PUP list. The veteran pass-rusher participated in only three walk-through workouts before the Bears announcement Thursday afternoon that McPhee would be available for the Packers game.
"We were just playing it by ear," McPhee said. "Coach did a great job of getting me going. He just wanted to knock some rust off me. [The key to knocking the rust off] is that first contact. Out 10 months … when I got that first contact I got a little sting, and I was like, 'Ah, s---, it's not my knee. I'm good.'
"It was very important to come back [as soon as possible]. That is the date we set going to camp and right after camp. So, that's the best thing right now."
October, 21, 2016
Oct 21
7:00
AM ET
GREEN BAY, Wisc. -- It's time to bring Jay Cutler out of hibernation.
Losing Brian Hoyer indefinitely to a broken left arm removes any doubt as to who should start at quarterback when the Bears next take the field on Oct. 31 against the Minnesota Vikings, which mercifully is the team's final prime-time game of the year.
Cutler left the Bears' game against the Eagles almost five weeks ago. Unless Cutler underwent a clandestine procedure to surgically repair his damaged right thumb, he should be ready soon. You have to figure medical clearance is a formality at this point.
The enigmatic quarterback routinely has been spotted without the protective thumb brace he wore when he initially suffered the injury. He even practiced with the Wednesday leading up to the Lions game before the team shut him down.
Daniel Bartel/Icon SportswireAssuming his thumb injury is healed and he'll be cleared to play, Jay Cutler may be back under center for the Bears' next game.
Cutler is not perfect, but he absolutely gives the Bears their best chance to win.
At 1-6, what else could possibly matter to John Fox, who is 7-16 overall with Chicago?
"Yeah, I think it would be a lift," tight end Zach Miller said of Cutler's potential return. "Obviously to get your starting quarterback back at any time is good. I'm not sure where exactly he's at with his recovery, but I know we have some time now before we play Minnesota."
The Vikings currently are undefeated, so next Monday night's matchup is trickier for the Bears than their 26-10 loss to the underwhelming Packers.
As it stands, the Bears are in real danger of having a worse record than -- cover your eyes -- they did under Marc Trestman in 2014.
Drastic times call for drastic measures.
Fox stuck with Hoyer for many reasons, the primary one being that Hoyer passed for 300-plus yards in four consecutive weeks and did not have an interception in 200 pass attempts.
That's all great, but the Bears still couldn't score enough points.
Sure, Cutler is riskier than Hoyer. But Cutler can make certain throws Hoyer cannot.
Hoyer missed a wide-open Joshua Bellamy for what would have been a 51-yard touchdown in the first quarter. In the same exact scenario, Cutler's ball probably hits the mark, and if that happens, who knows how Green Bay responds.
Cutler is not the future. But neither is Matt Barkley. Barkley was forced into a tough situation when Hoyer went down, and played the best he could, but nobody wants to see Barkley on the field for 60 minutes.
The Bears better start winning games, for everyone's sake, and Cutler represents their best shot to do it, like it or not.