October, 23, 2017
Oct 23
3:50
PM ET
October, 23, 2017
Oct 23
11:12
AM ET
From Thursday night's wild finish in Oakland, to Sunday night's fogged-out Super Bowl rematch in Foxborough, Week 7 of the NFL season had its share of ups and downs.
What's been the best performance so far? And which result surprised you the most? Vote below:
Week 7 concludes Monday when the Philadelphia Eagles host the Washington Redskins at Lincoln Financial Field (8:30 p.m. ET on ESPN/ESPN App).
-- Brendan C. Hall
October, 23, 2017
Oct 23
7:00
AM ET
October, 22, 2017
Oct 22
6:02
PM ET
October, 22, 2017
Oct 22
4:04
PM ET
Associated Press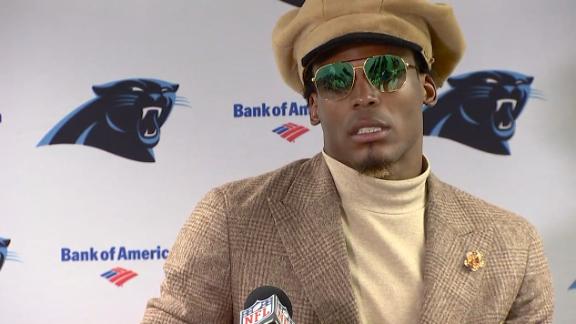 CHICAGO -- Rookie safety Eddie Jackson became the first NFL player to score multiple defensive touchdowns of 75 yards or more in a game, leading the Chicago Bears to a 17-3 victory over the Carolina Panthers on Sunday.
Jackson ran back a fumble recovery 75 yards on the game's opening possession and returned an interception of Cam Newton 76 yards for a score early in the second quarter to give Chicago a 14-0 lead.
He became the first Bears player since Fred Evans in 1948 -- and the first NFL player since Tennessee's Zach Brown in 2012 -- with two defensive TDs in a game.
Chicago also sacked Newton five times and intercepted him twice.
The big plays by Jackson and the defense lifted the Bears (3-4) to their second straight win even though they got dominated in just about every statistical category.
Carolina (4-3) held huge advantages in yards (293-153), time of possession (38:35-21:25), offensive plays (69-37) and first downs (20-5).
Newton completed 21 of 34 passes for 211 yards and ran for a team-high 50. But the Panthers dropped their second straight game.
Chicago's Mitchell Trubisky was 4 of 7 for 107 yards in his third NFL start. The No. 2 overall pick threw a 70-yard pass to Tarik Cohen, but did little else.
October, 22, 2017
Oct 22
3:54
PM ET
October, 22, 2017
Oct 22
2:50
PM ET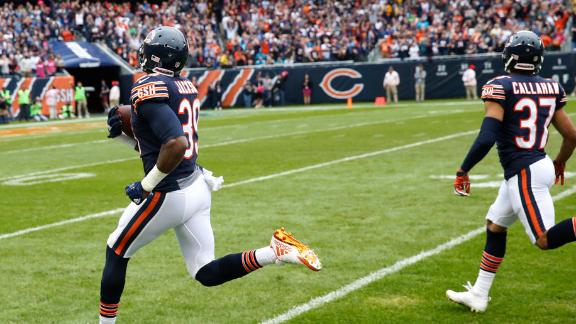 CHICAGO -- Bears rookie safety Eddie Jackson had a historic performance in Sunday's 17-3 victory over the Carolina Panthers.
Jackson became the first player in league history to score multiple 75-plus-yard defensive touchdowns in one game, according to the Elias Sports Bureau.
A fourth-round pick out of Alabama, Jackson scooped up a live ball that bounced off the hands of Carolina's Curtis Samuel -- officially scored as a fumble by Panthers quarterback Cam Newton -- and returned it 75 yards for a touchdown on the game's opening drive.
Jackson struck again in the second quarter, when he intercepted a deflected Newton pass intended for Kelvin Benjamin and took it back 76 yards for a score.
Jackson is the first player with two defensive touchdowns in a game since Tennessee's Zach Brown in Week 17 of 2012. He's also the first player to return both a fumble and an interception for a touchdown in the same game since former Chargers defensive back Antonio Cromartie accomplished the feat in Week 8 of 2007.
Largely thanks to Jackson's heroics, the Bears led Carolina by the eventual winning score of 17-3 at halftime -- the first time the Bears had been up by 14 points at halftime since the 2015 season versus the Rams. Chicago won that game 37-13.