May, 27, 2017
May 27
9:12
AM ET
By
ESPN Stats & Information
AP Photo/Charles Knoblock
Forty nine years ago today, George Halas retired as head coach of the Chicago Bears, concluding one of the most memorable coaching runs in sports history.
Halas finished with a regular-season record of 318-148-31 in 40 seasons. The 318 wins are second in NFL history to Don Shula. His 170 games over .500 rank second to Shula. His 40 seasons as a head coach rank first. Shula and Curly Lambeau rank second with 33.
Bill Belichick has the most wins among active coaches with 237. He could win 10 games a season for the next eight seasons and he'd still have fewer wins than Halas.
Halas won six championships as a head coach, the first at age 26 in 1921, when the league was known as the AFPA, the last at age 68 in 1963. In the other three major sports, no coach can match Halas' gap of 42 years from first title to last title (the Elias Sports Bureau reports that the NHL's Scotty Bowman ranks closest in other sports at 29 years). The stars of Halas' early teams included pioneers of the game, like quarterback Sid Luckman and running back Bronko Nagurski. The top receiver on his last championship team was tight end Mike Ditka, who later became Bears head coach.
One of the most famous games Halas coached was a 73-0 win over the Redskins in the 1940 NFL Championship. The Bears had lost 7-3 to that Redskins team a month prior, but won a game in which their defense forced nine turnovers, and six different players scored a rushing touchdown. The Bears outgained the Redskins on the ground, 381-5.
Halas' most successful regular-season team was the 13-0 team from 1934. That squad lost to the Giants in the NFL Championship, a game known as "The Sneakers Game." The Giants changed into basketball sneakers at halftime to better deal with a slippery playing surface. They outscored the Bears in the fourth quarter 27-0 to win 30-13.
Halas was not only the club's head coach. He was the owner of the franchise from 1921 until his death in 1983.
Halas' six NFL championships remain tied with Lambeau for the most all-time. Belichick and Vince Lombardi sit one behind at five, so if the Patriots win the Super Bowl again, you'll likely be hearing a lot more about Halas in the coming year.
May, 26, 2017
May 26
11:25
AM ET
Agreeing to terms with Victor Cruz on a one-year deal is yet another roll of the dice for the Chicago Bears.
Wide receiver is a bit of a conundrum at Halas Hall these days. Chicago's decision to let Alshon Jeffery walk in free agency stripped the club of its top weapon in the vertical passing game. Say what you want about Jeffery's soft-tissue problems and four-game PED suspension, he was by far the best receiver in the building since Brandon Marshall left town.
Cruz, 30, had a couple terrific years in New York (2011-12), but underwhelmed the past three seasons, mostly because of injuries. Cruz is 2˝ years removed from major knee surgery.
Last year, Cruz caught 39 passes for 586 yards and one touchdown in 15 games. He leaves New York with 53 career starts, 303 receptions, 4,549 receiving yards and 25 touchdowns.
Now in Chicago, Cruz joins a group of receivers riddled with question marks. The Bears also released veteran slot receiver Eddie Royal on May 11.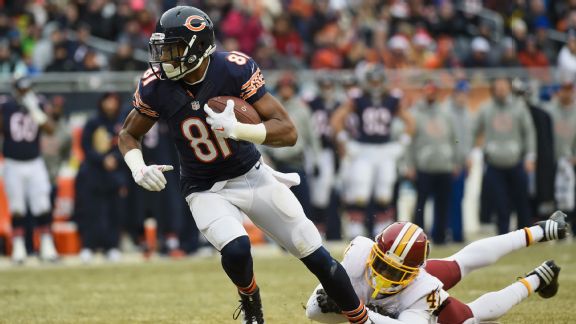 Merle Laswell/Icon SportswireCameron Meredith was a revelation last year, and the former undrafted free agent is being counted on to be the Bears' top receiver again in 2017.
Here's a quick look at the rest of the Bears' veteran wideouts on their 90-man offseason roster.
Cameron Meredith: Meredith, 24, had a breakout year for the Bears with 66 catches for 888 yards and four touchdowns. The 6-foot-3 receiver is entering his third NFL season and the arrow is clearly pointing up.
Kevin White: The seventh overall pick of the 2015 draft, White has played in only four regular-season games because of left leg fractures.
Markus Wheaton: Wheaton averaged 17 yards per catch for the Steelers in 2015, but he appeared in only three games in 2016.
Kendall Wright: Another former first-rounder, Wright had 94 receptions for 1,079 yards in Tennessee in 2013, but a career-low 29 catches in 2016.
Rueben Randle: Randle last played in a regular-season game for the Giants in 2015, when he caught 57 passes for 797 yards and eight touchdowns.
Daniel Braverman: Last year's seventh-round pick, Braverman (5-foot-10, 185 pounds) appeared in three games as a rookie.
Josh Bellamy: Pressed into wide receiver duty last year because of injuries, Bellamy finished 2016 with 19 catches for 282 yards. Bellamy is a big-time contributor on special teams.
Deonte Thompson: In the same category as Bellamy. Thompson is primarily a return man, but chipped in with 22 receptions for 249 yards and two touchdowns last season.
Titus Davis: Davis bounced around with several clubs since 2015 – the Chargers, Jets and Bills. He was born in Wheaton, Illinois, and attended Central Michigan.
May, 25, 2017
May 25
2:26
PM ET
ESPN.com news services
Michael Reaves/Getty ImagesVictor Cruz had 303 catches, 4,549 receiving yards and 25 touchdowns in his seven seasons with the Giants.
Free-agent wide receiver Victor Cruz has agreed to a one-year deal with the Chicago Bears, saying Thursday he believes he has "a lot left in the tank" after seven years with the New York Giants.
"I'm excited, man," Cruz said during an appearance on Waddle & Silvy on ESPN Radio. "I'm excited to come and have a fresh start and a new home and a new place. I'm excited to work with [quarterback] Mike Glennon and coach [John] Fox and everyone there."
While calling his career with the Giants "amazing," Cruz said the opportunity to impact the Bears was the deciding factor in his decision.
"I just wanted to hear that I can have an opportunity to play," Cruz said of the free-agent process. "To come and be a direct impact to a football team. And Chicago showed me a lot of love. ... Everyone was adamant about how they felt I could contribute to the football team and be a factor immediately coming right in. And not just as a player but as someone who's been around football a long time and can come in and provide an insight to different teams and different nuances of the game. And I think Chicago presented the best opportunity for me."
May, 24, 2017
May 24
11:45
AM ET
LAKE FOREST, Ill. -- Don't expect another iteration of Sam Bradford's situation last offseason in Philadelphia to unfold in Chicago between Mike Glennon and the Bears.
Glennon -- while admittedly shocked the team chose Mitchell Trubisky at No. 2 overall in the draft -- reiterated on Tuesday that he intends to take the high road in 2017, regardless of the fact the organization just drafted his future replacement.
A similar set of circumstances played out differently in Philadelphia last year when the Eagles eventually traded Bradford to make room for their 2016 second overall selection, quarterback Carson Wentz.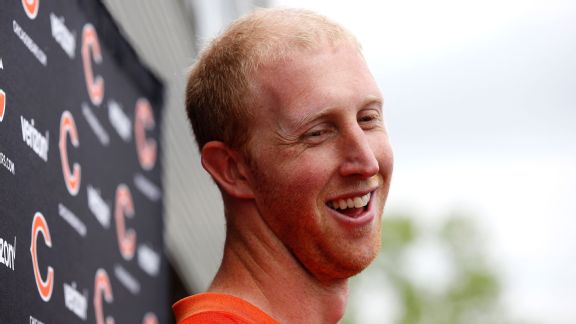 AP Photo/Nam Y. HuhFrom concerts to cookouts, Mike Glennon said he's been involved in off-field activities with his Bears teammates in order to create a bond.
Many believed Wentz's arrival in Philadelphia undermined Bradford's ability to command and lead the locker room. Why listen to Bradford when he's just an expensive placeholder for Wentz? Doesn't that damage a quarterback's credibility?
Those are fair questions to ask, but Glennon says he views his situation differently.
"That's a better question for other guys, but to me I feel nothing but support and everyone is on the same page," Glennon said. "It's been clear in the building that this year is my year and everyone's onboard with that."
Based on his comments after Tuesday's OTA, Glennon knows he's assured of nothing beyond 2017. Glennon's three-year deal pays him $16 million guaranteed for this season, but he has to be on the roster on the third day of next league year to collect the remaining $2.5 million guaranteed left on the contract.
Still, the lack of longer-term security hasn't stopped the 6-foot-6 quarterback from attempting to bond with his teammates.
Glennon said he wants to project an aura of leadership on the field and in the huddle, which shouldn't be too hard to accomplish. Despite sitting behind Jameis Winston the past two years at Tampa Bay, Glennon did start 18 games for the Bucs from 2013 to 2014, passing for 29 touchdowns and 15 interceptions.
"[I'm focusing on] just taking command of the offense," Glennon said. "I'm learning it, but I feel like I've taken control of the offense and got everyone onboard. We've done a lot of extra things with guys off the field, whether it's just activities outside of football or extra time, spending time in the meeting rooms with guys to get on the same page and everyone's done a really good job."
But during the slower part of the NFL calendar, some of the most important work is done away from the facility. Players won't follow a quarterback -- unless he's a surefire, first-ballot Hall of Famer -- they can't relate to or one who has no interest in getting to know them. For that reason, Glennon is an active participant in the team's extracurricular activities.
"The offensive linemen started a tradition of smoking [cooking out]," Glennon said. "We got some smokers out here that we do on Thursdays, went to a [Jason Aldean] concert, hung out, got dinner and did a variety of things. This is great for me because I'm getting to know guys. There are a lot of new faces around here and the team chemistry, that family atmosphere I think is coming along well."
May, 24, 2017
May 24
7:00
AM ET
LAKE FOREST, Ill. -- John Fox isn't concerned about public perception of Kevin White's level of participation in the club's voluntary offseason program.
White, picked No. 7 overall in the 2015 NFL draft, was among the players to sit out Tuesday's OTA session at Halas Hall, according to Fox. White has played in only four career regular-season games because of injuries.
"I can't control what people think or feel, just that he was injured last year, he came off surgery and we've got about six or seven others of those," Fox said.
"We're just trying to make sure we get guys ready for camp, and even more precisely, for Game 1 against Atlanta. So we're going to do anything necessary to make that done."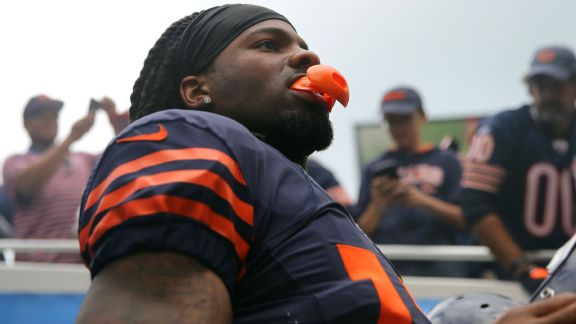 Dennis Wierzbicki/USA TODAY SportsBears WR Kevin White has been snakebitten in his young career by injuries.
In an interesting twist, starting quarterback Mike Glennon said that White participated in on-field work during Monday's OTA workout -- an event that was closed to the media.
"I've really enjoyed getting to know Kevin on the field and off the field," Glennon said. "He's a great guy. He works his butt off. And he made some really good plays yesterday that got me excited and the rest of the team. He's really eager to learn. I know he's eager to get back out on that field. Him, along with a lot of other receivers, I think, have a chip on their shoulder to prove that it's a good receiving corps."
During his final year at West Virginia, White caught 109 passes for 1,447 yards and 10 touchdowns, and ran the 40-yard dash in a blazing 4.35 seconds at the NFL combine.
However, White missed his entire rookie season because of a stress fracture in his left shin. At the time of that injury, White had a steel rod inserted into his tibia to stabilize his left leg.
White was put on injured reserve on Oct. 5 last year because of a severe high left ankle sprain that led to a fractured fibula.
Fox raved about White's offseason at Chicago's rookie minicamp less than two weeks ago.
"I think he looks very healthy," Fox said on May 12. "With the things that we've done, I'm hoping he can remain healthy. There's been a bugaboo in his career thus far, and frustration. It starts with him; I don't think anybody goes out there [to] get injured. But it is part of the game, and unfortunately it's been a tough start. He's a tireless worker, and I think he's having a great offseason."
May, 23, 2017
May 23
4:00
PM ET
Scott Winters/Icon SportswireAlthough the Bears traded up in the first round to draft a quarterback, they'll be relying on veteran Mike Glennon to end their playoff drought next season.
LAKE FOREST, Ill. -- Bears quarterback Mike Glennon acknowledged on Tuesday that Chicago's decision to draft Mitchell Trubisky caught him off guard, but he said he's been assured he'll get the starting job for the upcoming season.
"I think just like everyone here, I was surprised [the Bears took Trubisky second overall]," Glennon said after the Bears' OTA practice.
"That's the bottom line. But it was made clear to me about 10 minutes after, from a call from [general manager] Ryan [Pace], and the next morning again, the 2017 season is my year. That's all I can worry about. I'm not worried about the future. I'm not worried about the past. I'm worried about the present, and right now this is my team, and that's where my focus is."
Glennon, 27, started 18 games for the Tampa Bay Buccaneers from 2013 to '14 but spent the past two years as Jameis Winston's primary backup. Glennon's lack of recent starting experience did not deter the Bears from going all-in on the 6-foot-6 quarterback in free agency. Chicago signed Glennon to a three-year deal worth $16 million guaranteed in 2017.
May, 19, 2017
May 19
7:00
AM ET
Usually a straight shooter, veteran coordinator Vic Fangio admitted that he doesn't how much better the Bears defense became in the offseason.
"Well, that remains to be seen," Fangio said at the Bears' rookie minicamp. "We've got to go through all these OTAs, go through training camp and see what happens in the games. I'm not one to predict that it's going to be this or that. We've got to see."
In a break from tradition, there wasn't a lot of focus on defense when the rookies descended upon Halas Hall last week.
The Bears front office made a flurry of moves on Fangio's side of the ball in free agency, but used only one draft pick on defense -- Alabama safety Eddie Jackson in the fourth round. Instead of grabbing a plug-and-play defender in the top three -- Stanford's Solomon Thomas or LSU's Jamal Adams -- the Bears attempted to solve their quarterback dilemma by choosing North Carolina's Mitchell Trubisky, who is likely to sit behind veteran Mike Glennon this year.
"I mean, there isn't a position coach in the league that wouldn't like to have a first- or second-round pick to add to their position," Fangio said. "Likewise, there isn't any coordinator that wouldn't like to have a first- or second-round pick to add to the squad, but that's just the way it goes. There's no big deal there."
The decision to aggressively pursue Trubisky could bode well for the future -- if the quarterback pans out, the Bears will be sitting pretty -- but he doesn't help much short-term, especially for a defense in need of reinforcements.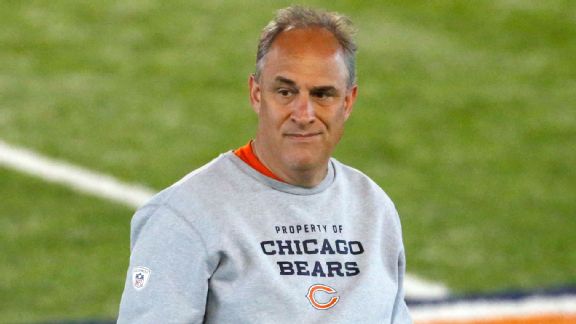 Nam Y. Huh/AP PhotoDefensive coordinator Vic Fangio is taking a wait-and-see approach about the Bears' defense after it was largely left unchanged by the draft.
In 2016, the Bears ranked 24th in points allowed (24.9), giving up 30 or more points in each of their final three games. The defense also intercepted only eight passes, tied for the second-fewest in the league, a shameful number considering the front seven generated a better-than-average pass rush.
To try to remedy the situation, the Bears actively shopped in free agency, agreeing to deals with cornerbacks Prince Amukamara and Marcus Cooper (four interceptions), safety Quintin Demps (six interceptions), defensive linemen Jaye Howard and John Jenkins and linebacker Dan Skuta.
Still, more than two months removed from the initial wave of free agency, Fangio is still sorting through all the pieces, particularly in the revamped secondary.
Fangio simply said "we'll see" to several questions about the supposedly better defensive backfield.
In fairness, the key on defense lies not in free agency, but the development of last year's draft class. The Bears went heavy on defense in 2016 and used six of their eight picks on defensive prospects: Leonard Floyd, Jonathan Bullard, Nick Kwiatkoski, Deon Bush, Deiondre' Hall and DeAndre Houston-Carson.
But outside of Floyd (seven sacks) and Kwiatkoski, the group as a whole underwhelmed.
Even Floyd -- the ninth overall choice in the draft -- has clear room for improvement after an injury-shortened rookie season.
"He's got a foundation of a year behind him, and he was only available about half the time last year," Fangio said. "He had a bunch of those little injuries that interrupted his progress throughout the season. Hopefully with the year under his belt, getting in better shape, better condition, and take off. If he stays healthy, I feel good about him."
A big second season out of Floyd could go a long way toward Fangio feeling good about the entire defense, too.
May, 18, 2017
May 18
8:40
PM ET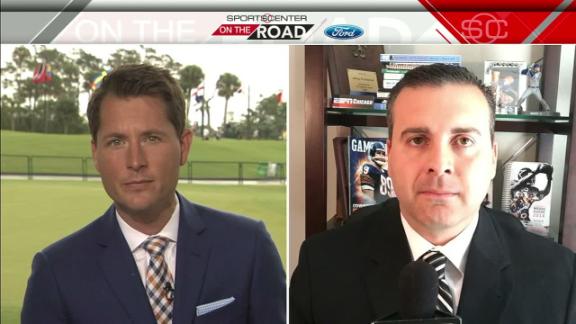 It's time to reflect on the 2017 offseason. There are a few stray veterans left in the free-agent pool, and teams could still execute something unexpected if injuries arise, but organizations have mostly closed their checkbooks and built the rosters they're going to take onto the field in September.
Of course, we can know only so much right now. This time last year, there was no way anybody knew that the Cowboys had drafted a franchise quarterback. Kyle Shanahan was lucky to survive the offseason in Atlanta as an offensive coordinator, let alone be considering head-coaching roles.
At the same time, we can look at what each team's goals were (or should have been) heading into March and gain a sense of whether they did enough to address those concerns. In most cases, we also can plot what they have to do before hitting Week 1.
We'll run division by division over the next two weeks. Time for the NFC North, where everyone's trying to dethrone the Packers yet again ...
To go directly to your favorite team, click the link below:
---
What went right
May, 18, 2017
May 18
7:00
AM ET
Chicago Bears second-round pick Adam Shaheen received some welcome news when he arrived at rookie minicamp last weekend: there was a Chipotle restaurant down the street from his hotel.
See, Shaheen -- a tight end from Division II Ashland University -- went on record at the NFL combine crediting Chipotle's food for helping him gain about 80 pounds since the end of high school.
Shaheen, who formerly weighed 195 pounds, was listed on the Bears' official roster as 6-foot-6, 277 pounds -- a remarkable transformation courtesy of hard-work, dedication, and lots and lots of chicken burritos.
True to form, Shaheen visited Chipotle each night after workouts ended.
"I do have a go-to order," Shaheen said. "I get a burrito (not a burrito bowl) and then I get extra, extra white rice. And then double chicken, which you've got to tell them one scoop of chicken, because they'll try to mix it in and you won't get as much. Then just a little bit of corn. Then that's it."
Wait, no sour cream or cheese?
"Nope. Nope," Shaheen said.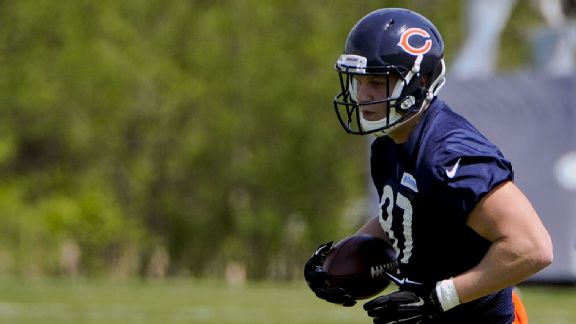 Matt Marton/USA TODAY SportsBears second-round pick Adam Shaheen caught 16 touchdown passes last season for Division II Ashland University.
Shaheen's methods have worked so far. The first-year tight end was impossible to miss at minicamp, mainly because of his size. Shaheen lit up Division II, catching a school record 16 touchdowns last season. In 2015, he had 70 receptions for 803 yards and 10 touchdowns -- monster numbers (albeit at a much lower level of competition) for a tight end that size.
Whether Shaheen successfully makes the jump to the NFL remains to be seen, but fellow rookie quarterback Mitchell Trubisky -- Shaheen's roommate at camp -- is already a big fan.
"Adam's gonna be a great player," Trubisky said. "It's really cool to throw to him. You can tell he loves being out here as well. I've never thrown to a guy that big. He has huge range to catch the ball, so it makes it a lot easier for me."
Bears offensive coordinator Dowell Loggains is equally as intrigued.
"I really want to get a good feel for what he is and what he can do," Loggains said. "I am excited about our tight end group. The addition of Dion Sims, he's been awesome this offseason. Getting Zach Miller back and Daniel Brown and Ben Braunecker and now Adam and adding those different pieces, we need to figure out what each guy can do and then put them in those situations to do that."
May, 16, 2017
May 16
12:40
PM ET
Take a glance around Solider Field on game day and you'll see fans wearing jerseys of Mike Ditka, Dick Butkus, Mike Singletary, Brian Urlacher, Lance Briggs, Charles Tillman, Brandon Marshall, Walter Payton, Matt Forte…and even Tom Waddle.
None of them play for the Bears anymore.
That's a real problem from a marketing standpoint. After six straight years of missing the playoffs – including three consecutive last place finishes in the NFC North – the Bears lack star power.
The only Bears player to crack the top-50 list in jersey sales for 2016 was wide receiver Alshon Jeffery (No. 46), who signed with the Philadelphia Eagles in free agency.
But help may be on the horizon.
The NFLPA released their 2017 Rising 50 on Tuesday -- an annual list of players poised to break out and rank among next season's top-sellers of all officially licensed merchandise -- and included in that group were Bears running back Jordan Howard (No. 4) and rookie quarterback Mitchell Trubisky (No. 25).
Howard finished second in the NFL in rushing yards (1,313 yards) last year behind only fellow rookie Ezekiel Elliott of the Dallas Cowboys. Named to the Pro Bowl, Howard joined Payton as the only Bears to rush for 1,300 yards while averaging 5.0 yards per carry. He also set a new Bears single-season rookie rushing record.
Trubisky is the second overall pick of the 2017 NFL draft, and the quarterback of the future.
The Bears are banking on Howard and Trubisky, in more ways than one, to lead them into the future.
May, 16, 2017
May 16
7:00
AM ET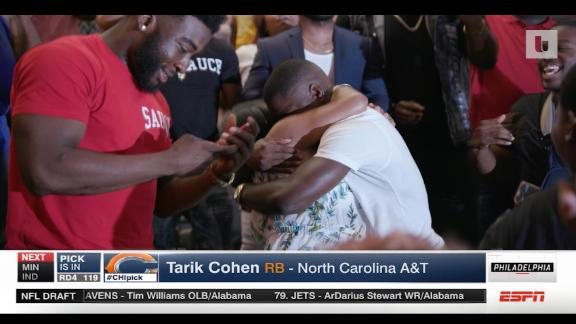 LAKE FOREST, Ill. -- Chicago Bears rookie running back Tarik Cohen might have more nicknames than Shaquille O'Neal before long.
Called the "Human Joystick" in college for his ridiculous, change-of-direction moves, Cohen suggested a new nickname for himself, "Chicken Salad" -- for reasons unknown -- when he participated in a draft weekend conference call.
And after rookie minicamp wrapped up on Sunday, Cohen -- listed at 5-foot-6, 179 pounds -- mentioned "Big Daddy" as another acceptable moniker.
What Cohen lacks in size, he makes up for in confidence.
That's been the story of Cohen's football career, so much so, that Chicago's fourth-round pick has a ready-made reply for those worried about his frame.
"My response has just been, 'turn on the tape,' you know?" Cohen said.
Cohen's college tape at North Carolina AT&T showed him dominate the FCS level of competition; much to the delight of the Bears, who had been searching for a shifty, change-of-pace rusher to add to their backfield.
"That's kind of the unique thing about him, he's got a little bit of a chip [on his shoulder], and he handles it great," Bears coach John Fox said. "He looks at it as a challenge all the time, and I think he views himself about 6-foot-6."
Cohen finished his college career with eye-popping statistics. Over four years at North Carolina A&T, he rushed for 5,619 yards and 56 touchdowns. He also caught 98 passes for 945 receiving yards and three touchdowns out of the backfield.
"Some things shock me," Cohen said. "Turn on my college tape, sometimes I wonder, how did I get out of there? Most of the time when I'm out there, it's a reaction. You can prepare yourself in practice, but practice is never going to be game simulated, it's never going to be exactly how the game is. Most of the moves I do, the cut moves, stopping on a dime, it's really reaction.
"[I know there will be] less cutback lanes [in the NFL]. So as many 80-yarders [as] I had in college, not going to get quite that many on this level. But I still think I could pop out a few here and there. The defense is way faster than the level I was at."
Fox thinks Cohen's versatility makes him uniquely suited for a third-down role on offense.
"Well, he's a joker back," Fox said. "I think third down, it's just another matchup, this game's about matchups. We weren't nearly as successful as we needed to be on third down a year ago, so people call it a joker back. It's got a lot of different names, but you see similar roles around the league that we really haven't had."
On draft night, Cohen immediately drew comparisons to Darren Sproles -- Sproles and Chicago general manager Ryan Pace overlapped in New Orleans, but Cohen identifies more with Kansas City's triple-threat Tyreek Hill.
"I see myself as a Tyreek Hill-type of player, very versatile, do things in the slot and also out of the backfield, and then not to mention also the special teams," Cohen said.
"People have definitely doubted me, but at this level somebody's faced doubt everywhere they've been. So that's really not the main thing that's motivating me, although it does and it definitely does with a major chip on my shoulder, because I'm one of the smallest guys on the team everywhere I've been. With that I feel it added fuel to the fire, added fuel to my motivation already."
May, 15, 2017
May 15
7:00
AM ET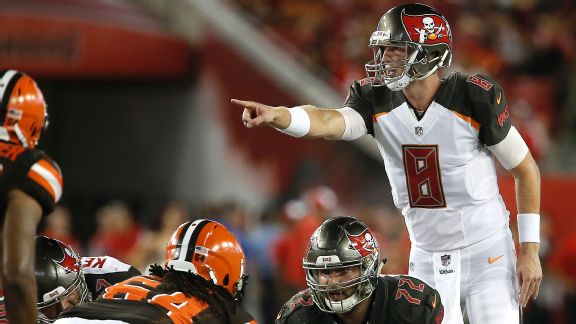 Reinhold Matay/USA TODAY SportsMike Glennon is expected to begin the 2017 season as the Bears' starter.
With free agency and the draft in the rearview mirror and organized team activities and minicamps in full swing, here's a starting lineup projection for the Chicago Bears:
OFFENSE
QB: Mike Glennon: The Bears paid Glennon $16 million guaranteed in 2017 to replace Jay Cutler until first-round pick Mitchell Trubisky is ready to take over.
RB: Jordan Howard: Howard finished second in the NFL in rushing yards (1,313) as a rookie.
WR: Cameron Meredith: Meredith -- a former college quarterback -- had a breakout year with 66 receptions for 888 yards and four touchdowns.
LT: Charles Leno: A former seventh-round pick, Leno permanently took over at left tackle in 2015 and started all 16 games last season.
LG: Josh Sitton: Sitton will earn $6.25 million in the second year of the deal he signed with Chicago after the Green Bay Packers released him.
C: Cody Whitehair: The 2016 second-round choice out of Kansas State turned out to be one of the Bears' best players on offense last season, and he has an incredibly bright future.
RG: Kyle Long: Long is a three-time Pro Bowl selection who is recovering from an ugly ankle injury that cut short his 2016 season.
RT: Bobby Massie: Chicago signed Massie in free agency last offseason and will pay him over $5 million to anchor the right side of the line.
TE: Dion Sims: The Bears paid Sims good money ($6 million guaranteed in 2017) to spearhead a revamped tight end group that also includes Adam Shaheen and Zach Miller.
WR: Markus Wheaton: The Bears hope Wheaton can recapture the form he showed in 2015 when he caught 44 passes for 749 yards (17.0 yards per reception) and five touchdowns for the Pittsburgh Steelers.
WR: Kevin White: The seventh overall pick in 2015, White has played in just four regular-season games because of leg injuries.
DEFENSE
DE: Akiem Hicks: Hicks set career highs in sacks (seven), tackles (50), forced fumbles (two) and pass breakups (three) in his first year in Chicago.
NT: Eddie Goldman: Goldman is a difference-maker when healthy (seven career sacks), but he appeared in only six games last year.
DE: Jonathan Bullard: Bullard -- chosen in the third round in 2016 -- needs to make a big jump in Year 2, and if not, the Bears can always turn to veteran Mitch Unrein.
OLB: Pernell McPhee: McPhee is a big-time leader on defense, but he missed the first six games of last season because of knee surgery. Veterans Willie Young and Lamarr Houston are also squarely in the mix at the crowded position.
ILB: Danny Trevathan: There is no timetable for Trevathan to return from a torn patellar tendon, so in the meantime, the Bears can lean on second-year backer Nick Kwiatkoski.
ILB: Jerrell Freeman: The veteran tallied 127 tackles last season despite missing four games because of a PED suspension.
OLB: Leonard Floyd: The ninth overall pick of the 2016 draft, Floyd had seven sacks as a rookie but also battled concussion issues.
CB: Prince Amukamara: The Bears agreed to pay Amukamara $7 million guaranteed on a one-year prove-it deal.
FS: Adrian Amos: Amos was a little up and down last year, but he has started 30 games since 2015.
SS: Quintin Demps: Chicago signed Demps in free agency after he intercepted six passes for the Houston Texans.
CB: Marcus Cooper: A tall cornerback at 6-foot-2, Cooper ($6 million guaranteed in 2017) picked off four passes for Arizona last year.
SPECIAL TEAMS
K: Connor Barth: Barth connected on 18 of 23 field goal attempts after the Bears signed him to replace Robbie Gould.
P: Pat O'Donnell: O'Donnell is coming off another solid season in which he averaged 44.0 yards per punt with a net average of 38.4.
KR: Deonte Thompson: Thompson averaged 23.0 yards on 35 kickoff returns with a long of 64 yards.
PR: Eddie Jackson: Jackson returned 11 punts for 253 yards and two touchdowns before he broke his leg in his final season at Alabama.
May, 13, 2017
May 13
12:00
PM ET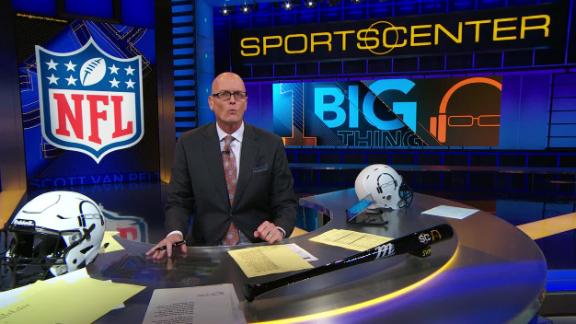 Some of the best players in NFL history didn't get drafted and didn't get a shot in the NFL until they were signed as undrafted free agents. Some players who weren't drafted include Hall of Famer John Randle and recently retired Cowboys quarterback Tony Romo. Here's an official list of this year's undrafted free agents for all 32 teams.
AFC East | AFC North| AFC South | AFC West
NFC East | NFC North | NFC South | NFC West
AFC East

Jordan Johnson, RB, Buffalo; Greg Pyke, G, Georgia; Nigel Williams, DT, Virginia Tech; Keith Towbridge, TE, Louisville; Zach Voytek, G, New Haven; Jeremy Tyler, S, West Virginia; Jason Croom, TE, Tennessee; Austin Rehkow, P, Idaho; B.T. Sanders, S, Nicholls State; Daikiel Shorts, WR, West Virginia; Marquavius Lewis, DE, South Carolina; Marcus Sayles, CB, West Georgia; Brandon Reilly, WR, Nebraska. -- Mike Rodak
Maurice Smith, safety, Georgia; Joby Saint Fleur, defensive end, Northwestern Oklahoma State; Praise Martin-Ohuike, linebacker, Temple; Malcom Lewis, receiver, Miami; De'Veon Smith, running back, Michigan; Drew Morgan, receiver, Arkansas; Stanford; Chase Allen, linebacker, Southern Illinois; Francis Owusu, receiver, Stanford; Larry Hope, cornerback, Akron; Eric Smith, offensive tackle, Virginia; Cameron Malveaux, defensive end, Houston. -- James Walker
Josh Augusta, DT, Missouri; Ellis Brooks, LB, Arkansas; Adam Butler, DT, Vanderbilt; Austin Carr, WR, Northwestern; Cole Croston, OT, Iowa; LeShun Daniels Jr., RB, Iowa; Cody Hollister, WR, Arkansas; Jacob Hollister, TE, Wyoming; Andrew Jelks, OT, Vanderbilt; David Jones, S, Richmond; D.J. Killings, CB, Central Florida; Jason King, G,. Purdue; Harvey Langi, LB, BYU; Kenny Moore, S, Valdosta State; Max Rich, OT, Harvard; Dwayne Thomas, DB, LSU; Jason Thompson, S, Utah; Damarius Travis, S, Minnesota; Corey Vereen, DE, Tennessee. -- Mike Reiss

Austin Calitro, ILB, Villanova; Xavier Coleman, CB, Portland State; Jareid Combs, DE, North Texas; Brisley Estime, WR/KR, Syracuse; Anthony Firkser, FB/TE, Harvard; Patrick Gamble, DT, Georgia Tech; Connor Harris, ILB, Lindenwood; Javarius Leaman, OT, South Carolina State; Gabe Marks, WR, Washington State. -- Rich Cimini
AFC NORTH

Quincy Adeboyejo; WR, Ole Miss; Kenny Allen, P, Michigan; C.J. Board, WR, Tennessee Chattanooga; Bam Bradley, LB, Pittsburgh; Omarius Bryant, DE, Western Kentucky; Carlos Davis, CB, Mississippi; Daniel Henry, S, New Mexico; Brandon Kublanow, C, Georgia; Taquan Mizzell, RB, Virginia; Ricky Ortiz, FB, Oregon State; Tim Patrick, WR, Utah; DE Seth Payne, Stetson; Patrick Ricard, DE, Maine; Maurquice Shakir, G, Middle Tennessee State; Zach Terrell, QB, Western Michigan; Tim White, WR/RS, Arizona State. -- Jamison Hensley
Brandon Bell, LB, Penn State; Cethan Carter, TE/FB, Nebraska; Demetrious Cox, S, Michigan State; Karel Hamilton, WR, Samford; Darrin Laufasa, FB, Texas-El Paso; Landon Lechler, OT, North Dakota State; Monty Madaris, WR, Michigan State; Hardy Nickerson, LB, Illinois; Kent Perkins, G/T, Texas; Dustin Stanton, G/T, Oregon State; Josh Tupou, DT, Colorado; Jarveon Williams, RB, Texas-San Antonio; Stanley Williams, RB, Kentucky. -- Katherine Terrell
B.J. Bello, LB, Illinois State; Josh Boutte, OL, LSU; Ladell Fleming, LB, Northern Illinois; J.D. Harmon, DB, Kentucky; Alvin Hill, DB, Maryland; Jamal Marcus, DL, Akron; Taylor McNamara, TE, USC; Kai Nacua, DB, BYU; Kenneth Olugbode, LB, Colorado; Karter Schult, DL, Northern Iowa; Channing Stribling, DB, Michigan. -- Pat McManamon

Rushel Shell, RB, West Virginia; Scott Orndoff, TE, Pitt; Terrish Webb, DB, Pitt; Nelson Adams, DT, Mississippi State; Christian Brown, DT, West Virginia; Ethan Cooper, OG, Indiana-Pennsylvania; Francis Kallon; DE, Georgia Tech; Keith Kelsey, LB, Louisville; Nick Schuessler, QB, Clemson. -- Jeremy Fowler

AFC SOUTH
Eli Ankou, DT, UCLA; Evan Baylis, TE, Oregon; Dimitric Camiel, T, Indiana; Dylan Cole, ILB, Missouri State; Zach Conque, TE, Stephen F. Austin; T.J. Daniel, DE, Oregon; Matthew Godin, DE, Michigan; Deanté Gray, WR, Texas Christian; Justin Hardee, WR, Illinois; Rickey Hatley, NT, Missouri; Shaq Hill, WR, Eastern Washington; Riley McCarron, WR, Iowa; T.J. Mitcherson, S, Central Florida; Dayon Pratt, OLB, East Carolina; Gimel President, OLB, Illinois; Daniel Ross; DE, Northeast Mississippi CC; Jake Simonich, G, Utah State; Malik Smith, S, San Diego State; Dee Virgin, CB, West Alabama; Avery Williams, ILB, Temple. -- Sarah Barshop

Deyshawn Bond, OL, Cincinnati; Dalton Crossan, RB, New Hampshire; Darrell Daniels, TE, Washington; Trey Griffey, WR Arizona; Thomas Hennessy, LS, Duke; Johnathan "Bug" Howard, WR, North Carolina; Colin Jeter, TE, LSU; Jerome Lane, WR, Akron; Chris Lyles, CB, Mississippi College ; Christopher Muller, OL, Rutgers; Bruce "JoJo" Natson, WR, Akron; Reginald Porter, CB, Utah; Brandon Radcliff, RB, Louisville; Rigoberto Sanchez, P, Hawaii; Garrett Sickels, LB, Penn State; Jhaustin Thomas, DL, Iowa State; Jerry Ugokwe, OL, William & Mary; Phillip Walker, QB, Temple. -- Mike Wells
Caleb Bluiett, TE, Texas; Keelan Cole, WR, Kentucky Wesleyan; Parker Collins, C, Appalachian State; Tim Cook, RB, Oregon State; Jeremy Cutrer, CB, Middle Tennessee State; P.J. Davis, LB, Georgia Tech; Hunter Dimick, DE, Utah; Amba Etta-Tawo, WR, Syracuse; Avery Gennesy, G, Texas A&M; Justin Horton, LB, Jacksonville; Tueni Lupeamanu, DT, Idaho; I'Tavius Mathers, RB, Middle Tennessee State; Charles Miller, S, Dartmouth; Carroll Phillips, DE, Illinois; Ezra Robinson, CB, Tennessee State; Kenneth Walker, WR, UCLA. -- Mike DiRocco
Jeremy Boykins, CB, Central Florida; DeAngelo Brown, NT, Louisville; Bra'Lon Cherry, WR, North Carolina State; Tyler Ferguson, QB, Western Kentucky; John Green, CB, Connecticut; Roderick Henderson, NT, Alabama State; Denzel Johnson, LB, Texas Christian; Akeem Judd, RB, Mississippi; KeVonn Mabon, WR, Ball State; Steven Moore, T, California; Giovanni Pascasio, WR, Louisville; Jonah Pirsig, T, Minnesota. -- Paul Kuharsky
AFC WEST

Erik Austell, T, Charleston Southern; Josh Banderas, LB, Nebraska; Dante Barnett, S, Kansas State; Jamal Carter, S, Miami; Ken Ekanem, DE, Virginia Tech; Jerrol Garcia-Williams, LB, Hawaii; Deon Hollins, LB, UCLA, Cameron Hunt, T, Oregon; Tyrique Jarrett, NT, Pitt; Anthony Nash, WR, Duke; Marcus Rios, CB, UCLA; Kyle Sloter, QB, Northern Colorado; Shakir Soto, DT, Pitt; Orion Stewart, S, Baylor; Dymonte Thomas, S, Michigan. -- Jeff Legwold
Corin Brooks, T, Texas-Permian ; Devin Chappell, S, Oregon State; Gehrig Dieter, WR, Alabama; Anas Hasic, WR, West Florida; Wyatt Houston, TE, Utah State; Marcus Kemp, WR, Hawaii; Ashton Lampkin, CB, Oklahoma State; Damien Mama, G, USC; Alonzo Moore, WR, Nebraska; JR Nelson, CB, Montana; Jordan Sterns, S, Oklahoma State; Tony Stevens, WR, Auburn. -- Adam Teicher
Sean Culkin, TE, Missouri; Dillon Deboer, C, Florida Atlantic; Michael Davis, CB, BYU; Austin Ekeler, RB, Western State; , Nigel Harris, LB, South Florida; Eli Jenkins, QB, Jacksonville State; Younghoe Koo, K, Georgia Southern; Mike Moore, LB, Kansas State; James Onwualu, LB, Notre Dame; Andre Patton, WR, Rutgers; Artavis Scott, WR, Clemson; Brandon Stewart, CB, Kansas; Brad Watson, CB, Wake Forest; Dontre Wilson, WR, Ohio State; Mason Zandi, OT, South Carolina. -- Eric D. Williams
Breon Borders, cornerback, Duke; Paul Boyette, defensive tackle, Texas; Chauncey Briggs, offensive tackle, SMU; Fadol Brown, defensive end, Mississippi, Pharoh Brown, tight end, Oregon; Anthony Cioffi, safety, Rutgers; Keon Hatcher, receiver, Arkansas; Chris Humes, cornerback, Arkansas State; Rickey Jefferson, safety, LSU; Anthony Kukwa, long snapper, Lake Erie; Nicholas Morrow, linebacker, Greenville; Jordan Simmons, guard, USC; Ahmad Thomas, safety, Oklahoma; Jordan Wade, defensive tackle, Oklahoma; Isaac Whitney, receiver, USC; Xavier Woodson-Luster, linebacker, Arkansas State; Ishmael Zamora, receiver, Baylor. -- Paul Gutierrez
NFC EAST
Brian Brown, WR, Richmond; Austin Appleby, QB, Florida; Dan Skipper, OT, Arkansas; Cooper Rush, QB, Central Michigan; Blake Jarwin, TE, Oklahoma State; Woody Baron, DT, Virginia Tech; Nate Theaker, G, Wayne State; Jahad Thomas, RB, Temple; Lucas Wacha, LB, Wyoming; Kennan Gilchrist, LB, Appalachian State; Lewis Neal, DT, LSU; Levon Myers, OT, Northern Illinois; Michael Coe, C, North Dakota; Joe Jones, LB, Northwestern. -- Todd Archer

Jadar Johnson, S, Clemson; Jarron Jones, DL, Notre Dame; Jessamen Dunker, OL, Tennessee State; Colin Thompson, TE, Temple; Travis Rudolph, WR, Florida State; Chad Wheeler, OL, USC; Nigel Tribune, CB, Iowa State; Calvin Munson, LB, San Diego State; Shane Smith, FB, San Jose State; Josh Banks, DT, Wake Forest; Keeon Johnson, WR, Virginia; Evan Schwan, DE, Penn State; Rob Wheelwright, WR, Wisconsin; Jalen Williams, WR, UMass; DeShaun Amos, CB, East Carolina. -- Jordan Raanan
Corey Clement, RB, Wisconsin; Randall Goforth, S, UCLA; Jomal Wiltz, CB, Iowa State; Tyler Orlosky, C, West Virginia; Greg Ward, QB/WR, Houston; Marcus Oliver, LB, Indiana; Cameron Johnston, P, Ohio State; Tre' Sullivan, S, Shepherd; Billy Brown, TE, Shepherd; Winston Craig, DL, Richmond. -- Tim McManus
Brandon Banks, DL, Charlotte; Tyler Catalina, G, Georgia; Levern Jacobs, WR, Maryland; Kyle Kalis, G, Michigan; Zach Pascal, WR, Old Dominion; Ondre Popkins, DL, Texas Tech; James Quick, WR, Louisville; Fish Smithson, S, Kansas. -- John Keim
NFC NORTH
Joel Bouagnon, RB, Northern Illinois; Rashaad Coward, DL, Old Dominion; Hendrick Ekpe, LB, Minnesota; Tanner Gentry, WR, Wyoming; Franko House, TE, Ball State; Isaiah Irving, LB, San Jose State, Dieugot Joseph, OL, Florida International; Matt Kirsch, OL, James Madison; Andy Phillips, K, Utah; Alex Scearce, LB, Coastal Carolina; Jhajuan Seales, WR, Oklahoma State; Freddie Stevenson, FB, Florida State and Levonte Whitfield, WR, Florida State. -- Jeff Dickerson
Brandon Barnes, TE, Alabama State; Alex Barrett, DE, San Diego State; Dontez Ford, WR, Pittsburgh; Tion Green, RB, Cincinnati; Nick James, DT, Mississippi State; Leo Koloamatangi, OL, Hawaii; Des Lawrence, CB, North Carolina; Storm Norton, OT, Toledo; Michael Rector, WR, Stanford; Maurice Swain, DT, Auburn; Noel Thomas, WR, Connecticut; Josh Thornton, CB, Southern Utah; Robert Tonyan, TE, Indiana State; Jeremiah Valoaga, DE, UNLV. -- Michael Rothstein
Donatello Brown, CB, Valdosta State; Johnathan Calvin, LB, Mississippi State; Michael Clark, WR, Marshall; Montay Crockett, WR, Georgia Southern; Thomas Evans, G, Richmond; Geoff Gray, G, University of Manitoba; Cody Heiman, LB, Washburn; Taysom Hill, QB, Brigham Young; Isaah Lunsford, DT, Bowling Green State; Adam Pankey, G/T, West Virginia; Aaron Peck, TE, Fresno State; Kalif Phillips, RB, Charlotte; Lenzy Pipkins, CB, Oklahoma State; David Rivers, CB, Youngstown State; Justin Vogel, P, Miami (Fla.); Josh Letuligasenoa, LB, Cal Poly; Raysean Pringle, CB, Southern Utah; William Stanback, RB, Virginia Union; David Talley, LB, Grand Valley State; Aaron Taylor, S, Ball State. -- Rob Demovsky
Tashawn Bower, DE, LSU; Dylan Bradley, DE, Southern Mississippi; Aviante Collins, T, TCU; Nick Fett, T, Iowa State, Caleb Kidder, DE, Montana; Wes Lunt, QB, Illinois; Sam McCaskill, DE, Boise State; Terrell Newby, RB, Nebraska; Josiah Price, TE, Michigan State; Horace Richardson, DB, SMU; R.J. Shelton, WR, Michigan State; Shaan Washington, LB, Texas A&M; Eric Wilson, LB, Cincinnati. -- Ben Goessling
NFC SOUTH
Travis Averill, C, Boise State; Marcelis Branch, S, Robert Morris; Daniel Brunskill, OL, San Diego State; Deante Burton, WR, Kansas State; Reginald Davis III, WR, Texas Tech; Darius English, LB, South Carolina; Wil Freeman, OT, Southern Mississippi; Jarnor Jones, CB, Iowa State; J'terius Jones, DE, Miami (Ohio); Cam Keizur, C, Portland State; Andreas Knappe, OT, UConn; Robert Leff, G, Auburn; Josh Magee, WR, South Alabama; Quincy Mauger, S, Georgia; Jordan Moore, S, Texas-San Antonio; Chris Odom, DE, Arkansas State; Tyler Renew, FB, The Citadel; Taylor Reynolds, CB, James Madison; Christian Tago, LB, San Jose State; Alek Torgersen, QB, Penn; Deron Washington, S, Pittsburgh State. -- Vaughn McClure
Ben Boulware, LB, Clemson; Fred Ross, WR, Mississippi State; Cole Luke, CB, Notre Dame; Bryan Cox Jr., DE, Florida; Austin Duke, WR, UNC-Charlotte. -- David Newton
Travin Dural, WR, LSU; Ahmad Fulwood, WR, Florida; John Robinson-Woodgett, FB, Massachusetts; Collin Buchanan, G, Miami (Ohio); Cameron Lee, G, Illinois State; Clint Van Horn, G, Marshall; Cameron Tom, C, Southern Mississippi; Andrew Lauderdale, OL, New Hampshire; Devaroe Lawrence, DT, Auburn; Sae Tautu, LB, BYU; Arthur Maulet, CB, Memphis; Chase Dominguez, LS, Utah. -- Mike Triplett
Jared Collins, CB, Arkansas; Kevin Davis, ILB, Colorado State; Justin Davis, RB, USC; Jake Eldrenkamp, OL, Washington; Anthony McMeans, OL, New Mexico; Kwayde Miller, OL, San Diego State; Johnny Mundt, TE, Oregon; Folarin Orimolade, OLB, Dartmouth; Aarion Penton, DB, Missouri, Casey Sayles, DT, Ohio; Lenard Tillery, RB, Southern; Travis Wilson, TE, Utah; Dravious Wright, DB, NC State. -- Jenna Laine
NFC WEST

Carlton Agudosi, WR, Rutgers; Collin Bevins, DT, NW Missouri State; Lucas Crowley, C, North Carolina; Ironhead Gallon, S, Georgia Southern; Gump Hayes, S, Arizona State; Krishawn Hogan, WR, Marian; Drico Johnson, S, Central Florida; Tre'Von Johnson, OLB, Weber State; Trevor Knight , QB, Texas A&M; Ryan Lewis, CB, Pittsburgh; Jonathan McLaughlin, T, Virginia Tech; Cyril Noland-Lewis, S, Louisiana Tech; Ricky Seals-Jones, TE, Texas A&M; Sojourn Shelton, CB, Wisconsin; James Summers, RB, East Carolina; Pasoni Tasini, DT, Utah; Steven Wroblewski, TE, Southern Utah. -- Josh Weinfuss
Jared Collins, CB, Arkansas; Kevin Davis, ILB, Colorado State; Justin Davis, RB, USC; Jake Eldrenkamp, OL, Washington; Anthony McMeans, OL, New Mexico; Kwayde Miller, OL, San Diego State; Johnny Mundt, TE, Oregon; Folarin Orimolade, OLB, Dartmouth; Aarion Penton, DB, Missouri, Casey Sayles, DT, Ohio; Lenard Tillery, RB, Southern; Travis Wilson, TE, Utah; Dravious Wright, DB, NC State -- Alden Gonzalez

Victor Bolden, WR, Oregon State; Kendrick Bourne, WR, Eastern Washington; Matt Breida, RB, Georgia Southern; KD Cannon, WR, Baylor; J.P. Flynn, OL, Montana State; Jimmie Gilbert, LB, Colorado; Malik Golden, S, Penn State; Cole Hikutini, TE, Louisville; Lorenzo Jerome, S, St. Francis (PA); Erik Magnuson, OL, Michigan; Tyler McCloskey, FB, Houston; Nick Mullens, QB, Southern Mississippi; Donavin Newsom, LB, Missouri; Noble Nwachukwu, DE, West Virginia; Bret Treadway, OL, Lamar; Darrell Williams Jr., OT, Western Kentucky. -- Nick Wagoner
Algernon Brown, FB, BYU; Skyler Howard, QB, West Virginia; Jeremy Liggins, DT, Mississippi; Otha Peters, LB, Louisiana-Lafayette; Darreus Rogers, WR, USC; Jordan Roos, OL, Purdue; Tyron Swoopes, TE, Texas; Nick Usher, LB, UTEP. -- Sheil Kapadia
May, 13, 2017
May 13
9:00
AM ET
LAKE FOREST, Ill. – Chicago Bears offensive coordinator Dowell Loggains joked on Friday that he's ready for former quarterback turned Fox analyst Jay Cutler to deliver sharp commentary towards his old team.
"I'm perfectly ready for Jay to criticize our offense," Loggains said with a smile. "I'll hear it before you guys do through text message. I think he's gonna be wonderful. Jay is an extremely talented person. He's a smart person. Jay will be successful in whatever he chooses to do, and I think he's going to do a wonderful job."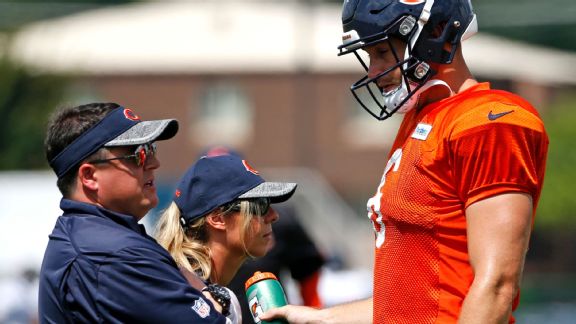 AP Photo/Nam Y. HuhDowell Loggains says he'll hear from Jay Cutler via text about the Bears' offense before the new broadcaster goes public.
Cutler initially wanted to play in 2017, but aside from receiving varying degrees of interest from the New York Jets and Houston Texans there didn't seem much of market for the 34-year old quarterback's services. Unable to latch onto a competitor, Cutler announced last week that he signed a contract with Fox to work alongside Kevin Burkhardt and Charles Davis in the network's No. 2 booth.
"I think Jay was really content on the decision he made and what he's doing, and I think that was the path that he was very comfortable going down," Loggains said.
Cutler's first game is in the third week of the preseason when the Bears travel to Nashville to face the Tennessee Titans.