March, 24, 2017
Mar 24
2:15
PM CT
MESA, Ariz. -- Could Chicago Cubs strength and conditioning coach Tim Buss be the next personal trainer for the original "Material Girl"? If it's up to manager Joe Maddon, Buss will be striking a pose for Madonna soon enough.
After reading that the legendary singer is taking "applications" for a new trainer, Maddon decided to throw Buss' name into the mix. He had the Cubs' video team put together a one-minute montage of Buss at work with Cubs players. The team tweeted the video to Madonna on Friday morning.
Hey @Madonna, we have your trainer!
@CubsJoeMadd nominates #Cubs strength and conditioning coach Tim Buss. #MadonnaChallenge #DanceOn pic.twitter.com/G77yMKgJOm

— Chicago Cubs (@Cubs) March 24, 2017


"We'll send whatever she needs to show our guy is the best," Maddon joked.
Buss is not only the strength coach but also comedic relief for the team, especially during spring training. He doesn't exactly have the typical body of a personal trainer, but he gets the most out of the Cubs, and players such as Anthony Rizzo swear by him.
"His physique was presented so she can be duly impressed," Maddon said, smiling.
The team is hopeful they'll get a response from Madonna or her people, but they're not worried they would lose the popular coach to the singer.
"We could share him somehow," Maddon said. "She'll fire him after a couple of weeks anyway."
March, 9, 2017
Mar 9
4:22
PM CT
Reason for optimism: From atop baseball's mountain at last, Cubs fans happily confirm the hopeful words of Ellis Boyd "Red" Redding: The Pacific really is as blue as it was in their dreams.
Reason for pessimism: Even the 1985 Chicago Bears defense was only that good for just one season.
After a winter's reflection, it wasn't the greatest game of my lifetime -- that distinction still belongs to Game 6 of the 2011 World Series -- but last year's season finale was unquestionably the most significant. What will probably be largely forgotten is how close Joe Maddon came to joining Al Capone, Mrs. O'Leary's cow and Steve Bartman as the final member of Chicago's Mount Rushmore of Infamy.
We're here to look forward though, not back, because, to slightly paraphrase the immortal words of the Dallas Cowboys' Duane Thomas, "They're gonna play it again this year, right?"
Not only are they going to play it again this year, but the Cubs are even heavier favorites to return to the Fall Classic than they were a year ago at this time.
March, 24, 2017
Mar 24
7:03
AM CT
MESA, Ariz. -- Chicago Cubs manager Joe Maddon tabbed right-hander Kyle Hendricks, last season's MLB ERA leader, as the team's No. 5 starter out of spring training. And while that may seem odd, given that Hendricks has been every bit as good this spring as he was last year -- when he produced a nifty 2.13 ERA -- he'll be the No. 5 starter in name only. Maddon is getting creative with the deployment of his staff and he cites Hendricks' "lack of ego" for allowing him to do so.
"Everyone gets hung up on numbers," Maddon said Thursday afternoon. "He's definitely better than a No. 5 starter. It just happens we're going to slot him in the 5-hole coming out of camp. It's not a pecking order of ability by any means."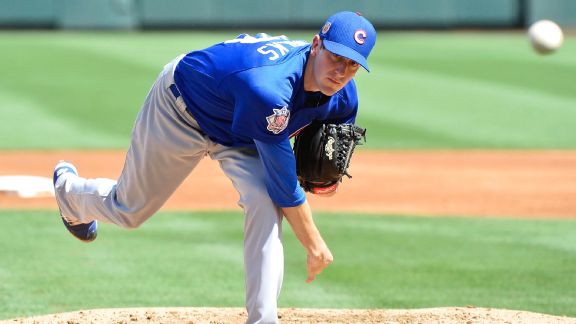 Matt Kartozian/USA Today SportsCubs manager Joe Maddon said Kyle Hendricks' ego, or lack thereof, allowed him to use Hendricks in the fifth slot of the rotation.
Managers basically get to set their order only twice a year, in April and out of the All-Star break, so the Cubs are being strategic. Maddon chose to pitch Hendricks in their second series of the year, versus the Milwaukee Brewers, against whom he has a career 2.11 ERA. Here's how the rest of the rotation shakes out: Jon Lester will pitch Opening Day, Jake Arrieta slots in as the No. 2 starter and John Lackey will start Game No. 3 against his former team, the St. Louis Cardinals. Brett Anderson will pitch Game 4, in order to separate himself from Lester, a fellow lefty. Hence, Hendricks penciled in as the "fifth" starter.
"It makes great writing or discussion," Maddon said of labeling starters 1 through 5. "We don't look at it that way."
Anderson "won" the final starter job over Mike Montgomery, but he always was going to be in the driver's seat as long as he was healthy. Maddon stated several times this spring that it would be hard to imagine Anderson as a reliever because of past injuries, which include a bad back. Getting him ready mid-game just wasn't feasible. So even though Montgomery looked really good this spring, he'll start the year in the bullpen.
"We had a nice conversation with Montgomery," Maddon said. "He understood. He had a great attitude about all of this."
However, Maddon doesn't envision Anderson making 32 starts and pitching 200 innings, so there's a good chance Montgomery will be in the rotation at some point. The Cubs also have indicated a desire to use a six-man starting staff when the dog days of the season approach.
"I could see him starting," Maddon said of Montgomery. "Long relief, short relief. All of it."
Meanwhile, Maddon believes Hendricks can reach the next plateau of his career: 200 innings pitched.
"I'd like him to be able to take that step," Maddon said. "Just a natural progression for him."
Ultimately, it's a testament to the Cubs, and Hendricks, that they can throw him into Game No. 5 and not think twice about it. How many healthy ERA leaders didn't pitch in one of their team's first four games the next season? The Cubs have an embarrassment of riches both on the mound and around the diamond. They plan on taking advantage of it.
"[Hendricks'] ego doesn't force you to attempt to try and do something different," Maddon said. "I like it a lot. It sets up really well."
March, 23, 2017
Mar 23
8:44
AM CT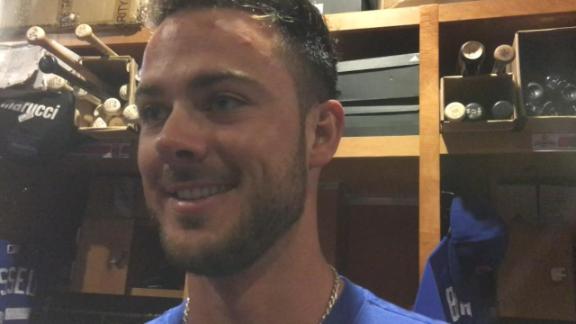 Theo Epstein is the world's greatest leader.
So said Fortune magazine, which published its annual list on Thursday morning.
The Chicago Cubs' president of baseball operations finished in the top spot, ahead of Alibaba founder Jack Ma. Pope Francis at No. 3, Melinda Gates at No. 4 and Amazon CEO Jeff Bezos rounded out the top five.
Epstein, who helped end the Boston Red Sox's 86-year World Series title drought as their general manager in 2004, saw his Cubs end their 108-year drought this past season. But he doesn't necessarily agree with the honor.
In a text to ESPN's Buster Olney, Epstein said, "Um, I can't even get my dog to stop peeing in the house. That is ridiculous. The whole thing is patently ridiculous. It's baseball -- a pastime involving a lot of chance. If [Ben] Zobrist's ball is three inches farther off the line, I'm on the hot seat for a failed five-year plan. And I'm not even the best leader in our organization; our players are."
Wrote Sports Illustrated's Tom Verducci for Fortune: "This time there was no proprietary formula, no algorithm, for self-motivated, high-character players and creating an environment to allow them to flourish. [Epstein and his assistants] never stopped searching to find edges, but they made a fundamental decision early after coming to Chicago that the one edge they could exploit was found in a very old-school resource: people."
Epstein will be rewarded for his leadership. His first deal paid him an average of $3.7 million a year. His current deal, which he agreed to in September, will see him making nearly $10 million a year.
Epstein wasn't the only sports figure on the list -- LeBron James was ranked 11th.
March, 22, 2017
Mar 22
4:35
PM CT
Rich Schultz/Getty ImagesDallas Green became a Philadelphia legend when he led the Phillies to the franchise's first World Series championship in 1980.
Dallas Green, a towering baseball figure who won a World Series as a manager in Philadelphia and paved the way for lights at Wrigley Field as president of the Chicago Cubs, died Wednesday. He was 82.
No cause of death was announced, but Green had been suffering from kidney failure and had been in declining health for much of the past year.
Green spent 62 years in baseball as a player, manager, general manager, team president, minor league director and scout. He managed the Phillies to the first World Series title in franchise history in 1980. He was one of just four men to manage both the New York Yankees and New York Mets. He also spent six seasons as general manager and president of the Cubs from 1982 to 1987.
"The game lost a great baseball man today," Phillies chairman David Montgomery said in a statement released by the team. "Dallas held many different positions in baseball, and his passion and love for the game was evident in every role he played.
March, 21, 2017
Mar 21
3:47
PM CT
March, 21, 2017
Mar 21
6:30
AM CT
Former Chicago Cubs catcher David Ross hit a solid double in his "Dancing with the Stars" debut on Monday night, scoring 7s from all four judges for a more-than-respectable total of 28 points out of 40.
Ross, who turned 40 on Sunday, danced with partner Lindsay Arnold to Steve Goodman's "Go Cubs Go" as they quickstepped around the dance floor. Ross wore a sequined Cubs uniform as his former teammates watched from spring training in Arizona. Afterward, first baseman Anthony Rizzo and pitcher Jake Arrieta surprised Ross by appearing on the show via Skype.
Rizzo called Ross' performance "unbelievable," saying he "set the bar way too high" for his first performance, while one judge said Ross was like a "teenager on spring break." The act began with Ross pretending to hit a baseball then sliding into first base before he and Arnold got together for the rest of the performance. Overall they got great reviews from the judges. Ross is the first baseball player to appear on the show.
"That was one of my favorite dances of the night," judge Carrie-Ann Inaba said.