September, 20, 2017
Sep 20
6:20
AM CT


ST. PETERSBURG, Fla. -- It all began in a hotel in Houston, during the 2005 World Series.
While the baseball world descended on the city to watch the White Sox put the finishing touches on a sweep of the Astros, Andrew Friedman and Joe Maddon sat down for the interview that would change the course of two franchises.
"It went four to five hours, and he came prepared with a binder of information," Friedman said. "By the end of it, it was pretty clear that he was a fit for what we were looking for.
"His approach was challenging conventional wisdom and I liked that."
Before the Chicago Cubs would benefit from hiring Maddon in their own history-making way, it was Friedman, then an executive with the Tampa Bay Rays, who first took the leap to make Maddon a major league manager.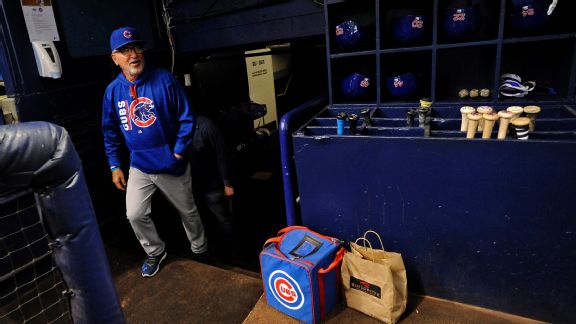 AP Photo/Steve NesiusBefore leading the Cubs to a world title, Joe Maddon used his unconventional managerial methods -- like getting rid of the team dress code -- to transform the Rays from perennial AL East doormat to a contender.
What Maddon did with practically no payroll in front of a small fan base in that strange-looking ballpark in St. Petersburg was no small miracle. But what attracted the Rays to him in the first place?
"The two things that were most important to us, with the young team that we had, was someone with an extensive player development background as well as someone who was intellectually curious," Friedman recalled this week from Los Angeles, where he is now the president of the Dodgers. "As far as what we were looking for at that point in time, Joe fit it to a T. He checked all the boxes on paper, and even more so when we sat down and had a chance to exchange ideas and thoughts."
What Friedman saw in that first interview with Maddon helped make the Rays something few thought the franchise could become: contenders in the big-spending AL East.
"We were competing against the Red Sox and Yankees with far less resources and we thought approaching it with a different perspective would give us the best chance," Friedman recalled. "We wanted someone that would look at things in an unconventional way. That was Joe."
Riding that unconventional approach, the once-lowly Rays made four playoff appearances -- including a World Series run in 2008 -- before Maddon left for the Cubs before the 2015 season.
Now, as Maddon returns to Tampa Bay for the first time, his former franchise honored him with a video montage before the top of the second inning on Tuesday night, which resulted in a standing ovation.
Maddon knew immediately the changes he wanted to implement if he ever got a big league managing job after years of coaching in the Angels organization. It began with something small: eliminating the dress code.
"That was possibly No. 1," Maddon said. "The theme dress trips. Part of it, at that time, was poking fun of the entire method [of dressing up].
"[Also], the lack of batting practice, altering the workday prior to a game. It was important to me to alter the method on a daily basis just so the guys would not get mentally bored with the whole thing. If I learned one thing in economics class, it's the point of diminishing returns. … You can't constantly repeat the same method and believe it's always going to be good.
"The other point would be showing up at the ballpark. It's absurd, first one there, last one to leave. It's an incredibly inane concept. Work smart, don't just work. Those are the things I wanted to eradicate."
Getting Friedman's buy-in was important, but how would the players react? In short, they loved the freedom Maddon's approach allowed -- right from the start.
Current Cub Ben Zobrist arrived in Tampa Bay at the same time Maddon did. He experienced the culture change first-hand.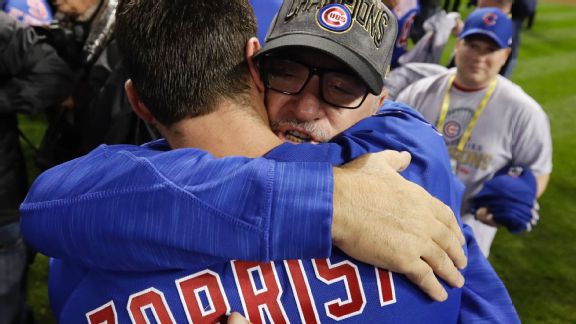 Matt Slocum/AP PhotoBen Zobrist, who has played for Joe Maddon in every season but one since 2006, said he's a fan of the skipper's approach, especially his positivity.
"I could see the difference just from where I came from in Houston," Zobrist said. "How they were more open, relaxed and not so much about the rules. It was very different than anything I had ever experienced in pro ball. … They started the change at the big league level and let it trickle down. The minor leagues were pretty strict at that point, but that changed as well."
While the dividends weren't immediately evident on the field -- the Rays lost over 100 games in 2006 and 2007 -- the payoff became clear as a host of talented young players made their way through the system and the franchise's run of success began with the manager readying his young stars for the biggest moments.
Sound familiar? That's exactly what Maddon thrived at upon arriving in Chicago, where he had to guide a young team through the pressure that comes with a century-plus of heartache.
"He had a tremendous ability to know when a player needed a pat on the back," Friedman explained. "Observing that, watching that, then seeing the pretty immediate benefits from it, that's something that really stuck with me.
"And one thing that Joe did really well when being mired in something, human instinct is X and he had a tremendous ability to rise above it and do the opposite. I feel like it benefited our players in a lot of different ways and often times they didn't realize it in the moment, didn't necessarily appreciate it in the moment, but that over time was wildly beneficial."
Moving from a small market to a big market didn't change his unorthodox ways. The same kinds of things have gone on in Chicago, from Maddon's strategy of batting Addison Russell ninth when he first arrived and backing off his starting pitchers -- even over their protests -- to his insisting on unconventional practices to keep his team fresh through the grinds of the long season.
"We tried things other groups [teams] weren't willing to try," Maddon said. "I never understood why it was so important to go from a clubhouse, to a bus, to a tarmac, to a plane, to a tarmac, to a bus, to a hotel lobby, to your room and why it was so important to dress up. If I leave any kind of legacy within this game, I would be pointed at in regards to changing the dress code. Seriously."
Another Chicago staple -- the Maddonism -- got its roots in Tampa Bay. When asked to pick from Maddon's famous sayings, Friedman said there were "too many to remember."
"Anytime he had some time away, whether it was the offseason or the All-Star break, he often came back with really interesting ones," Friedman said with a laugh.
Zobrist added: "Things he said back then made a huge difference to me. Still does. There was a definite culture shift that I was kind of privy to at the big league level. I was there for two years when we lost 100 games, but Joe had to find a way to keep it positive and keep it going."
Maddon never had to go through the same growing pains with the Cubs, and what he developed in Tampa Bay was perfected by the time he got to Chicago. The results have been nothing short of stunning: Maddon's team has finished above .500 in nine of his past 10 seasons as a manager, and if the Cubs can close out the NL Central in the next two weeks, it'll make seven playoff appearances in 10 years for him.
Now, as October approaches, it's time to see if Maddon's touch can lead to something even he has never experienced before: a World Series repeat.
September, 19, 2017
Sep 19
10:57
PM CT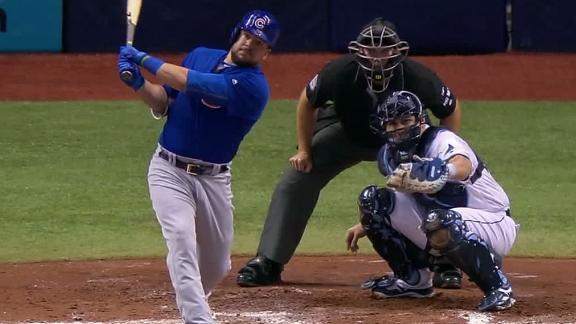 ST. PETERSBURG, Fla. -- He wasn't supposed to start another game this regular season, but his bosses told Chicago Cubs lefty Mike Montgomery to be ready just in case. After all, the Cubs were taking on the Tampa Bay Rays, who were 17-27 against lefty starters this year.
You can make that 17-28 after a fantastic outing from the Cubs' sixth starter on Tuesday night.
"That's the best I've seen him since he's been here," Cubs manager Joe Maddon said.
Montgomery was great, pitching six innings while giving up just one hit, a home run to Brad Miller in his final inning of work. It made Maddon a winner in his homecoming with his former team and drew the Cubs closer to winning a division title. Montgomery also played in the Rays organization, and closer Wade Davis used to pitch for them as well. Both played a part in the Cubs' 2-1 win, reinforcing the notion that good pitching wins out at this time of year.
Kim Klement/USA Today SportsMike Montgomery showed again he's ready to do more, but the Cubs may not need to ask it of him.
"Everything seemed to be working," Montgomery said of his night.
Much has been made in recent days of the Cubs' deep position-player base, especially with the return of Addison Russell from a foot injury and the hot streak Albert Almora Jr. has put together. But with the pending return of righty Jake Arrieta from a hamstring ailment, all of a sudden the Cubs are deeper on their staff than they've been all season. That could lead to some tough decisions come next month, assuming the Cubs make the playoffs.
Before the game, both Maddon and team president Theo Epstein shut down questions about a potential postseason rotation. It's too early to discuss, they claimed. The biggest question would revolve around the Cubs' Game 1 starter. That's who would start a potential Game 5 as well. But even figuring out the assignments for Games 2-4 might be difficult. Jon Lester hasn't been at his best, and Arrieta is just getting back on the mound. But the good news is there's still time to sort it all out.
One thing we can assume is Montgomery's role. It'll be in the bullpen, and just like Game 7 of the World Series last year, he's bound to be in the middle of some big moments in whatever capacity he is used. He knows what's waiting for him before this baseball season is over.
"I'm going to be ready to pitch big games, big innings, whether it's starting or relieving," Montgomery said. "It doesn't matter. … Mentally, whether it's late in the game, I'm ready to get in there and get some big outs."
That sounds like a confident pitcher who has already faced the toughest task -- closing out a World Series -- and is ready for anything that is to come. The Cubs, as a team, are starting to look that way after winning their seventh game in a row.
"Their mental energy is at a season high right now, and it's fun to watch," Maddon said.
About as much fun as it was to watch Montgomery dismantle the Rays. He didn't flinch when he hit the first batter of the game, nor did it bother him when Russell made an error at shortstop. He pitched around everything, showing the same mental toughness he did last fall.
There will be more days like this to come, with even more on the line, and Montgomery believes he'll be up to the task. He has answered every challenge thrown at him so far and every responsibility the Cubs have given him, including starting games and coming out of the pen early and late.
"I feel ready for just about anything, the way this year has gone," Montgomery said.
September, 19, 2017
Sep 19
9:18
PM CT
Associated Press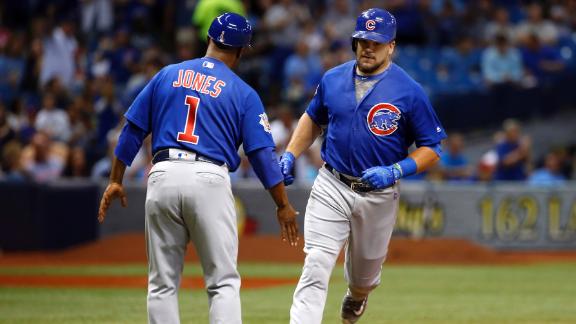 ST. PETERSBURG, Fla. -- Mike Montgomery took a no-hit bid into the sixth inning, Kyle Schwarber hit his 28th home run and the Chicago Cubs extended their winning streak to a season-high seven by beating the the Tampa Bay Rays 2-1 Tuesday night in manager Joe Maddon's return to Tropicana Field.
Maddon managed the Rays from 2006-14, then left to manage Chicago and last year led the Cubs to their first World Series title since 1908. Chicago entered with a 3 1/2-game lead over second-place Milwaukee in the NL Central.
Montgomery (7-8) allowed one hit in six innings, a one-out homer in the sixth by Brad Miller. Montgomery struck out six, walked one and hit his first batter, Kevin Kiermaier.
September, 19, 2017
Sep 19
6:42
PM CT
AP Photo/Gene J. PuskarCubs righty Jake Arrieta will be on a pitch count of 75-80 pitches when he returns to the mound Thursday against Milwaukee.
ST. PETERSBURG, Fla. -- Chicago Cubs righty Jake Arrieta is slated to start Thursday against the Milwaukee Brewers, barring a setback from a hamstring injury that has limited him to one start in September.
Arrieta, 31, threw 25 pitches in a light bullpen session Tuesday, under the guidance of the Cubs' training staff as well as team president Theo Epstein.
"He looked really good today," Epstein said afterward. "Mechanically sound. Executed his pitches and didn't feel anything. If it works out where he can pitch on Thursday, it would be good, so he can have three starts the rest of the year. Give him a chance to get stretched out and everything locked back in."
If Arrieta wakes up feeling OK Wednesday, he'll start Thursday's crucial opening game against the Brewers, though he'll be on a pitch count of 75-80 pitches.
Arrieta would then pitch again next Tuesday against the St. Louis Cardinals, leaving him one more start before the playoffs, in the season finale against the Cincinnati Reds.
"The good thing is the arm strength is there," Arrieta said. "It's remained there. I actually feel better from having a little bit of time off.
"I anticipate feeling really good. The plan is to be out there Thursday."
Arrieta left a game Sept. 4 after feeling a tug on his right hamstring. The injury was never considered serious, but the Cubs have been deliberate in his return in order to have him ready for the postseason.
The Cubs, who opened a two-game set against the Tampa Bay Rays
September, 18, 2017
Sep 18
6:55
AM CT
By ESPN.com
ESPNChicago.com

Do fans feel there's a dynasty in the works at Wrigley? Or is there an outbreak of agita on the North Side? Vote below!
Week 24: Last week's record: 6-0. Overall record: 83-66 (first in NL Central). Weekend update: Sweeping the lowly Mets is one thing, but doing the same to St. Louis? It's been a good stretch for Chicago.
September, 17, 2017
Sep 17
8:39
PM CT
CHICAGO -- Unless the Chicago Cubs need another huge series victory in the final two weeks to clinch their third straight trip to the playoffs, the past three days against the St. Louis Cardinals will go down as their signature moment of 2017. They performed in all facets on their way to sweeping their archrivals, saving the most intense game for the finale, a 4-3 nail-biter on Sunday.
This was the Cubs at their best.
"Just an intense, intense baseball game," manager Joe Maddon said after Sunday's win. "Fortunately, we got to win it. Give our bullpen credit. These guys are on fumes."
It's true. Maddon used every possible bullet out of his top arms after starter John Lackey was kicked out early in Friday's contest. It set off a trickle-down effect that led to closer Wade Davis pitching in all three games, earning his 31st save in 31 tries on a long fly ball by Dexter Fowler on Sunday that everyone thought had left the yard and would have given the Cardinals the lead.
"I thought it was going off the scoreboard," Davis said. "I thought it was for sure gone. I looked over at the third-base dugout and saw the fans yelling, I was like, 'Oh, thank goodness.'"
The wind held the ball up just enough to secure the Cubs' 83rd win of the year while reducing their magic number to clinch the division to 10.
"It's one of those everyone-gets-involved days where everyone gets part of the ownership," Maddon said. "I love that."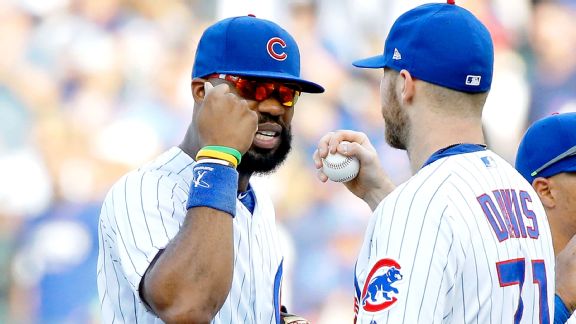 Jon Durr/Getty ImagesWith their sweep of the Cardinals, the Cubs extended their division lead to four games.
In fact, the whole weekend could be described that way, as the Cubs looked more like their dominating 2016 version than they had all season. The list of positive moments over the course of the weekend and the Cubs' six-game win streak is a long one:
Addison Russell: After basically being written off for the rest of the season by most observers, Russell surprisingly made his return without so much as a simulated game, let alone a rehab assignment. Incredibly, he reached base in all five plate appearances, producing a pinch-hit home run, a single and three walks. Plus, he looked stellar in the field while playing his normal position of shortstop.
"Everything he did, he looked really good," Maddon said.
At the very least, the Cubs can claim a stellar up-the-middle defense again -- something that helped them to a championship last season. And they might be able to claim a better one this year because ...
Albert Almora Jr.: Almora's offense is finally catching up to his defense, though many believe he just needed more of a chance to play. He even got the start Sunday against one of the tougher pitchers in the league against right-handed hitters, Lance Lynn. Almora went 1-for-3 in his quietest game of the week, but his 10 RBIs in four days are a month's worth of production for some guys.
"It felt good, but I'm just trying to help the team," the always understated Almora said before Sunday's contest.
Maddon should have less fear about starting Almora in a big game against a righty now, which could solidify a position that has been a question mark since Fowler left for the Cardinals in the offseason.
Wade Davis: What can you say about a low-maintenance closer who proved even more this weekend by pitching all three days, including ending a game by getting four outs on Friday? He's two weeks from a rarity in baseball: a perfect record in save opportunities. But most importantly, he has become more efficient with his pitches, which allowed Maddon to use him in all three games. Davis has been nothing short of excellent since coming to the Cubs.
There was more good news from this weekend: Jake Arrieta (hamstring) is almost ready to return, and the Cubs lost no ground in the standings playing without him, which allowed him to heal his right leg as well as rest his right arm. Willson Contreras won an appeal of his two-game suspension, getting it reduced to one, which really resulted in no suspension because he wasn't going to start Sunday anyway. Fortunately, the Cubs won without needing a pinch hit from him, and his recovering hamstring now gets two days off before he plays again, possibly as the designated hitter in Tampa Bay.
The results of the weekend might lead fans to ask "when," not "if," the team will clinch the division. That idea was far from a reality for most of this season -- not that the players are thinking that way.
"I don't think there is any comfort level until we get where we want to get," Jason Heyward said. "One step at a time. We have to get in."
If the final two weeks go as planned, we'll look back at this season with less mystery and more understanding. The championship hangover was real, but so were the talent and focus on this team when it mattered most. That has come out at the most important time, as evidenced mostly by what the Cubs are doing on offense right now. This was no New York Mets or Cincinnati Reds pitching staff as the Cubs scored 16 runs against in three games. The Cardinals can throw it, but the Cubs didn't revert to their home-run-happy ways. Instead, they hit like they are capable of, all over the field. That was the best sign of all.
"We're definitely playing with the highest level of mental energy we've played with all year -- period," Maddon said. "It's coming at the right time."
It most definitely is.
September, 17, 2017
Sep 17
5:19
PM CT
Associated Press
CHICAGO -- Jason Heyward hit a tiebreaking RBI single with two out in the seventh, and the Chicago Cubs swept the St. Louis Cardinals with a 4-3 victory on Sunday.
Ben Zobrist drove in two runs and Kyle Schwarber hit his 27th homer as the NL Central-leading Cubs closed out a 6-3 homestand with their sixth consecutive victory. They stayed four games ahead of Milwaukee and increased their advantage over third-place St. Louis to six games.
Pedro Strop (5-4) worked a rocky seventh for the win and Wade Davis got three outs for his 31st save in 31 chances. Dexter Fowler flied out to the warning track in center with a runner on first to end the game.
The Cardinals trailed 3-0 before Fowler hit a tying three-run homer off Jose Quintana with two out in the sixth, silencing the crowd of 37,242 on a warm, sunny day at Wrigley Field. The inning began with a double for Matt Carpenter that eluded a lunging Schwarber in left.
---
Jay Cohen can be reached at https://twitter.com/jcohenap
---
More AP baseball: https://apnews.com/tag/MLBbaseball
September, 17, 2017
Sep 17
2:07
PM CT
Benny Sieu/USA TODAY SportsJoe Maddon lost the World Series as manager of the Rays but won it all with the Cubs.
CHICAGO -- Chicago Cubs manager Joe Maddon will return to Tropicana Park in Tampa Bay for the first time on Tuesday since leaving as the only manager of the Rays to take them to a World Series.
"Yeah, post-hurricane, the way this has all unfurled with all that had gone on, and things turned out OK," Maddon said Sunday morning. "So that is very helpful. Beyond that, I'm really eager to go back."
Maddon managed in Tampa from 2006 to '14 before opting out of a deal and accepting the same position with the Cubs. The Rays lost the 2008 World Series to the Philadelphia Phillies before Maddon finally broke through and won a ring with the Cubs in 2016. Now he returns to the city of his first job as a big league skipper after he had worked decades in the Angels organization.
"Having broken the ice with the Angels is going to be very helpful going back and visiting with the Rays," Maddon said. "I'm really looking forward to it. ... Looking forward to driving over the Gandy Bridge. I love that. Hopefully I don't get a ticket. It's possible, on the way back (from the ballpark), especially."
September, 17, 2017
Sep 17
10:35
AM CT
ESPN.com news services
David Banks/Getty ImagesCubs catcher Willson Contreras said he did not intend to hit umpire Jordan Baker when he threw down his mask during Friday's game.
The suspension of Chicago Cubs catcher Willson Contreras was reduced from two games to one, and he will serve the ban Sunday against the St. Louis Cardinals.
He was suspended and given an undisclosed fine by Major League Baseball for "inappropriate actions" during Friday's game against the Cardinals.
Contreras threw down his catcher's mask moments after Cubs pitcher John Lackey was ejected in the fifth inning for arguing with umpire Jordan Baker. The mask made contact with Baker's leg, and Contreras also was ejected after confronting Baker.
Contreras said Friday that his intention was not to hit anyone.
"I apologize to everybody, to the fans, to MLB, to the umpire," Contreras said then. "I'm sure if I see Jordan tomorrow I will apologize to him."
Cubs manager Joe Maddon said Contreras needs to try to curb his emotions "a little bit," but he was glad the situation was resolved.
"It's good news," he said Sunday. "We'll have the one game over with and move it on from there. Get it off his mind and play it forward."
MLB also fined Lackey an undisclosed amount for his actions.
September, 16, 2017
Sep 16
9:28
PM CT
By Bradford Doolittle
ESPNChicago.com
Archive
CHICAGO -- If Joe Maddon, who played college football, could platoon the way his counterparts on the gridiron can -- offense, defense, special teams -- this would all be easy. But it's baseball, and even as his defending champion Chicago Cubs seem to be building toward a third straight playoff appearance, his lineup card problems are only getting worse.
The upshot: They're good problems, as always is the case when you have too many good players who are all performing well.
The Cubs shut down their archrival St. Louis Cardinals on Saturday, riding 7 2/3 sterling innings from resurgent starter Kyle Hendricks to a 4-1 win. Chicago has taken the first two games of the weekend series and now leads the Redbirds by five games, with the pesky Milwaukee Brewers emerging as the closest challenger to Chicago's throne in the NL Central, sitting 3 1/2 games back.
This all happened over the span of about 29 hours, and if things had gone differently, the Cubs might be staring at an anxiety inducing one-game margin over the Cardinals or Brewers or both. Instead, Sunday's series finale now seems to border on must-win territory for St. Louis, and Chicago's trip to Milwaukee next weekend is looming larger and larger.
"The guys are definitely totally engaged right now," Maddon said. "I think part of it is the offense has picked up a little bit. Any time you're not hitting, you always appear to be flat. All of a sudden you see everybody having better at-bats, we're scoring some runs and you see everybody start to perk up. Beyond that, pitching drives the engine and Kyle drove the engine with the way he threw today."
For now, though, this weekend has been about the Cubs building their winning streak to five, having pounded opponents 51-17 in the process. It has been about stepping on the throats of their ancient foes. And it's about a roster that suddenly has more healthy, productive options that you can pencil into a starting lineup.
One of those options is highlight-reel center fielder Albert Almora Jr., who drew a start Saturday against tough St. Louis righty Michael Wacha and collected three hits, including two doubles, and drove in two runs. Almora is on a tear, having gone 7-for-9 with 10 RBIs over his past five games, and given his prowess in the outfield, he looks more and more like a player ready for a bigger role. Only problem is that the Cubs don't have room for another everyday player.
"Maybe he's doing so [well] because we're putting him in the right spots," Maddon said. "There's always that thing, too. [Ian] Happ had another big hit today. Happ is playing well. Jon Jay continues to do a lot of good things. [Kyle] Schwarber has got to play, also."
For Maddon, it comes down to matchups. But what if more and more of those matchups Maddon studies are starting to look like good ones for Almora? Where does that leave him and, for that matter, Schwarber?
"[It is a] nice problem trying to figure out the lineup every day," Maddon said. "We'll still try to make our best guesses every day and keep them all looking good, keep them all fresh hopefully for the remainder of the season into the postseason. I love what [Almora] is doing. What he's doing is not missing his pitch right now. It's not getting fouled off and he's not taking it."
Jon Durr/Getty ImagesAlbert Almora Jr. drove in a pair of runs Saturday, going 3-for-4, as the Cubs topped the Cards.
It's hard not to take a rear-facing snapshot over the emerging question of "Almora or Schwarber?" The defense is no contest. Since the beginning of last season, Almora has logged plus-2 defensive runs saved playing a premium position, while Schwarber is at minus-7 playing on the corner. And those metrics probably underestimate Almora's skills in the field by a good amount. With him in that spot, and someone like Jay, Happ or Ben Zobrist in left, the defense begins to recall the unit that last season was historically good.
But the flip side of that rear-facing snapshot is the offense. Almora is now hitting .299/.341/.442 to Schwarber's .207/.315/.452, and with his greater ability to put the bat on the ball, Almora's .824 OPS with runners in scoring position dwarfs Schwarber's .580.
"I've always said, it's not about me," Almora said, repeating an oft-expressed sentiment. "It's about the Chicago Cubs. We trust Joe to do whatever he's got to do to put us out there to win games. When I get an opportunity, I just go out there to try to help the team win."
When making lineup decisions, you're only using all of this history to make a guess on what is going to happen. And there is little doubt that Schwarber's upside at the plate is surpassed only by franchise cornerstones Kris Bryant and Anthony Rizzo. For example, in FanGraphs' rest-of-season forecasts, Schwarber has a .810 projected OPS against Almora's .715. It's not an easy call as to whom to play regularly by any means.
Because the Cubs have as much positional versatility as any club in the majors, the outfield puzzle also grew more complicated Saturday because of the return of an infielder: All-Star shortstop Addison Russell. If Almora and Hendricks laid the foundation for Saturday's win, it was Russell who raised the roof with a signature moment in his young career.
Russell was activated after a 39-game absence because of plantar fasciitis but wasn't in the starting lineup. In the eighth inning, Russell came in to pinch hit, and when he was announced, the roar from the crowd at Wrigley Field sent chills around the Chicago dugout.
"That just goes to show what kind of fans we have," Almora said. "It's awesome. I got goosebumps when [Russell] came up to hit, first game back."
And that was before Russell lit into a Tyler Lyons pitch, sending it to the top row of the left-field bleachers and bounced it onto Waveland Avenue. Russell was smiling full-on by the time he hit first base as the crowd thundered with adulation, which lasted even after he returned to the dugout for a hearty round of back-slaps, and subsided only when Russell re-emerged for a curtain call. In other words, the fans seemed to be pleased he was back.
"That was a pretty special moment in my life," Russell said. "Walking up to the plate, I couldn't help but smile inside. I felt light. It was pretty fun. Sometimes I surprise myself, too. Definitely been working hard trying to prepare myself for the moment that just happened."
Russell remained in the game to play shortstop in the ninth while Cubs closer Wade Davis was nailing down his 30th save of the season. It was hard not to look around the field and notice the strength of the defense behind Davis, with Russell back at short, Javier Baez nudged over to second and an outfield configuration from left to right of Happ, Almora and Jason Heyward.
The ability of Happ and Zobrist to bounce from the infield to the outfield and back to join Schwarber, Jay, Heyward and Almora means that we'll continue to see a lot of in-game maneuvering from Maddon as different opposing relievers appear, which isn't anything new. But eventually, assuming the Cubs outlast the Brewers in the NL Central race, you'd expect to see some version of an everyday postseason configuration emerge. Not one that is set in stone -- with Maddon, it never is -- but one that at least answers the question of "What is the Cubs' best lineup?"
Right now, that's not an easy question to answer. And in a regular-season context, Maddon will continue as he has done: deploy players according to matchups, rest others as needed, etc. For one, Russell's foot problem isn't likely to be completely resolved for a while, so his time will have to be parceled out carefully.
"We're just going to have to manage it," Russell said. "Really not sure what the plan is moving forward. We'll make sure that there is a plan in place so it's the best way for me to stay healthy."
There is little question that the Cubs' defense looks special on paper with something close to Saturday's end-of-game lineup, with the exception that catcher Willson Contreras had been removed earlier for a pinch runner. But you've got to score runs, too, and the explosiveness of Schwarber's bat means that even with the strikeouts and the limited range in the field and the problems against lefties, he's going to get plenty of action.
However, with the return of Russell and Almora building momentum at the plate, the exact definition of "plenty" might be evolving. In any event, these are high-class problems, to borrow a description from Dodgers manager Dave Roberts, and the bottom line is that if everyone is playing well, there are no wrong answers. That is, unless somebody starts to rock the boat and Almora, for one, is not going to be that guy.
"It's not in my control," Almora said. "I could go to bed thinking about what's going on but, no, man, it's not about me. It's about the team winning games and we're doing it right now."
September, 16, 2017
Sep 16
6:08
PM CT
Associated Press
CHICAGO -- Kyle Hendricks pitched effectively into the eighth inning, Addison Russell homered and the Chicago Cubs beat the St. Louis Cardinals 4-1 on Saturday to increase their NL Central lead.
Chicago has won five straight and leads Milwaukee by 3 1/2 games and St. Louis by five in the division.
Albert Almora Jr. had three hits and two RBI for the Cubs.
Russell was activated before the game after being sidelined since early August with plantar fasciitis of the right foot. He pinch hit in the eighth and hit a solo shot against Tyler Lyons to the back of the left-field bleachers.
Hendricks (7-5) allowed one run and five hits in a season-high 7 2/3 innings. He struck out five and walked one.