Kemba shines with the game on the line
March, 10, 2011
3/10/11
4:06
PM ET
NEW YORK -- As he dribbled around the top of the key, waiting patiently for the clock to click down to go time,
Kemba Walker
eventually looked up.
And what he saw in front of him was a sight that would make any guard schooled on the courts of the New York City playgrounds salivate: lumbering 6-foot-10, 250-pound
Gary McGhee
in the paint.
Alone.
Waiting to defend Walker.
There are unfair fights and then there are steal-your-lunch-money no-chance affairs.
Cat-quick Walker going one-on-one against McGhee?
Yeah, we all knew where this was going.
Calling on his endless repertoire of tricks, Walker used a little hesitation dribble, stepped back and got McGhee to fall backward. Then the UConn junior elevated, flicked his wrist and the rest is now part of Big East lore.
[+] Enlarge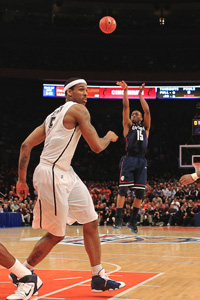 Chris Trotman/Getty ImagesKemba Walker hit the game-winning shot at the buzzer to give the Huskies the win over Pitt.
The New York City native who electrified the country before it got all Jimmered up added another footnote to his own legend, sinking the jumper as the buzzer sounded to give Connecticut a
76-74 upset
of top-seeded Pittsburgh in the Big East quarterfinals.
"I wanted to take that shot,'' Walker said of his ankle breaker. "I knew McGhee was going to switch and I knew if I had him it was going to be time to go and that's the way it was. I was able to break him down and get a clean look at the basket.''
The Huskies, whose No. 9 seed here only served as further notice to the ridiculous depth of this league, came to New York winless in six consecutive years of the tournament.
Now the same team that looked like it ran out of gas at the start of March is in the Big East tournament semifinals and will roll into the NCAA tournament with a head of steam.
UConn got there the same way it has gotten everywhere this season -- riding Walker's coattails. He wasn't the game's leading scorer. That honor went to
Ashton Gibbs
, whose unbelievable 10-of-13 for 27 points was overshadowed by Walker.
But Walker was easily the most dynamic.
Walker is pure joy to watch, a player who can beat you 10,000 ways and smile while he puts the dagger in your belly.
The Panthers got him to do exactly what they wanted: "We made Kemba shoot a low-percentage [shot],'' Panthers coach Jamie Dixon said -- and he beat them anyway.
Before hitting the game-winner, Walker had, in fact, missed four in a row, and yet when it was time to decide the game, he never considered giving up the ball.
Walker passed against Notre Dame on Saturday and the Huskies ended up losing the regular-season finale.
"In that game I had four guys on me,'' Walker explained.
And this time it was just McGhee, alone on a really lonely island.
Now the Panthers will have to wait until Sunday to see just how much damage Walker did to them. Pittsburgh was on the short list to receive a No. 1 seed. Now? Hard to know.
"One game doesn't change what we did the other 31,'' Dixon said. "But it's hard to make up too much ground on other teams when they're still playing. We were obviously playing a highly ranked team, a highly rated team in UConn, so it seems to me that in the past there has been a history of conference tournaments not changing too much where you end up.''
That won't be the case for the Huskies. The same team that came to New York with its swagger losing its rhythm -- UConn had lost four of its last five -- now is on the sort of confidence-building roll a young team needs.
"People said the game against DePaul was a meaningless game,'' UConn coach Jim Calhoun said. "Well, first of all, there are no meaningless games. People need confidence and our kids now feel better about ourselves.''
Having a guy like Walker will do that for you. The player Calhoun said started his career as a passive participant -- "A.J. Price would tell him go over there and set a screen and he'd go over there and set a screen,'' Calhoun said -- has evolved into a player who both demands the ball and commands his team.
When he wasn't dissecting and bisecting the Panthers' defense, he was huddling up his young teammates, constantly in their ear.
His emotions spilled into their emotions and his toughness became theirs. Pittsburgh came to New York ranked second in the nation in rebounding margin. Despite losing
Roscoe Smith
in the first half (he needed eight stitches to close up a gash on his head from an elbow), the Huskies outrebounded the Panthers 32-25.
"It's one of those games where Pitt says we're tough, now tell me how tough you are and if you're tough enough you can beat us,'' Calhoun said. "And today we answered the challenge.''
Kemba vs. McGhee? That's not a challenge. That's an unfair fight.