Pastner gets inventive with assistant's job
August, 22, 2011
8/22/11
5:15
PM ET
Last week, it seemed like Memphis coach Josh Pastner was in a bit of a quandary.
He needed another assistant coach
. If he couldn't find one this late in the college hoops calendar, Pastner said he would simply work harder and ask his assistant coaches -- Jack Murphy and first-year former NBA star Damon Stoudamire -- to do the work normally reserved for a third assistant coach. Given that college coaching is already an insanely busy job, even with a full staff, that didn't seem like the best idea. But if anyone is capable of making it work, it's the energetic Memphis coach.
[+] Enlarge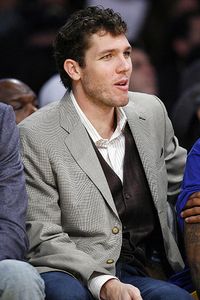 AP Photo/Jason RedmondLuke Walton could be spending his time during the lockout in Memphis as a coach.
Alas, that might not be necessary after all. Instead,
today Memphis announced that Pastner has recommended hiring Luke Walton
-- yes, current Los Angeles Laker Luke Walton -- to become the Tigers' third assistant coach for the foreseeable future. Pastner confirmed the move to ESPN.com this afternoon.
In this case, since Walton is still under contract with the Lakers, "foreseeable future" means "until the NBA lockout is over." That makes this hiring rather innovative, actually. It's also win-win. Walton can earn some valuable coaching experience and put a nice bullet on his résumé if he decides to enter the profession full-time after his playing days. Meanwhile, Memphis's players get the benefit of having a current NBA player on the sidelines throughout the season, Pastner gets another interesting little recruiting pitch (play for a current NBA player while supplies last!) and the head coach and his staff don't have to pull harried double-duty on film assignments and game plans.
I'm not sure Pastner could have found a more desirable assistant coach at this late date. (His first choice was NBA veteran Tim Grgurich, who decided to hang around the NBA in case the league did come back this season.) He had to fill the position somehow. If it's the choice of no assistant coach, or one who may have to leave halfway through the season when the NBA signs a labor agreement, why not take the latter option? What's the downside?
The only question is whether other NBA players will try to follow Walton's lead. I'm not sure a spot on a college bench is as cushy as, say, playing a foreign exhibition trip in front of adoring global fans. But there are probably worse ways to spend your days during the lockout.
Plus, if I'm being honest, I really just want to see Kobe Bryant as an assistant college coach somewhere. I have a mental image of a be-suited Bryant holding players on the bench back after a particularly exciting made free throw during the NCAA tournament -- all while making
that weird face he makes after he does something awesome
. Can we please make this happen? I don't ask for much.