Spartans hope to learn from Harvard scare
March, 23, 2014
3/23/14
1:42
AM ET
SPOKANE, Wash. -- Most teams that will be playing in the NCAA tournament next weekend know what and who they are. If they've been playing together long enough and they're playing together in March, there's a general trajectory for their play, and, though there might be outliers throughout a game, their identity is pretty much settled.
Then there's
Michigan State
.
Certainly, there's individual talent there --
Adreian Payne
dropped 41 in the second-round win over Delaware, and
Branden Dawson
scored a season-high 26 in their
80-73 win over Harvard
on Saturday to help advance the Spartans to the Sweet 16.
Keith Appling
and
Gary Harris
have taken over games and been leaders.
Travis Trice
and
Denzel Valentine
keep elevating their games.
But with injuries galore and players constantly being shuffled in and out of the rotation, this team remains one that's still learning how to play together. It might be coach Tom Izzo's 12th Sweet 16 team in 17 seasons, but he might know this one's identity the least.
"We played good enough that you'd say 'That team's capable of getting to the Final Four,' and we played bad enough that you could say 'That team should've been out of the tournament,'" Izzo said. "Maybe it'll be a little learning lesson for a couple of those guys who got complacent."
It's the only use this game is to Michigan State at this point. The Spartans can't take back the near embarrassment or the way that a team without a single athletic scholarship flustered them.
So what can they learn?
[+] Enlarge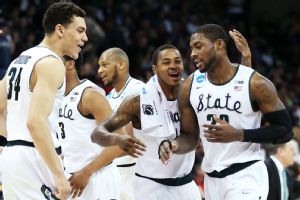 Stephen Dunn/Getty ImagesMichigan State players were in a mood to celebrate in a win over Harvard.
Izzo said his team needs to learn how to stay out of foul trouble. Harris said he thinks the Spartans need to be better with time and score. Dawson said they need to learn how to not get comfortable with a lead -- and this Harvard game took the Spartans one step closer to that.
Michigan State blew a 12-point halftime lead against a smaller, less physical team. They got out-executed at times and out-hustled at others. Combined, that created an interesting stretch in which it appeared that the Ivy League might be making a Sweet 16 appearance instead of the team that the president chose to win it all.
After the Spartans accounted for 11 assists and just one turnover in the first 20 minutes, the wheels fell off the train. The Spartans gave the ball away 10 times in the second half, with quite a few of those resulting in dunks and breakaway layups for the Crimson.
And yet, even with all that and the entire arena turning its support to the underdog, this team that's still figuring out what it is knew what it needed to do.
"The greatest thing that happened for me is we did enough bad things … but we found a way to bounce back and win," Izzo said. "It's always a better learning experience when you win and do some things that will maybe get their attention now in the film session tomorrow night."
Michigan State will take on the winner of
Virginia
-
Memphis
in the Sweet 16, but it'll still be a few days before the Spartans even think about that.
With how little this group has practiced together because of injuries, it'll spend a lot of Sweet 16 prep in Spartan focus mode -- building chemistry with each other, working on their timing. It's the stuff every other team has mainly figured out at this point in the season, but it has been a season of catching up for Izzo.
He has been saying the whole season that this team had the potential to make it this far (and further) if it can figure out the pieces and where they fit. This Harvard game will act as that next piece for the Spartans. They've gained a ton of exposure in the past few weeks as they've won the Big Ten tournament and put up huge performances, but they can't get complacent.
If Izzo's team picks up as quickly as he thinks it can, the Spartans won't make this same mistake against Memphis, Virginia or anyone else down the road.
"I hope [this experience] makes you smarter," Izzo said. "I don't think we need to be stronger. We need to be smarter. We didn't do some things that were very smart in that stretch. Hopefully, this will be a learning experience. Whenever you can learn with a win, that's a valuable lesson."
The true value of this win won't be decided until next weekend, when the Spartans travel to New York. If it's a learning experience the Spartans can put into practice, it'll be pretty valuable. If they don't put it to use, they'll have to wait until next season.
But Izzo knows that those lessons taste sweeter when they come with a win, specifically one that would come on April 7.
"When you can learn
and
win, that's a hell of a day," Izzo said. "That's a hell of a day."