Aggies' offense breaks in new system, QBs
July, 25, 2012
7/25/12
11:00
AM ET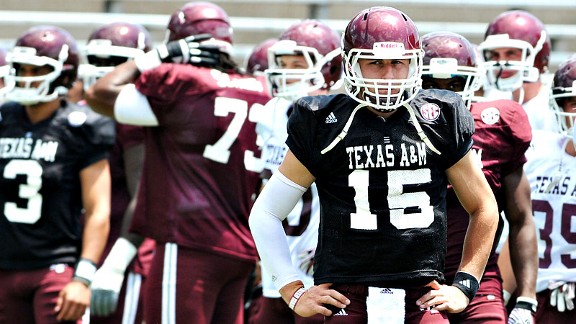 Patrick Green/Icon SMIJohnny Manziel redshirted last season but accounted for 77 total TDs during his senior year of high school.
While it is Kevin Sumlin's first year on the job at Texas A&M, the quarterback situation he faces going into the season isn't completely new.
When Sumlin took over at Houston in 2008, his first career head coaching stop, he oversaw a preseason competition for the starting job between Case Keenum and Blake Joseph. Both split time at the position under Art Briles the year before Sumlin arrived.
Keenum eventually won that competition and the rest is history. He became the winningest quarterback in Houston history and led the Cougars to three bowl games and two double-digit win seasons, including a 13-1 mark last season.
In College Station, Sumlin's decision will be between three young, inexperienced signal-callers: redshirt sophomore
Jameill Showers
, redshirt freshman
Johnny Manziel
and sophomore
Matt Joeckel
.
"[Ryan] Tannehill is gone," Sumlin said. "For me, it's probably not any different because whether they had experience or not, it'd be a new experience for them anyway."
It will be new because Sumlin and offensive coordinator Kliff Kingsbury are installing their Air Raid offense with which Houston had so much success.
The offense, which was popularized by Hal Mumme and Mike Leach, involves heavy use of the shotgun, lots of passing and in Sumlin and Kingsbury's version, a breakneck tempo.
More than anything, the pace at which the offense will be the key mission for whomever wins the quarterback job. In the last four years at Houston, the Cougars averaged more than 78 plays per game. That tempo helped the Cougars find advantages against defenses not accustomed to moving at that pace.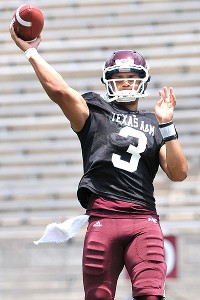 Patrick Green/Icon SMI
Jameill Showers played in four games last season backing up Ryan Tannehill.
Trust must exist between the quarterbacks and coaches. Kingsbury said that the coaches will put a lot on the quarterbacks' plates and trust them to make the right decisions on the field.
"They're going to the line of scrimmage and checking into a play," he said. "You've got to get up there and be able to get us into the right play and execute it. You've got to have accuracy, intelligence. That's key because with what we do we put a lot on them."
No matter how young a quarterback is, in this offense, he must have autonomy in order for the offense to operate at the pace the coaches desire. So just because Showers, Manziel or Joeckel don't have NCAA records attached to their name like Keenum did (Keenum broke eight Football Bowl Subdivision career records at Houston), or even a full season's worth of playing experience, they'll be relied upon to make the right choices.
"That's the only way our system works," Kingsbury said.
The key attributes the coaches are looking for aren't unlike those you'd want to see in a quarterback running any other system. Accuracy. Intelligence. Leadership.
"No. 1 is leadership," Kingsbury said. "How our offense goes is how our QB goes. Can he get us out of a bad play? If it breaks down can he make something positive out of it?
Sumlin believes because none of the quarterbacks have extensive game experience, the challenge of molding them into what they want won't be as difficult. He said they also already had a level of familiarity with them.
"In this situation with the younger quarterback, fortunately for us, when we walked into the situation, we knew all those guys," Sumlin said. "We'd recruited them at Houston. Kliff Kingsbury or myself had visited them or talked to them on the phone. There was a comfort level with us with the quarterbacks and with the quarterbacks with us. That's really where you need to start.
"When you get a new coach, you don't know what he's going to run, how it's going to happen, what is going to go on. I think our guys had a comfort level knowing us, knowing what we're about. For me, looking at the situation with a younger guy, you probably have a little bit better chance to mold him into what you're trying to do and have him grow with you and grow the offense with him, instead of a guy who has been around for four or five years and is used to a certain system."
If nothing else, it's something Sumlin has been through before and he feels that it makes the job easier as he aims to name his starter approximately two weeks before the Aggies open the season against Louisiana Tech on Aug. 30. Not that he wouldn't mind having had an experienced starter ready to go.
"Fortunately this is my second time through this," Sumlin said. "People forget, moving into Houston there was really a two quarterback system that I inherited … We went through spring football. Basically went through the fall camp. I'm usually pretty comfortable about two weeks away from the first game being able to name the starter.
"Having been through this before as a head coach, and really as a coordinator, too, makes it a little bit easier, I'll put it that way. But as a coach, you always feel better when you have a starter that kind of leads your team through spring and goes through the summer and through fall camp. I will say this: You got to start somewhere. All those guys that become veteran quarterbacks, they had to figure out a place to get started."
Notre Dame's loss is Texas A&M's gain with Elko
SEC SCOREBOARD
Saturday, 12/16
Tuesday, 12/19
Wednesday, 12/20
Thursday, 12/21
Friday, 12/22
Saturday, 12/23
Sunday, 12/24
Tuesday, 12/26
Wednesday, 12/27
Thursday, 12/28
Friday, 12/29
Saturday, 12/30
Monday, 1/1
Monday, 1/8