May, 26, 2017
May 26
11:00
AM ET
FRISCO, Texas -- In a fascinating story written by Seth Wickersham about the relationship between Richard Sherman and the Seattle Seahawks, the Pro Bowl cornerback told friends he allowed himself to imagine playing for the Dallas Cowboys.
Naturally, it has Cowboys fans wondering about that as well, which is why it is the subject of this week's Twitter mailbag.
@toddarcher can you see the Boys going after Richard Sherman or Revis? #cowboysmail

— Harden da real MVP (@Radical4_Christ) May 25, 2017


So this question also includes Darrelle Revis, but we'll cut to the chase: not interested. At least that's what I've been told more than a few times from folks inside the Cowboys' organization. Revis isn't the player he was a couple of years ago.
But Sherman is a different situation. He's 29. He has not missed a game in his career. He is productive (30 interceptions). He would bring an attitude and bravado to a defense that has been solid.
Contractually, anything is possible. Sherman is set to make $11.4 million this year and $11 million in 2018 before he becomes a free agent. The Cowboys can absorb Sherman's base salaries without needing to do anything to their salary cap once they gain the $14 million in space from Tony Romo's contract when the quarterback's release becomes official on June 2. They could look to extend Sherman's contract if they wanted as well and lower his cap figures.
Stephen Jones likes to say player acquisition is 365 days a year, 24 hours a day. He also likes to say, "Never say never." This falls into the "never say never" category when you're actually saying never. Well, not never, but put the possibility of it happening at 1 percent.
Nobody wants to listen, but the Cowboys have made their intentions clear in free agency: They will not pay big money. The same holds true for a potential trade. If they are going to pay significant money to anybody, it will be to players they know.
If not, then the stars have to align and everything must be in their favor.
The Cowboys just drafted four defensive backs, including three cornerbacks -- Chidobe Awuzie in the second round, Jourdan Lewis in the third and Marquez White in the sixth. They also have second-year cornerback Anthony Brown. Will any of them be as good as Sherman is right now? Maybe. Maybe not. And given how good Sherman has been, it's more the "maybe not" part.
Sherman would bring a lot to the Cowboys defense, especially when you look at the receivers with the New York Giants (Odell Beckham Jr., Brandon Marshall, Sterling Shepard) and Philadelphia Eagles (Alshon Jeffery, Torrey Smith, Jordan Matthews).
He would bring a pedigree and fearlessness to the defense as well. He has helped make Seattle's defense one of the best in the NFL for the last few years. He's not alone, by any stretch, but he is the face of that defense.
Some will view Sherman as a final puzzle piece of sorts, and knowing how badly Jerry Jones wants to win a Super Bowl, wouldn't they go after him? It would have made more sense for the Seahawks to do something during the draft so they could find a replacement. It would have made more sense for the Cowboys to do it then too.
Sherman will play at AT&T Stadium this season, but just once when the Seahawks visit on Dec. 24.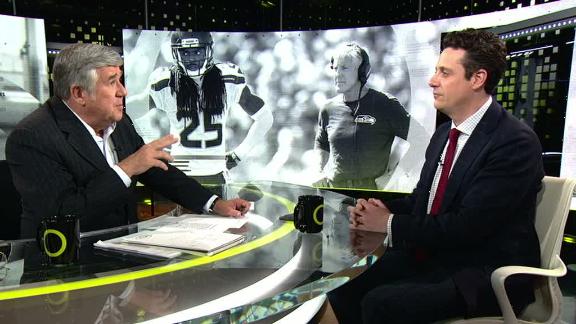 May, 26, 2017
May 26
8:00
AM ET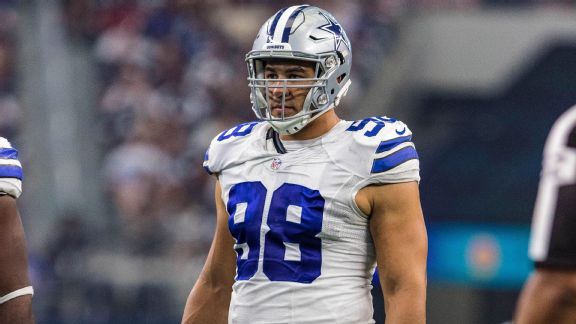 Matthew Pearce/Icon SportswireTyrone Crawford is big enough to excel on the interior of the D-line and quick enough to play on either end. Where will he play in 2017?
FRISCO, Texas -- As the Dallas Cowboys went through 11-on-11 drills Wednesday, Tyrone Crawford was off by himself, running 100-yard sprints.
His teammates were only a field away as Crawford ran, but for now, as he recovers from offseason shoulder surgery -- his second in as many offseasons -- this is as close as he can get to action during organized team activities. He is limited to individual drills but hopes to do more in the next few weeks.
"I feel like, especially my years missing training camp and OTAs, I feel like I do need the work," Crawford said. "I do need to get my legs up underneath me, especially when you're playing different positions on the D-line. You want to feel all the different blocks, all the different keys you've got to take on. I feel like I'm missing that right now, but I think getting my shoulder better is definitely more important and I'm strengthening things up that I've had injured. Just trying to get back to feeling good and feeling young again."
Crawford is only 27. He doesn't turn 28 until November, but he is the third-longest-tenured defensive player on the roster. Only Orlando Scandrick (fifth round, 2008) and Sean Lee (second round, 2010) have been with the Cowboys longer. Crawford was a third-round pick in 2012.
Two years ago the Cowboys signed Crawford to a five-year, $45 million contract extension. They viewed him as the central piece to defensive coordinator Rod Marinelli's defensive line, playing the valuable under-tackle spot. In 2014, Crawford started 15 games at the 3-technique defensive tackle and had the first three sacks of his career.
Crawford's numbers have not matched the contract he was given, but health and circumstance have been a major reason why.
He had five sacks in 2015, starting every game, but he had a difficult time lifting his arm over his shoulder at the close of the season. In 2016, he had 4.5 sacks, sitting out the final two games of the regular season because of injuries to his other shoulder.
Most players get hurt, but few have been shuffled like Crawford. He was initially drafted as a 3-4 defensive end in then-defensive coordinator Rob Ryan's scheme, showing promise. In 2013 the Cowboys switched to the 4-3, but Crawford tore his Achilles tendon in training camp and missed the season.
Crawford's versatility can be viewed as a deterrent. He is big enough to excel on the interior, which prompted the move to tackle in the first place. But he is also quick enough to play either defensive end spot.
Last year, the Cowboys needed defensive end help because of the suspensions of DeMarcus Lawrence and Randy Gregory and injuries to others, like Benson Mayowa. So the Cowboys moved Crawford away from the spot where they viewed him to be at his best. Maliek Collins, a third-round pick last year, became the starter at the 3-technique and excelled.
This year, the Cowboys drafted Taco Charlton in the first round but will be without Gregory for the regular season because of another suspension and could be without David Irving for the first four games because of a suspension.
So Crawford enters another season unsure where he will play.
"We don't see it as a curse," coach Jason Garrett said. "We've tried to get him settled into different spots at different times. He was a left end and then we gave him a chance to be an under-tackle, and so we feel like we haven't shortchanged him in that regard -- and then once you get going, the best defensive linemen in the history of this league have played different spots. If you think about it, Reggie White used to play end and then sometimes he'd play at defensive tackle and sometimes he'd play right over the nose. Not that you want to do that with everybody, but versatility really helps you in a four-man front. Oftentimes, you see defensive ends on first and second down play defensive tackle and rush on third down. It's not completely uncommon, and I do think we've given him a chance to have a base a couple of different times in his career.
"Ultimately, it's really valuable for us if he's versatile. We can play him at different spots and we can absorb injuries; you can rotate guys around. I just think it's positive."
Each position, however, has different requirements. To play on the interior, Crawford needs more bulk to withstand the rigors of banging against offensive linemen. To play end, he needs to be faster and quicker.
The back-and-forth hasn't allowed Crawford to be his best, but all he does is shrug.
"I'm still going to be the bounce-around guy," Crawford said. "If they need me at the nose, I'll be at the nose. If they need me at tackle, I'll be at tackle. If it's end, I'll be the end. That's just how it's been throughout my career here and that's why I'm going to learn everything. And that's what I want to be out there, to get my keys at everything so when it's time, if something happens here or there, I'm ready to go."
May, 25, 2017
May 25
4:41
PM ET
By
ESPN.com news services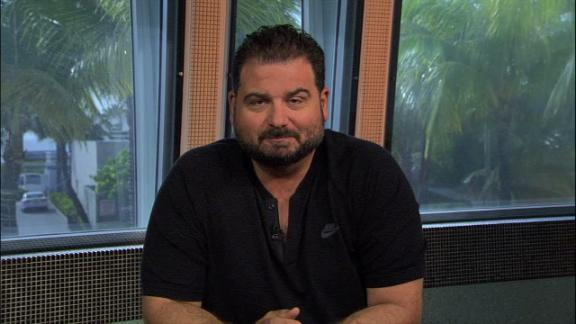 Josh Norman said in an interview with Bleacher Report that his battles with Dez Bryant and Odell Beckham Jr. will be even more heated this season and could result in "a lot of fines and maybe some suspensions."
The Washington Redskins cornerback had said he wanted to move beyond his personal battles with the receivers, but his comments in the Bleacher Report story published Thursday indicate otherwise.
"Trust me when I tell you, it's going to be bad blood this year. You think the NFC East didn't like each other before? This year right here? There's going to be a lot of fines and maybe some suspensions," he told the website.
"I'm going to be honest with you: This s--- is going to get really ugly. Because I do have a safety [D.J. Swearinger] that don't give a f--- and I definitely don't. And I know they don't have that many people on the offense who do on their side."
Asked what will happen if his matchups with Bryant and Beckham do turn "south," Norman said: "I'm letting all hell break loose."
Norman's most physical game against Beckham came on Dec. 20, 2015, when he was with the Carolina Panthers. Beckham drew four penalties (three personal fouls) in the game. Officials didn't eject him, but the NFL later suspended him for one game. Norman was hit with two separate fines for his role.
May, 25, 2017
May 25
1:30
PM ET
FRISCO, Texas -- When the first-team Dallas Cowboys defense took the field for Wednesday's organized team activity, David Irving was the left defensive end.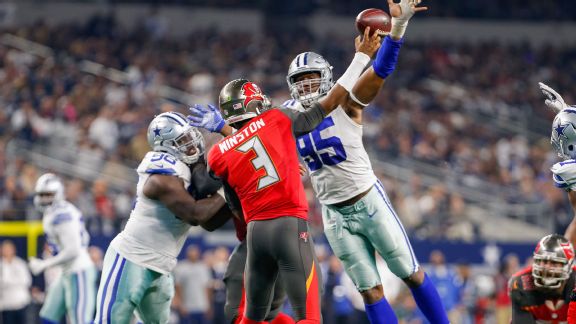 Andrew Dieb/Icon SportswireDavid Irving (95) led Dallas with 26 quarterback pressures last season.
Whether he will be there Sept. 10 for the season opener against the New York Giants will depend on the result of an appeal of what sources have called a looming four-game suspension for violating the NFL's performance-enhancing drug policy.
Head coach Jason Garrett did not bite on questions regarding Irving's status.
"We don't want to comment on any speculation," Garrett said. "If some ruling comes down with him or any other player then we'll comment on it."
If Irving is suspended, he would be able to continue to take part in all of the offseason practices, training camp practices and preseason games. So for now he works like he did last year: all over the defensive line.
"We'll just see," defensive coordinator Rod Marinelli said. "Let the whole process work how all that happens, but you just keep coaching him right now. He's got to practice, so we coach him and get him better."
The Cowboys want -- and need -- Irving to be a difference-making player up front. He displayed those traits over the final month of last season with three of his four sacks. He led the Cowboys with 26 quarterback pressures.
A possible suspension would be disappointing. It would mark the fourth straight year the defense would be without a significant contributor at the start of the season: Orlando Scandrick (2014), Greg Hardy (2015), Rolando McClain (2015, 2016), DeMarcus Lawrence (2016) and Randy Gregory (2016, 2017) for violations of the NFL's substance abuse policy, PED policy or personal conduct policy.
"I think the biggest thing is you can't overreact until everything is made, all the decisions are made," Marinelli said. "So we'll just wait on the decision. But I'm always one that just moves forward. Somebody else likes playing ball. I just coach the guys that are here."
Irving's potential suspension has added questions to Garrett's right-kind-of-guy ethos that he has attempted to bring to the Cowboys' roster. Dallas took calculated chances on players like Hardy, Gregory and McClain. Hardy was gone after one season. McClain's first season (2014) was very good, but he failed himself the past two seasons and will not play for the Cowboys again. Gregory's career could be over after just 14 games with a suspension that will keep him out for the entire 2017 season.
Irving was not drafted largely because of off-field issues at Iowa State, but he has not been a problem-child for the Cowboys.
"We absolutely have the right kind of guys in our locker room," Garrett said. "Anybody who has ever spent any time with the guys on our football team understands that. Just really high-character guys. They're great people on the field, they're great people off the field, they work very hard at it. They understand what being part of a team is and the sacrifices and the work that's necessary to be a part of the Dallas Cowboys team. They get that. That doesn't mean people are infallible. We make mistakes every day, as coaches, as staff members and as players. Hopefully you're accountable for your mistakes, you learn from them and you move on."
May, 25, 2017
May 25
12:45
PM ET
FRISCO, Texas -- There is a dance that goes on with Jaylon Smith every time his name is mentioned.
The Dallas Cowboys linebacker said he feels amazing and is doing everything with the team. He said he will play in the season opener against the New York Giants. Owner and general manager Jerry Jones drops his normal doses of optimism. Coach Jason Garrett offers up his usual platitudes about Smith's hard work and dedication. Smith's teammates see him on the field and say he looks good.
At the moment, it's all hearsay.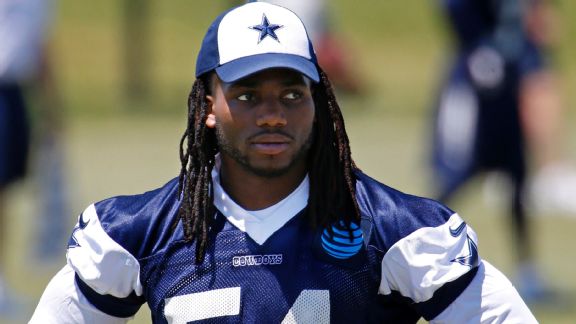 Paul Moseley/Zuma Press/Icon SportswireJaylon Smith says he's taking part in all of the Cowboys' OTAs, but his progress to this point is all hearsay.
The nerve damage that accompanied Smith's injury makes his recovery different compared to any other player who has come back from a serious knee issue. The anterior cruciate ligament is healed, as is the lateral collateral ligament.
In recent months, feeling and movement has returned to Smith's foot, leading to real hope that he can be the player he was at Notre Dame. But some medical experts doubt the nerve will fully regenerate, which would force Smith to continue to wear a brace to help his case of foot drop.
Both scenarios are possible. Right now, there is no way of knowing what Smith will be when the season starts.
As hopeful as Matt Eberflus, the Cowboys' linebackers coach, is, he can't say Smith will be the same player he was in college. But on May 25, he doesn't care about that.
"That's wait and see," Eberflus said. "I think that's an important thing to do for us is to be patient, for us to be mindful of where he is and also just take it one day at a time and making sure that we're taking this thing step by step. That's important for everybody. That's no different than any other player. It doesn't matter if it's Sean Lee, Damien Wilson, Anthony Hitchens, whoever that is. There's a building process to fundamentals and a building process to technique and if you skip a step you'll pay for it at the end.
"It's important that everybody goes through the step, and Jaylon Smith is no different. He's just like the rest of them. He's got to go through every step of the techniques, fundamentals, scheme and understanding how to play the right way and he's doing that. He's making progress. He's doing a good job."
Smith said he can do everything he did at Notre Dame. He said being able to watch and learn the system last year has him feeling comfortable with the defense even if Thursday is just the second day of 11-on-11 work he has had since suffering the injury on Jan. 1, 2016, during the Fiesta Bowl.
"Everything is a process," Smith said. "Taking things slow and just working my way into everything. Whenever I'm out there, I'm participating in everything."
That started in early March for the informal captains' workouts at The Star, the Cowboys' practice facility, and through the first two phases of the offseason program. He took part in the walkthroughs and meetings during the recent rookie minicamp.
The Cowboys will put Smith on an every-other-day schedule through the organized team activities and the June minicamp so as to not overwork him. Jones has hopes Smith will not need the restrictions in training camp.
By not having Smith work on Wednesdays, the media doesn't see him practice since that is the only day of access. All three days of the minicamp will be open to the media. Hearsay will move to actual evidence.
"I just know that he's made a lot of progress and it's such a great story because it was a serious injury that he's had," Garrett said. "His optimism, his outlook in life is just rare. I really do believe that's helped him get better and better. He's worked very hard. He's in a good environment to get better and he's embraced it. And so looking at him, he's a young player, he's a rookie essentially because he didn't play last year, so everything is new to him and I just think he's handling it all really well and he's getting better and better physically."
May, 25, 2017
May 25
8:00
AM ET
FRISCO, Texas -- Undrafted rookie tight end M.J. McFarland caught a simple pass down the field Wednesday and was met with a loud reminder.
It didn't come from Dallas Cowboys head coach Jason Garrett or offensive coordinator Scott Linehan or tight ends coach Steve Loney.
It came from Dak Prescott.
"Tuck it. Tuck it," Prescott told McFarland, telling him to secure the ball as he ran down the field to get ready for his next snap.
As Prescott enters his second season as the Cowboys' starting quarterback, more is being put on him. Linehan is adding to the Cowboys' system as Prescott becomes more proficient in all areas with a year of experience. Prescott also is being asked to take ownership of the team.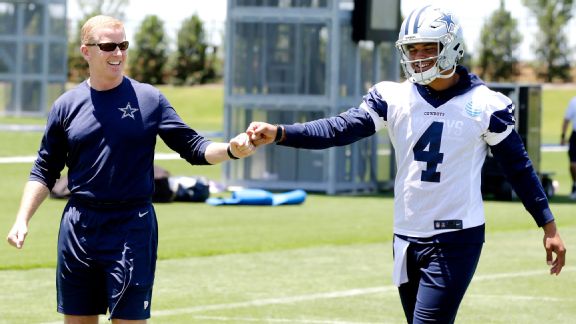 Tim Heitman/USA TODAY SportsQuarterback Dak Prescott, right, and coach Jason Garrett share a smile and a fist-bump during Cowboys drills Wednesday.
A year ago at this time, Prescott was getting used to taking snaps from center and splitting time as the third-team quarterback with Jameill Showers. In his first organized activity as a rookie, he took two snaps in team drills. On Wednesday, he took five of the 12 snaps in team drills. Kellen Moore took three. Austin Appleby took two, and Cooper Rush had one.
"I guess just being more outspoken," Prescott said. "But just the way I handle my business, the way I go about every day, I don't think much has changed. Just the fact that now when I say things, people are listening, and I have the floor to say things now. Last year, I was just being quiet and trying to fit my way in somehow or another."
He set 19 team rookie quarterback records in 2016. He tied an NFL rookie record with 13 wins. Yet Prescott says he can be "100 percent better" in everything he does.
"Mentally, I think as a quarterback and pretty much at every position, the No. 1 way to get better is the number of reps," the 23-year-old said, "and just me having a good bit of those this offseason, I think it's going to allow me to get better with my footwork, get better at the reads, get better going through things faster and being more accurate every day."
After Prescott earned the NFL Offensive Rookie of the Year award for his 23-touchdown season in which Dallas earned the best record (13-3) in the NFC, the trappings of being the Cowboys' quarterback could've been overwhelming, but Prescott has not been caught up in the success.
While enjoying what can come for someone in his position -- such as the sponsorship deals he has secured with Frito-Lay, Pepsi, Adidas and Beats By Dre in the past 12 months -- Prescott spent the early part of the offseason working out in Orlando, Florida, with strength guru Tom Shaw, who helped prepare him for last year's draft.
When the Cowboys reconvened in early March for captains workouts, Prescott was there, and he hasn't missed a day.
At offseason testing earlier this week -- vertical jump, a three-cone drill, bench press, a 20-yard sprint and flexibility -- Prescott's numbers improved from his rookie year in every category.
"He's not resting on anything that went on last year," quarterbacks coach Wade Wilson said.
The Cowboys had that first inkling last year, when he told them that he would need a week to master the ability to take a snap from center, something he rarely did at Mississippi State. Although he was a fourth-round pick, he quickly became the leader of Dallas' rookie group. When Tony Romo and Moore went down with injuries last summer, Prescott showed that he was ready for everything.
As his second season begins, Prescott is making sure that he is ready for the encore.
"He is trying to get himself ready for every opportunity he has, as quarterback, in the meeting room, walk-through, practice, games, in the weight room," Garrett said. "He is just one of those guys, and he is a great example for a coach to use with the other players on the team. They naturally follow him. They naturally see how he goes about everything, how ready he is for the chances that he does get."
If teammates see him working, the thinking goes, then they will work with him. If they see him taking accountability for his mistakes, then they will accept his criticisms when they err. It's why Prescott took the time to remind McFarland, whose chances of making the final roster might be remote at the moment, to tuck the ball away.
"I don't look at what's behind me," Prescott said. "I look at where I want to go and what I can do. The only way I know is through hard work, so it's just something that I continue to try to do."
May, 24, 2017
May 24
5:20
PM ET
FRISCO, Texas -- A hamstring strain kept Dallas Cowboys receiver Cole Beasley from taking part in Wednesday's session of organized team activities. Early on in the workout, Lucky Whitehead suffered a similar injury and headed to the locker room.
As a result, Ryan Switzer received a lot of work in the slot, and the fourth-round pick did not disappoint.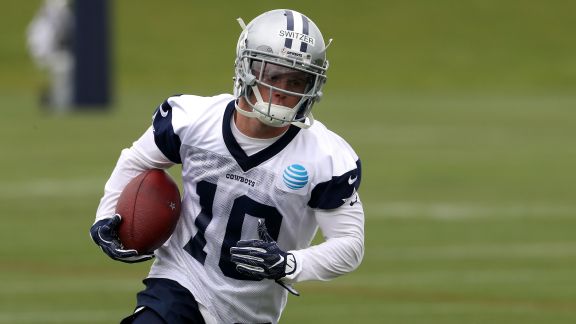 Matthew Emmons/USA TODAY Sports"He's got confidence and he's got good football sense and savvy, and you see that in him right away," Cowboys coach Jason Garrett said of rookie Ryan Switzer.
He made one acrobatic catch near the sideline of a Dak Prescott pass while falling down. Backup quarterback Kellen Moore found him three times with underneath routes.
"I think he's going to be a good player," Prescott said after practice. "He's a guy that can definitely learn a lot from Beasley. They're definitely similar in their play style. He's got some stuff to him. Excited just for him to keep learning, getting better watching Bease, watching these other guys."
Beasley led the Cowboys in receptions last year with a career-high 75, becoming a favorite target of Prescott early and often.
"I call those guys like quarterback-friendly, just in the fact that they're hard to cover," Prescott said. "Sometimes in zones, people forget about them. In man, they got the shiftiness or whatever it is that they need to get way. They're usually open. That's why I said he can learn a lot from Beasley and become one of those guys."
The Cowboys selected Switzer because they did not believe they had adequate depth at the position should something happen to Beasley in the regular season. They also needed help in the return game, and he had seven career punt returns for touchdowns at North Carolina.
"He was in there with the ones and he made some plays," coach Jason Garrett said. "Obviously he's a young player, still learning everything. This is the first time for him. Every time he does something, it's the first time, so that's an interesting situation to be in. But he's got good poise about him. He's got confidence and he's got good football sense and savvy, and you see that in him right away."
May, 24, 2017
May 24
5:15
PM ET
FRISCO, Texas – The biggest part of the Dallas Cowboys first organized team activity open to the media was who was not on the field.
Start with Ezekiel Elliott, who was in a car accident on Sunday. Coach Jason Garrett said the NFL's reigning rushing champion was complaining of general "body soreness, neck soreness" when he reported to work Monday, so the Cowboys opted to hold him out of the workouts this week.
Garrett said the expectation is Elliott will take part in OTAs next week when they resume on Tuesday.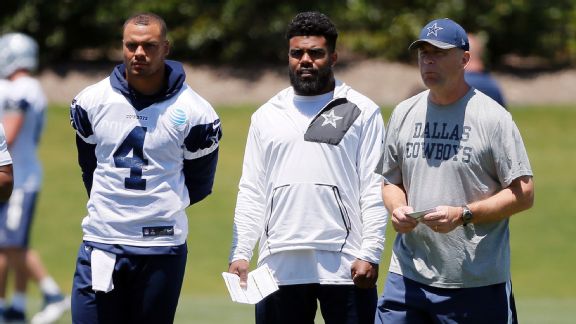 Tony Gutierrez/Associated PressEzekiel Elliott was held out of Wednesday's workout with general soreness but just as a precaution.
Tight end Jason Witten and linebacker Sean Lee also were held out of the workout as the veterans work through an every-other-day schedule.
While Garrett said the schedule is a "good rhythm for them," he knows both players want to do more.
"It's always been a fight to get them out of an individual play, let alone a practice, but you sit down with them and you talk to them," Garrett said. "We're doing this to help them and to help our football team. I think they understand that and they can have a really productive day even when they don't practice. So, they are involved in the meetings, involved in the walkthrough. They did all of that. And then when they warmed up with us, they went in and worked with the rehab guys just to work on some things where they can hopefully benefit from. And then they came back out and watched the team stuff. So, very positive day for those guys. We'll continue with that rhythm."
Garrett said a training camp plan for both players has not yet been discussed, but he expects there to be a similar schedule once the Cowboys get to Oxnard, Calif.
Linebacker Jaylon Smith is on a similar schedule as the veterans but for different reasons. He is coming back from a serious knee injury that forced him to miss all of last season. The Cowboys do not want to overdo his return with too much work too soon, but optimism remains high.
Defensive lineman Tyrone Crawford went through the early portion of practice but did not take part in 11-on-11 drills. He said his surgically repaired shoulder is getting better but has hopes of potentially doing more in the OTAs and the June minicamp.
Defensive end Benson Mayowa and defensive tackle Stephen Paea have knee issues that have kept them off the field. Both players went through resistance training in the early portion of practice.
Wide receiver Cole Beasley has a hamstring strain that kept him off the field, and he was joined by Lucky Whitehead, who left practice early with a similar injury.
Garrett wasn't sure when Beasley would return.
"We're going to be deliberate bringing him back. Hamstrings can be tricky," Garrett said. "He's had a really good offseason up to this point, but this has just been bothering him."
Defensive end DeMarcus Lawrence and offensive tackle Chaz Green, who had back surgeries, also did not practice. Neither did tight end James Hanna (knee) nor TE Geoff Swaim (foot), although they are not expected to practice until training camp.
Guard/center Joe Looney did not practice because of a sore back, but Garrett said Looney could return Thursday.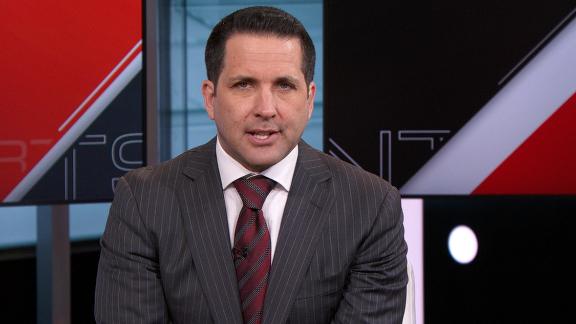 May, 24, 2017
May 24
11:56
AM ET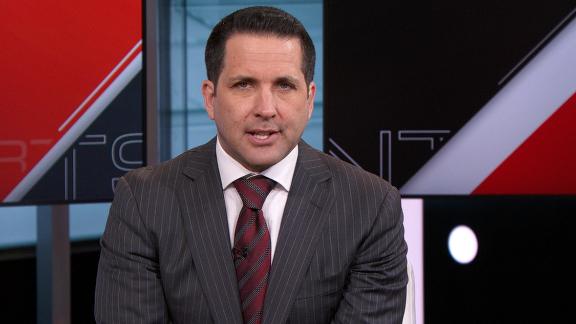 FRISCO, Texas -- Dallas Cowboys running back Ezekiel Elliott missed his second straight day of organized team activities after being in a car accident Sunday.
The Cowboys said Elliott suffered a hit to the head in the "minor accident" and is being evaluated. Elliott is doing conditioning work off to the side, the team said.
Garrett said the team learned of Elliott's accident on Monday morning. He said the running back was coming back from a charity event Sunday night when the car in which he was riding was involved in the accident.
"When he came in on Monday he had some body stiffness and some neck stiffness, so we got him checked out," Garrett said. "We felt like it was the right thing to do to keep him out. He's done the dynamic warm-up over the last couple of days, but we kept him out of the practice portion of it."
Elliott, who led the NFL with 1,631 yards in 2016, will not practice Thursday, but Garrett said he expects his star running back to practice when the OTAs resume next Tuesday.
Running backs coach Gary Brown and offensive coordinator Scott Linehan said Elliott appears fine. During the early portion of practice, Elliott ran along the sidelines and returned to watch the final portion of 11-on-11 drills.
"He's fine," running backs coach Gary Brown said. "He's good. Everything's good."
The week before the Cowboys' playoff game against the Green Bay Packers in January, Elliott was involved in a minor accident on his way to the facility.
With Elliott not practicing, Darren McFadden took the first-team snaps.
Elliott's representatives declined comment.
May, 24, 2017
May 24
8:00
AM ET
FRISCO, Texas -- For the fourth straight season, the Dallas Cowboys could have a defensive player miss games because of a suspension.
David Irving is appealing a four-game ban for violating the NFL's performance-enhancing drug policy, according to a source, but rarely are those suspensions overturned or even thrown out altogether. Players are told -- and retold -- that they are responsible for what they put into their bodies. If they don't use an approved substance, then they run the risks of what Irving is facing.
If (or when) the suspension is upheld, Irving will join Orlando Scandrick (two games, 2014), Greg Hardy (four games, 2015), Randy Gregory (14 games, 2016 and all of 2017), DeMarcus Lawrence (four games, 2016) and Rolando McClain (suspended indefinitely, 2016) as suspended Cowboys.
Since 2014, the Cowboys have had 10 different players receive suspensions from the NFL. Some never played for the team (Shaq Evans, R.J. McDill). Others had small roles (Josh Brent, Jakar Hamilton). But Irving, Gregory, McClain, Scandrick, Lawrence and Hardy were starters or major role players when they were hit with the penalty.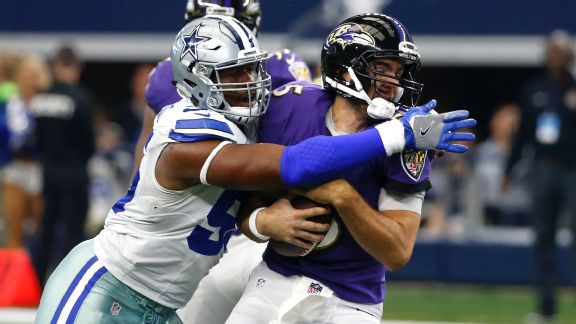 AP Photo/Michael AinsworthDavid Irving has star potential but hasn't put it together for an entire season yet.
That's a difficult way to build a defense.
From Irving's perspective, the timing is awful. He was the Cowboys' most productive defensive lineman at the end of last season. While he was set to become a restricted free agent after this season, the Cowboys pondered the possibility of doing a multiyear extension, similar to what they have done with Cole Beasley and Jeff Heath the last few years.
While it remains possible to work out a deal, Irving's price would be affected if the suspension holds because the next penalty is even more severe.
From the Cowboys' perspective, it should not change how they handle their defensive line group.
If the suspension holds, Irving will be able to continue to work out through the organized team activities, minicamp, training camp and preseason games. Once the team makes the final cuts for the 53-man roster, he would then be moved to the suspended list.
The Cowboys have felt comfortable with their defensive line depth. They added Stephen Paea and Damontre Moore in free agency. They drafted Taco Charlton in the first round and tackles Joey Ivie and Jordan Carrell on the third day of the draft.
In between they have Lawrence, Tyrone Crawford, Maliek Collins, Benson Mayowa, Cedric Thornton and Charles Tapper.
Irving's absence could help Moore's chances of making the roster. One of the undrafted free agents, such as Lewis Neal, could make it into the fold as well.
But the Cowboys don't need to make a 16-game decision on a player because Irving could miss four games. They didn't make significant additions when they lost Lawrence for four games. (Gregory falls into a different category because of the multiple violations that have him deep into the substance-abuse program with the possibility of not playing again.)
Losing Irving would be a tough blow to the rotation defensive coordinator Rod Marinelli likes to employ, but it does not take the Cowboys out of contender status. Irving had four sacks last season. He led the Cowboys in quarterback hurries with 26. He is an ascending player in many ways, but he is not a finished product to the point where the Cowboys know what to expect from him week to week.
Remember, after his dominating performance against the Green Bay Packers in the sixth game of the season -- one sack, three forced fumbles, one pass deflection, one tackle for loss that earned him defensive player of the week honors -- he went seven games without a sack.
In many ways Irving remained a projection as he entered 2017.
The Cowboys defense is better with Irving in the rotation, but his potential absence can be overcome.
They have made do without Scandrick, Lawrence, Gregory and McClain and managed to make the playoffs in 2014 and 2016.
They can make do in 2017 without Irving if required.
May, 23, 2017
May 23
3:20
PM ET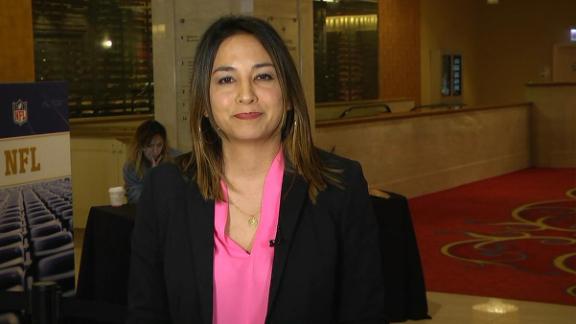 FRISCO, Texas -- The NFL has decided to relax some of the rules on celebrations to allow players the chance to have some fun after big plays.
The No Fun League has decided to put some fun back into the game, provided it's tasteful, doesn't last too long and isn't directed at an opponent.
So does that mean Ezekiel Elliott can jump into the Salvation Army Red Kettle in 2017 without any retribution?
Maybe. A spokesman said the league would address these questions in the months to come.
To refresh the memory: after a 2-yard touchdown run, his 13th score of the season, in the second quarter of the Cowboys' win against the Tampa Bay Buccaneers, Elliott raced through the end zone, hopped into the kettle and hid.
Though it might not have been spontaneous -- he said he thought about it in pregame warm-ups -- it was all in fun.
"I mean it's just sitting there right in the end zone, you know. It's the perfect celebration," Elliot said after the game. "They're one of our biggest partners, so I had to show them a little bit of love."
Elliott drew an unsportsmanlike conduct penalty for the celebration and a brief admonition from coach Jason Garrett, but ultimately the NFL opted not to fine him.
"Well, he shouldn't have done it. I thought it was creative, but he shouldn't have done it," Garrett said after the game. "You know that's how the league is going to rule on those things. You have to understand what's legal and what's not legal. You can jump into the stands in Green Bay, but you can't jump into a Salvation Army bucket in Dallas. You've got to be careful about snow angels. All of these different things that we do. So we have to be more mindful of that. I've got to coach that better."
Snow angels are now legal. Elliott's jump might be deemed OK before the season starts.
The best part of the celebration is what it did for the Salvation Army. In a little more than 12 hours after Elliott's celebration, the charity raised more than $182,000 in online donations.
May, 23, 2017
May 23
12:37
PM ET
FRISCO, Texas -- Dallas Cowboys defensive end David Irving is facing a four-game suspension for violating the NFL's policy against performance-enhancing drugs, a source has confirmed.
An appeal on Irving's behalf was filed last week. A source said the issue stems from an over-the-counter substance Irving used in an attempt to endorse the product.
Irving started two of 16 games last season, but he was the Cowboys' most productive defensive lineman down the stretch. He finished the season with four sacks, five tackles for loss and a team-high 26 quarterback pressures. He also had five pass deflections and forced four fumbles, including three against the Green Bay Packers that helped him earn NFC Defensive Player of the Week honors.
In the final four games, Irving had six of his 11 tackles, according to the coaches' breakdown, with three sacks, 10 quarterback pressures, two pass deflections, a tackle for loss and a forced fumble.
He signed his exclusive free-agent tender earlier in the offseason and is set to become a restricted free agent after the 2017 season.
The Cowboys hope Irving can continue to develop and show consistency as he enters his second full season with the team. He joined the Cowboys early in the 2015 season off the Kansas City Chiefs' practice squad.
The pending suspension was first reported by 105.3 The Fan in Dallas.
If the suspension is upheld, he would be the Cowboys' second defensive lineman penalized by the league this year. Randy Gregory
May, 23, 2017
May 23
9:41
AM ET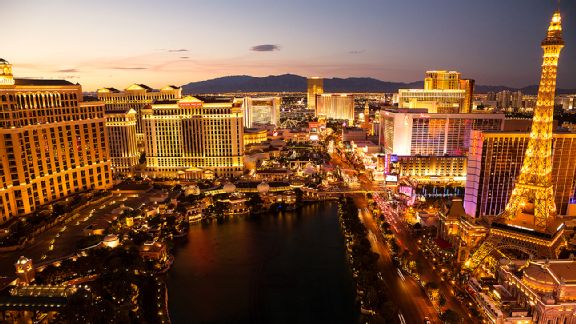 istockphoto.com
The Westgate Las Vegas SuperBook has released odds for all 32 teams to win their respective divisions for the coming season.
Here they are below.
---
NFC East
Cowboys 5-4

Giants 11-4

Eagles 7-2

Redskins 9-2
NFC North
Packers 4-11

Vikings 7-2

Lions 6-1

Bears 50-1
NFC South
Falcons 8-5

Panthers 2-1

Bucs 4-1

Saints 4-1
NFC West
Seahawks 1-4

Cardinals 3-1

Rams 25-1

49ers 40-1
---
AFC East
Patriots 1-14

Dolphins 11-4

Bills 7-2

Jets 9-2
AFC North
Steelers 2-3

Ravens 11-4

Bengals 13-4

Browns 80-1
AFC South
Colts 9-4

Texans 9-4

Titans 2-1

Jaguars 5-1
AFC West
Raiders 9-5

Chiefs 2-1

Broncos 7-2

Chargers 4-1