April, 24, 2017
Apr 24
8:00
AM ET
Jerry Jones has made it clear: He wants a war daddy for the Dallas Cowboys defense.
For those not familiar with the term, he wants a pass-rusher's pass-rusher, a guy who requires every offense know where he is on every snap of the ball. For nine years, the Cowboys had a war daddy in DeMarcus Ware. From 2005 to 2013, he put up a franchise-record 117 sacks. He led the NFL in sacks twice, with 20 in 2008 and 15.5 in 2010. He had at least 10 sacks a season in 2006-12.
Every offense knew where No. 94 was on each snap.
Since Ware's departure, the Cowboys have not had a player record more than eight sacks in a season (DeMarcus Lawrence, 2015). Jeremy Mincey led the Cowboys with six sacks in 2014. Benson Mayowa led them in sacks last season with six. The last time the team leader had fewer than six sacks in a season came in 1963, when Bob Lilly had five.
As great as Ware became, however, he was not a war daddy when he showed up as the 11th pick in the 2005 draft. Going into the final two games of his rookie season, he had four sacks. In the final two games, he recorded another four sacks, including three in Week 16 against Carolina.
If the Cowboys draft a pass-rusher with the 28th pick in the first round, there will be high expectations. Perhaps too high for any player picked late in the first round.
That's what happens at any position for the Cowboys, but especially this season when pass rush is such a focus.
What can be expected of a first-round pass-rusher?
Since 2012, some 24 pass-rushers, either 4-3 defensive ends or 3-4 outside linebackers, have been selected in the first round. Only seven had six or more sacks as a rookie, led by Joey Bosa, the third overall pick a year ago, who had 10.5 for San Diego.
Leonard Floyd, drafted ninth overall by Chicago last year, had seven sacks. DeForest Buckner was the seventh overall pick by San Francisco as a 3-4 defensive end and had six sacks. But they were top-10 picks.
The last time a player selected 20th or lower in the first round had at least six sacks as a rookie came in 2012, when Chandler Jones (No. 21, New England) and Whitney Mercilus (No. 26, Houston) had six apiece. The last pass-rusher picked 20th or lower in the first round to reach double digits in sacks was Clay Matthews, No. 26 overall by Green Bay, who had 10 in 2009.
Why does it take pass rushers time to adapt?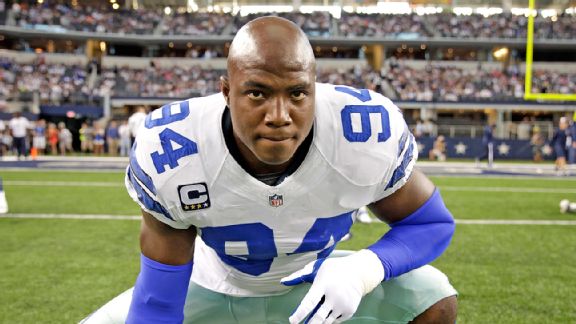 AP Photo/James D. SmithFrom 2005 to 2013, DeMarcus Ware put up a Cowboys-record 117 sacks and led the league twice.
"When you're looking at them in college, you have to look at — say a kid has 15 sacks, well where did those 15 sacks come [from]? Who were they playing against? Was it 1-AA talent? Was it against a freshman offensive tackle at a major college?" Pittsburgh general manager Kevin Colbert said. "There are so many different factors as to why he was productive in college that you think will sometimes transfer over. Sometimes it does. Sometimes it doesn't. But you have to see where his production was accumulated. Again, maybe against an inferior opponent or an inferior player on a better team."
In 2015, Atlanta made Vic Beasley the eighth overall pick in the draft out of Clemson. He had four sacks as a rookie, and some questioned whether he would ever live up to his draft status. In 2016, he led the NFL with 15.5 sacks.
In college, pass-rushers can get away with one move, generally speed off the edge. It works well enough to where they don't develop other moves or counters to offensive linemen.
Against NFL offensive tackles, one-trick wonders get swallowed up. If they can't develop a counter or other moves, they are left running in place.
"I think on both sides, O-line and D-line as well, development is delayed a little bit more now," Atlanta general manager Thomas Dimitroff said. "Different rules. Different practice rules. Different, not the same ability and opportunities to be aggressive with contact as it used to be. That's going to take time. For us, the situation with Vic Beasley, I really think he turned the corner literally and figuratively speaking because he did get up and around the corner very well this year. ... I think as they get to know the nuances of pass rush, I think that's really good."
The Cowboys had 10 pass-rushers at The Star among their visitors leading up to the draft. They had big-school, big-conference, big-production players, like Tennessee's Derek Barnett, Michigan's Taco Charlton, Wisconsin's T.J. Watt and UCLA's Takk McKinley. They had small-school, small-conference, big-production players like Ohio's Tarell Basham, Villanova's Tanoh Kpassagnon and Youngstown State's Derek Rivers. They had bigger pass-rushers, like Michigan State's Malik McDowell, and smaller pass-rushers, like Missouri's Charles Harris and Houston's Tyus Bowser.
Perhaps one might be the war daddy Jones craves.
The odds of that happening in 2017, however, aren't very high.