Tech dealing with skid, low turnout
January, 19, 2010
1/19/10
1:06
PM CT
By
Jeff Caplan
| ESPNDallas.com
Even when Bob Knight was wearing his red sweater and scowling from the Texas Tech bench, the men's basketball team, unlike the storied women's program, has always been a tough sell in Lubbock.
After a December 2003 non-conference game against San Diego State in which 6,136 attended, Knight, accustomed to routine sellouts at hoops-crazed Indiana, blasted Tech fans for not supporting the home team:
"If that's all that's going to attend basketball here, then I think Tech ought to give up basketball. This team works like hell. It's 8-2. We don't bring [expletive] teams in here to play. We bring teams in here that are going to be competitive. I really think that if we can't have a better attendance from a community this size and a university with 30,000 students, I think we're spending too much money on basketball and we ought to give it up."
[+] Enlarge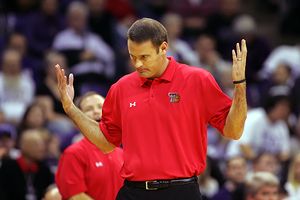 Ray Carlin/Icon SMIPat Knight was brutally honest at Big 12 media day: "To me, this is either a 'get an extension or get fired' kind of year. This is a big year for me."
Fast forward to January 2010 and son Pat Knight, now in his second full season succeeding his dad, is dealing with mediocre attendance. Complicating matters his team's recent three-game slide to start Big 12 play. Tech produced excitement early with an overtime home win over a ranked Washington team. It helped get Tech ranked in the Top 25 for the first time since 2005.
But, Tech (12-5, 0-3) is just 5-5 in its last 10 games. It suffered blowout losses at Oklahoma State and Kansas, plus a heart-pounding overtime home loss against Missouri, a game that drew a disappointing crowd of 9,788 inside the 15,098-seat United Spirit Arena.
On Monday's weekly Big 12 coach's conference call, Pat Knight was asked by a reporter from Tech's student newspaper to give a reason for Tech fans, considering the team's 0-3 league start, to show up at Wednesday's home game against Iowa State. The question obviously triggered mounting frustration.
"If you've got real fans they don't pay attention to the record. If you're a real basketball fan and really support our team you come when we're 0-16. That's up to them," Knight said. "We need them for a homecourt advantage, but I'm getting worn out trying to fight this fan stuff. I don't know why I'm getting questions about that. I think these kids are proven; they've played some really good basketball early on. All teams are going to go in slumps, especially playing in this league. If you don't want to come, I'm not going to worry about it. I've got to try to win some games. I wish people would quit bringing up the fan thing."
Tech has surpassed 10,000 fans this season just once in 11 home games. Against Stanford, 13,617 saw the Red Raiders defeat the Cardinal, 100-87 to go 3-0 against the Pac-10. Otherwise, attendance has consistently dragged between 7,761 and 9,788.
"You show up to support your team. If you don't want to show up that's fine, we're still going to try to win games with you or without you," Knight said. "But, it's pretty obvious, if you went to the game up in Lawrence (16,300 attended Texas Tech at Kansas), how much fans help you. We need our fans to show up no matter what our record is just because we have Texas Tech on our uniform. It doesn't matter what your record is. It's got to get to a point where people start showing up just because these kids play for Texas Tech."
Knight's contention that fans should show up simply to support the name on the front of the jersey is ideal, but outdated, and particularly so at a so-called football school like Tech. Fans can be fickle and they tend to support their teams during the good times and bail during the bad, especially as ticket prices continue to rise nationally. Tech has seven home games remaining and while ticket prices are not the highest in the conference, the depressed economy is clearly adding another layer to the attendance issue.
For Wednesday's game against Iowa State, plus later games against Kansas State and Baylor, tickets sold on the Texas Tech website begin at $12 for upper level seats. For games against Oklahoma, Oklahoma State, Texas A&M and Texas, the lowest-priced ticket available is $18.
Tech's average home attendance, 9,101, ranks eighth in the Big 12. But, Tech isn't alone in disappointing attendance. Baylor is off to a hot start and recently cracked the Top 25. Yet, the Bears have drawn, on average, 6,172 inside the 10,284-seat Ferrell Center. A rejuvenated Missouri program is drawing 6,950 below capacity. Texas A&M is under 4,000 capacity and is drawing nearly 2,000 fewer fans per home game than Tech. Even No. 1 Texas is averaging about 3,000 below capacity.
Only Kansas, ranked No. 1 for much of the season and easily the conference's most storied program, is filling every seat.
Texas Tech will try to get back on the winning side of things Wednesday night. Knight, whose team's 12 wins are three more than all of last season, has pleaded for patience from fans as well as for their support as the Red Raiders navigate through a highly competitive Big 12 schedule.
"If you're not Kansas or Texas, you're going to go through some bad weeks and that's what it was, it was a bad week for us. We lost three in a row," Knight said. "We should have won the one here at home if we hit some free throws against Missouri, but that's just how it is. One year we lost five in a row and still made it to the NCAA Tournament when we had Jarrius Jackson. In this league, if you're not one of the top one or two top teams and you're sitting there fighting in the pack you can have weeks like this."