Source: Influential people helped Big 12
June, 14, 2010
6/14/10
8:26
PM CT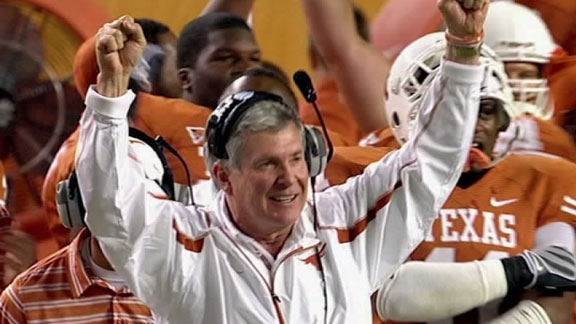 ESPN.com's Andy Katz has an interesting story on some of the behind-the-scenes maneuvering that kept the Big 12 Conference from dissolving.
Katz, citing an NCAA source, writes that a diverse group of influential people got involved and helped save the Big 12. Here's an excerpt.
In an unprecedented move, a number of influential people inside and outside of college athletics mobilized over the past week to save the Big 12 Conference, stave off the Pac-10's move to expand to 16 schools and prevent a massive reorganization of college athletics.

An NCAA source with direct knowledge of what occurred told ESPN.com that the aggressiveness of the Pac-10 caused various factions of the collegiate sports world to coalesce. They then worked to slow and try to stop the pace of moves that would have left a number of schools searching for a new conference home.

The source said the people involved were business executives, conference commissioners, athletic directors, network executives with ties throughout college athletics, administrators at many levels throughout the NCAA membership and a "fair number of them without a dog in the hunt."

According to the source, this collection of interested and influential people made phone calls, visited in person and held conference calls with the Big 12 schools that were being pursued, including Texas, as well as Big 12 commissioner Dan Beebe. The influential group also helped broker the new television deal between Texas (and the other schools considering leaving the conference) and Beebe, who represented the remaining Big 12 schools.
Read the whole story here.