Chat wrap: UT coach Mack Brown
July, 26, 2010
7/26/10
12:55
PM CT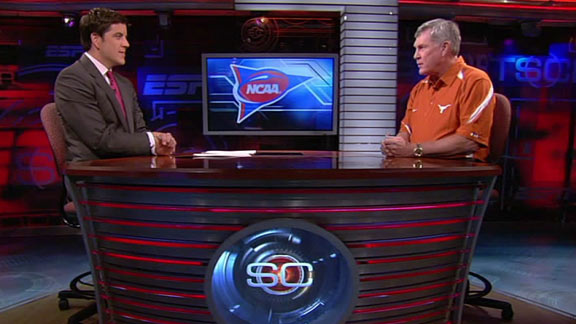 Texas football coach Mack Brown
joined us for a live chat
on Monday, and here are some of the highlights from what he had to say:
What is your feeling about the rules dealing with the relationships between agents and college players?
PODCAST
Texas coach Mack Brown talks about some of the realignment plans that didn't happen this college football season offseason. He also comments on the relationships between athletes and boosters.


Listen

Brown:
I feel like it's been a problem for many years. I hate that some young people are being questioned, but it will probably help us all come up with a viable answer to have some more control. There are some great agents out there, we have 52 kids in the NFL. But there are some agents out there that try to cut corners. We have to educate our players, coaches, but I also feel that the NFL can work to make better regulations in the future. We spend the better part of 12 days educating our parents and players on the agent process.
What are you feelings on the opinions that the Big 12 will face the "inevitable" and cease to exist as conference expansion looms over the horizon by powers such as the Big Ten, Pac 10, etc.
Brown:
I trust our boss. Our boss is Bill Powers and our AD. They have assured me that they think the conference is on stable grounds. The conference is committed to a lot of help in the future. We're not sure if we're talking about 10 years, 15 years, but at some point I can see us having some super conferences, because it's been talked about for some time now.
Are you nervous about the status of your program after seeing all the investagations occuring through prominent campuses across the country?
Brown:
When you're dealing with as many people and young people as we do on a daily basis, you're always anxious that you did a good job about reaching out to people and doing things in a first class manner. After getting ahead of the problems and hoping you did your best to do a good job, you have new players coming in. We know we're vulnerable to it just like everyone else.
For more questions and answers with Texas coach Mack Brown,
go here.