Baylor OT: From ice and fire to football
July, 26, 2010
7/26/10
3:41
PM CT
By
Richard Durrett
| ESPNDallas.com
IRVING, Texas – It was life around fire and ice that led Danny Watkins on an unlikely journey to a football field and eventually to Waco, Texas, to play for Baylor.
The 25-year-old went from a hockey player, to a fireman and then to a football field. In the process, he's turned into a highly-rated left tackle that his coaches believe will play on Sundays in the NFL.
Watkins grew up in Kelowna, British Columbia, Canada, and, like nearly every Canadian kid, lived on a sheet of ice in the winter.
"I could skate before I could swim," Watkins said.
[+] Enlarge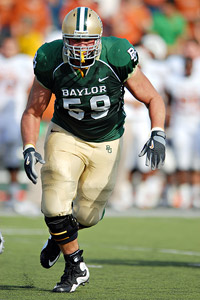 John Rivera/Icon SMIBaylor offensive tackle Danny Watkins was a hockey player and a fireman before he became a football player.
He didn't know anything about football. But he was a big kid who learned how to fight his way through youth hockey games.
"I was a glorified goon," said Watkins, who has two fake front teeth to prove it. "My parents used to stop coming to the games because they said, 'If we wanted to watch you sit in the penalty box, we could just stay at home and watch you sit in your room."
Watkins didn't know it, but he was developing some skills needed to play college football in the United States. In fact, he said he learned more from hockey than he did from playing rugby in the summers.
"I think the most critical skill I used was skating backward and bending your knees," Watkins said. "It's really the same in pass protection. You have to bend your knees and get your hips down. Run blocking was the hardest thing for me and coaches would shake their heads and say, 'Everyone can learn how to run block.'
He learned an ability to take orders and think on his feet from his days at a firefighter in his hometown. Watkins was on a trip his junior year of high school to a fire station when he decided that was what he wanted to do for a living.
"I knew there wouldn't be a job to top that," Watkins said.
He contacted the fire chief and was a paid on-call fireman and even had some shifts where he slept in the firehall. At 21 years old, he went to Butte College in Oroville, Calif., hoping to take some fire science courses and gain more knowledge about the job.
"Some of my friends told me to try football," Watkins said. "They said it was big in the U.S."
He was put at left tackle immediately because of his size. He said he allowed three sacks his first game.
"It just wasn't because of poor technique," Watkins said. "I was going to the wrong guy. I felt bad for the quarterback. I picked him up a couple of times and he asked, 'What happened?' I was like, 'Uh, was that my guy?' I just didn't know."
He learned and got much better, garnering interest from California, Arkansas and Baylor. He visited all three, but settled on Baylor.
"He's the toughest guy I've ever been around," Baylor coach Art Briles said. "He has a passion for being the best that he could possibly be without any fences."
Briles said while Watkins is 25 years old, he's about 18 in "football years." That means he's had the chance to mold him. Briles sees a coachable player who is improving all the time.
For Watkins, football reminds him a lot of his days at the firehouse.
"The camaraderie with the guys is unreal," Watkins said. "You'll never meet a finer bunch of men than that. Playing football is the same way on the offensive line. You're with the same guys all the time."
Watkins said he hopes to continue his football career professionally after this season at Baylor. He was a high pick in the CFL draft, but wanted to stay with the Bears. Briles believes Watkins will play on an even bigger stage.
"He will play in the NFL, barring injury," Briles said. "Once people meet him they're going to appreciate him much more. He's going to have a great career."