Iron Skillet '82: Pony Express runs wild
September, 24, 2010
9/24/10
7:02
AM CT
By
Jeff Caplan
| ESPNDallas.com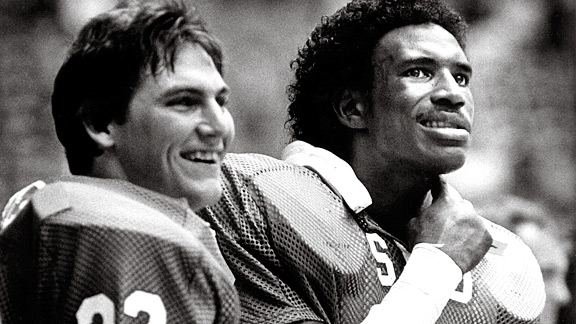 AP PhotoCraig James and Eric Dickerson combined for 282 yards against TCU in 1982, including the game-tying 5-yard touchdown run by Dickerson in the fourth quarter.
The final selection in a series flashing back to memorable moments in the Battle for the Iron Skillet. This season's version kicks off at 7 tonight at SMU's Gerald J. Ford Stadium and will be televised on ESPN.
Played at Texas Stadium, No. 6 SMU
To kick off this series on Monday, we looked back at the 2005 matchup in which SMU won a September matchup. It was the lone loss the Horned Frogs that season and likely prevented TCU from its first BCS bid, which it achieved last season. Twenty-three years earlier, the No. 6 SMU Mustangs nearly went down the same path.
Even though the Ponies were without coach Ron Meyer, who left for the NFL prior to the season, new coach Bobby Collins had a full stable. In a game played at Texas Stadium to open Southwest Conference play in week 3 of the season, the Pony Express expected to stamped the Frogs.
And they did, at least in terms of yardage. The backfield duo of Eric Dickerson and Craig James combined for 282 yards. But, it was the Kenneth Davis-led Horned Frogs who held a 13-6 lead entering the fourth quarter.
Dickerson tied it up with a 5-yard touchdown run and a 19-yard field goal by Jeff Harrell won it. A couple weeks later, SMU beat Texas in Austin, paving the way for an unbeaten season and a No. 2 national ranking at the end of the season.
SMU finished 11-0-1, including a 7-3 victory over Dan Marino and Pittsburgh in the Cotton Bowl. SMU was the only undefeated football team in the nation that season, but one-loss Penn State was named the national champion after beating Georgia in the Sugar Bowl.
TCU was headed the other direction. The 1982 season spelled the end for F.A. Dry and ushered in the Jim Wacker era.