Gutsy call helps Army seal bowl victory
December, 30, 2010
12/30/10
4:04
PM CT
By
Richard Durrett
| ESPNDallas.com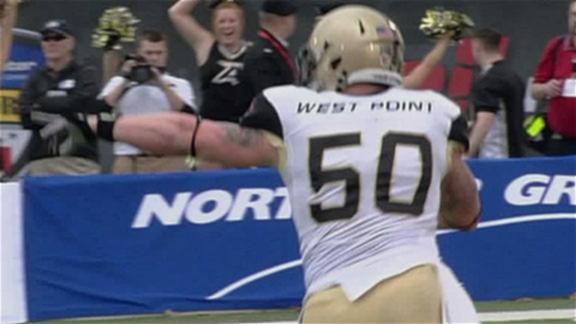 UNIVERSITY PARK, Texas -- Give Army head coach Rich Ellerson and his staff some credit for showing plenty of guts on third down late in the fourth quarter of a 16-14 score in the Armed Forces Bowl.
Army was trying to run out the clock and prevent SMU from getting another opportunity to try to drive down and kick a last-second field goal to win. On third-and-4, with 1:18 left, SMU was expecting a run from the triple option team that had attempted just six passes (and completed one) before that play. Instead, Army calls a rollout play and completes a pass for 22 yards and a first down that ends the game.
Army had called timeout before the play to discuss things.
"We're saying, 'OK, we converted the first third down with bootleg, so keep the ball in the quarterback's hands, stay in bounds and if we could get the first down, great,'" Ellerson said.
At least that's what Ellerson thought. He then went down to talk to the defense in case a first down wasn't made and was surprised to see his quarterback, Trent Steelman, throw the ball.
"Sure enough, we come out and he throws it," Ellerson said. "My first thought was, 'oh.' So there was another discussion that took place after I switched over to the defensive side of the headset, apparently, or you never know. Again, we always tell those guys, 'If somebody is standing wide open, throw it to 'em.' We've been known to miss wide-open guys before. We always take a deep breath in that situation. That play, we've been working on that for two years. We've been developing that kind of confidence, that kind of precision, that kind of poise. That's how things like that happen."
It was a run first option, then he had a fullback he could have thrown the ball to and then the receiver that he ended up hitting for the completion. It was only the second pass completed for Army on the day. But it was a big one.
"A lot of wishbone teams wouldn't have the courage to throw that play at the end," Jones said. "Rich has always been that way. Even at Cal Poly, they would throw the ball when other wishbone teams don't do it. He has a unique style of play. He's mastered it very well. They're like us. As they get their players in place, they're going to have a good football team for years to come."