Tuberville has Tech fan base believing
March, 24, 2011
3/24/11
8:07
AM CT
LUBBOCK, Texas -- During Texas Tech's spring break last week, coach Tommy Tuberville accompanied 15 major program donors to Orlando, Fla., to help raise money for the golf team, at the request of the university. The group also attended the Tavistock Cup, a golf exhibition featuring Tiger Woods and other headliners, and Tuberville took them to play Bay Hill, which hosts the Arnold Palmer Invitational every year.
That's when the advantage of having a coach that's been around awhile kicked in for the Red Raiders' supporters.
At breakfast before their round of golf, Tuberville arranged for Palmer himself, the golfing legend, to come spend some time with the donors during the meal.
[+] Enlarge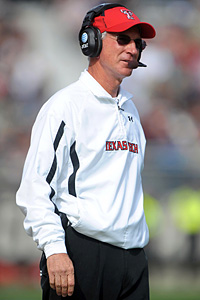 Kirby Lee/Image of Sport/US PresswireTommy Tuberville thinks the pairing between himself and Texas Tech is a "perfect match."
Texas Tech set a school record in season-ticket sales last season, with 46,565 sold. That was nearly 5,000 more than the previous record, which was set in 2008 when the Red Raiders had a pair of Heisman contenders in Graham Harrell and Michael Crabtree peaking the program's popularity on a national scale. The Red Raider Club also generated more than $5 million in donations over the past year.
Numbers across the board are up, and it's not hard to get an idea why.
"Every time the doors opened and high school coaches were going to be there or fans or alumni, we were there," Tuberville said, now on the job for 15 months. "And we invited them here. We tried to open up new doors. We can't just keep pounding on the same doors."
Personal touches like introducing boosters to Palmer are little things that would have been out of character for Tuberville's predecessor, his on-the-field success aside. So is getting out on the road and being in every high school and alumni event possible. Nothing kick-starts a program more than talented recruits and deep-pocketed boosters willing to pony up and support a program they believe in.
When Tuberville first took the job, the popularity of the departed Mike Leach worried him, but he did the only thing he could do: Get out and talk with fans, ease their worries about wholesale offensive changes and promise big things in the future with talk of championships.
"This is not my team. It's theirs. We're here. No matter what's happened the last few months. Whether you're glad, mad or sad, it doesn't make any difference. It's time to jump on, because it's not going to get done. We can't do it by ourselves," Tuberville said of the fan base. "People said 'You're gonna change everything,' but I said 'Hey, I'm a football coach. I'm going to do what we need to do to win as many games as we can.'"
For all the excitement that came with Tuberville's arrival, criticism came as well. Many thought Tuberville, who had spent 14 seasons as an SEC head coach versus one as a coordinator in the Big 12, was biding his time until an SEC job came open.
"I've not been one of those guys that went somewhere and just left immediately. I stayed four and a half years at Ole Miss, 10 years at Auburn. I left both times on my terms," Tuberville said. "I'm not one of those young guys that's looking to work his way up."
Tuberville says the marriage between himself and Texas Tech was a "perfect match," and hopes the feeling is mutual from fans and administration.
"Hey, I know what it's like to go to a place, to build it up and enjoy it. That, rather than go to a place, and every day you're looking at other places like, 'What's going to be easier and better?' I mean, I'm past that now," he said. "They hired a guy that was the perfect situation for them. A guy that wanted to get back and had been out for a year, had obviously won games and had some good experience with some good head coaches and understood the game and understood recruiting."
Tuberville's enthusiasm and sales prowess -- "Never miss an opportunity when you're on the road to sell your program," he says, and backed it up with a commitment to play in the Byron Nelson Classic pro-am in Dallas in May -- have meant big success off the field.
On it, the Red Raiders are still a work in progress. Tuberville said midway through the season that the Red Raiders had already had 10 players, out of the team's 50 major contributors, undergo surgery. Considering the injuries and the fact that it was his first year, an 8-5 record was nothing to be ashamed of in 2010. But Tuberville provided hope that he could get Texas Tech over the Texas-and-Oklahoma-sized hump that's kept the Red Raiders out of Big 12 championships and BCS bowl games.
He navigated Auburn to a 13-0 season in 2004, an 11-win season in 2006 and four more seasons with at least nine wins in the span of just a decade, so expectations are hardly unrealistic. Building further anticipation for the future was
Tuberville's 2011 recruiting class, which the program trumpeted
as the best in school history.
Elite success on the field is likely another year away with an offense that lost two senior receivers, a senior running back and two senior quarterbacks. The defense struggled and is adjusting to new coordinator Chad Glasgow.
But off the field, business is booming. When will that leak onto the turf at Jones AT&T Stadium? Only time will tell.