Red Raiders' defense on the mend
March, 24, 2011
3/24/11
1:00
PM CT
LUBBOCK, Texas -- Last season, exactly two teams in college football defended the pass worse than Texas Tech. The Red Raiders ranked last in the Big 12 and 118th in college football, giving up more than 293 yards a game.
Within that, the Red Raiders were one of just two teams to give up at least 150 pass plays of longer than 10 yards.
"We just got outran," said coach Tommy Tuberville. "That's the bottom line."
Solution one: The Red Raiders need more speed. Part of that comes with recruiting. Tuberville addressed the need in his 2011 class, recruiting a handful of pass-rushers to provide more depth.
[+] Enlarge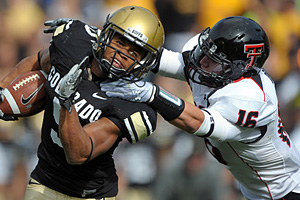 Kirby Lee/Image of Sport/US PresswireSafety Cody Davis (16) is hoping a simplified scheme will help improve the Texas Tech defense.
That depth is the other half of fixing the problem. Injuries were a constant, including two contributors in the secondary just before the season began.
But those injuries meant freshmen on the field, defensive tackles trying to play defensive end and even a few offensive players moving to the defensive side of the ball.
"It didn't look good for us early, but if guys kept getting hurt, we'd have really been in trouble," Tuberville said. "We'd have ended up with
Taylor Potts
playing safety."
Two of the team's best pass-rushers played early, Aundrey Barr (knee) and Scott Smith (suspension) missed the majority of the season, which didn't do the defense's back line any favors.
"The main thing for us next year is if we can stay healthy and get playing time underneath our belt, there's potential," Tuberville said. "A lot of them just don't have a clue what they're doing."
The hope is that changes this year with new defensive coordinator Chad Glasgow, who came from TCU as one of the nation's best secondary coaches. Most welcome, he came preaching simplicity.
"We were confused about some calls and everybody didn't know what everybody else was doing, so simplifying this should be better this year," said safety Cody Davis, second on the team with 87 tackles last year. "Everybody should know what they're doing."
Glasgow is also implementing a 4-2-5 that will put more defensive backs on the field.
"I think it fits us very well because we have so much experience at safety and lack of depth elsewhere," Davis said.
For immediate help changing that, Tuberville brought in Leon Mackey and Dennell Wesley, a pair of junior college defensive linemen.
"They're a little older guys. They're not like big-eyed 17-year-olds coming in," Tuberville said. "You throw them up against a Big 12 team in the first month, at least you've got a little experience."
Despite the defensive struggles, Texas Tech still managed to win eight games, but to tally any more than that, it'll have to stay on the same page, healthy and in front of high-powered Big 12 offenses which got behind it all too often in 2010.
"We didn't have near enough speed to compete this year, and it showed up," Tuberville said. "We had some good players, but we just didn't have enough of them."