Fuller, Aggies benefit from receiver staying
April, 6, 2011
4/06/11
10:00
AM CT
COLLEGE STATION, Texas --
Ryan Tannehill
felt like he had to apologize. But you can't blame him for the effort.
Receiver
Jeff Fuller
, the Texas A&M passer's top target, was considering the NFL, and Tannehill zeroed in on convincing the 6-foot-4, 215-pounder to stick around Aggieland for his senior season.
"I felt like a college coach trying to recruit," Tannehill said. "I tried everything."
He'd call. He'd text.
"We're going to do big things next year," Tannehill texted him.
[+] Enlarge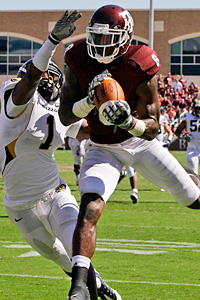 AP Photo/Pat SullivanJeff Fuller caught 72 passes for 1,066 yards and 12 touchdowns last season.
Texas A&M returns 19 starters from last year's nine-win team, and should be one of the Big 12's most-experienced teams.
He'd call or text to remind Fuller how many balls he could catch as a senior. He reminded the receiver, already the only Texas A&M player to record a 1,000-yard receiving season, that he'd own about every receiving record and then some if he came back.
Finally, on a Friday in January, Tannehill's phone buzzed.
"Yeah, I'm coming back," read a text from Fuller.
Tannehill breathed a sigh of relief, took a deep breath and let out an excited, "Yes!"
"He was good about it. I knew I was probably annoying him, and I told him, 'Hey, I'm sorry,'" Tannehill said. "But he was cool about the whole thing. He just told me, 'Hey, you're not annoying me. I'm always open to hear what you have to say, man. We've grown up together here and I respect your opinion.'"
Tannehill took an aggressive approach, but Fuller's decision came with plenty of thought. After Texas A&M's loss to LSU in the Cotton Bowl, he spent time at home in Dallas and met with his parents. He met with coach Mike Sherman, then went back home and met with his family once more.
"Being here in Aggieland is definitely an experience and I didn't want to cut that short," Fuller said. "It's like a step up from deciding what college to attend. It's not for the next four years, it's for the rest of your life."
Sherman spent a decade in the NFL before coming to Texas A&M in 2007, and polled his sources in the league, relaying their assessments of his play to Fuller and his parents. Fuller's father, an Aggie himself, played for the 49ers in the 1980s and polled his own sources in the league.
"Playing in the NFL, it's not about getting drafted, it's about staying in the league for 10-12 years," Sherman said. "Therefore, you want to be ready when you go."
A year ago, his teammate, linebacker Von Miller, decided he wasn't ready, and hadn't projected as a first-round pick. He stayed, and looks likely to be selected in the top 5 of this month's draft.
Fuller reportedly received a middle-round grade from the NFL draft advisory committee and sought Miller's advice throughout the process.
"He was telling me the pros and cons and the reason why he made his decision, and he explained to me that just because it's the decision he made, that doesn't mean it's the right decision for me," Fuller said. "We're completely different people."
The decision to stay was aided, from Sherman's perspective, by the possibility of a lockout that's become a reality since Fuller made his decision, but not for the money reasons that were most often cited for keeping underclassmen in school.
"Not having the ability to go into a minicamp or the preseason possibly can set a young player back that may not be quite ready to make that jump," Sherman said.
So instead, Fuller sought the safety of another year in school, chasing his degree and a Big 12 title, rather than a spot on an NFL team's depth chart.
The Big 12 title is a stated goal for the Aggies with Fuller back on the team, but the big goal is to win all 13 games next season, a goal that's not entirely unrealistic for Texas A&M, which will likely begin the season inside or near the top 15.
"We're a better football team with Jeff than without Jeff, and I was pleased for us," Sherman said, "but I'm also pleased for him, because I think he can benefit."