Looking back on a visit to Stillwater
April, 11, 2011
4/11/11
9:49
AM CT
STILLWATER, Okla. -- We'll have plenty more on the Cowboys a little bit later this week, but I'll give a little sample today from my time in Stillwater.
Why'd Weeden pick up a third sport?
Brandon Weeden
is already one of the most entertaining stories in the league, considering the 28-year-old spent a handful of years in the New York Yankees' organization after high school before coming to Oklahoma State. The Yankees, as is custom in minor league baseball, paid his tuition before Weeden was put on scholarship four semesters ago. This spring, however, he's added another sport to his repertoire: Weeden joined the university's golf team.
Why? Well, to put it simply, boredom.
Weeden, who didn't even begin playing golf until after his pro baseball career got underway, is only taking three hours this semester as he finishes up his degree in business management. He wanted an outlet to go with his football responsibilities, which have taken a front seat while spring football is in session. During spring break, however, Weeden took to the golf course on all eight days the team was off. A walk-on, Weeden hasn't qualified for an event yet, but he has been competing.
His Cowboys' teammate, Peter Uihlein, got a taste of the Masters this week, shooting 72-77 as an amateur while missing the cut. Weeden ended up in Augusta on Sunday. College life, it would seem, gets pretty awesome when your only responsibilities are three hours of class and football. Oh, and a wife, too. But still. My hat's off. Seems like quite the college experience.
[+] Enlarge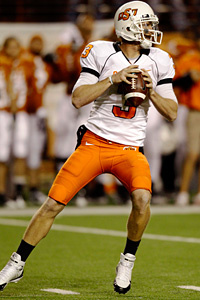 AP Photo/Eric GayOklahoma State quarterback Brandon Weeden picked up another sport this spring.
As for his baseball experience, that seemed pretty good, too. Weeden saw the ESPN 30 for 30 film, "Jordan Rides the Bus" about Michael Jordan's minor league baseball exploits, but he says those famed minor league bus rides aren't all that bad.
"It was the same kind of bus we travel on from hotel to games. I always got my own seat," Weeden said. "I actually enjoyed them. I'd just play cards or be on my cell phone. I'd find something to do. The longest one I ever had was 18 hours, but they're usually 6-9 hours at the most."
Weeden only took four days between the end of his baseball career and the beginning to his college football career.
"I always knew this is what I wanted to do. If I had been 25 at the time, I probably wouldn't have done it. But I was 23 and still felt like I could compete and do it," he said. "Baseball was my first love, but football was another option."
Coach Mike Gundy found out Weeden wanted to play back in 2007, had then-offensive coordinator Larry Fedora place a call to the quarterback and told him he was welcome to walk on. That was in April. By June, he had made it to Stillwater and joined the team.
Early on, he wasn't sure if he'd be able to make it.
"Once I got here for a year or so and started knocking all the rust off, I felt like there was an opportunity, that I might have an opportunity before it was all said and done. I just needed an opportunity. It's tough when you're a walk-on guy like that. You don't get many opportunities, and as a third-string quarterback, you don't get opportunities," he said.
Weeden's came during a Thursday night game against Colorado. Second-string quarterback Alex Cate struggled in place of an injured Zac Robinson, and Gundy turned to Weeden. He engineered a comeback win from down 14, Cate eventually transferred, the Cowboys hired Dana Holgorsen in the offseason and well ... here we are.
"Once I got it, I made the best of it," said Weeden, Oklahoma State's first all-conference quarterback since 1932.
Leach, Holgorsen and pounding Red Bull
One of the more entertaining rumors of the offseason was Mike Leach and Oklahoma State's supposed mutual interest in one another. Leach had been out of football a year, and Oklahoma State needed an offensive coordinator (more on the coordinator it they
did
hire later) to run the Air Raid that made them one of college football's most potent offenses last season.
So, what'd they think about Leach?
Receiver
Justin Blackmon
laughed.
"I thought it'd be a good time," he said.
"It definitely would have been a good time," added Weeden. "I don't know Coach Leach well enough to even say, to be honest, but he came by one time last year, and I think he had a coffee and/or a red bull in his hand at all times. He's definitely wired a little differently."
Wired differently perhaps, but on the same wavelength as Holgorsen, who ESPN cameras
caught chugging a Red Bull on the sidelines of the Alamo Bowl
, a screen shot that made the rounds on the blog circuit in the days that followed.
"That just happened to be the screen shot, but that could have happened any time," Weeden said. "There's no water involved in his beverage choice. It was usually Red Bull, Red Bull or … Red Bull."
On the NFL, Weeden and Blackmon
By electing to return to Stillwater, Weeden and Blackmon provide the possibility for a season even more special than last year's 11-2 campaign -- the most wins in school history.
Their new offensive coordinator, Todd Monken, made the move from the NFL to college. Monken brought with him film for both to check out, including two receivers that rank among Blackmon's favorites: Chad Ochocinco and Andre Johnson.
"I like (Ochocinco) because he talks a lot of trash out on the field, and Andre's just a great receiver who catches the ball better than about anybody," Blackmon said.
As for Weeden? He patterns himself after Peyton Manning, mostly in the way he runs every part of the offense and shapes it before and during plays.
"I've always kind of followed the Colts because of Peyton. I'll watch every Colts game. I like watching him operate. He doesn't have the strongest arm in the NFL, but it's on time and it's on target," he said.
Lots more to come from the Cowboys.