Sooners still have plenty of room to grow
April, 18, 2011
4/18/11
11:02
AM CT
NORMAN, Okla. -- After Oklahoma rolled to a dominant win against 8-5 Connecticut in the Fiesta Bowl, the offseason accolades began rolling in for the Sooners.
[+] Enlarge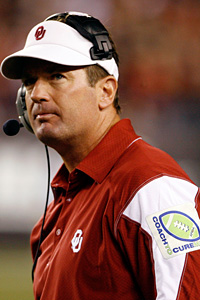 Mark Zerof/US PresswireBob Stoops says high expectations are the norm for his Sooners.
Surveying the college football landscape, the Big 12 champions -- who went 12-2 last season, and return eight offensive starters, six defensive starters and a pair of specialists -- have the fewest question marks of any team in the country. They also have some of the best, most experienced talent.
Paired with a tradition of success, that could mean a spot atop the polls to begin the 2011 season. Coach Bob Stoops isn't shying from the expectations of a title run for his team.
"When are we not expected to win it all throughout our state? So at the end of the day, what? That's something different?" he said. "That's what everyone expects of us in our state and all of us expect, so how is it different?"
For one, it would seem that America agrees with Stoops' team and state this time around, but as much as fans and media alike are fawning over his team this spring, it's easy to forget what Stoops tries to remind his team every day.
Forget focusing on one area to get better. Stoops knows his team can still get better at everything.
"People take too many of these college kids as finished products. They're anything but. They're young kids, young men that are working and have all kind of potential in front of them, but it has to be developed," he said. "They have to be able to do the work, and that's the truth. We're no different than everyone else."
He's right. And as good as Oklahoma looks right now, it could look even better by the fall. Receiver
Ryan Broyles
, linebacker Travis Lewis and quarterback
Landry Jones
all have NFL futures, and should be a few of the Sooners' strengths next season. But once their last downs are over at Oklahoma, they'll hear how much better they have to get to become NFL mainstays. Some of that growth can begin now.
Like Stoops, the Sooners have admitted that 2011 is about a run back to the title game, where Oklahoma has been four times since 2000. But unless asked about it, Stoops isn't stressing the finish line to his team.
"To me, it's all about the process of earning it, and we've got a long way to do that," he said. "What good is it to dream of what may be in six, seven, eight months or whenever it is, if you haven't done the work to get there? I'm not much on sittin' there just dwelling on what might be. To me, it's what are you doing right now to get it done?"