March, 24, 2017
Mar 24
5:40
PM ET
ANN ARBOR, Mich. -- Taco Charlton was happier this time. After not running as good a time as he wanted to in the 40-yard dash at the NFL combine, Charlton chose to run again Friday inside the Glick Field House at the University of Michigan.
He came away with a better time.
Charlton said he ran around "4.7 range, 4.80, 4.7 range, that was something that I definitely improved on and definitely wanted to do." That's much better than Charlton's 4.92 run in Indianapolis. It should help the pass-rusher cement his place in the first round of April's NFL draft.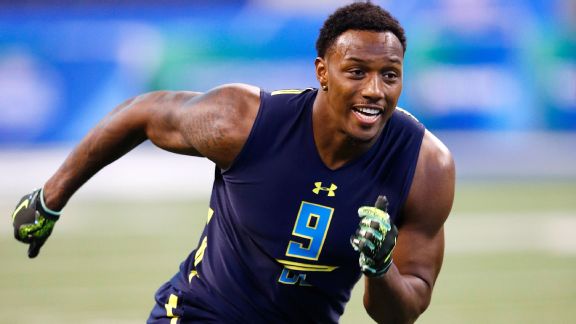 Joe Robbins/Getty ImagesTaco Charlton's 40 time at the NFL combine was not to his liking, so he took another run at it.
He's one of a couple of Michigan prospects -- potentially, 15 overall could be drafted -- who have a shot at being selected on the first night. And based on the interest in Charlton, that seems possible.
Charlton said he had dinner with the Pittsburgh Steelers on Thursday night, leading into Friday's Michigan pro day, and also had meetings with the New Orleans Saints, Baltimore Ravens, Arizona Cardinals and Tennessee Titans. He also has visits set up with the Dallas Cowboys, New Orleans Saints, Tampa Bay Buccaneers, Miami Dolphins and Washington Redskins.
"It's going to be a busy next month for me," Charlton said. "But like I said, it's something I can enjoy, a process I enjoy and seeing a lot of cities I've never seen before."
The 6-foot-6, 277-pound defensive end believes he's one of the best -- if not the best -- pass-rushers in the draft and that he is a first-round pick. The No. 17 overall prospect by Scouts Inc., he said he played most of the season with a high ankle sprain. Charlton said he did not need to have surgery on the ankle, he has "no complications now" and he's fully healthy -- including cutting on it in drills during pro day.
Peppers position
Jabrill Peppers has heard the questions -- that he might not have a true position in the NFL and that the slot he's likely going to play, safety, is a place for which teams don't have much to go on with him.
That, Peppers said, is a valid criticism. On Friday, he said, he did drills to show he could cover the deep middle of the field and can get to the fades and corners that receivers run. He did not do much linebacker work during pro day, focusing on safety.
But he gets the questions.
"Those are all fair questions because I don't have much tape at safety at the end of the day," Peppers said. "Some reasonings for me not being able to play safety are mind-blowing. I feel as though, if I'm a punt returner, I can track the ball. It's just going up and getting it at the highest point instead of letting it fall into the breadbasket.
"The one-interception thing, that's a fair question. Could have had maybe four, at most. One was due to bad positioning, didn't get my head around fast. One I dropped against Northwestern, and [Jourdan Lewis] caught one the next play and took it to the house. And one I could have had against Utah, the first game back from injury, against the tight end. Didn't get my head around, and it was a pass interference call. So it was about just relaxing, don't panic when the ball's in the air and just trust your technique. And technique is something I'm honing in on now.
"But those are all fair questions, man. At the end of the day, I'm an athlete. I'm a ballplayer. I only need to see something one time to be able to do it, and the rest is just trusting your technique and honing in on your skill. And I'm excited I get to work on my technique now."
Peppers, the No. 43 player by Scout's Inc., is still learning the safety position but is garnering a lot of interest as a potential first-round pick. He met with Tampa Bay on Friday and Arizona and New Orleans on Thursday. He said he has "at least 23" visits set up with teams, but couldn't remember which ones off the top of his head.
Butt's knee
Tight end Jake Butt said he doesn't regret playing in December's Orange Bowl, which ended for him when he tore his right ACL, requiring surgery and hurting his draft stock. Butt said he had heard potential first-round grades before the injury.
Now? He doesn't know.
The good news for him is the Jan. 10 surgery went well and he said his knee feels strong. He's hoping to start running in the next two weeks and would ideally be able to be ready for training camp this summer. That, though, is not a guarantee.
"Could be as early as six months, put us at July 10," Butt said. "Could be as late as nine months. But the way I'm attacking it is I'm just going to be ready, whenever that time comes to be cleared. I'll be ready."
He will be heading to Indianapolis for a medical checkup next month and believes things will go well there. He met with New Orleans, the Oakland Raiders, Pittsburgh and Tennessee before Friday's Pro Day and will be at the Detroit Lions' local prospects workout in April.
All teams in attendance
Every team sent at least one representative to Michigan's pro day -- not surprising, considering the plethora of prospects. The Lions had a large contingent, including general manager Bob Quinn, head coach Jim Caldwell, director of player personnel Kyle O'Brien, receivers coach Robert Prince and defensive line coach Kris Kocurek, who helped run some defensive line drills.
New England Patriots head coach Bill Belichick was in attendance, as were Pittsburgh general manager Kevin Colbert and head coach Mike Tomlin, Tennessee head coach Mike Mularkey and New Orleans head coach Sean Payton, among many others spotted by myself and ESPN's Jeff Darlington.
Other visits and things of note
Defensive tackle Chris Wormley had dinner with the Steelers on Thursday night, including with Colbert. He also said he'll be visiting Baltimore and the Lions local pro day. ... Defensive lineman Ryan Glasgow said he's met with the Saints, Ravens and New York Giants. He has the Philadelphia Eagles coming to Michigan for a workout on Monday and he'll be at the Chicago Bears' local pro day. ... Receiver Jehu Chesson had dinner with Carolina Panthers receivers coach Lance Taylor. ... Cornerback Channing Stribling previously told ESPN he was meeting with the Saints the night before pro day and has a visit set up with Carolina in April. ... The only big-name Michigan prospect to not talk with the media on Friday was cornerback Jourdan Lewis, who was charged last week with one count of misdemeanor domestic violence.
March, 24, 2017
Mar 24
5:16
PM ET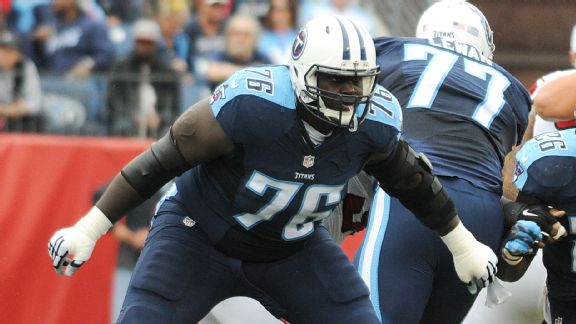 Jeffrey Vest/Icon SportswireByron Bell did not play last year with the Titans because of a dislocated ankle.
FRISCO, Texas -- Since Doug Free is retiring and there's no clear-cut choice to play right tackle, the Dallas Cowboys have agreed to terms with offensive tackle Byron Bell on a one-year deal, according to sources.
Bell, 28, did not play last season with the Tennessee Titans because of a dislocated ankle. Before last season, he started 72 of 78 career games for the Carolina Panthers and Titans.
The addition of Bell gives the Cowboys options on the offensive line. Free's retirement had the Cowboys contemplating giving left guard La'el Collins a look at right tackle. Chaz Green was drafted in the third round of the 2015 draft with the idea that he would be the right tackle of the future, but he has played only four games in two seasons because of hip and back surgeries.
If Bell proves healthy and wins the job, the Cowboys' offensive line would be among the deeper lines in football. All-Pros Tyron Smith, Travis Frederick and Zack Martin would man the left tackle, center and right guard spots, respectively. Collins, a highly touted prospect two years ago, would remain at left guard.
The Cowboys re-signed Jonathan Cooper, a former top-10 pick in 2013, to a one-year deal, and he can play guard or center. Joe Looney served as the backup interior offensive lineman on game day and saw time as a blocking tight end late in the season.
The Cowboys have yet to place Free on the reserve/retired list, which would open up $5 million in cap space. Once the Cowboys place him on the list, he will remain under their control if he opts to play again.
March, 24, 2017
Mar 24
4:15
PM ET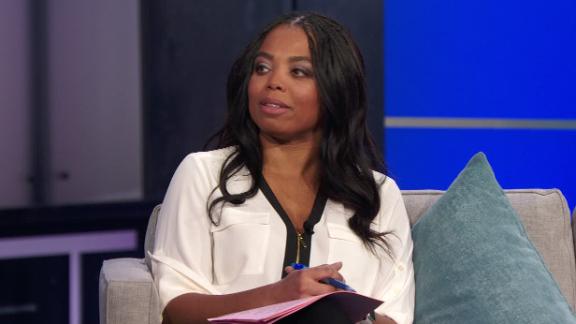 FRISCO, Texas -- The Tony Romo Watch used to be about the Denver Broncos or Houston Texans. It is also about Fox and CBS.
A source told ESPN's Adam Schefter that CBS is making a strong push to add the Dallas Cowboys quarterback to its team. A source told Schefter earlier this month that Fox was interested in Romo replacing John Lynch as an analyst.
While sources indicated that Romo would be released by Dallas on March 9, the Cowboys continue to hold on to the quarterback as free agency enters its third week in hopes of a potential trade that may never come. The Cowboys do not need to make a move on Romo for salary-cap purposes and are content to wait. Perhaps next week's owners meetings could spur action, but it is also possible Romo could walk away from the game.
Retirement has been an option for Romo, who turns 37 next month. He has had back and collarbone injuries the past two seasons that have limited him to parts of five games, and he played in just one series in 2016. Romo has two young sons and a third child on the way.
March, 24, 2017
Mar 24
11:00
AM ET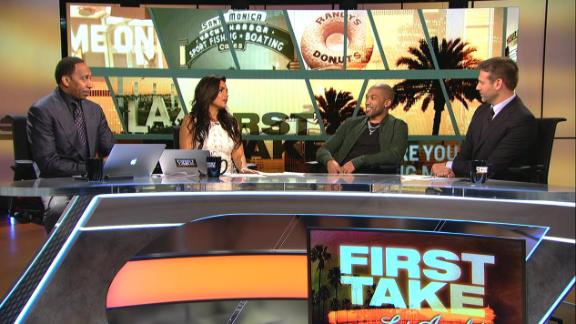 FRISCO, Texas -- After a small break, the Dallas Cowboys Twitter mailbag is back.
In it we discuss:
Away we go:
@toddarcher what are the chances of reconstructing Romos contract and keeping him as a backup?

— Francisco Dagnino (@big_panch) March 22, 2017
@toddarcher: Between slim and none. Many people have asked why the Cowboys don't look at this option. The easy answer is this: Romo doesn't want this option. If he wants to continue to play, it would be as a starter, not as a backup with the Cowboys. The only way I see Romo remaining the quarterback is if Jerry Jones announces he is the starter going into the season. How do you think that would play with the coaches, Dak Prescott and the rest of the players? But here's why I don't rule out completely a restructured deal: If Romo opts to retire, he and the Cowboys can adjust the contract in a way that the Cowboys would be able to lessen the salary-cap impact to a degree. They wouldn't be able to do anything to the $19.6 million in salary-cap proration that hangs over the deal, but they can lower his base salary and create cap room that way while also gaining a post-June 1 benefit as well. I don't think there is a great chance of that happening, but it would be a possibility.
@toddarcher #cowboysmail what are your impressions on takkarist McKinley and do you believe he could be there when at 28

— Shaundoe Johnson (@Shaundoe17) March 23, 2017
@toddarcher: I'm a fan, but I don't know if he will be there at No. 28. Perhaps his shoulder surgery will scare off some teams earlier in the first round, but he is expected to be ready for the start of training camp. There are some who worry about his ability to finish the job, so to speak, but he had 10 sacks and 18 tackles for loss last season for UCLA. When teams get a better handle on the health of his shoulder and combine that with his ability to rush the passer, I just don't think he will be there at No. 28. Would I trade up for him? No. There will be somebody available at No. 28 or even in the second round who might not have the same upside of McKinley, but will still have a big upside. The Cowboys are not in a position to give up picks with how they have approached free agency.
#cowboysmail I see the Boys defense as a need in the draft, but will the Cowboys draft for need, or draft the best player regardless of pos?

— TheClincher (@JSholyDiver) March 23, 2017
@toddarcher: This is a question that gets asked every year and you have people who will say, "You always draft best player available." Well, I'm not one of those guys. Need has to be a factor in drafting players. It just has to. Now teams have to set their draft boards up with "the best player available" theory, but I don't believe they must follow that edict. There's too much gray regarding the draft to speak in absolutes, like always and never. To me, if the Cowboys are on the clock in the first round and a receiver has a grade that is a tick better than the defensive end, I'm going with the defensive end. If there is a substantial gap in the grades, then I'll go with the best player in that case. With where the Cowboys are now in the state of their roster, anything close to a tie would have to go to the defensive side of the ball. Best player available is a great theory, but I just don't think it is always practical.
March, 24, 2017
Mar 24
8:00
AM ET
Rico Gathers needs no external motivation. All the second-year tight end has to do is study the Dallas Cowboys' depth chart.
Jason Witten, 35, entering his 15th season, sits at the top. Then comes James Hanna, much more of a blocker than a receiver in his four seasons, and Geoff Swaim.
Hanna and Swaim have 40 career catches and no touchdowns in six combined seasons.
"I see them trying to bring me up, so I can truly show my potential that I showed all year long on the practice squad, when I created a lot of problems for our defense," Gathers told J Dub City on ESPN Radio (KESN-FM 103.3) Thursday.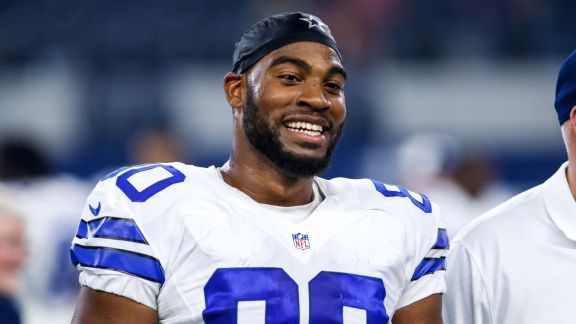 Matthew Visinsky/Icon SportswireRico Gathers showed potential at tight end during the preseason last year and on the Cowboys' practice squad.
"I felt like toward the end of the year I was ready to be on the roster, and I felt like I should have been on the roster. This year is the year to come out and take over and show Rico Gathers is the heir apparent to Jason Witten. That's how I feel, honestly."
The Cowboys have big plans for the former Baylor basketball player, who averaged 11.2 points and 9.0 rebounds per game last season (his senior year) as a power forward.
Drafted in the sixth round, Gathers didn't make the team, but the Cowboys stashed him on the practice squad. While most practice squad players earned $117,300, the Cowboys paid Gathers a first-year rookie salary of $449,990.
That's how you know they had big plans for him.
Gathers, at 6-foot-6 and 281-pounds, spent last season learning the nuances of pro football -- from blocking technique to footwork to hand placement. He had to learn the offense and the route tree.
Gathers didn't play college or high school football.
"I went from a person who was completely oblivious about a situation to a person who feels like an animal," Gathers said. "I feel like I've come into my own over the past year with my development from blocking to route running to making those athletic plays that you see on Sunday."
The Cowboys will tell you they like Gathers, but they're cautious with their projections because he's so young. At worst, he'll be a role player. At best, he could be a star.
Whether it's Gathers or someone else, the Cowboys need to have a plan for Witten's successor in place ASAP. If they don't believe Gathers has that potential, they need to use a premium draft pick to acquire a tight end.
Right now, Witten is among the Cowboys' most valuable players because no one on the roster comes close to replacing his skill set. He caught 69 passes for 693 yards and three touchdowns last season.
The yards and receptions represented his lowest totals since his rookie year, when he was a part-time player.
While his hands remain as dependable as ever, opponents don't view him as a downfield threat. He averaged 9.8 yards per catch, only the fourth time he's averaged fewer than 10.0 per catch.
Still, if he gets hurt and has to miss a substantial amount of time, it would hurt QB Dak Prescott, because Witten remains nearly unstoppable on Y-Option, his signature route in the middle of the field.
He's the only complete tight end on the roster. Gathers wants to join him.
"I feel like this could be my breakout year and I can really contribute to this offense in the right situation," Gathers said. "When I first jumped out there and let people know I wanted to play football, it was all a thought, but a thought without work is just a thought.
"Once I started working on my craft as a football player, that's when everything started coming together."
The play that showed Gathers is capable of playing in the NFL occurred in the Cowboys' final preseason game.
Prescott rolled out and threw a pass to Gathers in the flat. Gathers turned his body to catch the ball and did a half cartwheel, using his left hand as a base. He regained his balance and immediately cut right, avoiding two defenders.
He ran through another tackle before being tackled after an 8-yard gain.
"That play right there gave me confidence going forward," Gathers said. "Making my first catch, taking some blows and knocking some people over. That's when I knew I was ready to be a football player."
Now it's about moving up the depth chart.
March, 24, 2017
Mar 24
8:00
AM ET
FRISCO, Texas -- As the news about the Dallas Cowboys' involvement in free agency goes from a trickle to a drip, there is something to look forward to with the team's approach to the open market.
Unfortunately for fans, they might not see the real benefit until 2018.
The departures of Ronald Leary to the Denver Broncos, Barry Church to the Jacksonville Jaguars, Terrell McClain to the Washington Redskins and Brandon Carr to the Baltimore Ravens should net the Cowboys up to four compensatory picks next season, with Leary potentially bringing a fourth-rounder and the others looking at fifth-round or later projections.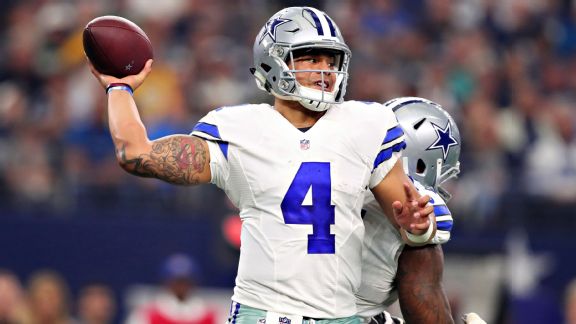 Tom Pennington/Getty ImagesDak Prescott was a fourth-round compensatory pick by the Cowboys in 2016.
The Cowboys actually could trade one of their projected 2018 compensatory picks in next month's draft, but the gnashing of teeth over the team's low-key approach to free agency this year could bring a return in the form of a low-cost starter from 2018-21 from the draft's third day.
That's not exactly a motto Jason Garrett will put on a sweatshirt: "2018: The year of compensatory picks."
It's too wordy. It doesn't roll off the tongue like, "Fight," or "Hah," or something as convoluted as last year's theme: "17."
The Cowboys should not be overly praised for how they have worked free agency so far. Getting Terrance Williams back on a lower-than-expected deal was a plus. Nolan Carroll II projects to replace Carr at cornerback. Stephen Paea, who signed a one-year deal worth $2 million, could fill in for McClain.
There is a balance between paying top money to OK players and always looking to "win the deal," as opposed to improving the team.
But the additional compensatory picks would be nice even if relying on the ability to find talent in the later rounds is risky business.
Over the past three years, however, Will McClay, the Cowboys' senior director of college and pro personnel, has been able to pluck five starting-type players from the draft's third day. That is what turns a good team into a really good team.
In 2014, the Cowboys selected linebacker Anthony Hitchens in the fourth round, and he has developed into a solid player.
In 2015, the Cowboys landed Damien Wilson, who started at strongside linebacker last season, in the fourth round and tight end Geoff Swaim in the seventh round. Mark Nzeocha, another seventh-round pick in 2015, remains on the roster as well.
Last year, they hit bigger than anyone could have imagined with quarterback Dak Prescott -- on a compensatory pick by the way -- in the fourth round and cornerback Anthony Brown in the sixth round. They also have hopes for defensive end Charles Tapper, a fourth-round pick who did not play a snap as a rookie because of a back injury, and tight end Rico Gathers, a sixth-round pick.
They had running back Darius Jackson on the active roster for most of the year before opting to release him late in the season to make room for Darren McFadden. Is it an egregious mistake? Not really, but it means the Cowboys could look to find another runner like Jackson this year.
There is a huge element of luck in every draft, but especially in Rounds 4-7. If the Cowboys knew Prescott was going to be so good, they would not have passed him up four times and had him ranked as the seventh-best quarterback in the draft.
Former New England Patriots scouting chief Scott Pioli used to keep a picture of Dave Stachelski on his desk because it reminded him he took Stachelski, a tight end, before he selected Tom Brady.
Under McClay, the Cowboys have become a better drafting team. Their goal is to draft and develop and use free agency to supplement their roster.
It might not bring the immediate gratification everybody wants in 2017, but if the Cowboys play it the right way they can help their long-term success.
March, 23, 2017
Mar 23
9:42
PM ET
CHICAGO -- The Bears signed veteran quarterback Mark Sanchez to a one-year deal, the team announced Friday.
Sanchez, who visited the Bears on Thursday, provides additional depth behind starter Mike Glennon.
The Bears prioritized finding another proven backup to work alongside Glennon, who hasn't started a game in over two years. The only other quarterback on Chicago's depth chart is Connor Shaw, who missed the entire 2016 regular season because of a broken leg he suffered in the team's fourth exhibition game. Prior to joining the Bears, Shaw played in just one regular-season game for the Cleveland Browns in 2014.
The Bears are still expected to strongly consider selecting a quarterback in the upcoming draft.
Sanchez, the fifth overall pick in the 2009 draft, found himself with the Dallas Cowboys in 2016 after he was unable to win the Denver Broncos' starting job in a battle with Trevor Siemian and was released. The Cowboys were in need of a quarterback after Tony Romo and Kellen Moore were out with injuries.
The 30-year-old Sanchez saw action in two games for Dallas, completing 10 of 18 passes for 93 yards and two interceptions. He also forged a strong relationship with rookie Dak Prescott
March, 23, 2017
Mar 23
8:00
AM ET
FRISCO, Texas -- While it seems as if NFL free agency started eons ago, it is actually only entering its third week today.
While some have described the Dallas Cowboys' free agency happenings so far as an exodus, they have actually lost nine players and signed six players. The debate should be whether the Cowboys are a better team today than they were in January. They are not, but they don't play a real game until September and have plenty of time to make themselves a better team than they were in January.
That brings us back to free agency.
Using the ESPN list of the top 150 free agents as a guide, there are 34 players remaining unsigned, not including Tony Romo, who remains under contract with the Cowboys, and DeMarcus Ware and Jordan Cameron, who have announced their retirements.
To further whittle down the pool, the Cowboys' needs are rather specific: defensive end, cornerback, safety, offensive line.
Of the 34 remaining, only 11 players potentially fit what the Cowboys are looking for.
Let's take a look:
CORNERBACK
Alterraun Verner (No. 52) -- He is just 28 and received a big deal in 2014, but he had just four interceptions in three seasons with the Tampa Bay Buccaneers. Having lost Brandon Carr and Morris Claiborne, the Cowboys could look to play more zone in 2017, and Verner is better suited to do so. He has missed only two games in his career.
Darrelle Revis (No. 67) -- The Cowboys have not shown a willingness to pay age, and Revis no longer owns his own island.
Brandon Flowers (No. 72) -- He hasn't played a full season since 2011 and is more of a slot corner these days. The Cowboys are good there, with Orlando Scandrick and/or Anthony Brown.
Tramon Williams (No. 77) -- He is 34, so use the same answer as for Revis. He took some turns as a safety for the Cleveland Browns, so maybe he could be a stopgap answer for the Cowboys. But he is 34.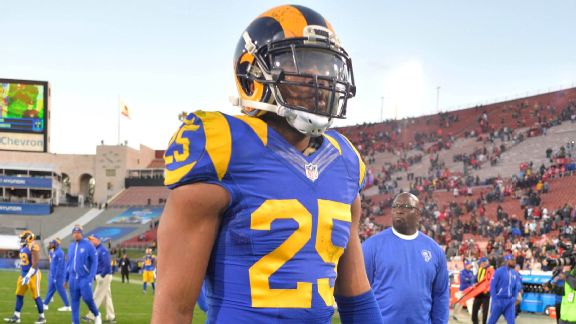 Robert Hanashiro/USA TODAY SportsT.J. McDonald is young and has been productive at safety, but the question remains: Does he belong in the box or in coverage?
SAFETY
T.J. McDonald (No. 27) -- Only Johnathan Hankins ranks higher on the unsigned list, at No. 25. Fans seem to ask this question every day. He has been productive. He is just 26. But is he a box safety or somebody who can cover sideline to sideline?
Rashad Johnson (No. 119) -- Jason Garrett was a fan of Johnson's when he was coming out of Alabama. He is more of a spot starter and special teamer. The Cowboys visited with Robert Blanton earlier in the week, and he would be in the same sort of role.
DEFENSIVE END
Devin Taylor (No. 36) -- He put up 4.5 sacks for the Detroit Lions last year after putting up seven in 2015. He's long and just 27, but is he better than what the Cowboys currently have in David Irving, Benson Mayowa, DeMarcus Lawrence or Tyrone Crawford?
Mario Williams (No. 129) -- He had a career-low 1.5 sacks last year and his desire to play the game is in question. That doesn't sound like the kind of guy who would do well with Rod Marinelli as his position coach.
Chris Long (No. 130) -- He nearly chose to sign with the Cowboys last year before joining the New England Patriots. He was effective, but teams have to be careful to not wear him out at this point in his career.
Erik Walden (No. 140) -- The Cowboys actually drafted him in the sixth round in 2008, and he didn't make the roster out of camp. He has hung around this long and had 11 sacks last year. The issue? He's more of an outside linebacker in a 3-4.
OFFENSIVE TACKLE
Ryan Clady (No. 78) -- With Doug Free's retirement, the Cowboys are left with Chaz Green, who has played in four games in two seasons, as the starter, or they will move La'el Collins from left guard to right tackle. Clady is coming back from a rotator-cuff tear and needs to be managed at this point in his career.
March, 22, 2017
Mar 22
1:30
PM ET
FRISCO, Texas – The Dallas Cowboys' needs in the draft are not a surprise with pass rusher, cornerback, safety and offensive tackle at the top of the list.
ESPN Insider Mel Kiper offered up his third mock draft on Wednesday and for the third straight time he has the Cowboys taking a defensive back at No. 28. This time it is Michigan safety Jabrill Peppers. In his first two mock drafts he had Washington cornerback Sidney Jones and Florida cornerback Teez Tabor coming to Dallas.
(Interestingly Todd McShay's mock drafts have been three different defensive linemen.)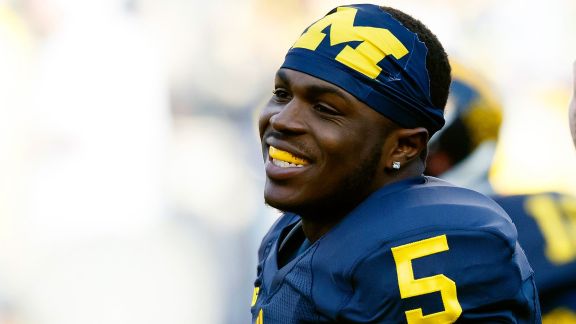 Rick Osentoski/USA TODAY SportsMichigan's Jabrill Peppers is an intriguing prospect, but the Cowboys don't seem to value safety very highly in the draft.
Peppers is a tremendous athlete. He played on both sides of the ball for Michigan, and there are some who wonder if he would be better on offense than defense. He ran faster than some expected at the combine (4.46 seconds in the 40), and he is explosive.
The need for a safety is obvious. The Cowboys lost Barry Church to the Jacksonville Jaguars and J.J. Wilcox to the Tampa Bay Buccaneers in free agency. They have Byron Jones and the current projection would have Jeff Heath as the other starting safety. Last year they drafted Kavon Frazier in the sixth round and he mainly filled a special teams' role in 2016.
Would Peppers be a fit for the Cowboys?
Kiper admits the team that drafts Peppers will have to be creative in how they use him, and creativity is not a strong part of the Cowboys' defense. Or at least it hasn't been. You can already hear coaches using the term "football player" for Peppers. Put him anywhere and he will figure it out. With defenses using sub packages so much of the time, it shouldn't be that hard to find a place for Peppers.
And there's another question: Do the Cowboy value the safety position enough to use a first-round pick?
Jones was drafted in the first round as a cornerback in 2015 and was moved to safety by the end of his rookie season. He started every game last season at safety.
The Cowboys opted not to pay Church, a defensive captain with four straight 100-tackle seasons to his credit. They did not make a pitch to keep Wilcox. After taking Roy Williams in the first round in 2002, Wilcox (2013) was the last safety picked in the top three rounds by the Cowboys. They have been content to roll through players such as Gerald Sensabaugh, Will Allen, Abram Elam and Alan Ball. Church was an undrafted find in 2012.
To use a Jerry Jones' term, the Cowboys seem to view the safety spot as "fungible," which will upset the folks who think an Earl Thomas is available every year.
In Kiper's mock he had Michigan defensive end Taco Charlton and Alabama cornerback Marlon Humphrey still available in the first round. In positions of importance to the Cowboys and their history at safety, either one would make more sense than Peppers.
March, 22, 2017
Mar 22
11:00
AM ET
FRISCO, Texas -- The Dallas Cowboys had prepared to move on to life without Terrance Williams when free agency began.
They thought he would have received a multi-year deal that they could not match and that they would have to find receiver help in low-cost free agency, like with Brice Butler, and in the draft. But Williams eventually made his way back to the Cowboys on a four-year deal worth $17 million with $9.5 million guaranteed.
That's a good deal for the Cowboys and a good bit of guaranteed money for Williams.
Sam Monson at Pro Football Focus called the Williams' signing one of the most underrated of the free agency period, noting Williams' 16.2 yards per catch, 4.7 yards after the catch and big-play ability.
But Monson also noted that Williams' production will be capped by how far down the list of offensive weapons he is. That's where it is fair to wonder if paying him $4.3 million a year is truly worth it.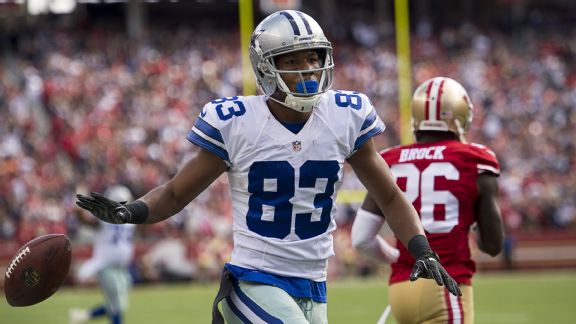 Paul Kitagaki Jr/Zuma Press/Icon SportswireThe Cowboys were able to re-sign Terrance Williams at an affordable price, but was it necessary?
Ezekiel Elliott checks in at No. 1 considering how the Cowboys will rely on the running game. Dez Bryant will be No. 2 as the chief big-play guy in the passing game. Then there's Cole Beasley and Jason Witten, who finished first and second in receptions on the team last season.
So Williams checks in at No. 5.
Would the Cowboys have been better served to use the money they put into a Williams' deal into Barry Church, Brandon Carr or Morris Claiborne?
In Church and Carr, the Cowboys had defenders who did not come off the field and would approach 1,000 snaps a season. Claiborne's injury history makes him a tougher argument in the Williams debate, but he plays a position that is more important than a receiver that ranks fifth on the offensive totem pole.
The base value of Church's deal from the Jacksonville Jaguars was $21.6 million. If he hits every incentive, he can make $26 million. The base value is $5.4 million a year. The Cowboys likely didn't want to go over $5 million a year. With the structure of the deal, he has an $8 million cap figure, which was too high for the Cowboys in 2017, but they could have worked the accounting factors differently to make the first-year cap number more palatable.
On its face, Carr has a four-year deal worth $23.75 million with the Baltimore Ravens, but in reality it is a one-year, $6 million deal with three option years for 2018-20. His cap number this year is $3 million, which was doable for the Cowboys. They could have done the same structure as the Ravens and gotten out of the deal if Carr showed slippage in 2017.
Claiborne's deal -- one year worth up to $5 million -- was more than what the Cowboys wanted to spend. He signed a one-year deal last year with Dallas that could have paid him up to $3.375 million through base salary, roster bonus, workout bonus and incentives. Since he played in seven games last season, he did not come close to hitting all of them.
Williams has a $2.25 million cap figure this year, which is a bonus for the Cowboys. He can earn an extra $1.5 million a season if he catches 80 passes for 1,200 yards and 12 touchdowns.
If he does that, then this signing will be one of the most lopsided in NFL history, but he has one season in which he caught more than 50 passes, one season in which he had more than 800 yards and one season with eight touchdown catches.
As the fifth option on the offense, the only way he approaches those numbers is through injuries to other players.
The Cowboys got a good deal on Williams, and it was important to keep Dak Prescott's pieces in place for the quarterback's development, but they could have used that money to keep a more important defensive piece.