April, 27, 2017
Apr 27
8:00
AM ET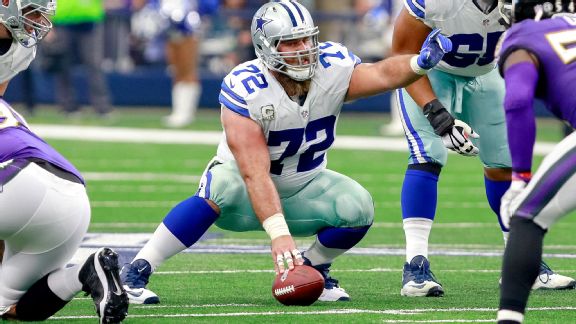 Andrew Dieb/Icon SportswireThe Cowboys' last first-round trade netted them All-Pro center Travis Frederick in 2013.


FRISCO, Texas -- Where has Trader Jerry gone?
"Well, apart from they've got my phone cut off and Jason has his foot on my right foot and Stephen has his foot on my left foot, apart from that, not at all," Dallas Cowboys owner and general manager Jerry Jones said of coach Jason Garrett and executive vice president Stephen Jones.
Since taking over the Cowboys in 1989, Jerry Jones has made 64 draft-day trades.
His last deal? The Cowboys gave up a sixth-round pick in 2016 to select tight end Geoff Swaim in the seventh round of the 2015 draft.
The last time Jones made a trade involving the first-round pick came in 2013, when he moved down from No. 18 to No. 31 with the San Francisco 49ers. The Cowboys ended up with All-Pro center Travis Frederick. At the time, the pick was panned by many who saw Frederick as a middle- to late-round pick.
In 2012, Jones made a bold move up from No. 14 to No. 6 to select cornerback Morris Claiborne, who carried the highest grade for a corner the Cowboys have had since Deion Sanders. In five seasons, Claiborne recorded four interceptions, and he signed with the New York Jets as a free agent this offseason.
As the Cowboys sit with the 28th pick in the first round this year, Jones isn't anticipating a grand move up to select a generational defensive player or a big move down to acquire more selections to help a defense that needs pass-rush, cornerback and safety help.
"This is a real good year for staying put," Jones said. "I don't know if it's because we need so many good football players or because there are some good football players there, especially in those early rounds."
The Cowboys live in a never-say-never world when it comes to listening to other teams about making deals. A year ago, the Cowboys frantically attempted to trade back into the first round to take Memphis quarterback Paxton Lynch. They were close to a deal with the Seattle Seahawks, who ultimately made a deal with the Denver Broncos when the Cowboys were reluctant to give up their third-round pick.
"I also believe in a draft like this, our team where we are, if there's a player there that you like, that you like him a lot, you need to take him," Stephen Jones said. "Historically, as you trade backwards, inevitably you end up with lesser football players."
The value in staying put is knowing a good player will be there when you pick. The Cowboys were out of offensive-line options when they moved down in 2014, with Frederick their last first-day starter left to pick. Their good fortune was rewarded by the play of Frederick, who has not missed a game and was named to the Pro Bowl in each of the past three seasons.
"Everybody says, 'Are you really going to stick with the best player on your board,' and it just so happens that in this particular draft, there's a good chance that some of the best players on our board are going to be at positions we get pointed out to as a team that needs this, needs that," Stephen Jones said. "I think those positions are going to be there for us and be there in a good way."
The Cowboys' needs are almost exclusively on defense. Of their 28 pre-draft visitors, 26 were on the defensive side. Ten were defensive ends, including Charles Harris, Taco Charlton and T.J. Watt, who could be first-round options. Twelve were cornerbacks, including potential first-rounders in Marlon Humphrey, Adoree' Jackson, Kevin King and Tre'Davious White.
For Jerry Jones, the draft is a study in the art of the deal almost as much as the art of evaluating players.
The skill and acumen he used in drilling for oil has played a role in his approach to the draft. For the sure thing, he will make the big gamble. If there is some uncertainty, then trading down and getting more options makes sense.
That's how the Cowboys operated early in Jones' tenure. In Jimmy Johnson's five seasons as coach (1989-93), the Cowboys made 15 draft-day trades. The first trade came on April 23, 1989, with the Los Angeles Raiders, exchanging second-round and sixth-round picks for picks in the second, third and fifth rounds. The second-round pick turned into fullback Daryl Johnston.
In 2008, the Cowboys made six trades during the draft, their highest total in Jones' tenure.
Three times they have not made a trade, including twice in Garrett's run as coach (2011 and 2016). Maybe Garrett really is stepping on Jones' right foot.
"That's just happenchance," Jerry Jones said. "We've certainly kept our options open and entertained."