July, 23, 2017
Jul 23
6:25
PM ET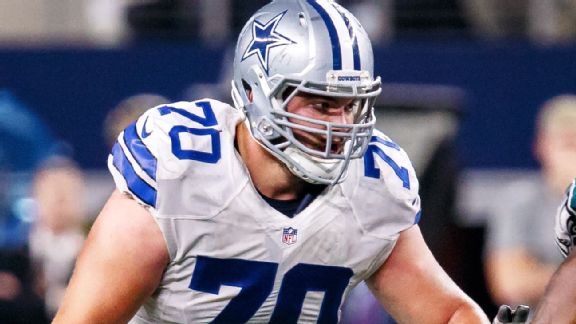 Matthew Visinsky/Icon SportswireThe Cowboys hope to have an extension reached with Zack Martin by the end of training camp.
OXNARD, Calif. -- The Dallas Cowboys are hoping to follow precedent with a major signing on their offensive line this summer.
On July 30, 2014, All-Pro left tackle Tyron Smith signed an eight-year deal. On Aug. 14, 2016, All-Pro center Travis Frederick signed a six-year extension.
By the time the Cowboys leave Oxnard, California, on Aug. 18, they hope to have an extension worked out with All-Pro guard Zack Martin.
Executive vice president Stephen Jones said he was "optimistic" a deal could be worked out for the Cowboys' first-round pick in 2014. There are plans to speak with Martin's agents, Tom Condon and R.J. Gonser, during training camp.
"It's something we want to get done," Jones said. "Hopefully it will happen, but you never know until you get there."
Martin is looking at a deal that likely would make him the highest-paid guard in football. Kevin Zeitler signed a deal averaging $12 million per season with the Cleveland Browns as a free agent in the offseason. He is also represented by Condon. The Oakland Raiders signed Gabe Jackson to a five-year, $56 million extension recently.
Martin, 26, has been named to the Pro Bowl in each of his first three seasons and has yet to miss a game in his career. The Cowboys picked up Martin's fifth-year-option for 2018 in the spring, worth more than $9 million, but they did the same with Smith in 2014 and Frederick in 2016.
They hope that serves as a placeholder that will make Martin a Cowboy for a long time. If not, then Martin would become an unrestricted free agent in 2019, but the Cowboys would have the ability to use the franchise tag on him.
"He's the type of player we want with the Cowboys," Jones said.
July, 23, 2017
Jul 23
6:00
PM ET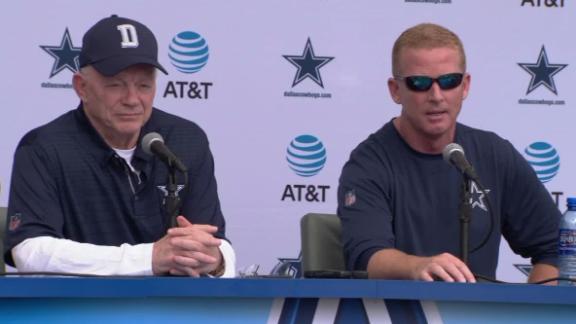 OXNARD, California -- Dallas Cowboys owner and general manager Jerry Jones backed Ezekiel Elliott as the running back awaits possible discipline for an alleged domestic violence incident last July in Columbus, Ohio.
"I have reviewed everything, and there is absolutely nothing -- not one thing -- that had anything to do with domestic violence," Jones said at the Cowboys' opening news conference at training camp in Oxnard, California.
Jones, however, would not delve into whether Elliott could still be suspended by the NFL under the personal conduct policy. A player does not need to be charged or found guilty by the law to be penalized by the league.
"My opinion is there's not even an issue over he-said, she-said," Jones said. "There's not even an issue there."
From the beginning, Jones has supported Elliott, who was accused by an ex-girlfriend of domestic violence. Elliott has proclaimed his innocence, and after the Cowboys' season ended in January, he hoped for closure.
That might be coming soon, as the NFL nears the completion of its investigation. ESPN's Adam Schefter reported recently that Elliott's camp is bracing for a short suspension.
Meanwhile, a source said Elliott was involved in an incident at a Dallas bar on July 16 that left a man with a nose injury. Dallas police have since suspended the investigation because they have not been able to locate the victim, and no witnesses have come forward.
Jones spoke with Elliott early last week, and coach Jason Garrett spoke with Elliott on Friday, when players reported to camp.
"I think Zeke's a smart guy," Garrett said. "Zeke understands what we're talking about. Zeke understands what the standards are for our football team. I think he understands what he needs to do to reach those standards on and off the football field. We'll continue to work with him, just like we will with all our players."
The Cowboys arrived in California after an array of issues the past few weeks. Linebacker Damien Wilson
July, 23, 2017
Jul 23
1:00
PM ET
OXNARD, Calif. -- There wasn't a cloud in the sky Saturday when the Dallas Cowboys arrived at Point Mugu Naval Air Station for the start of training camp.
For 45 minutes, players signed autographs, took photos, shook hands and talked with hundreds of families who call the military base home. All was right in the Cowboys' world as they started a process they hope leads to Super Bowl XLII.
By finally getting to California, they put their recent offseason drama -- real or perceived, big or small -- behind them.
Running back Ezekiel Elliott's status with the NFL continues to be a major question, as the league closes an investigation into an alleged domestic violence incident a year ago in Columbus, Ohio, that could lead to a suspension.
Meanwhile, Dallas police have suspended an investigation into an alleged assault incident last week in which Elliott was involved because they can't locate the victim and no witnesses have stepped forward. Elliott led the NFL in rushing as a rookie in 2016.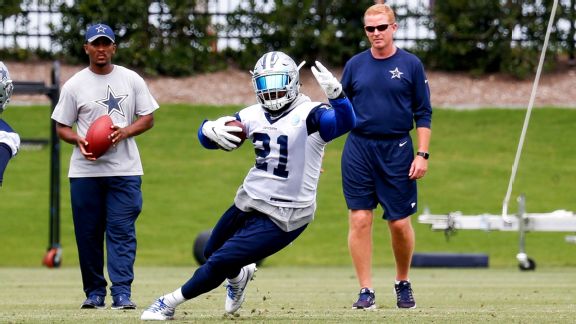 Andrew Dieb/Icon SportswireRB Ezekiel Elliott's pending status as training camp starts is only one example that the Cowboys appear to have missed coach Jason Garrett's message.
Wide receiver Dez Bryant was late to reporting day on Friday in Frisco, Texas. While not a major issue, a veteran not showing up on time is not a good look.
Defensive end David Irving missed the reporting day altogether and could be subject to a $40,000 fine, although he was in California early. Running back Darren McFadden was not on the charter flight with the team Saturday, but he won't face a penalty unless he does not report by 5 p.m. ET Sunday. The only cost to him will be the plane ticket and ride from Los Angeles to Oxnard.
Add that to the legal entanglements of linebacker Damien Wilson, who was arrested on charges of assault with a deadly weapon, and cornerback Nolan Carroll, who was arrested in May on suspicion of DWI, and it appears the Cowboys have not digested coach Jason Garrett's messages of accountability, commitment and focus.
Tight end Jason Witten, the Cowboys' soul in a lot of ways, said the issues have been addressed by all involved.
"First off, as a leader of the team and the other leaders, we have to do a better job," Witten said about the Cowboys' off-the-field woes. "We have great guys. The core is really strong with this football team. Everybody inside that building has worked really hard to get the right type of guys together. I believe that. We have to work through situations, but certainly we have to be better there.
"We have to understand our platform, and what we have to do is eliminate those distractions so we can go out and play football. All those guys are a huge part of our team. They're good football players and good people and good friends and brothers of mine that I've had a lot of success and adversity with them. They'll work through it. We're there to support them, but certainly the standard stays really high and we have to understand that and we have to embrace it and we have to handle it."
Once practices start Monday, the players will have little choice but to focus on football. The Cowboys love the River Ridge Residence Inn setup because of the cool California temperatures and the proximity of the practice fields, which are just a short walk from the hotel.
"Anytime you can focus on ball, that's what this team is about," safety Byron Jones said. "We just want to play ball and win games."
The Cowboys enter training camp as one of the NFC's favorites to reach the Super Bowl. They have one of the best offenses in the NFL, led by quarterback Dak Prescott, Bryant, Witten and Elliott, but if the running back misses time, that will have a great effect. They have a defense with lingering questions that will be affected by Irving's suspension for violating the performance-enhancing drug policy. The D could also be affected by the potential losses of Wilson and Carroll because of suspension.
There could be answers to those questions soon. For now, the Cowboys are just glad to be back to football.
"The stomach's always turning the last couple of nights," said Witten, a 15-year veteran. "It's a mix of excitement, and you're also excited to prepare for what's taking place. I love this part of it. To me, one of the best parts about the season is getting the team together and going off training camp. I feel like in a lot of ways it's 2003 and it's my rookie season all over again.
"But there is a buzz to our team and I feel that. I think a lot of our guys on our team have made us all feel young again. Look, I know what lies ahead and I'm excited for the challenge."
July, 22, 2017
Jul 22
7:00
AM ET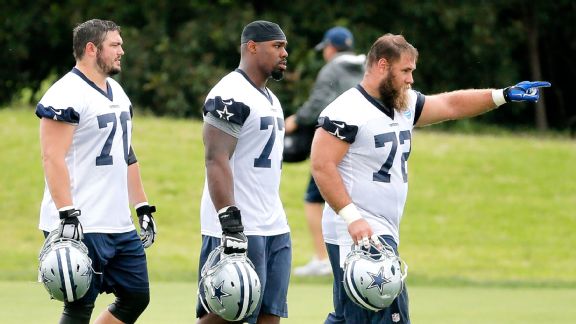 AP Photo/Tony GutierrezThe Cowboys know what they have in Zack Martin, Tyron Smith and Travis Frederick, but the other spots on the offensive line aren't as clear.
The Dallas Cowboys could have as many as five new starters when the NFL season opens. Here's a starting lineup projection:
Offense
Quarterback (Dak Prescott): How does he follow up a phenomenal rookie season in which he had 23 touchdown passes and just four interceptions? A player's biggest jump usually occurs from his first and second season. Prescott might never be a huge statistical quarterback, but he wins.
Tailback (Ezekiel Elliott): He led the NFL in rushing last season with 1,631 yards and could play a bigger role offensively in his second season, especially as a pass-catcher.
Wide receiver (Dez Bryant): Bryant had a full offseason for the first time since 2014, when he ended up leading the NFL in touchdown catches. Injuries have limited him the last two years, but he and Prescott appear to be finding chemistry.
Wide receiver (Terrance Williams): He is somewhat underappreciated for all of the little things he does, but he makes big plays in big moments. He doesn't miss games. He doesn't miss practices. He can run all day. He is also a better receiver when lined up opposite Bryant.
Wide receiver (Cole Beasley): Prescott quickly learned that Beasley is quarterback-friendly. Beasley might not get to 75 receptions this year after leading the team in catches last season, but he will be an effective player in the Cowboys' system.
Tight end (Jason Witten): He just keeps going. He turned 35 in May and is entering his 15th season. He is the team's conscience and continues to be a top blocker and third-down option.
Left tackle (Tyron Smith): When experts look for the prototypical lineman, they describe Smith. He was slowed some last year by a back injury, but it did not limit him at all in the offseason.
Left guard (Jonathan Cooper): The former top-10 pick will get the first crack in camp and should fend off all comers. He has strength and moves well enough.
Center (Travis Frederick): He has made the last three Pro Bowls and was rewarded with a mega-deal last summer. With a young quarterback, Frederick has taken on more responsibility with the calls.
Right guard (Zack Martin): He could join Frederick with a mega-deal this summer. If he isn't the best guard in football, he doesn't fall out of the top two.
Right tackle (La'el Collins): He started his first two years at left guard, but with the retirement of Doug Free he moved to right tackle in the offseason and looked the part. He has power but he will be tested more in space at tackle than he was at guard.
Defense
Defensive end (DeMarcus Lawrence): He had just one sack last season and was limited by a suspension and back injury. He is entering a contract year and will be motivated to have his best season yet.
Defensive end (Taco Charlton): With David Irving out for the first four games, Charlton will be a big part of the rotation if he can fend off Benson Mayowa and/or Damontre Moore. He was a slow starter at Michigan, but the Cowboys believe he can contribute early.
Defensive tackle (Tyrone Crawford): His position flexibility has been something of a curse, but he will have the chance to move back inside early on to show his worth. If the Cowboys play their best four linemen, he could move back to left defensive end.
Defensive tackle (Maliek Collins): He could be moving to nose tackle in running situations, but he has some pass-rush skills, as evidenced by his five sacks last season.
Weakside linebacker (Sean Lee): He has put together back-to-back Pro Bowl seasons and was named an All-Pro last year. He is the defense's best playmaker and he has put to rest questions about his health with his play in 2015 and '16.
Middle linebacker (Anthony Hitchens): Can he fend off Jaylon Smith? It's possible Smith could be a first- and second-down linebacker in his return from a knee injury, but Hitchens is a reliable, underappreciated player.
Strongside linebacker (Damien Wilson): A July 4 arrest could put his roster spot in jeopardy, or at least cost him some games, but for now he remains a starter. If something develops, then Jaylon Smith could move into the starting lineup with Hitchens moving to the strong side.
Cornerback (Orlando Scandrick): He is feeling much better now that he is two years removed from a major knee injury. He also wants to prove he can still be a top-flight corner after the Cowboys selected players at his position in the second and third rounds this spring.
Cornerback (Nolan Carroll): He could be facing a two-game suspension for an offseason DUI arrest, but he worked with the first team in the spring. It is possible he could be pushed for playing time by Anthony Brown or rookie Chidobe Awuzie this summer.
Strong safety (Jeff Heath): He replaces Barry Church, a defensive captain, who left via free agency. Heath has a knack for finding the ball (see the Green Bay playoff game), but he has not been a full-time player in his career.
Free safety (Byron Jones): He is moving into a leadership role in a young secondary despite only going into his third year. Athletically, he can do it all. During the offseason, he has shown more instinctive play that comes with experience.
Special teams
Kicker (Dan Bailey): He missed five field-goal attempts last year, the most since his rookie seasons, but the Cowboys have no qualms about calling him on him in pressure-packed situations.
Punter (Chris Jones): He has always had a strong leg, but he has improved his directional kicking greatly the last two years.
Long snapper (L.P. Ladouceur): He has not had a bad snap in his 12 years. He helps Bailey and Jones do their jobs well because of his precision.
July, 21, 2017
Jul 21
6:07
PM ET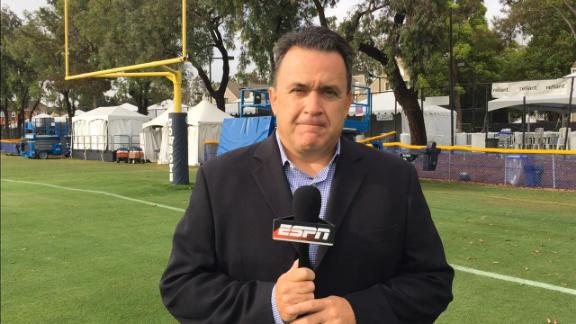 The first day for Dallas Cowboys veterans to report to training camp did not go as smoothly as it could have.
Wide receiver Dez Bryant showed up late on Friday, and defensive lineman David Irving didn't show up at all, sources told ESPN, confirming multiple reports.
Players who miss the reporting date are subject to a $40,000 fine, according to the NFL's collective bargaining agreement.
Bryant's tardiness was somewhat unusual because he had been at The Star -- the Cowboys' practice complex in Frisco, Texas -- throughout the offseason and for minicamp, and even spent time at The Star at the conclusion of minicamp in June.
Bryant returned to his East Texas hometown of Lufkin on Thursday to thank supporters with free barbecue. The outdoor event drew an estimated crowd of 3,000.
Irving has been suspended for the first four games of season for violating the league's policy on performance-enhancing drugs.
The Cowboys will fly to California on Saturday and have their first practices on Monday.
July, 21, 2017
Jul 21
1:49
PM ET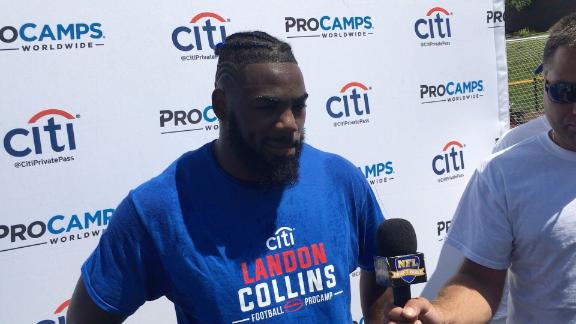 WAYNE, N.J. -- The New York Giants-Dallas Cowboys rivalry is heating up before training camps even open.
Giants safety Landon Collins responded confidently Friday at his Citi ProCamp about his team's chances after Dak Prescott said last week that the Cowboys would win the division.
"I commented right underneath his picture. I said, 'I highly doubt that.' They do not control the [NFC] East. It's over with. We're going to have a run for it. I mean, they're not going to win, I can tell you that much. We're definitely going to take over."
At the ESPYS, Prescott had said: "We're the Cowboys. We're gonna win the NFC East."
The Cowboys (13-3) won the division last season but lost both matchups with the Giants. Prescott threw one touchdown pass in the two games.
The NFC East has not had a repeat winner since the Philadelphia Eagles did it in 2004. The Cowboys have not won back-to-back division titles since 1995-96.
But they're confident entering this year with an offense that is loaded with talent. Many consider Dallas' offensive line the best in football.
It didn't stop Collins from making his bold declaration. He's never shy to express his opinion and confidence.
"Not at all. Coming from the program I can from, the team that I came from, the kind of player that I am, I'm not afraid to say any of those words," he said. "My team, my guys and our organization backs it up every time."
July, 21, 2017
Jul 21
12:00
PM ET
FRISCO, Texas -- The Dallas Cowboys leave for Oxnard, California, and the start of training camp on Saturday. Football season is finally here.
For the Cowboys, there are high expectations, although that story has been drowned out recently by the off-field incidents of a few players, including Ezekiel Elliott and Damien Wilson. Both players, as well as cornerback Nolan Carroll II, could face sanctions by the NFL that could ultimately affect the expectations, especially in Elliott's case. For now, let's stick with the football side of things in this week's Twitter mailbag.
#cowboysmail who's the player you anticipate the most in camp other than the obvious.(Jaylon Smith)

— Ol' DIRTY TREZZO- (@THE_TREZZO) July 20, 2017
Without question, linebacker Jaylon Smith will be the most watched. His story is fascinating. The comeback from the gruesome knee injury suffered at Notre Dame has been tremendous, and if he can come close to the player he was in college, then the Cowboys will have another blue-chip defender to join Sean Lee. Lee's intensity in practice is unequaled. He will not relax in practice, demanding his teammates to be better.
Every time Smith makes or misses a play in Oxnard, those watching (hand raised) will make a judgment on either him being just fine or just a guy. Every step he takes with or without the brace on his left foot will be analyzed. It already has been that way this offseason; folks who'd never seen Smith walk before he was hurt judged his gait this spring.
But this question has me thinking of all the possibilities among the 90 players heading to camp. I can't pick just one I anticipate the most because training camp is not about one player, to me. This is the only time we get to see this team practice and make judgments on players. In season, we get to see the players stretch and jog around for a little bit. In camp, we see everything.
It's why I chart every 7-on-7 and team drill for the quarterbacks in attendance. It's why I make the effort to look at the one-on-one pass-rush drills. When you put it all together, you can make some informed decisions or at least ask informed questions.
Quarterback Dak Prescott has to top the list of whom to watch. How he performs in his second season will go a long way in determining the Cowboys' success. Early in camp a year ago, he was unimpressive. Then Kellen Moore got hurt, and Prescott took first-team turns on rest days for Tony Romo, and he got better. But he was not a great practice player. He had good practices but there were hiccups. It was that way in the spring, too. Yet when it mattered most in the organized team activities and minicamp in the competitive periods, he was at his best.
Jason Witten is entering his 15th season in the NFL. That is just an amazing number. And he's still playing at a high level. Watching the tight end work the most basic of fundamentals, like his three-point stance, shows you why he has lasted this long.
Dez Bryant is healthy going into camp. He had a good spring. He needs to have a great summer. Can he get back to the form of 2014? Seeing Bryant work in one-on-one situations can give you an idea of where he is. A year ago, the receiver didn't create much separation in camp from the corners as he worked back from two foot surgeries. Will he have that separation this summer?
Most offensive lines can toil in anonymity but not the Cowboys' line. How will La'el Collins handle the space in playing right tackle? Will Jonathan Cooper find the form that made him a top-10 pick a few years ago by the Arizona Cardinals?
At every level on defense there are questions, so there will be plenty to watch.
Football season is finally here. Hopefully you'll come along for the ride at this spot throughout the season.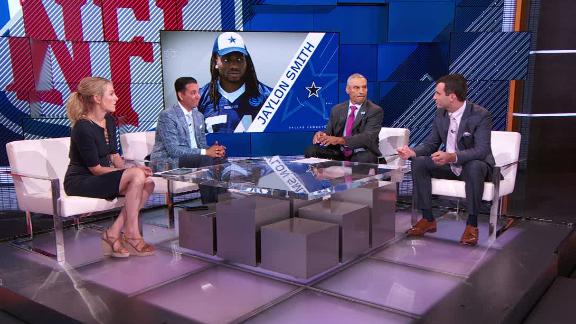 July, 21, 2017
Jul 21
11:06
AM ET
ESPN.com news services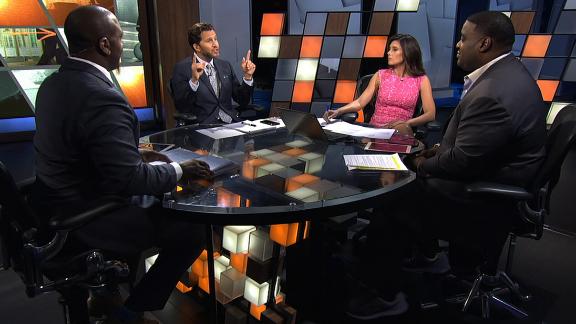 Dallas Cowboys wide receiver Dez Bryant says he isn't worried about teammate Ezekiel Elliott and believes the running back will learn to avoid off-field drama as he matures.
Elliott, who turns 22 on Saturday, has spoken with Cowboys owner Jerry Jones this week after an incident at a Dallas bar left a man with a nose injury. A source said Elliott was involved, but Dallas Police suspended the investigation, citing a lack of witnesses and an inability to contact the victim.
In the past 12 months, Elliott has also dealt with a domestic violence accusation and a citation for driving 100 mph in a 70 mph zone.
"It's just a steppingstone that he's gonna get over. Zeke's a young guy. I'm not blaming it on that. [But] freshman college to playing for America's team, it's kinda hard to deal with," Bryant told reporters on Thursday.
"You gotta give Zeke credit because he do deserve it, he do deserve to have fun. Because he put that work in to have fun. But, as the years pass, as he gets older, he's gonna mature and things are gonna get a lot smoother."
The 28-year-old Bryant, now a veteran of seven seasons with the Cowboys, speaks from experience. His maturity has come into question during his NFL career; he has been arrested
July, 21, 2017
Jul 21
7:00
AM ET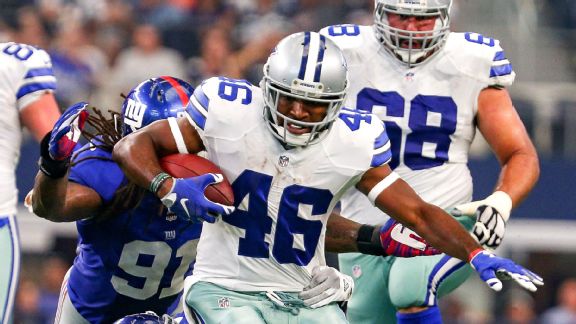 Andrew Dieb/Icon SportswireAlfred Morris has three 1,000-yard seasons but isn't a lock to make the Cowboys' roster.
The Dallas Cowboys open training camp on July 24 at River Ridge Residence Inn complex in Oxnard, California. Here's a 53-man roster projection:
QUARTERBACK (2): Dak Prescott, Kellen Moore.
There is a chance the Cowboys keep three quarterbacks, but with Ezekiel Elliott's uncertain status it's better to go with an extra running back. Prescott entered camp a year ago as the No. 3 quarterback, but there is no doubting his status now. Moore has the blessing of offensive coordinator Scott Linehan, but the Cowboys signed Zac Dysert late in the offseason program. Keeping a third quarterback makes sense, given Moore missed all of last season with an ankle injury.
RUNNING BACK (5): Ezekiel Elliott, Darren McFadden, Alfred Morris, Keith Smith, Rod Smith.
Morris might be saved by Elliott's off-field issues. Even if it's for a short amount of time, the Cowboys would like to have Morris, a three-time 1,000-yard rusher, behind McFadden. If Elliott does not receive punishment, then Morris goes back on the bubble. With Rod Smith's ability to play special teams, tailback and fullback, he has more versatility than Morris. With McFadden on a one-year deal, it's possible the Cowboys will look for a young tailback to groom for the future.
WIDE RECEIVER (5): Dez Bryant, Terrance Williams, Cole Beasley, Brice Butler, Ryan Switzer.
The Cowboys' top three receivers are set, but Butler could work his way into the picture more if he can carry a strong offseason over into training camp. Switzer impressed early, but his primary role will be as a punt returner. It's possible the Cowboys keep a sixth receiver, which could open a spot for Andy Jones or Noah Brown.
TIGHT END (4): Jason Witten, James Hanna, Geoff Swaim, Rico Gathers.
Hanna and Swaim are expected to be ready for training camp after recovery from surgeries limited their work in the spring. Gathers' physical skills have Cowboys owner Jerry Jones excited about his future, but Gathers needs to show in the preseason games that he can handle the complete role of a tight end.
OFFENSIVE LINE (8): Tyron Smith, Jonathan Cooper, Travis Frederick, Zack Martin, La'el Collins, Chaz Green, Emmett Cleary, Joe Looney.
The Cowboys open camp with competitions at left guard and right tackle, with Collins, Cooper, Green and Looney trying to fill two spots. Collins and Cooper enter as the favorites at tackle and guard as the unit looks to continue its standing as one of the best lines in football.
DEFENSIVE LINE (9): DeMarcus Lawrence, Tyrone Crawford, Maliek Collins, Taco Charlton, Cedric Thornton, Benson Mayowa, Damontre Moore, Stephen Paea, Charles Tapper.
David Irving is missing from this group because of a four-game suspension to start the season. He was the best defensive lineman at the end of last season, so missing a quarter of the season is a blow. The Cowboys believe they will be best served with a rotation of pass-rushers, rather than a few high-quality rushers. They need Lawrence and Crawford to reach their full potential and first-round pick Charlton to make plays early.
LINEBACKER (7): Sean Lee, Anthony Hitchens, Damien Wilson, Jaylon Smith, Kyle Wilber, Justin Durant, John Lotulelei.
Wilson's status on the Week 1 roster is up in the air after he was arrested and charged with two counts of aggravated assault with a deadly weapon. That would open up another spot in training camp for a defensive player. Going with seven linebackers in a 4-3 scheme is a little heavy. But with Wilson's situation, Smith's uncertainty as he recovers from a major knee injury and special teams needs, seven makes sense with the final spot going to Lotulelei over Mark Nzeocha, who enters camp coming off knee surgery.
CORNERBACK (5): Orlando Scandrick, Nolan Carroll, Anthony Brown, Chidobe Awuzie, Jourdan Lewis.
Carroll's status on the roster is uncertain, as well, because of an offseason arrest on a DWI charge. If Carroll is suspended, then rookie Marquez White gets the call. Who starts will be an interesting question. Scandrick is moving much better this summer than he did a year ago, after missing the 2015 season with a knee injury. Brown had a productive rookie season, and the Cowboys believe he can be a difference-maker.
SAFETY (5): Byron Jones, Jeff Heath, Xavier Woods, Robert Blanton, Kavon Frazier.
Heath moves into the starting lineup after Barry Church's departure in free agency. Heath has made plays in small doses, but he will be counted on for more. Jones, who is developing into a leader in the secondary, has the ability to make more plays. Blanton might be No. 53 on the roster at the moment, but he received some first-team work in the spring.
SPECIALISTS (3): Dan Bailey, Chris Jones, L.P. Ladouceur.
This group is entering its fifth full season together. Bailey is one of the best in the league. Jones has become a field-position weapon. Ladouceur has not had a bad snap in his career.
July, 21, 2017
Jul 21
7:00
AM ET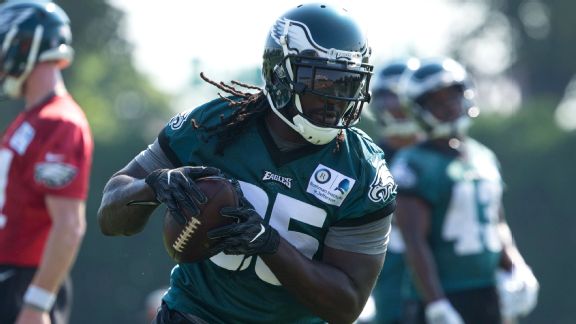 Bill Streicher/USA TODAY SportsLeGarrette Blount's 299 carries last season puts him at risk for a drop in productivity this season.
Unless you're Beast Mode, the 300-carry hangover is mighty hard to avoid.
Perhaps that's one reason 300-carry backs are becoming more scarce. According to ESPN Stats & Information, an average of 8.5 players per season reached that marker between 2001-10. That number has dropped to an average of two a season in the six years since, as many teams have moved to more of a running-back-by-committee approach.
In 2016, only one running back -- the Dallas Cowboys' Ezekiel Elliott (322) -- carried that kind of load, while new Philadelphia Eagles running back LeGarrette Blount finished one attempt shy with 299 last season for the New England Patriots. He can be considered an honorary member of the club, with the Tennessee Titans' DeMarco Murray (293) and the Arizona Cardinals' David Johnson (293) not far behind.
The odds are strongly on the side of a statistical drop-off in the year after a 300-plus carry campaign. In many cases, it is drastic. Consider: In the past five years, only one player -- Marshawn Lynch -- did not experience a decline in production. The other nine over that span saw their output sink by an average of 739 rushing yards the next season. Four missed significant time with injury, but even those who stayed healthy had a sharp downturn.
Elliott has youth and a top-shelf offensive line on his side to combat the trend. At 21 years old, the odometer reading is still relatively low even if he did carry the ball a total of 559 times over his last two seasons at Ohio State. A bigger question might be whether he'll be available for all 16 games as the league continues to look into his off-field behavior.
Blount, on the flip side, is 30 years old and entering his eighth NFL season. Establishing himself as the workhorse back during Tom Brady's four-game suspension to start last season, he finished with a career high in carries, yards (1,161) and rushing touchdowns (18).
"Just the number of opportunities," Blount said, explaining why he experienced such a spike in production. "Obviously, Tom missing four games played a part in the opportunities that I had. Just taking advantage of all of them."
The Eagles signed him to a one-year, $1.25 million contract in free agency with the hopes that he can be a workhorse back for them.
It's possible that Blount, like Elliott, delivers. But the evidence is hard to ignore: Of the 19 times a player has hit the 300-carry mark since 2010, a statistical dip was avoided twice the next season.
July, 20, 2017
Jul 20
5:41
PM ET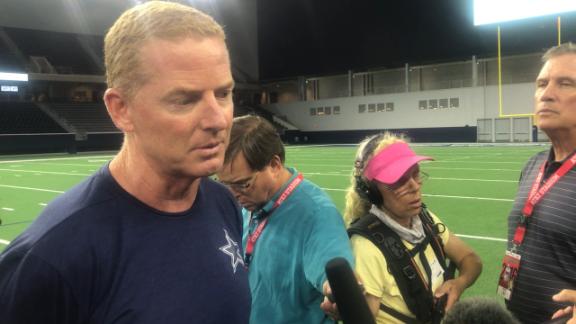 FRISCO, Texas -- Even though Tony Romo played in just one series last season for the Dallas Cowboys because of a back injury suffered in a preseason game, he developed a strong relationship with Ezekiel Elliott. Based on that, he thinks the young running back should be given some room to figure things out.
"With Zeke, he's a friend and I know he's a good kid and he's just trying to find his way," Romo said on the "Ben and Skin Show," on 105.3 The Fan in Dallas on Thursday. "He's going to be in a position that's always going to be in the spotlight. People are going to take photos. They're going to talk about it."
The quarterback-turned-broadcaster did say Elliott has made some mistakes over the past 12 months -- including a domestic violence accusation, an alleged assault and a speeding charge.
"But, I mean, a lot of people there are times in your career where you can go in two different directions and he's figuring it out," he said. "Obviously he's made some choices he reflects back and wished he'd done it a little different, but at the same time there's just not a lot of people who are thrust into this spotlight this soon at that age. Really in the National Football League, there's only a few of them.
"So I always want to give people a little grace period, a little time and the fact that I know him, the fact that I know his personality and how much good he does off the field and how good he is with people, I think he's going to figure it out and be fine. But like we say, you always take responsibility and try and improve in all facets of life."