May, 16, 2017
May 16
1:47
PM ET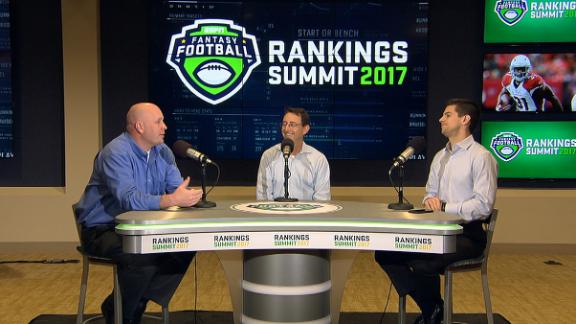 Welcome back to ESPN's fantasy football for the 2017 season! Are you ready for some football? Of course you are, and even though it's merely May when I'm writing this, we know there's an insatiable year-round following for fantasy football, and we're honored, as always, to bring you the best game, analysts and app. And just because it's May hardly means we can't discuss the latest news, notes and trends to get everyone prepared. You'll find our staff rankings and individual ones (
here are mine for PPR
) already posted and updated up until opening night, for both PPR and non-PPR, and I'll be blogging all summer as well. Regardless of your scoring preference, one thing that hasn't changed is how quarterbacks should be valued. Every year we see the top fantasy passers from the year prior chosen way too early in drafts and wonder what people are thinking. There are, of course, myriad reasons this occurs, but here are two for now. While quarterbacks do tend to score the most points, there's incredible depth at the position, meaning one doesn't need to invest an early-round selection to secure a reliable option. Second, fantasy owners simply might not like what's available at running back and wide receiver and figure they can wait on those positions, so they panic and decide to choose last year's scoring champ in Round 2. That's not the way I choose to build fantasy football squads, be it in PPR or traditional scoring, so I tend to ignore the quarterbacks until just the right spot, which could be different depending on the day and tends to be when I finally feel the urge to choose one. This usually happens in the vicinity of rounds 8-11, I figure. In my thinking, there are clearly more than 10 quarterbacks worthy of starting for a fantasy football team, so it makes far more sense to select as many running backs and wide receivers as possible, presuming a strong weekly and healthy lineup can be formed from this crew, and still secure the quarterback later. There are always reasonable fantasy quarterbacks in Round 8 and beyond. So how about Round … 16? For years, I and other fantasy analysts at ESPN have been preaching how football owners should wait on quarterbacks, and in the
first mock draft
of 2017 I took that premise to the ultimate limit. In other words, I waited until the point I literally could not wait any longer! Hey, mock me all you like, but at some point in said mock I decided I'd wait until the final round to select a quarterback, and because I still ended up with a top-10 option, I'd call the decision a success. Yep, I even selected a defense and kicker first. That's a first for me. Here's how it went down: After our two days of summit meetings in the bucolic Bristol, Connecticut, offices, our final task was to round up 10 drafters to fill rosters, gauge values and see whether any unexpected trends emerged. We could do it again with a different draft order and the results might be vastly different, but for me and nine others on this fine May afternoon, these were the results. Some might wonder whether I'd be willing to push the theme in a league that we play out, one with something riding on it, and my answer is yes. Whether one agrees with my choice of quarterback or not, or even the flex-eligible choices from earlier on, I still ended up with the No. 6 overall scorer (No. 5 at QB) from the 2016 campaign. The result was a rather odd final round in which Washington's
Kirk Cousins
is nestled between kickers and defenses at pick No. 156. It could also have been Pittsburgh's
Ben Roethlisberger
. I went with the younger, more durable choice, but the point is I didn't end up with underwhelming
Alex Smith
or
Sam Bradford
as my starter. Cousins and Roethlisberger might not be in your top 10, but they must be close. Cousins, incidentally, is one of a select few passers to end up among the top eight in fantasy scoring both of the past two seasons. Washington lost a few wide receivers, but I believe he can make it three consecutive seasons. While every mock draft could vary, here are the tiers of quarterback selections in this mock, just to be thorough:
Top tier
Aaron Rodgers, Packers (pick No. 39) Tom Brady, Patriots (No. 48) Drew Brees, Saints (No. 49)
No surprises here, though I suspect in most leagues the first quarterback will be chosen quite a bit earlier. Don't let it be you! Choosing Rodgers as the first quarterback late in Round 4 makes perfect sense. Choosing him in Round 1 or 2 does not make perfect sense.
Tier 2
Andrew Luck, Colts (No. 70) Dak Prescott, Cowboys (No. 77) Cam Newton, Panthers (No. 78) Russell Wilson, Seahawks (No. 86) Matt Ryan, Falcons (No. 87)
I would rank these quarterbacks in a different order, but it's tough to argue the inclusion of any. For the third time there were consecutive quarterback selections, which isn't unusual. By Round 8, owners start to get a bit worried about which quarterback they'll land, and they don't want to be more patient, so when one goes, another one soon follows. Again, in the next mock, who knows, Wilson and Ryan could go before Luck. Also note that eight quarterbacks have been chosen by this point in a 10-team format, and if you're one of the owners with no QB, and you see more than two passers with similar value remaining, why not wait?
Tier 3
Derek Carr, Raiders (No. 101) Jameis Winston, Buccaneers (No. 121)
What I found interesting about these picks that the same owner, colleague Field Yates, made them, and I'm totally onboard with the strategy. In fact, in past seasons, if I might question the eventual choice of my starting QB, I wouldn't wait long before securing another option and playing the weekly matchup game, especially if one of them is recovering from a broken leg. And waiting for the final round to choose a quarterback doesn't alter that one bit. I can always drop a running back or wide receiver and still add Roethlisberger or someone else. What's also notable is that only one owner has selected a backup; this is smart for 10-team leagues, especially when there are no bye weeks until Week 5 in October. There's plenty of time to add a second quarterback in September. If several owners had opted to eschew reasonable upside options at running back and receiver for a second quarterback, which I knew in this setting they would likely not, that probably would have altered my strategy. Cousins might have been a 13th-rounder instead.
Tier 4
Matthew Stafford, Lions (pick No. 139) Kirk Cousins, Redskins (pick No. 156)
And that's it. Several ESPN colleagues not participating in the mock draft -- and a few who were in it -- noticed my plan and asked whether Stafford would have been my pick. Nope. Not that anything's wrong with him, but I personally have Cousins at No. 9. I almost wish we were playing this league out, but even though we're not, it gave me a story to tell. This isn't to say you should wait until the kickers in the final round to choose your first quarterback, but it might suit you after all.
To continue reading this article you must be an Insider