August, 29, 2017
Aug 29
12:45
PM ET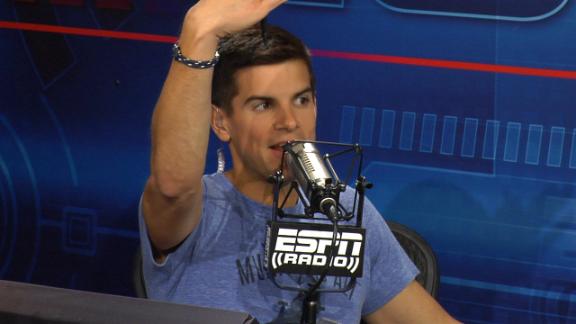 Some fantasy analysts will tell you if you're not finishing first in your league, then it might as well be last. The premise is understandable, that one should do whatever it takes to win, and if that means taking a few chances with draft picks or trades that might not pan out and could reduce your team to rubble before Halloween, then so be it. The win is the thing. The thing is, in the myriad drafts I've already taken part in, whether they counted or not, I've been cautious. It showed in my oft-misinterpreted "
Do Not Draft
" article, as I avoided risky players with early picks, and it shows here as I detail some of the players consistently showing up on my many teams. Really, what better way to establish a list of players whom I like or am targeting than to check my many teams and find repeat names? I've drafted first, last and in between and while my favorite spot is definitely first, because securing the safe, reliable Arizona running back
David Johnson
and then grabbing the best available at the Round 2/3 turn is optimal, I also have had no issues picking last in the first round and eagerly snatching up a pair of the best available there, which tends to be a pair of wide receivers detailed below. Whatever the case, thank you for following along this busy August as we examined the many
tiers
of the big three positions -- and many have changed, so check out the constantly updated
Insider Cheat Sheet
-- as well as
draft strategy
,
players to avoid
based on their current values,
many breakouts
and the
preseason weekend wraps
. It's a lot. And now, it's about time for the games to count. I've still got a few drafts to go, and here are players that I'll likely keep targeting, based on my patterns over the past month.
Quarterback
Kirk Cousins, Jameis Winston, Matthew Stafford, Philip Rivers, Carson Wentz
Well, I'm clearly not going to budge on my directive to avoid quarterbacks in the early rounds, and it seems I've really been waiting a while. Why not? There's tremendous depth and these first three fellows specifically could easily end up as top-10 fantasy quarterbacks. Two of them actually did last season. For some reason, people don't expect repeat performances. For leagues that start two quarterbacks, my strategy this season has been not to reach for a top guy early, but to insure I'm getting two of the top 15 options, even if neither is considered a definite top-10 guy, and Wentz and Rivers fit the mold.
Running back
Melvin Gordon, Christian McCaffrey, Kareem Hunt, Isaiah Crowell, Bilal Powell, Danny Woodhead, Rob Kelley, Terrance West, Mike Gillislee, Tevin Coleman, Duke Johnson Jr., Thomas Rawls, Jacquizz Rodgers, Marlon Mack, Chris Carson, De'Angelo Henderson
OK, so that's a lot of names. First of all, and perhaps subliminally, I do have some level of concern for most every top-10 running back in ESPN ADP other than David Johnson,
LeSean McCoy
and Gordon. With Le'Veon Bell, it's more injuries, more suspensions and this ill-timed holdout (as if there is ever a good time).
Devonta Freeman
just got really rich, and his backup might be as good as he is.
Jay Ajayi
had nearly half his 2017 rushing yards in three games.
DeMarco Murray
was awful two seasons ago.
Jordan Howard
doesn't catch passes.
Todd Gurley
, well, I don't need to tell you. I'd still draft all of them, but what I keep doing is avoiding them and taking wide receivers. Gordon is a notable exception. After that, I find it odd how the pass-catching options are slipping in drafts since pretty much all these drafts for me have been PPR versions. Two years ago, Woodhead was a top-five PPR option, and he's capable of duplicating the performance. He's also capable of missing many games, but the risk in Round 7 is hardly the same as it is if Ajayi or Gurley struggle. Powell will catch 70 passes for the Jets. McCaffrey could do this for Carolina. And Johnson should see improvement as well, even as I do like Crowell. Those who have followed my work for years know I'm generally not the one recommending rookies, but talent and opportunity have collided for a slew of these guys. The minute the Chiefs drafted Hunt, I was basically all in because I didn't think
Spencer Ware
was good enough to hold him off. That situation changed this weekend, but I've got shares of Hunt everywhere and was willing to reach a few rounds. Now I'll really need to reach and it might still be worth it. Frankly, I doubt I've ever ranked five rookie running backs among my top 20 at the position, but I'm doing it. And later on I like these sleeper rookies in Indianapolis, Seattle and Denver.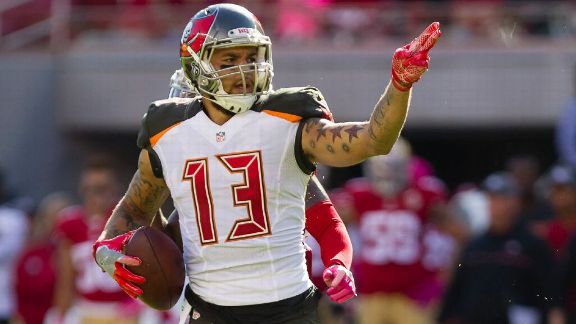 Kelley L Cox-USA TODAY SportsMike Evans has averaged nearly 80 catches and 1,200 yards receiving in his first three seasons, to go along with 27 TD catches.
Wide receiver
Mike Evans, Michael Thomas, Brandin Cooks, Terrelle Pryor Sr., Demaryius Thomas, Michael Crabtree, Golden Tate, Tyrell Williams, Pierre Garcon, DeVante Parker, Rishard Matthews, Zay Jones, Ted Ginn Jr., John Brown
The recent
Odell Beckham Jr
. injury situation has me actually pondering Evans as the No. 2 wide receiver, but since I've been somewhat alone on having Evans in my top five overall, I've still been getting him. I've also got Michael Thomas in my top 10. A few of my teams have started with this combination, and I'm all for it. With the
Julian Edelman
injury, I've since moved Cooks into that territory, as well. Don't enter any draft saying you have to go running back or receiver first and then reverse after that or a tight end in Round -- go best available flex option, whether it's RB or WR, for seven or more rounds until you need to get a QB or TE. With Crabtree, Tate, Williams, Garcon and -- until recently -- Parker, the reason I've been getting them on my teams is because their value has been misinterpreted. Some believe Crabtree can't be a top-20 wide receiver alongside
Amari Cooper
. Um, OK, but Crabtree has scored more fantasy points than his younger, supposedly better teammate both seasons. Tate catches a ton of Stafford passes and will again.
Mike Williams
isn't suiting up for Rivers anytime soon, meaning Tyrell Williams gets huge opportunity again. I believe
Brian Hoyer
and the 49ers can have a reasonable pass offense -- shocking! -- and Garcon isn't done yet as a key statistical provider. With Parker, his stock has risen quickly with
Jay Cutler
, but it is warranted. Later on in drafts, I seem to be ending up receivers like Matthews and Ginn that nobody else likes, which is fine. Yes, the Titans brought in
Eric Decker
and drafted a rookie, and Matthews is way under the radar, but proven and healthy. And Ginn won't match the production Cooks enjoyed with
Drew Brees
, but if he can control the drops somewhat, he can be valuable. With Arizona's John Brown, he just has to stay healthy. In a general sense, I've been avoiding the rookie wide receivers unless it's late in a standard league or later in a deeper format, but I do think Buffalo's Jones has a wonderful opportunity. And while it's not at the same level because of the quarterback,
Cooper Kupp
and
ArDarius Stewart
could start for the Rams and Jets, respectively. And as we saw with last season's Browns, as Pryor topped 1,000 receiving yards, even teams with quarterback dysfunction can generate relevant wide receivers.
Tight end
Zach Ertz, Hunter Henry, Jack Doyle, Cameron Brate
Nothing against
Travis Kelce
or
Greg Olsen
, healthy and reliable options at a position with many question marks, but I'm always waiting at this position. Ertz in Round 10 is tremendous value, and Henry and Doyle should emerge this season. As for Brate, it's hard to find many rookie tight ends that really aid fantasy owners over the years, and
O.J. Howard
might have a really bright future, but Brate is this year's guy.
To continue reading this article you must be an Insider