November, 14, 2017
Nov 14
12:23
PM ET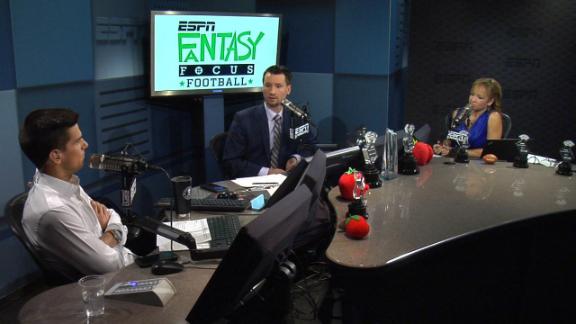 One might think it's silly for rest-of-season rankings to still be coming out in mid-November, but this is the final full week of the regular season before not only Thanksgiving, but the trade deadline in ESPN leagues. This is when one probably needs the most help. Just seven weeks remain and, for most fantasy managers, it's going to be a lot less than that. So get in there and take one writer's opinion for what it is, and try to improve your teams!
Quarterback
Seattle's
Russell Wilson
and Philadelphia's
Carson Wentz
are the top two scorers from this position for the season, with the No. 1-ranked guy in sixth place. So why does
Tom Brady
continue to keep the top spot? Well, Brady is having a terrific season. He's on pace for more than 5,000 passing yards. He has thrown just two interceptions. His remaining schedule, except for a Week 15 game in Pittsburgh, sure doesn't seem to be too difficult. It looks far more challenging for Wilson and Wentz, but these guys have been excellent in fantasy all season. Don't forget about some of the others you can count on who moved up this week, such as the Rams'
Jared Goff
, the Jets'
Josh McCown
and even Indianapolis'
Jacoby Brissett
. Hey, he's the No. 13 quarterback for the season! Later in the quarterback rankings, there might seem to be a few strange names, including
three
Denver passers, but we know some of you play in more challenging two-QB formats or in leagues where quarterbacks can be a flex option. Minnesota's
Case Keenum
is one spot ahead of
Teddy Bridgewater
, but I do expect that to change soon. Bridgewater is going to play. San Francisco's
Jimmy Garoppolo
remains ranked. He should play as well. Those relying on Buffalo's
Tyrod Taylor
won't like this, but it sure seems like rookie
Nathan Peterman
could get his chance soon if Taylor doesn't turn things around.
Running back
The big news at this position is, of course, that the Cowboys finally, mercifully, will need to turn to backups with
Ezekiel Elliott
suspended. Let me make something clear: As an Elliott manager with eyes on a deep playoff run, I'm not cutting him. He can return in Week 16 and when he does, there will be no time-share. Also, deep down I still don't expect a full six games to be missed. So keep Elliott on fantasy rosters.
Alfred Morris
and
Rod Smith
look like they're in a clear time-share and
Darren McFadden
-- the most-discussed running back this season with only one rushing attempt -- is No. 3 by a mile. However, all that could change at any point. The rankings reflect my thoughts, with Elliott falling quite a bit. There are other teams with more than one running back to consider, and the rankings were shaken up a bit as a result. Take the Patriots, for example, as if we can ever figure out that team.
James White
was barely a factor Sunday night, and now suddenly
Rex Burkhead
is.
Dion Lewis
certainly is.
Mike Gillislee
didn't even dress in the win. Watch Gillislee rush for a pair of touchdowns in Week 11! That would be so Patriots! Anyway, fantasy managers need to consider each of White, Lewis and Burkhead, for now in that order. There was also a change in hierarchy for the Falcons --
Devonta Freeman
could miss a few games -- the Browns and the Packers, with rookie
Jamaal Williams
likely becoming relevant.
Wide receiver
There's a bunch of new players at this position to consider, not only for starting lineups but for roster spots. While there were some major alterations in the top 20, with Minnesota's
Adam Thielen
moving to WR1 territory and Detroit's
Golden Tate
and Denver's
Emmanuel Sanders
earning our WR2 trust again, get to know the Rams'
Robert Woods
, the Jets'
Robby Anderson
, the Giants'
Sterling Shepard
, Pittsburgh's
JuJu Smith-Schuster
and others. Well, you likely know them, but consider them as at least flex options, depending on the matchup. This is the final week of byes and several of these guys could be WR2 choices the way they're playing. Even for those in deeper formats, there should be relevance for Chicago's
Dontrelle Inman
, Cincinnati's
Brandon LaFell
, Indianapolis'
Chester Rogers
and exciting Jacksonville rookie
Dede Westbrook
, expected to debut this week.
Tight end
Giants rookie
Evan Engram
continues to play so well that it wouldn't be surprising if he eventually took over the top spot. Hey, nothing against the great
Rob Gronkowski
, but Engram has now scored touchdowns in four consecutive games. His quarterback doesn't have a ton of options. Engram is terrific.
Zach Ertz
and
Travis Kelce
come off bye weeks to strong matchups, so suddenly this position sees four legitimate No. 1 options. Meanwhile, a former No. 1 option in Carolina's
Greg Olsen
could return from injury for his team's next game. See if Olsen was dropped in your league.
To continue reading this article you must be an Insider