August, 14, 2013
8/14/13
10:35
AM ET
By
Kelsey Bone
| ESPN.com
Jennifer Pottheiser/NBAE/Getty ImagesThe Garden of Dreams Foundation brought local children to spend a day with Kelsey Bone and the rest of the New York Liberty.
One of the best things about being part of the New York Liberty is the Garden of Dreams Foundation, a nonprofit charity that works closely with all areas of the Madison Square Garden Company, including the Knicks, Rangers, Liberty, MSG Entertainment, MSG Networks and Fuse, to make dreams come true for children facing obstacles.
Monday kicked off the fifth annual Dream Week, during which 40 children from ages 10-12 were given the opportunity to enjoy unique experiences with all the different parts of MSG. It includes participating in events with Knicks coach Mike Woodson, Rangers legend Adam Graves, the Radio City Music Hall's Rockettes and all the Liberty players and coaches.
The group of kids was from SCO Family of Services, one of the Garden of Dreams Foundation's 22 partner organizations.
Tuesday was our day, and we had a chance to give the boys and girls from Brooklyn an opportunity to hang with the Liberty for a day. They got a tour of our locker room, went through our weight program, got diet information from our do-everything trainer, Laura Ramus, and even went through basketball drills with our team.
To see the smiles on their faces and see how we were able to inspire them to believe that one day they could be in our position if they keep working hard was very fulfilling. At times, it's easy to forget when you dreamed about being here, but seeing how excited all the children were to enjoy the day with us was truly humbling and grounding! The Garden of Dreams Foundation does amazing work around our community. Dreams are all we have to hold on to at times, and to have the opportunity to see how they are reached is irreplaceable.
Until next time,
KB3
July, 16, 2013
7/16/13
5:01
PM ET
By
Kelsey Bone
| ESPN.com
Courtesy of Kelsey Bone Kelsey Bone, center, and fellow Liberty rookies Toni Young, right, and Kamiko Williams, left, donned tacky outfits on their first road trip to Atlanta.
Growing up as a kid, all I ever wanted to be was a WNBA player. As a WNBA player the No. 1 thing I am happy I don't have to do twice is be a ROOKIE.
I knew coming into the league that being a rookie was a lot like being a freshman: Some days we bring the vets breakfast, other days we might have to baby-sit while everyone else gets to go out and enjoy New York City. We even deliver their uniforms to their rooms on game day. Those all seem fair enough, right? Well fairness went out the window last month as we prepared for our first road trip of the year.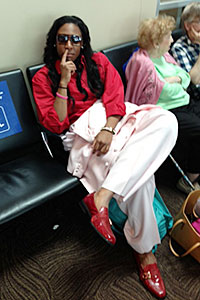 Courtesy of Kelsey BoneKelsey Bone's suit pants were 10 sizes too big so assistant coach Taj McWilliams-Franklin pinned about 30 safety pins in the waistband to keep them up.
All throughout the league, rookies dread the first road trip. The first road trip means the vets get to dress you any way their hearts desire, which is usually tacky and downright hideous. It was just our luck that our first road trip was to Atlanta.


If you've ever been through the Hartsfield-Jackson Atlanta International Airport, you know that the sights seen there are often interesting. Well, Toni (Young), Kamiko (Williams) and I fit right in!
Kara (Braxton) and Plenette (Pierson) found our outfits in Newark, N.J., spending a grand total of $100 on all three! Kamiko and Toni were "referees" -- they had skimpy dresses and too-small shoes. Neither one of them has much experience in high heels, so getting through the airport was not easy.
I donned a powder pink suit with a red shirt to bring out my red alligator shoes. My pants were 10 sizes too big, so Coach Taj (McWilliams-Franklin) had to put about 30 safety pins in my waistband just to keep them from falling down. The three of us were totally out of our element, but we decided to make the most out of it because there was no way around it. The person who enjoyed it the most was Coach (Bill) Laimbeer. Once he saw the three of us together, he let out a deep, hearty laugh and said, "Make sure I get all the pictures!"
I was definitely happy to get out of that pink suit. The three of us joked that we would all be burning our clothes the first chance we got. Unfortunately, my outfit hangs in my closet. The vets remind us all the time how lucky we are that there are three of us because we probably couldn't handle them alone.
Until next time,
Kels
June, 3, 2013
6/03/13
4:08
PM ET
By
Kelsey Bone
| ESPN.com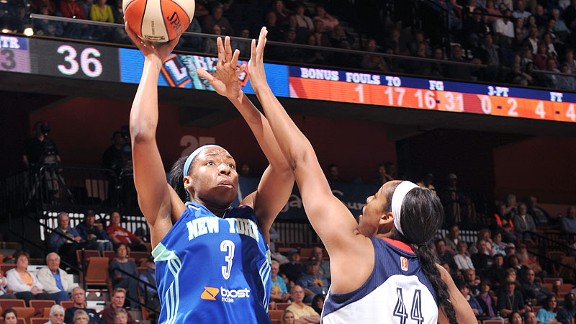 David Dow/NBAE/Getty Images)Kelsey Bone set off the fire alarm at her apartment, prompting Bill Laimbeer to say: "Rookies will be rookies."
The past month has been a whirlwind for me. I graduated from college and was drafted and made a WNBA team -- the New York Liberty. I have done things most people only dream about. Through it all, I have had the pleasure of being around a really great group of people who have helped me adjust to my new home.
My first few days in my new apartment were rather interesting. One morning after practice I came home to make breakfast. I turned on my oven, then went in the other room until I began to smell smoke. When I walked back into my kitchen smoke was everywhere. I stayed calm and opened all the windows. Well that didn't work, because the smoke alarm began to go off. I still didn't panic, so I decided to open my front door ... BIG MISTAKE! After opening my front door I set off the entire building's fire alarm and everyone had to evacuate.
Upon evacuating I went outside and tried my best to blend in with the crowd. I thought I was off the hook once everyone was cleared to go back in. Boy was I wrong. The heads of MSG had been notified of my debacle and emailed Coach Laimbeer. When I got to practice that afternoon coach read the email to the entire team :(. In the email I found out that Coach Woodson's (Knicks head coach) wife had to evacuate in her bath robe. Talk about embarrassing. Coach got a good laugh out of my little situation and said: "Rookies will be rookies."
Training camp was a really good experience for me. Having the opportunity to work with the likes of Taj McWilliams-Franklin, Barbara Farris, Teresa Weatherspoon, Tamika Whitmore, and the infamous Bill Laimbeer all at once was priceless. To have all of that knowledge in the gym at the same time is something I wish all ball players could experience. Add in Plenette Pierson, Kara Braxton and Cheryl Ford and my rookie experience has been all about learning. Being around individuals who have won championships at this level brings a different aura to practices. One thing I can say for sure is practice is far more physical than games. My teammates have welcomed me with open arms and have helped guide me. Katie Smith and Cappie Pondexter have really helped me communicate and understand the game at this level.
I am real anxious to see how things work out for us this year. With Coach Laimbeer's brilliance and all of us buying in and believing, this is sure to be a fun season.
We got a good taste of the fun that's in store with an exciting home opener against Tulsa. The energy level at Prudential Center was through the roof. The game had all the elements of a big time matchup ... there were celebrity sightings, an overtime thriller and even a game-winning shot. One of my favorite rappers, Jay-Z was in attendance, and so was Knicks star guard Iman Shumpert. You could feel the excitement from all the Liberty fans, the place was rocking!
April, 24, 2013
4/24/13
11:01
AM ET
By
Kelsey Bone
| ESPN.com
Participating in the WNBA draft was one of the greatest weekends of my life! I was afforded the opportunity to be around 11 of America's best college seniors and learn several things about our new employer.
[+] Enlarge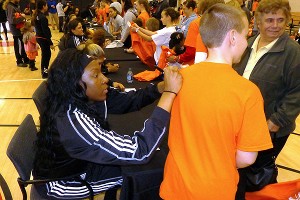 Mike Cocchi/ESPNKelsey Bone signs autographs for local kids during the WNBA Fit Day at the ESPN KidsCenter.
We arrived in Bristol, Conn., on Friday afternoon and began with media training. We then headed to meetings with WNBA personnel. The highlight of the night was meeting with Pam Wheeler (director of operations for the WNBAPA) and learning all the details of the players' association and the CBA. As an athlete, I never thought about the real-life part of being a professional. For example: Health insurance, life insurance, workers' compensation and retirement plans. Knowing that we get all of these benefits puts the exclamation point on being a professional athlete.
By the look of things Saturday was supposed to be a LONG day. We kicked off the day with presenters on financial planning, security and domestic violence. We then got a one-hour break for lunch. The REAL fun started after lunch. Waiting for us was none other than Mikki Taylor, Essence magazine's editor-at-large. I have been inspired by a few people in my life but none quite like Mrs. Taylor. She left an impression on my mind and spirit. Her words of encouragement were just what I needed going into this new phase in my life.
After Mrs. Taylor, we got a chance to hear from two league referees who helped us understand the different rules in the league as opposed to college. Following the refs, there was a coach's huddle. The coach's huddle included my new coaches, Bill Laimbeer, Taj McWilliams-Franklin and Barbara Farris. We got to see a coach's perspective on what is expected of rookies coming into training camp. I actually got a kick out Coach Laimbeer. I realized immediately that he is a man who bites his tongue for no one but demands the respect of all.
[+] Enlarge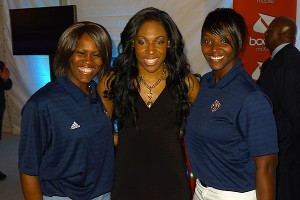 Mike Cocchi/ESPNKelsey Bone, center, poses with her new coaches, N.Y. Liberty assistants Taj McWilliams-Franklin, left, and Barbara Farris, right.
Following the coaches, we had a players panel that included Ruth Riley, Candice Wiggins, Teresa Edwards and Sheryl Swoopes. The information we received from these women was priceless. Having women who paved the way for us share their advice was invaluable.
After that, we ended the night with some fun and got to go bowling with our families and friends. As far as bowling is concerned, let's just say I won't be trading in my basketball for a bowling ball anytime soon!
Sunday morning brought on major fun! We headed over to ESPN's main campus to host a clinic for about 100 kids. I love children, so having a chance to share the world's greatest game with them was a lot of fun. We followed the clinic with a Q&A session followed by an autograph session.
Sunday night brought on even more FUN ... hair and makeup. We met with wardrobe, makeup and hair stylists from the Thomas Faison Agency. This is the same agency behind the styles of LeBron James, Serena Williams and Amar'e Stoudemire. Needless to say, I was in heaven.
[+] Enlarge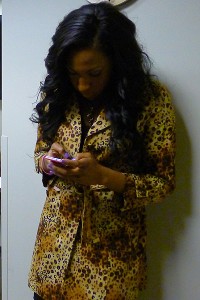 Mike Cocchi/ESPNKelsey Bone keeps in touch during a quiet moment as she waited for an open phone line for her phone interview with NYC and Houston writers.
Monday started off rather exciting. We got to experience an executive luncheon with the staff of ESPN and espnW. The most exciting part of the luncheon for me was being able to view the trailer for the Nine for IX series. In my mind, anything Robin Roberts touches is gold, but this series of short films chronicling the adversity women in sports have endured is sure to inspire a generation.
After the luncheon, we headed down for more hair and makeup. It was now time to prepare for the moment we had all been waiting for, however, the mood changed in the green room when we heard about the tragic bombings in Boston. We got time to spend with our friends and family before heading over to the studio, and after hearing that one of the victims was an 8-year-old boy, I was happy to have my little brother in Connecticut with me. With the city of Boston heavy on my heart, I found it hard to concentrate on arguably the most exciting day of my life. With my emotions all over the place, I was able to calm down and focus on the task at hand. I didn't get nervous until the countdown began in the studio. Hearing Laurel Richie call my name was a dream come true. I had imagined that moment in my head a million times, but none of them were quite like the real thing.
Growing up a Comets fan, I still have vivid memories of Spoon's half-court shot. Having the opportunity to play for the Liberty is so exciting! I am very anxious to get to New York and get started with training camp. I get to play for one of basketball's most notorious big men and alongside of some of the world's greatest female athletes.
As my time in Aggieland winds down, I anxiously await what the Big Apple has in store for me! I have never been to New York, so I am sure I will be in for a treat. I look forward to seeing you all this summer as the league begins its 17th year!
God bless, and go Libs!
KB3