May, 25, 2017
May 25
7:00
AM ET
HOUSTON -- The Houston Texans will add a piece to their offense this season, not via trade or the draft, but through the return of center Nick Martin.
Last year's second-round pick impressed early in training camp, and he was set to serve as the Texans' starting center for his rookie season. Unfortunately his first year was wiped out during the preseason after he injured his ankle in a joint practice against the New Orleans Saints -- requiring season-ending surgery.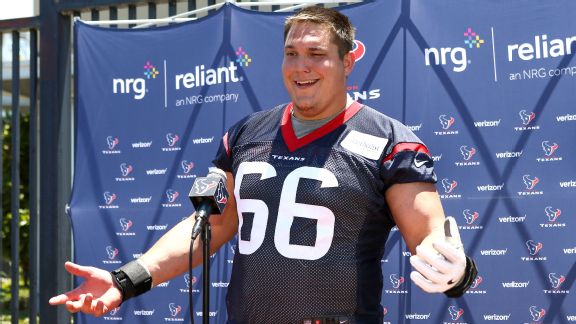 Troy Taormina/USA TODAY SportsNick Martin said he spent the past year learning the mental aspects of the pro game.
Martin, who participated in the team's organized team activities this week, said his ankle is "good to go."
Although Greg Mancz played well last season in Martin's absence, the former Notre Dame standout entered the offseason as the team's starting center. Before he got hurt last summer, Texans head coach Bill O'Brien praised the rookie's progress and said he was going to be an important part of the offense.
Earlier this offseason, veteran left tackle Duane Brown said he thinks Martin is going to be a "great player."
"He showed some great flashes as a young player," Brown said. "That position is very instrumental to our success. The game isn't too big for him. He showed a lot of promise, so I'm looking forward to getting him back."
Although Martin wasn't able to be on the field last season, he said he spent a lot of time working on the mental part of the game, including learning the Texans' "large playbook," and studying how the team operates on and off the field.
"It [was] definitely tough, but at the same time you have to take the positives," Martin said. "There's a lot of things I learned: routine-wise, learn from older guys, mentally, film, all of that. Really tried to make the best out of it.
"[I spent] a lot of time in the training room. As much as it takes. Still trying to go to meetings, like I said, learn mentally, keep up with that and try to balance both. Especially being in your first year in this system."