July, 26, 2017
Jul 26
8:00
AM ET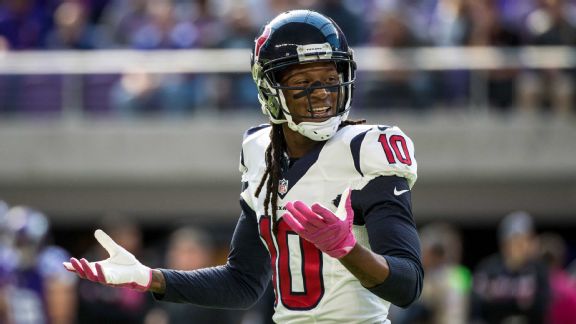 Brace Hemmelgarn/USA TODAY SportsDeAndre Hopkins left last season wondering why he wasn't targeted has much as he was during a banner 2015.


WHITE SULPHUR SPRINGS, W.Va. -- Entering the final season of his contract, Houston Texans wide receiver DeAndre Hopkins is looking for a bounce-back season after his dip in production in 2016.
A year ago -- after his 111-catch, 1,521-yard, 11-touchdown breakout performance in 2015 -- Hopkins held out of training camp for one day because he wanted a contract extension. During the offseason, the wide receiver said he is leaving contract negotiations up to his agent and the Texans. General manager Rick Smith said he likes to keep his negotiations "in-house," while making it clear he wants to re-sign Hopkins and that he is hopeful the young receiver will be in Houston "for a long time."
"I think if you look at our team ... we like to keep our good players," Smith said. "[We keep] as many of our good young players that we develop, that we draft and that can help our football team win. We try to keep those guys around. [Hopkins] certainly fits that category and so we're hopeful that he's going to be here for a long time for us."
Hopkins finished the 2016 season with 78 receptions for 954 yards and five touchdowns. He was targeted 150 times last season, after 192 in 2015. The primary reason for the decrease was the play of quarterback Brock Osweiler, who targeted him just 24 percent of the time, according to ESPN Stats & Information. Though a small sample size, Tom Savage -- currently considered the 2017 starting quarterback -- targeted Hopkins on 30 percent of his passes.
Hopkins has caught passes from nine different quarterbacks in his four seasons with the Texans. In 2017 he hopes to finally get some stability at quarterback from either Savage or rookie Deshaun Watson.
One area Hopkins needs to improve upon is his yards after the catch. According to ESPN Stats & Info, Hopkins' 2.3 yards after the catch over the past two seasons ranks second-worst in the NFL among 156 qualified receivers.
During the offseason, Texans head coach Bill O'Brien said although Hopkins' statistics dropped off, he still made some big plays for the Texans last season, especially on third down and in the red zone. And while those contributions were important to the team, both Hopkins and the Texans hopes he can return to the neighborhood of his 2015 statistics.
July, 26, 2017
Jul 26
7:00
AM ET
The Houston Texans could have as many as six new starters when the NFL season opens. Here's a starting lineup projection:
OFFENSE
Quarterback (Tom Savage): At the end of the Texans' offseason program, coach Bill O'Brien said the starting quarterback job is Savage's, for now. First-round pick Deshaun Watson will be given every opportunity to compete for the job in training camp and has impressed the Texans coaching staff thus far.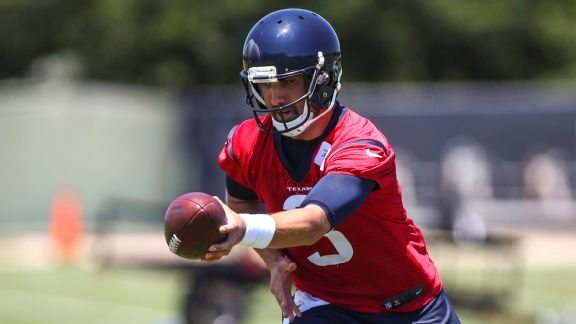 Troy Taormina/USA TODAY SportsTom Savage is the Texans' starting quarterback going into training camp, where he'll hope to not hand the job to first-round pick Deshaun Watson.
Running back (Lamar Miller): Miller was a critical part of the Texans' run-first offense last season, his first with the team. Miller accounted for 59 percent of Houston's carries. The addition of fourth-round pick D'Onta Foreman, as well as the returning Alfred Blue, should allow the coaching staff to spell Miller more often this season.
Tight end (C.J. Fiedorowicz): Savage might not rely on the Texans' tight ends as much as Brock Osweiler did last season, but Fiedorowicz took a big step forward in the passing game in 2016.
Left tackle (Duane Brown): Brown did not show up for the Texans' offseason workouts, and his absence is thought to be contract-related. It remains to be seen whether he will show up for training camp or hold out, either for a new deal or for his current contract to be guaranteed. Brown is the longest-tenured Texans player and was an anchor for the offensive line in 2016 after he returned from injury.
Left guard (Xavier Su'a-Filo): Su'a-Filo dealt with a finger injury for part of last season but still played in every game and should be the starter in 2017.
Center (Nick Martin): Greg Mancz played very well last season after Martin went on injured reserve with an ankle injury and could see time at other positions, but Martin, a 2016 second-round draft pick, will enter training camp as the starting center. He said his ankle was good to go for offseason work and for training camp.
Right guard (Jeff Allen): Allen started all but two games in 2016, and if he continues to stay healthy, he should start at right guard in 2017, too. Allen admitted during OTAs that he didn't play as well as he wanted to last season, and said he hs focused on losing on weight since the season ended.
Right tackle (Chris Clark): With Derek Newton out for the 2017 season with the injuries he suffered to both legs midway through last season, Clark, who started at right tackle after Newton's injury, is one of the few options Houston has at the position. Kendall Lamm will also compete for the starting role during training camp.
Tight end (Ryan Griffin): The Texans re-signed the other half of their two-TE tandem in free agency after Griffin had by far his best NFL season, hauling in 50 catches for 442 yards and two touchdowns. Ideally, the Texans will be able to spread the field more and will need to field only one tight end. Fiedorowicz is known as a blocking tight end, while Griffin is the better receiver.
Wide receiver (DeAndre Hopkins): Hopkins had a drop in production in 2016, but with Savage or Watson throwing to him this season, he should get back into the statistical neighborhood of his breakout 2015 season.
Wide receiver (Will Fuller): O'Brien said he expects Fuller to take a big step forward in his sophomore season, and that starts with the 2016 first-round pick staying healthy. O'Brien also said he noticed during the spring that Fuller definitely has a better knowledge of the Texans system. The coach is generally impressed with his progress.
DEFENSE
Defensive end (J.J. Watt): Having the three-time NFL Defensive Player of the Year back on the field will no doubt be a huge boost to last season's No. 1 defense, but it remains to be seen if Watt will play at that level after his two back surgeries in 2016.
Nose tackle (D.J. Reader): Reader spent a year learning behind veteran Vince Wilfork, and the fourth-round pick impressed when given a chance as a rookie. He will step into the starting role in 2017.
Defensive end (Jadeveon Clowney): Last season, the Texans had success moving Clowney from his primary spot at outside linebacker to the defensive line, but moving around the line is also one of Watt's calling cards. With the move -- and without Watt on the field -- Clowney had a career-high six sacks and 52 combined tackles.
Outside linebacker (Whitney Mercilus): While Mercilus typically doesn't draw the attention from fans that Clowney and Watt do, he is a big part of the Texans' top-ranked defense. He finished with a team-high 7½ sacks in 2016.
Inside linebacker (Brian Cushing): Cushing will continue as one of the souls of the defense at middle linebacker in 2017, but the Texans drafted someone they hope develops into his successor in second-round pick Zach Cunningham.
Inside linebacker (Benardrick McKinney): McKinney had a breakout season playing primarily alongside Cushing, leading the team and finishing 11th in the NFL with 129 tackles. He was the only player in the NFL with at least 100 tackles and five sacks in 2016.
Outside linebacker (Brennan Scarlett): After the departure of John Simon, Scarlett is the front-runner to start at outside linebacker. The Texans did not sign or draft another outside linebacker, but with the addition of Cunningham, Houston might try to get the rookie on the field in different packages if he proves to be ready to see a lot of playing time. For now, though, Scarlett stands to see more time.
Cornerback (Johnathan Joseph): Joseph and Kareem Jackson have been the Texans' starting cornerbacks since 2011, and since then, Houston's opponents have the lowest completion percentage in the NFL. Joseph missed time with a major rib injury last season but was an important member of the group that finished second in the league in pass defense, allowing just 202 passing yards per game.
Cornerback (Kareem Jackson): The Texans play the majority of their base defense with three cornerbacks, so Jackson will start alongside Joseph, but 2015 first-round pick Kevin Johnson will see a lot of playing time as well. While Johnson will be healthy after missing most of last season with a broken foot, the trio will have to replace the impressive performance of A.J. Bouye in 2016.
Free safety (Andre Hal): The fourth-year player has been consistent in the Texans secondary. He had seven passes defended last season.
Strong safety (Corey Moore): The Texans lost last year's starter at strong safety when Quintin Demps left in free agency, and Moore is the front-runner for the starting job.
SPECIAL TEAMS
Kicker (Nick Novak): Novak finished tied for 12th in the league in field-goal percentage, but his 35 field goals made were second in the NFL. Houston relied heavily on Novak last season as the offense struggled under Osweiler, particularly in the red zone.
Punter (Shane Lechler): Lechler averaged 47.5 yards per punt, good for sixth in the league, and was a priority for O'Brien to bring back during free agency. The 40-year-old will go down as one of the best punters in NFL history whenever he decides to call it quits.
Kick returner (Akeem Hunt): Hunt took over kick-return duties while Tyler Ervin was injured, and he could have the edge to start here this season. Ervin will compete for the job, but he was unreliable in his rookie season, fumbling the ball five times, including twice in the playoffs.
Punt returner (Will Fuller): Fuller is known for his speed and was able to utilize it on punt returns as a rookie in 2016. He had a punt-return touchdown in Week 4.
July, 25, 2017
Jul 25
11:11
AM ET
ESPN.com news services
Bob Levey/AP PhotoDuane Brown is seeking a new contract but has lost money so far by skipping the Texans' activities.
Houston Texans offensive tackle Duane Brown, who skipped the team's offseason activities, did not show up Tuesday as the team traveled to West Virginia for training camp as he seeks a new contract.
The Texans placed him on the reserve/did not report list on Tuesday. Brown, 31, now can be fined $40,000 for each day of training camp he misses. The Texans' training camp officially begins Wednesday at The Greenbrier resort in West Virginia.
"I have talked to Duane. And I don't know that this is a holdout. There's no contract dispute. Duane's under contract for two more years. That's our position. We're here to get our football team ready for the season, and he should be a part of it. ... Here's an important member of our team, and he ought to be here," general manager Rick Smith said Tuesday.
The risk he is taking to try to make more money has already resulted in lost money.
Brown's deal with Houston included a $250,000 de-escalator clause if he did not participate in a requisite number of workouts. Brown triggered the de-escalator, and his base salary has dropped from $9.65 million to $9.4 million, a league source told ESPN's Field Yates.
He has two years remaining on his six-year contract, but there is no more guaranteed money left on the deal.
July, 25, 2017
Jul 25
7:00
AM ET
The Houston Texans open training camp on July 25 at The Greenbrier in White Sulphur Springs, West Virginia. Here's a 53-man roster projection:
QUARTERBACKS (3): Tom Savage, Deshaun Watson, Brandon Weeden
While there will be a battle between Savage and Watson to see who the Texans' starting quarterback will be to start the season, there is little doubt all three will make the 53-man roster.
RUNNING BACKS (5): Lamar Miller, D'Onta Foreman, Alfred Blue, Tyler Ervin, Akeem Hunt
The Texans probably won't keep five running backs, and the extra roster spot likely would go somewhere on defense. Right now, though, no one stands out enough to merit a spot on this projection. Ervin could see time in the slot this season, and Hunt could play on special teams again. Houston also likes undrafted rookie Dare Ogunbowale, and if he impresses on special teams, he could leap Blue or Hunt.
FULLBACK (1): Jay Prosch
Coach Bill O'Brien sees value in the fullback position and the job Prosch does for the Texans. He is the only fullback on the roster.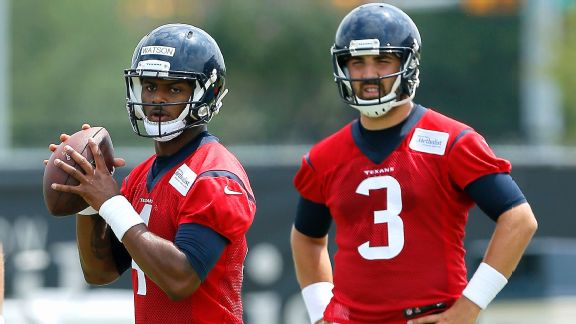 AP Photo/Bob LeveyWill rookie Deshaun Watson, left, have presumed starter Tom Savage watching from the sideline by the middle of the season?
WIDE RECEIVERS (5): DeAndre Hopkins, Will Fuller, Jaelen Strong, Braxton Miller, Wendall Williams
Hopkins had a dip in production last season, and the Texans dealt with a lot of injuries in their receiving corps. Houston hopes with a new quarterback -- whether it's Savage or Watson -- the receivers will be more involved in the offense this season and the passing game improves. Williams' speed and athleticism are intriguing, and he could take the roster spot that Keith Mumphery had out of training camp last year.
TIGHT ENDS (3): C.J. Fiedorowicz, Ryan Griffin, Stephen Anderson
Fiedorowicz and Griffin had career years last season thanks to quarterback Brock Osweiler's dependence on the tight ends; the 175 targets and 115 receptions were the second most in the NFL. That likely won't be the case again this season, but the Texans like the group of three they had in 2016. Anderson is a potential breakout candidate in his second season.
OFFENSIVE LINE (9): Duane Brown, Jeff Allen, Xavier Su'a-Filo, Greg Mancz, Chris Clark, Kendall Lamm, Nick Martin, Julien Davenport, Kyle Fuller
There are still a lot of question marks on the offensive line, particularly at right tackle. The Texans could keep only eight linemen, and since he's the third center on the depth chart right now, there's a possibility that seventh-round pick Kyle Fuller would be the odd man out. Clark also could be on the bubble and will be competing for his job during training camp.
DEFENSIVE LINE (7): J.J. Watt, Christian Covington, D.J. Reader, Jadeveon Clowney, Brandon Dunn, Carlos Watkins, Joel Heath
The biggest addition the Texans will get this season is Watt, who missed all but three games last year with a back injury. Reader will replace Vince Wilfork, and former Clemson teammate Watkins should get some playing time as well.
LINEBACKERS (7): Brian Cushing, Benardrick McKinney, Brian Peters, Zach Cunningham, Dylan Cole, Whitney Mercilus, Brennan Scarlett
The Texans hope they have drafted Cushing's eventual replacement in Cunningham, who should get a lot of opportunities during training camp to earn playing time, especially on special teams. So far the Texans also have been impressed by Cole, an undrafted rookie.
SAFETIES (5): Andre Hal, Lonnie Ballentine, Eddie Pleasant, K.J. Dillon, Corey Moore
The Texans will miss Quintin Demps, who had a team-high six interceptions last season. The unit finished second in passing defense in 2016 and could rely on Corey Moore to fill his place, with Hal as the other starting safety.
CORNERBACKS (5): Johnathan Joseph, Kevin Johnson, Kareem Jackson, Robert Nelson, Treston Decoud
The Texans lost cornerback A.J. Bouye -- who was Houston's best at the position -- to free agency, and he leaves a big hole to fill. Houston is counting on a healthy Johnson, who was the Texans' third corner until he broke his foot last season, to make an impact in place of Bouye.
SPECIAL TEAMS (3): Punter Shane Lechler, kicker Nick Novak, long-snapper Jonathan Weeks
The Texans brought back Lechler and Novak this offseason, so this trio likely will stay the same. O'Brien does like competition all over the roster, so kicker Ka'imi Fairbairn will be given a chance to compete with Novak.
July, 24, 2017
Jul 24
12:45
PM ET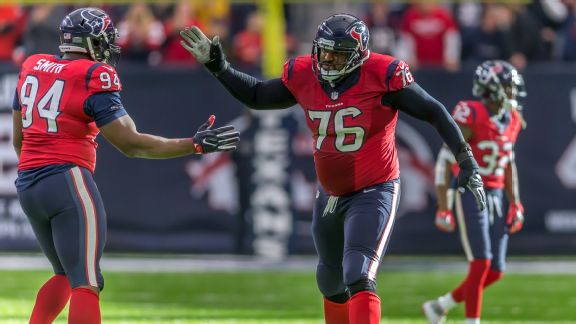 Leslie Plaza Johnson/Icon SportswireThe Texans might be without their best offensive lineman, Duane Brown (right), who may not report to training camp over a contract dispute.
HOUSTON -- Although all eyes over the next few weeks will be on the Houston Texans' quarterback competition, the team enters training camp with plenty of questions on who will be protecting either Tom Savage or Deshaun Watson.
Last season, Houston's offensive line showed improvement as the year progressed, coinciding with the return of Duane Brown from injury. The Texans finished the regular season tied for 11th in the NFL with 32 sacks allowed, and they averaged 116.2 rushing yards per game, which was ranked eighth in the league.
But, although running back Lamar Miller rushed for a career-best 76.6 yards per game (10th in the NFL) due to a career-high 268 carries, he tied a career-worst with 4.0 yards per rush. Miller's 1.3 yards after contact was the worst in the NFL among qualified players, according to ESPN Stats & Information.
The Texans' best player on the offensive line, Brown, may not even be at training camp. The left tackle skipped the Texans' offseason program, including the mandatory veteran's minicamp. His absence is thought to be contract-related, as he does not have any guaranteed money left on the last two years of his contract. According to ESPN's Adam Schefter, it's unclear whether Brown will report.
Entering training camp, it looks like the Texans could keep eight or nine offensive lineman in the regular season. The biggest question is at right tackle, because Derek Newton will not play this season as he continues to rehab from tearing the patellar tendons in both knees last year. Although Chris Clark started for Newton and Brown while they were injured last season, his play did not show he is capable of being the Texans' starter at right tackle in 2017.
The Texans signed free agent Breno Giacomini this offseason to compete for the position, but it could be Kendall Lamm who wins the starting job out of training camp, with Chad Slade as the swing guy to back him up.
Jeff Allen and Xavier Su'a-Filo are expected to retain their starting roles at guard in 2017. Earlier in the offseason, Allen told reporters he wasn't satisfied with his performance last season, which was his first with the Texans.
The Texans will also have a change at center with a healthy Nick Martin returning. Martin, a second-round pick in 2016, missed last season after injuring his ankle during training camp. During OTAs, Martin said his ankle is "good to go." Last season, Greg Mancz played well in place of Martin and could back up both guard positions in addition to center.
"We're creating this depth, competition, and that's what you always want with the offensive line every year -- depth, competition," Texans offensive line coach Mike Devlin said. "That's what we're creating right now. I'm getting excited to see them with the pads on."
July, 24, 2017
Jul 24
7:00
AM ET
The Houston Texans open training camp Wednesday at The Greenbrier in White Sulphur Springs, West Virginia. Here's a closer look at the Texans' camp:
Top storyline: Last season's No. 1 defense lost three starters to free agency -- A.J. Bouye, Quintin Demps and John Simon -- and Vince Wilfork is not back with the team. The Texans do get back three-time NFL Defensive Player of the Year J.J. Watt, who played in just three games in 2016 because he reaggravated his back injury. Watt said he is happy with how his back responded during spring practices and is looking forward to putting pads on and being able to hit during training camp. Although he says he's healthy, it remains to be seen whether Watt will return to the level he has played at in the past. Despite missing games last season, Watt still boasts an NFL-best 76 sacks since entering the league in 2011, according to ESPN Stats & Information. Last season, without Watt, the Texans had 31 sacks, their fewest since 2010.
QB depth chart: All eyes will be on the quarterback competition between Tom Savage and rookie Deshaun Watson during training camp. Coach Bill O'Brien has said Savage is his starter right now, but he also acknowledged he has been impressed by what Watson has shown the coaching staff since being drafted. The Texans didn't trade two first-round picks to draft Watson and have him sit on the bench. He will be the Texans' starting quarterback -- it's just a matter of when.
Bubble watch: Most of the Texans' roster is set, but if there is a surprising player in jeopardy of not making the team, it could be running back Alfred Blue. Blue backed up starter Lamar Miller last season, but Houston drafted running back D'Onta Foreman in the third round to compete with Blue for the No. 2 role. Blue had a career-low 100 carries last season but averaged a career-best 4.2 yards per carry. As it stands, the Texans have a crowded backfield behind Miller, and special teams could be the deciding factor, especially for players such as Tyler Ervin and Akeem Hunt.
That rookie could start: It might not happen immediately, but unless Savage plays really well throughout, Watson could start this season. The hardest part for Watson, O'Brien said, will be learning the Texans' terminology and offensive scheme. But O'Brien added that the young quarterback has made good progress in that area in a few months' time.
Left tackle no-show?: Veteran left tackle Duane Brown didn't participate in any of the Texans' offseason activities, including the mandatory veterans minicamp, and it remains to be seen whether he will be at training camp. Brown is seeking an improvement on his contract, which doesn't have any more guaranteed money left and expires after the 2018 season. The Texans don't have many options at the position, and they also don't have a clear starting right tackle.
Who will step up in secondary?: The Texans had the No. 2-ranked pass defense last season, but they lost cornerback Bouye and safety Demps in free agency. The two players combined for seven of Houston's 11 interceptions in 2016, so the team will be looking for a playmaker in the secondary to step up. The likely candidate is third-year cornerback Kevin Johnson. The 2015 first-round pick was starting for the Texans last year until he broke a foot in Week 6 against the Colts and missed the rest of the season.
New QB enough for DeAndre Hopkins?: Hopkins had a dip in production last year and was targeted 44 fewer times than in his breakout 2015 season. He finished with 78 catches and 954 yards. The Texans hope a new quarterback, either Savage or Watson, will make a difference. Though it's a small sample size, Savage targeted Hopkins on 30 percent of his passes last season, according to ESPN Stats & Information. By comparison, Brock Osweiler targeted Hopkins just 24 percent of the time. Hopkins is a free agent after the 2017 season and held out for one day before training camp last year.
For daily updates at camp, check out the Houston Texans clubhouse page.
July, 23, 2017
Jul 23
5:18
PM ET
ESPN.com news services
Houston Texans wide receiver DeAndre Hopkins, who walked out of training camp after one day last year because of his desire for a new deal, will report with the rest of the team on Monday, a source told ESPN NFL Insider Adam Schefter.
Hopkins is slated to play on the fifth-year option of his rookie deal, which will pay him $7.9 million for 2017.
Hopkins caught 78 passes for 954 yards and four touchdowns last season. That followed a career-best 2015 season in which he had 111 receptions, 1,521 yards and 11 touchdowns.
A source also told Schefter that "no decision" has been made about whether Texans offensive tackle Duane Brown will report to camp. Brown missed mandatory OTAs due to his desire for a new deal.
July, 22, 2017
Jul 22
7:00
AM ET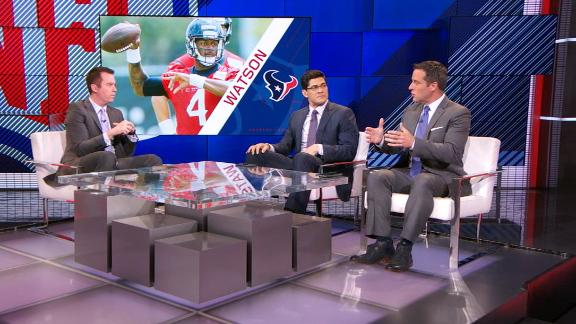 HOUSTON -- It was late on a Saturday night in January, just a few weeks after Deshaun Watson enrolled at Clemson. Tigers offensive coordinator Jeff Scott, who was meeting a recruit on campus by Clemson's Memorial Stadium, saw two people running on the field under the emergency lights.
Scott quickly realized that it was Watson and his freshman roommate, wide receiver Artavis Scott, now a Chargers rookie. They were using the flashlight on a phone to see the plays they were running.
"They had only been on campus for about two weeks, and I knew right then, I was like, 'Wow, here it is. It's a Saturday night, the lights are off in the stadium, it's 35 degrees, and these guys are out here running through plays,'" Jeff Scott said.
That night in Clemson was an early sign of Watson's great work ethic and desire to transition quickly to the next level, qualities that set him on a path to dominate in college and become the 12th overall pick by the Houston Texans.
Watson came to Houston noticeably prepared for rookie minicamp, and he impressed on the first day of team meetings.
"The one thing that stood out to me is, really, his work ethic and how dedicated he is to doing it," Texans quarterbacks coach Sean Ryan said. "Today is a day off for him officially, but I just went down to the quarterback room. He's in there, he's studying, and I just think that's how he's approached it since he walked in here. His approach to it, how serious he is about it and his professional demeanor for a young guy has been impressive for me."
As impressive as Watson was during offseason workouts, he is still a rookie who enters training camp as unproven Tom Savage's understudy. The Texans, who have won the AFC South the past two seasons and return the NFL's top-ranked defense, have playoff expectations, even though their biggest question is at the most important position in the game.
Is Watson capable of stepping in and leading a team primed for a playoff run? Watson's time at Clemson showed that he is capable of picking up a complex offense and rising up the depth chart quickly.
"[He's] uncommon. It's unbelievable," Clemson coach Dabo Swinney said. "I don't really know how to articulate what I know about him. And [comparing him to Michael Jordan] is the only way I know how to do it. All those great ones, the Michael Jordans, the Steph Currys, the LeBron Jameses, the Joe Montanas, the Tom Bradys ... there's a uniqueness to them. There's something to them. Yes, you can see talent. But there's this other stuff that you cannot see until you really get around it every day. And that's what he's got. And how to articulate that, I don't really know, other than this is going to be a great 30 for 30 one of these days."

The rookie QB challenge
To open the season as the Texans' starting quarterback, Watson will have to beat Savage, who has been with the Texans for three years; the organization drafted him in the fourth round in 2014. But Savage has played in only two of those three seasons because he missed 2015 with a shoulder injury suffered in a preseason game.
General manager Rick Smith and coach Bill O'Brien said on draft night that Savage would be their starter.
Since the Texans traded Brock Osweiler in March, O'Brien has emphasized how difficult it is for a rookie quarterback to start in the NFL. He and Smith echoed those comments after they drafted Watson, despite the fact that the Texans paid a heavy price (their 2017 first-round pick at No. 25 and a 2018 first-round pick) to trade up to the No. 12 pick to get him.
"

There's this other stuff that you cannot see until you really get around it every day. And that's what he's got. And how to articulate that, I don't really know, other than this is going to be a great 30 for 30 one of these days.

"- Dabo Swinney on Deshaun Watson
Last season, the Texans' offense ranked 29th in passing yards per game and 31st in touchdowns with Osweiler and Savage under center. Despite the lackluster QB play, Houston won the AFC South with a 9-7 record, beat the Raiders in a wild-card playoff game and stuck with the Patriots for one half on the road in Foxborough during the divisional round. Much of that can be credited to the NFL's No. 1 defense that now returns J.J. Watt, who missed most of the previous season with a back injury.
To take the next step -- reaching the AFC Championship Game for the first time in team history -- Houston needs much-improved play from its quarterback.
The Texans have two options in that department: an unproven starter who showed flashes in his brief stint in relief of Osweiler last season but who has not thrown an NFL touchdown and a rookie who dominated in college but has work to do in his transition to the NFL.
Rookie quarterbacks have had varying success in the NFL in recent years, although the Dallas Cowboys hit the jackpot last season in fourth-round pick Dak Prescott, who led them to a 13-3 record after winning the starting job when injuries felled Tony Romo and Kellen Moore. In 2016, Prescott and Raiders fourth-round pick Connor Cook started playoff games, each losing his lone start. According to ESPN Stats & Information, 16 rookie quarterbacks have started a playoff game in the Super Bowl era (since 1966). None has ever reached the Super Bowl.
Since 2006, when QBR was first tracked, rookie quarterbacks who were drafted in the first round have a combined record of 131-176, according to ESPN Stats & Info. Of the 29 quarterbacks taken in the first round since then, five have started a playoff game -- but none since Andrew Luck and Robert Griffin III in 2012.
Texans backup quarterback Brandon Weeden said Watson is showing that he is capable of quickly making the jump to the NFL.
"He's a very smart guy," Weeden said. "He retains information very well, so he's kind of ahead of the curve. He's doing a lot of great things. This is a challenging system for a quarterback, but I think he's taking all the right steps and putting in the work to get better."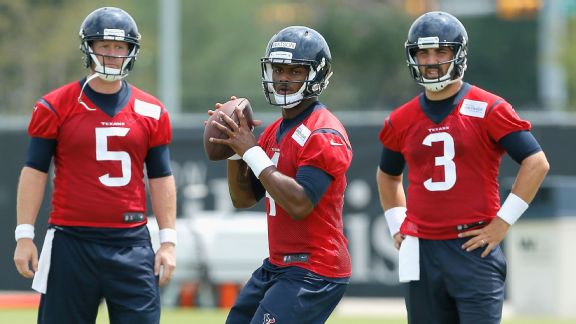 AP Photo/Bob LeveyWatson has two veteran quarterbacks to lean on in Brandon Weeden, left, and Tom Savage, right.
Although Watson is a rookie, players have gravitated toward him in the locker room, and he is already earning the respect of his new teammates.
"When you watched him, or at least when we watched him in the building here around our players, it was pretty apparent that that leadership trait that he has, it's infectious," Smith said.
Added offensive assistant Pat O'Hara: "I think he has that [leadership] about him without saying a word. He has a nature about him that I think people go to him. I think he has a real strong personality that's maybe not real, real vocal, but that's OK. But he has a presence about him that's real positive. A really poised man. But no, he doesn't need to be out there screaming and yelling. He just kind of gets that respect. That's something that's hard to find, and Deshaun has that."
Watson displayed this leadership early in his time at Clemson, and Swinney said it was strongest when he was leading by example. In meeting rooms, Watson had a presence that made players want to work harder and get better.
"He's always taking notes, always writing things down. He's just so engaged in everything," Swinney said. "Every time I'm around him, whether he's heard something 100 times, he's so engaged as if he's never heard it. And that sends such a great message to everyone else. That's a way to impact your teammates without ever saying a word."

"Learning a new language"
The hardest part for Watson during this transition is starting from scratch and learning the terminology and playbook of an NFL system, according to O'Brien. The basics are even tough, things that most people don't think about, such as how the team huddles, how to call a play and the verbiage of a play call. The list goes on.
"It's like learning a new language," O'Brien said.
But Watson isn't a stranger to the challenges of quickly learning a complex scheme. He had to do the same thing at Clemson. Jeff Scott recalled how Watson blew away the Tigers' coaching staff with how quickly he picked up the playbook as a true freshman.
"

His whole freshman year, we set the world record for using the word 'wow' on the headsets.

"- Clemson offensive coordinator Jeff Scott
While preparing for the first game of the 2014 season against Georgia, Clemson's coaching staff warned their quarterbacks about an exotic blitz the Bulldogs might run that would cause a problem if they didn't make a major pre-snap adjustment. It was a blitz the defense brought less than 2 percent of the time, but because of the problems it could cause if Georgia ran it, the Tigers wanted to be prepared.
On the first series of Watson's college career, Georgia called that blitz. Watson saw it coming immediately before the snap, made the calls to his teammates to make the adjustment and threw a 30-yard touchdown over the defender in a very tight window.
"That whole scenario is something you would hope your junior or senior veteran quarterback would be able to do," Scott said. "And for him to be able to go in his very first drive as a true freshman on that stage and not only see it, recognize it, make the adjustments and then be able to stand in the pocket and be able to make that tight throw in that window, that was a moment that all of us on the headsets went, 'Wow. This kid really is special.' That was a really big moment for us.
"His whole freshman year, we set the world record for using the word 'wow' on the headsets."
It might not be long before the Texans' coaching staff is having the same reaction. During the Texans' mandatory minicamp, O'Brien said Watson was getting "better every day." At his introductory news conference, Watson promised to "be a sponge" when he got to Houston, and thus far, he has been that.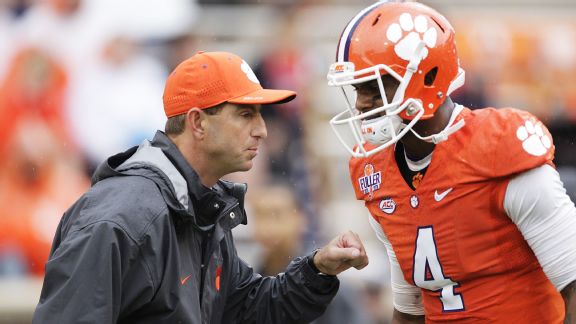 Tyler Smith/Getty ImagesDabo Swinney doesn't know how to articulate what makes Deshaun Watson unique, but the coach saw plenty of it while coaching the QB at Clemson.
"He's done a great job of taking the information from the night before and taking it to the field," O'Hara said. "He's really been ahead of the game with that, and that's been good to see."
One of the knocks on Watson is the spread offense he ran at Clemson. The Tigers' system has typically placed some limitations on the quarterback so they can play up-tempo, according to Scott. But the offensive coordinator insisted that Watson changed that approach, taking over the protections and earning the right to have "a lot of freedom in the offense to change plays" at the line of scrimmage.
O'Brien said the Texans noticed that while watching Watson's film from Clemson.
"We studied every game that he played. There were several things that were put on his plate in his career," O'Brien said. "I can tell you just from watching film, he had to do several things, whether it was signaling a formation to wide receivers or changing protection at the line of scrimmage or going from one play to the next."
For the coaching staff that knows Watson the best, it was irritating to see a pre-draft focus on something the young quarterback could not control.
"That was something that was frustrating for us as coaches over the last six months, listening to the stuff that we would hear when people may question Deshaun and the offense he played in, the terminology and whether he could pick that up," Scott said. "And there's no doubt, for all quarterbacks, there's a transition. It's probably the toughest transition in all of major league sports, going to be an NFL quarterback. But we know Deshaun better than anybody. And Deshaun is one of these guys that he was always thirsty for more.
"He stretched us as coaches. We put in more stuff because he wanted more stuff. He could take everything you could give him and more. And he's one of these guys that, you tell him one time, and he gets it. He's a perfectionist. He's going to work on it. You can tell him something in a meeting, and three weeks later, he can bring it right back up and know exactly where it is in his notebook.
"And I think a lot of people on the outside that didn't know Deshaun as well as we did, they could see his athletic ability, the throws that he can make and his savviness in games, but they could not really understand how smart [he is]. … I feel one of his strengths is his football IQ and his knowledge. ... He just processes things so quickly."

Ready to compete
With training camp approaching, Smith and O'Brien will soon have a decision to make: Sit Watson and let him learn, or truly let him compete with Savage for the starting job. Even if Savage begins the season as Houston's starter, he likely will be on a short leash. If he is ineffective early in the season -- or is unable to stay healthy -- the Texans might have little choice but to turn to Watson.
As a player who started at Clemson and was a five-star recruit out of high school, Watson is used to being the No. 1 guy. But it didn't start out that way. Watson got injured during spring football before his freshman season, so Clemson gave senior Cole Stoudt the starting job. But the Tigers still got Watson some playing time, and over a couple of games, he took advantage of his opportunity and was named the Tigers' starting quarterback.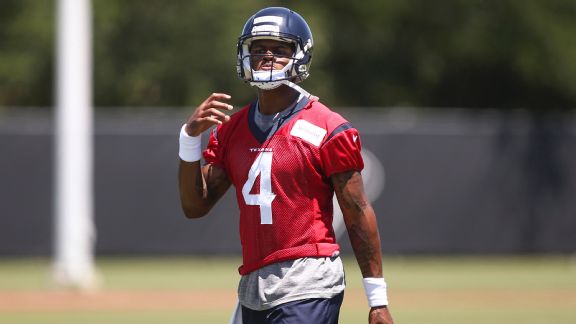 Troy Taormina-USA TODAY SportsDeshaun Watson hasn't been in Houston long, but he has already impressed with his leadership.
Watson said he plans to employ the same mindset as he tries to win the quarterback job in Houston.
"I was a starter at Clemson the past three years, but each and every day, I would go into the day thinking I'm not the starter and I could lose my job. So for me, that's natural," Watson said. "I'm a competitor. I'm going to compete each and every day to get better."
Scott said Watson's demeanor stood out to him after Watson missed out on the starting job as a freshman because "he never was panicking early in the year that he's got to start. He knew he was going to get his opportunities."
While Watson has, of course, communicated his desire to start for the Texans, Swinney said he can't see there being any drama from Watson over the starting job.
"If he's the starter, great. If he's not, you won't hear a word from Deshaun," Swinney said. "He's just going to keep working and show up every day and keep preparing for when his time comes. That's just how he is. He is a low-maintenance superstar."
Even though Savage has played in only five games in two NFL seasons, he certainly has a leg up in his knowledge of O'Brien's system. However, he is still an unproven starter who hasn't been able to stay healthy. And now the guy many consider to be the best rookie quarterback prospect is waiting in the wings.
Whether Watson is the starter in Week 1 of 2017 or Week 1 of 2018 or anytime in between, the Texans hope they have found their first true franchise quarterback.
July, 16, 2017
Jul 16
1:44
PM ET
ESPN.com news services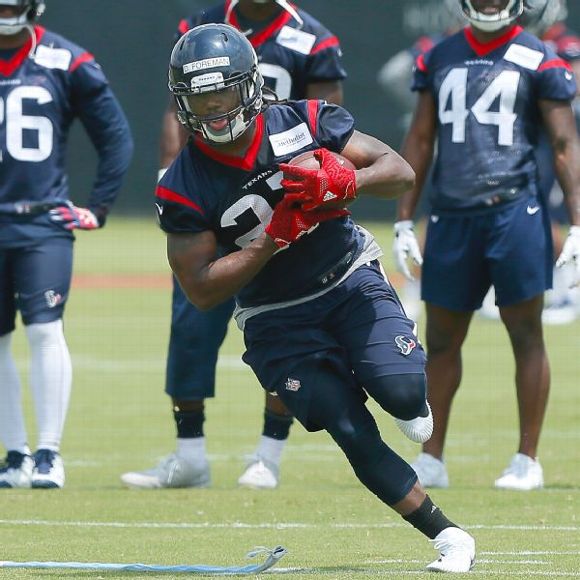 AP Photo/Bob LeveyD'Onta Foreman was a third-round draft pick by the Texans after starring at running back for the University of Texas.
Houston Texans running back D'Onta Foreman was arrested in Austin, Texas, early Sunday morning and charged with marijuana possession and unlawful carrying of a weapon, both misdemeanors.
According to the University of Texas police department, officers initially responded to a report of marijuana smell coming from three cars parked outside a residence hall at 12:24 a.m. Sunday.
Foreman, whom police described as the owner of the firearm, was taken into custody and later released on bond. Six other men were cited for possession of marijuana and released.
Foreman's attorney, Chip B. Lewis, said in a statement that the running back was in Austin to visit friends, possessed the handgun legally and that he did not use the marijuana, which was not his, but belonged to a passenger in the vehicle.
"As he was leaving their residence, he was approached by police. Prior to a search of his vehicle, D'Onta alerted the officer that he had a handgun inside of his vehicle. This legal handgun was recently purchased by D'Onta and registered in his name. The handgun was properly secured inside of his vehicle as required by Texas law. A passenger in D'Onta's vehicle was in possession of marijuana. D'Onta did not use or possess the marijuana. Upon making his bond, he will submit to a urinalysis to confirm he has not used marijuana.
July, 14, 2017
Jul 14
7:00
AM ET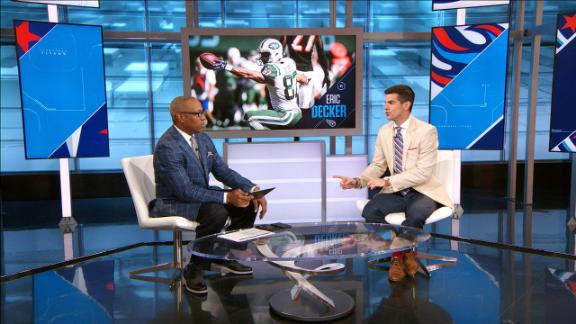 Are the Houston Texans destined to win a third straight AFC South title in 2017? Our roundtable give their picks for who will win the division and how many playoff teams will emerge from the AFC South.
Sarah Barshop, Texans reporter: The Titans will just edge out the Texans for the division title in the 2017 campaign. Tennessee came close last season, and with a healthy Marcus Mariota, the Titans could prevent the Texans' three-peat of AFC South crowns. If Houston finishes 9-7 again, it could take one of the two wild-card spots, as well. With the improvements that the four teams -- especially the Titans and the Jaguars -- made this offseason, this will be a tougher race, and Houston will have a much tougher time going 5-1 against the division again.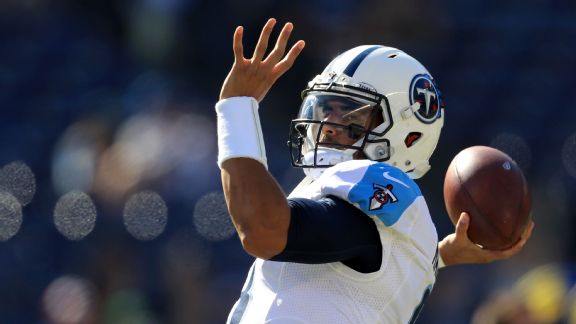 Sean M. Haffey/Getty ImagesMarcus Mariota will have some new targets in 2017. Will it be enough for the Titans to rise to the top of the NFC South?
Michael DiRocco, Jaguars reporter: The Titans have steadily improved since finishing 2-14 in 2014, and they will win the AFC South in 2017. General manager Jon Robinson added playmakers to help Mariota in the pass game and signed a pair of new secondary starters (including cornerback Logan Ryan) to help a defense that must contend with Andrew Luck twice a year. The Texans still have the best defense in the division, but an uncertain situation at quarterback will keep them from winning their third consecutive AFC South title. Luck will keep Indianapolis in contention, but the Colts still have a lot of work to do along the offensive line and in replacing an aging defense. The Jaguars don't know what they'll get from quarterback Blake Bortles, their offensive line is shaky and they don't have a proven pass-rusher other than defensive end Calais Campbell. The Titans will be the only team to make the playoffs.
Mike Wells, Colts reporter: The AFC South isn't a good enough division to have more than one team make the playoffs. Maybe the third time will be the charm for me this time around. I picked the Colts in each of the past two seasons, only to have them finish with an 8-8 record and watch the Texans win the division. What the heck, let's go with Indy again. New general manager Chris Ballard focused on improving the defense during the offseason. He signed or drafted 13 defensive players, and the Colts could have as many as seven new starters on a unit that finished 30th in the NFL last season. The Colts will be in a good position if that unit could finish somewhere in the teens to go with Luck and that offense. Houston might have won the division in each of the past two seasons, but I think Tennessee, which has put together a solid foundation around Mariota, has a better chance of winning it next season if Indianapolis falters.
July, 14, 2017
Jul 14
5:07
AM ET
ESPN.com news services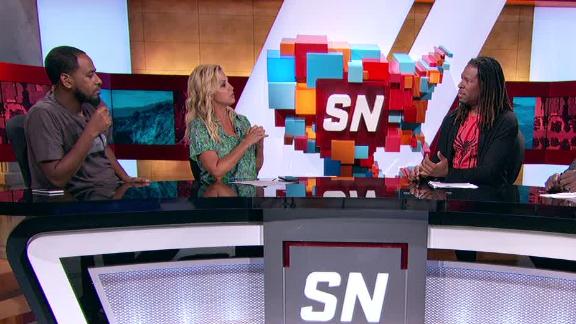 Houston Texans defensive end J.J. Watt couldn't help himself Thursday. He saw an opening and he had to take it.
Nothing personal, mind you. Just business.
Watt took some shots at Big Baller Brand and Los Angeles Lakers rookie Lonzo Ball on Twitter on Thursday evening. Hyping the JJ II, his second signature training shoe with Reebok that debuted Friday for $99, Watt compared the price point to another shoe that recently hit the market.
"400 dollars less than some shoes on the market and 100% more effective," Watt said in a post.
Followed simply by another:
Ball created quite a sensation Wednesday when, instead of wearing his own ZO2 shoes -- which sell for $495 under Big Baller Brand, his family's independent fashion line -- he wore Nike Kobe A.D. Sneakers at the Las Vegas Summer League.
On Thursday, Ball jogged onto the court in a pair of James Harden's signature Adidas shoes.
"Big Baller Brand, you've got freedom to do whatever you want," Ball said on the ESPN broadcast after the game. "I'm showcasing that."
July, 13, 2017
Jul 13
7:00
AM ET
Who will be MVP of the AFC South this season? Our reporters give their picks:
Sarah Barshop, Houston Texans reporter: Titans quarterback Marcus Mariota. The Titans were on the path to win the AFC South late last season, led by Mariota. Tennessee had won four out of five games down the stretch -- two of which were against playoff teams -- before Mariota suffered a fractured fibula in the third quarter of Week 16. The Titans helped Mariota by drafting receivers Corey Davis and Taywan Taylor -- who should be upgrades over Rishard Matthews and Tajae Sharpe -- and tight end Jonnu Smith, who will create a solid duo with Delanie Walker. Along with running backs DeMarco Murray and Derrick Henry, the Titans could have the best offense in the AFC South.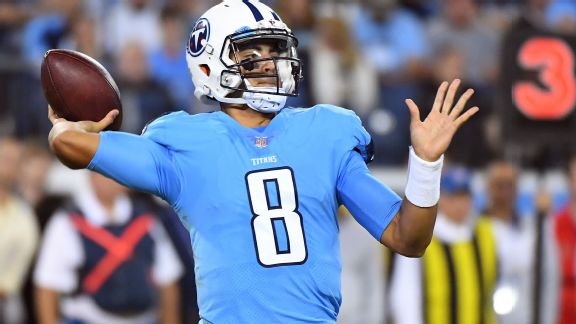 Christopher Hanewinckel-USA TODAY SportsMarcus Mariota looks poised to bring a division title to Tennessee.
Michael DiRocco, Jacksonville Jaguars reporter: Mariota will top 3,500 yards passing and throw for 30-plus touchdowns, but more importantly, he will guide the Titans to the playoffs for the first time since 2008. Mariota has steadily improved in his first two seasons and should be even more effective now that the Titans have added more options in the passing game (Eric Decker, Davis, Taylor) to go along with a good pair of punishing running backs and a very good offensive line. Mariota still has work to do -- his completion percentage is 61.6 percent, and it needs to be better than 65 percent -- but he has thrown only 19 interceptions in two seasons. He will have the best season of his career, and the Titans will win the division.
Mike Wells, Indianapolis Colts reporter: Colts quarterback Andrew Luck has thrown for at least 3,800 yards and at least 23 touchdowns in four of his five seasons while playing behind an offensive line that often left him battered, bruised and missing games. The Colts are in position to give Luck the best group of offensive linemen of his career, because they return their core players at that position group for the first time in the quarterback's six seasons. Combine that with the Colts also returning their top skill position players, and Luck could have a career season while leading one of the league's top offenses.
July, 12, 2017
Jul 12
1:21
PM ET
Houston Texans defensive end J.J. Watt will have some familiar faces promoting his training shoe and clothing line: his brothers.
Reebok signed Derek Watt, who plays fullback for the Los Angeles Chargers, last year and announced Wednesday that it had T.J. Watt, a linebacker who was picked 30th overall in this year's draft by the Pittsburgh Steelers.
The three are the only football players Reebok currently has under contract.
"We grew up pretending to be NFL players in the backyard," J.J. Watt, 28, said. "Now we're doing it for real, and there's nobody I'd rather have representing my brand and giving me honest feedback than my brothers."
Watt said he frequently bounces ideas off his brothers when it comes to suggesting new products.
"It works out perfectly," said T.J. Watt, who is 22. "J.J. and I are six years apart, so he knows what people his age might be looking for, and I have the younger people covered."
"Yeah, J.J. has the older people covered," Derek Watt, 24, joked.
J.J. Watt's second signature training shoe, the JJ II, debuts Friday at a price point of $99.
"Growing up in a middle class family, I knew what it was like to want the most expensive shoe and not be able to get it."
Watt said he made a couple technical tweaks to the shoe this year, including traction on the bottom of the shoe that allows him to backtrack on turf.
"What makes it different from last year is we've gone from higher ankle support to a low top to make it a more fashionable shoe once you leave the gym."