A memorial service celebrating the lives of Los Angeles Lakers legend Kobe Bryant and his daughter Gianna will be held Monday, Feb. 24, at Staples Center in downtown L.A. The date reflects the basketball jersey numbers worn by Kobe (No. 24) and Gianna (No. 2).
The service will be held just under a month after Bryant, 13-year-old Gianna and seven others died in a helicopter crash in Calabasas, California, on Jan. 26.
Fans were asked to register to purchase tickets, and the proceeds will benefit the Mamba and Mambacita Sports Foundation.
A Celebration of Life for Kobe and Gianna Bryant will air live on ESPN, the ESPN app and ESPN Radio at 1 p.m. ET.

The Lakers' first game after Kobe Bryant's death was full of consoling and catharsis. -- Baxter Holmes
---
Kobe had the skill and knowledge to be any kind of player he wanted to be. -- Zach Lowe
---

From his first NBA media day to his phenomenal final game, we reveal the untold stories behind the most legendary images of the Black Mamba.
---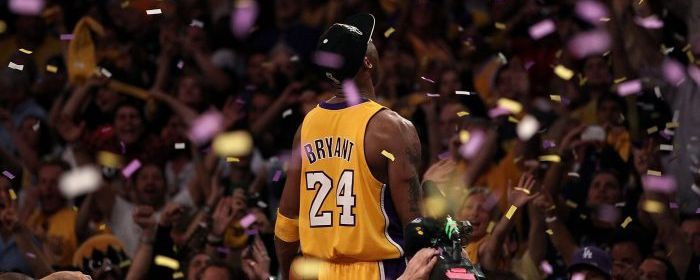 With Kobe's death, Roxane Gay finds herself in the uncomfortable position of having to challenge her own rigidity in such matters.

Latest news and reaction
---
Remembering Kobe
LeBron speaks from the heart to honor crash victims
LeBron James trashes his notes and speaks from the heart to honor Kobe Bryant, his daughter Gianna and the seven other victims of the tragic helicopter crash.
Kobe Bryant tribute in his own words on his love of basketball and family
Ben Hong plays the cello while Kobe Bryant details his love for the game of basketball and his family in a video tribute.
Kobe loved being a 'girl dad'
Elle Duncan tells the story of when she met Kobe Bryant and how he told her he loved being the father of daughters.
McGrady heartbroken remembering Kobe and Gianna
An emotional Tracy McGrady details how important Kobe Bryant was to the beginning of his career and shares how special Kobe's daughter Gianna was.
From the archive: ESPN writers on Kobe