Celtics 109, Lakers 96 -- At the buzzer
January, 30, 2011
1/30/11
3:29
PM PT

By Brian Kamenetzky
ESPNLosAngeles.com
Archive
Against teams considered among the league's elite, the Lakers haven't fared well. A big loss to the Heat on Christmas, then a blowout at the hands of San Antonio. They lost to Dallas, and only a split against the Bulls gives the Lakers a win against any of the
league's top six teams
.
Yeah, there were wins against quality squads like New Orleans and Oklahoma City, but overall an 8-7 mark against teams over .500 won't frighten anyone. Now, after suffering another lopsided home loss, this time to the Celtics on Sunday afternoon in the first matchup of the teams since last year's Finals, there are again more questions surrounding the Lakers than answers.
"We're not playing very well against these top teams," Kobe Bryant said. "We need to elevate our level, and we need to get better if we're going to defend our throne." To say the least.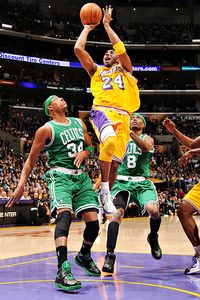 Andrew D. Bernstein/NBAE/Getty Images
Kobe put on a show Sunday at Staples, but unfortunately his teammates were too often among the spectators.

One starting point is the defense, which allowed Boston to crack the 60 percent shooting mark, but there's plenty of ground to cover from there. It's not like the offense was much better. Here's how it broke down ...
Lowlights:
1. Lamar Odom's first-half-ending foul on Glen Davis.
Ladies and gentlemen, there's a new contender for the crown of "Worst. Foul. Ever." After doing fantastic work over the final five minutes of the second quarter, turning a seven-point deficit into a six-point lead, L.O. inexplicably decided to harass
Glen Davis
on a last-second 3 from Boston's side of half court. Unless I missed a hidden detail in the scouting report, this is not Big Baby's sweet spot. A quick reach, from which L.O. drew back his hand like he'd just touched fire (metaphorically, of course, he had), was enough to send Davis to the line, where he earned the Celtics a pair of totally unnecessary points.
Call it an omen, too. The Lakers were outscored 59-42 in the second half, a number noted in bold letters on the whiteboard inside the locker room after the game.
2. Early foul trouble for Kobe.
He picked up his first nearly two minutes into the game, sending
Paul Pierce
to the line. The second, a silly reach on
Marquis Daniels
in the open floor, put him on the bench at the 6:46 mark of the first quarter. Given how Bryant absolutely sliced-and-diced Boston over the first 24 minutes (22 points on 8-for-11 shooting) it's a shame he had to spend extra time tied to the bench.
3. Ron Artest.
His first half was particularly ugly, particularly on offense. One make in eight tries, including some very poorly thought out shots. Jumpers without rhythm, hesitation plays inside where he was simply too slow getting the shot off. Given his lack of lift and finesse, any delay in putting up a shot in the post generally means defensive help will force either a shot block or a miss. If the defensive help is from the Celtics, a negative result is guaranteed.
More distressing, though, was Artest's work defensively. He struggled throughout the first half against Pierce, whether working in the open floor or trying to navigate his way through screens. In the second half, the pain continued. He missed his first shot of the third quarter -- a clean look from near the free throw line -- before Pierce beat him clean off the dribble from the right wing, scoring at the cup. Moreover, his ineffectiveness jimmied
Phil Jackson's
defensive rotations. With Artest on the bench in the fourth, Kobe had to pick up Pierce, putting either
Shannon Brown
or
Steve Blake
on
Rajon Rondo
, instead of Bryant. With a different matchup, Rondo was more effective down the stretch.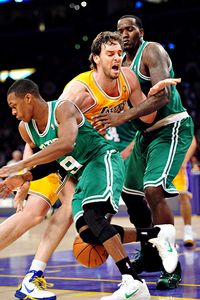 Jayne Kamin/US Presswire
This play resulted in a turnover for Pau Gasol. There were other similarly forgettable moments throughout Sunday's loss.

While Artest doesn't typically display the grace of a figure skater on the floor, he was particularly plodding Sunday afternoon, and it hurt. It's not a strong sign that, even with Matt Barnes on the shelf, Artest couldn't get on the floor much in the second half. He was that ineffective.
4. Rebounding.
Remember last year's Game 7? When the Lakers destroyed Boston on the glass? Well, Sunday the C's returned the favor. Boston was plus-six in the first quarter, a margin swelling to plus-13 midway through the fourth. The final margin favored the visitors 43-30.
5. Ball movement.
10 assists on 36 field goals. An abhorrent figure for the Lakers, particularly on their home floor. Give heaps of credit to Boston's defense, which tended to force players into isolation (not just Bryant, but
Pau Gasol
, Artest and so on), but simply put the Lakers didn't do a good enough job moving off the ball and forcing the issue. When they did cut hard and stay active, good things happened. Too often, though, they didn't.
The C's worked hard to make Bryant one-dimensional, and the Lakers too often obliged. But the same stuff happened when Bryant wasn't on the floor, either.
Just to drive the point home, Rondo out-dimed the Lakers by six.
6. Pau Gasol.
In what is growing into a disturbing trend against the best competition this season, Gasol again wasn't an effective sidekick for Bryant on Sunday afternoon. He was extremely mushy early on, helping lead to easy buckets for Boston, and contributing to the visitors' rebounding advantage. He missed a couple of early jumpers, and while it seemed like he was turning things around as the game continued -- he was part of a great sequence defensively where the Lakers earned blocks on
Kevin Garnett
and Shaq, for example, and had a couple of nice follows on the offensive glass -- but faded late. He was forced under the basket by
Kendrick Perkins
in the third, allowing Boston a second-chance opportunity converted by Rondo, and offensively was pushed off his spot on consecutive shots in the fourth, missing badly on both.
Basically, he was pushed around for far too much of the afternoon. Twelve points on 5-of-13 shooting isn't going to cut it, nor will seven rebounds and a host of what we call on the Lakers Late Night postgame show,
baby giraffe
moments.
Highlights:
1. Kobe Bryant.
Friday against the Kings, Kobe was white hot early, burying shots from all over the floor. After, he said the Kings were so heavily overplaying him to pass, he just took the open looks instead. Sunday afternoon, he was dominant early against the Celtics for many of the same reasons. Feeling out what Boston gave, he was able to create good looks for himself in some of his favorite spots. Midrange versus
Ray Allen
, using the high screen to get inside off the dribble, pull-ups from midrange -- basically everything in the tool box. The Celtics seemed reasonably content to play him straight up, and Bryant straight up torched them. Eight-of-11 for 22 points in the first half, followed by another eight in the third, including a nice 3 from the left wing, popping up from the high post off a screen from
Andrew Bynum
, and a good face-up jumper against Pierce.
The fourth featured strong moves in the paint against Pierce, bodying him up to create space for a midrange J, a nice face-up play in the mid-post for another bucket, and a clean blow-by off the wing allowing him space inside for a shifty layup. Three straight trips, three straight buckets, helping keep the Lakers close.
He forced too many shots down the stretch, leading to some bad misses and a late offensive foul (and also lending to questions about the quality of the team's late game offense I wrote about Saturday afternoon). At one point, Kobe took 10 straight shots for L.A. That's just too many. On the other hand, he wasn't getting heaps of help, either. Overall, I'll give him credit for a strong first three quarters-plus. Final line: 41 points, 16-for-29 shooting.
He'd finish without an assist, reflecting a combination of missed shots from teammates (particularly Artest), good work from Boston's defense, who did a good job cutting off passing lanes and shutting down the rest of the supporting cast, and the aforementioned forced shots late, but the figure is definitely misleading.
"I didn't think anybody else wanted the ball. We did run a couple other plays to get guys into position, but I thought those times he had the best opportunities when other people were moving to the ball. But, a lot of times it didn't look like we were running anything out there offensively,"
Phil Jackson
said. Of the offense down the stretch, Jackson wasn't much more complimentary of the supporting crew. "I think they backed off. I think they wanted to let Kobe -- he seemed to be the guy that had the hot hand. They wanted to just give him a lot of space instead of just our offense flowing into what we do."
I.E., if you want the ball, go to where you can get it.
I tend to agree with Phil, here. Despite the aforementioned forcing of shots, fundamentally the Lakers had a different problem. They have to figure out how to operate as a unit when Bryant is being granted high percentage looks, and not get locked into a blueprint demanding Kobe only facilitate in the first half before "finding his" in the second. It won't always work that way. The rest of the team has to find ways to stay engaged and productive even if the ball doesn't flow in their direction right off the bat.
I'm not an advocate of Kobe Hero ball, but that's not what we're talking about. In the first half, he wasn't a hero. Later in the second, its reasonable to argue he had to be.
Defensively, Bryant was a huge factor as well, helping limit Rajon Rondo early. Bryant showed an appropriately low amount of respect for Rondo's jumper, allowing him to fill passing lanes and force Boston into turnovers.
Bryant calmly spoke to reporters after the game, expressing disappointment and frustration, but no panic. It was interesting to watch him after the scrum broke up, though. Feet still buried in a bucket of ice, Bryant stared emptily downward, looking almost through the floor in front of him with his hand rubbing his chin. He may not have expressed concern to us, but sure looked it moments later.
2. Derek Fisher doing the little things
. Fish didn't shoot the ball particularly well, save the rare drive-and-finish for the and-1 with about four minutes left in the first half, but Fisher did a lot of other things right. His hands were active early, slapping the ball away from
Shaquille O'Neal
down low or jumping passing lanes up high. In the third, Fish had a great sequence where he jumped a pass at the top of the key, earning himself free throws at the other end, then worked through a moving screen from Perkins to pick up another TO from the Celtics.
3. Turnovers.
Don't blame Boston's 60 percent shooting afternoon on giveaways. The Lakers took care of the ball, giving it up only eight times on the afternoon. This against one of the best teams in the league forcing miscues. On the other end, they forced 13.
Much more to come ...