April, 13, 2017
4/13/17
11:47
AM ET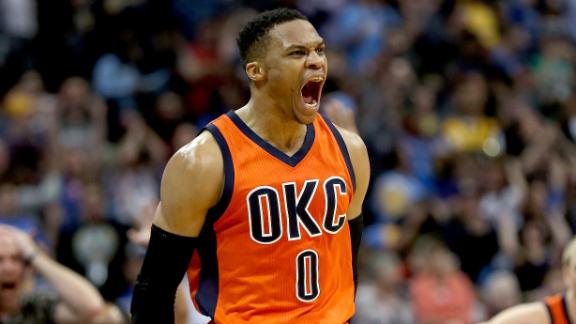 Three more wins.
Had the Oklahoma City Thunder squeezed just three more W's out of the past 170 days, our suspicion here at Stein Line HQ is that the 2016-17 MVP race would be -- if not quite a rerun of last season's unprecedented unanimous coronation of Stephen Curry -- firmly in the grasp of Russell Westbrook.
But they didn't.
So it isn't.
Media members have been voting on the NBA's Most Valuable Player award since the 1980-81 season. The last time media types awarded the Maurice Podoloff Trophy to a player from a sub-50-win team in a full NBA season came in just their second year of voting, when Houston's Moses Malone won the prize as the anchor of a 46-36 squad in 1981-82.
Westbrook's Thunder just finished 47-35, which is largely why he could end up like the last (and only other) dude to average a triple-double over the course of a full season. Oscar Robertson, as you've surely heard a few times over the past six months, established the triple-double blueprint in 1961-62 ... only to finish third in that season's MVP race behind Wilt Chamberlain (who averaged 50.4 PPG and 25.7 RPG and still finished second!) and Bill Russell.
OK, OK. Westbrook won't finish third. I feel reasonably confident saying that much.
Barry Gossage/NBAE/Getty ImagesRussell Westbrook averaged 31.6 points, 10.7 rebounds and 10.4 assists to carry OKC to the playoffs.
But James Harden clearly has a glittering case of his own to beat Westbrook out for the top spot, even after Angry Russ just led the league in scoring while giving us his best Big O impression: 31.6 points, 10.7 rebounds and 10.4 assists per game and in nearly 10 fewer minutes per game than Robertson logged for the Cincinnati Royals in 1961-62.
You can be sure that Kawhi Leonard will snag some first-place votes, too, with those incomparably massive mitts.
The assignment here, as always in our estimation, is trying to determine which candidate had the best season. The whole exercise would be so much easier if we could simply hand the trophy to the league's consensus best player -- which, in most precincts, continues to be LeBron Raymone James -- but Cleveland just dribbled into the playoffs with a stunningly mediocre mark of 23-23 over its last 46 games.
We're certainly not blaming LeBron exclusively for the Cavs' slip to No. 2 in the Eastern Conference standings. That would be lunacy in a season when James uncorked a career-high 13 triple-doubles of his own at age 32 and just joined Robertson and Michael Jordan as the only players to average better than 25 points, eight assists and eight rebounds over a full campaign while shooting better than 50 percent from the field. Yet we also surely can't place him any higher than fourth on this ballot when you can legitimately classify his team as a regular-season disappointment.
So ...
Westbrook. Harden. Leonard.
You can choose only one.
Harden will be incredibly unfortunate if, as in 2015 when he finished second to Curry, he falls short again. With his own gaudy stat line -- which recently prompted Warriors coach Steve Kerr to say that the marriage of Harden and Mike D'Antoni looks like the Steve Nash/D'Antoni Suns on steroids -- The Beard gave new meaning to the phrase NBA 2K by becoming the first player in league history to score 2,000 points and create 2,000 more from assists in the same season. He also joined Robertson (twice), Tiny Archibald and Bob Cousy as the only players on record to finish a season in the top two in both scoring and assists, fully embracing his new life as a point guard and delivering more consistently than ever as the driving force that sparked a 55-win season no one saw coming.
Leonard is still right there, too. We mistakenly presumed a couple of weeks back that San Antonio's inability to wrest the No. 1 seed in the West from Golden State had made this a two-man race. But all Kawhi has done in Year 1 without Tim Duncan is lead the Spurs to 61 wins as San Antonio's lone All-Star and the league's most celebrated two-way player, while also joining Jordan, Hakeem Olajuwon and David Robinson on the short list of players who can claim both a 25-PPG season as well as a Defensive Player of the Year trophy. With Leonard having assumed greater offensive responsibility, who else can be found in the top 10 in points per game, steals per game ... and deflections?
Yet I ultimately kept coming back to Westbrook, no matter how hard it was to resist what Harden achieved in possibly (with apologies to Archibald, Robinson and even Russell) the greatest individual season ever by a lefty.
With those record-setting 42 triple-doubles, Westbrook has reached what was widely considered impossible by making triple-doubles an every-other-game occurrence. He took copious grief for supposed "stat-padding," or obsessively chasing rebounds instead of closing out on opposing shooters, but he doesn't get enough credit for his ability to keep his assist average in double figures despite OKC's glaring lack of perimeter threats at a time when the 3-ball rules the league. As one admiring Western Conference rival veteran recently told me: "I don't think people understand how hard it is to get 10 assists a game on that team."
The Thunder, furthermore, were a stout 33-9 in those games in which Westbrook triple-doubled, compared to 14-26 when he didn't. Which suggests they should have tried to do a lot more of that stat-chasing as a group.
Rockets fans get angry when they remember how that idiot Stein had Oklahoma City at No. 7 in the preseason edition of the Power Rankings -- with Houston way down at No. 14 -- but all that means is that we clearly misread the ceilings for both teams in our late-September forecasting.
History tells us, over and over, that teams typically crater when a player of Kevin Durant's stature leaves without compensation. Check out how Orlando is doing, just to cite one recent example, in Year 5 post-Dwight Howard. But Westbrook refused to let his team spiral, in spite of its obvious flaws, dragging OKC instead to within three victories of the magical Five-0 that could have neutered much of the MVP debate.
AP Photo/Michael WykeRussell Westbrook and James Harden both have strong MVP cases. Marc Stein gives the edge to Russ.
The best counter for Harden supporters really isn't winning, as the Rockets themselves keep pushing at every opportunity, because wins actually do more for Leonard's cause than Harden's given how much responsibility Kawhi shoulders for one of the league's two 60-win outfits. The strongest case for Harden is that he arguably possesses the most well-rounded résumé in the argument, having quarterbacked the Rockets to a 3-point team record on top of the league's third-highest win total, when no one in the fall was predicting anything in that neighborhood.
In the end, though, what some voters will inevitably see as evidence of Harden's impact -- D'Antoni and teammate Eric Gordon earning my Coach of the Year and Sixth Man Award votes, respectively -- actually complicates matters on this scorecard.
Although Harden was better than ever at making those around him better, our inclination is that D'Antoni has to get a considerable assist for the system he brought to Clutch City, for the role and freedom he extended to Harden and for the way he, too, rejuvenated the likes of Gordon and Ryan Anderson.
How much credit should D'Antoni get? Was it really Harden who rejuvenated D'Antoni and his system? How precisely, in percentage terms, should we break down the credit mixture?
Told you it was complicated.
Complicated enough to convince us that Westbrook, even at three wins shy of the 50 that would have simplified things so much, couldn't be denied. Averaging a triple-double is something very few of us can say we legitimately thought possible back on Halloween. All the team success that flowed from those triple-doubles, on the heels of Durant's free-agent defection to the Bay Area, takes care of all that "just numbers" talk for us.
Think about it: King James himself, widely regarded for years as the most likely triple-doubler on the NBA map, just became the first player ever to record career highs in both rebounds per game and assists per game in his 14th season ... and yet neither of those figures (8.6 RPG and 8.7 APG) even starts with a nine.
Did we get swept up in the drama of Westbrook's chase (and how he rose to it) over the past month? Sure.
Did we also take note of how Professor Pelton crunched all the advanced stats for the season and managed to conclude that the sport's fanciest metrics suggest an MVP order of Westbrook, James, Harden and Leonard? Ditto.
We were destined to vote someday for an MVP candidate from a sub-50-win squad.
The guy who kept his small-market franchise afloat with the first triple-double average for a whole season in a whopping 55 years -- who soaked up so much of the oxygen in this extraordinary regular season with his historic exploits along the way -- strikes us as the ideal pioneer.
Stein's official ballot: 1. Westbrook; 2. Harden; 3. Leonard; 4. James; 5. Curry.
October prediction: Russell Westbrook