November, 23, 2017
Nov 23
7:00
AM ET
November, 22, 2017
Nov 22
7:00
AM ET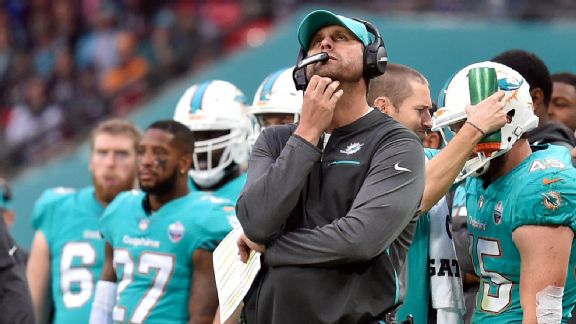 Steve Flynn/USA TODAY SportsPlaying at New England, the Dolphins are the biggest underdog of the weekend. A look at the series of injuries and incidents that led to that spread.

Playing at New England, the Dolphins are the biggest underdog of the weekend. A look at the series of injuries and incidents that led to that spread.

November, 21, 2017
Nov 21
7:00
AM ET
November, 20, 2017
Nov 20
1:09
PM ET
DAVIE, Fla. -- Miami Dolphins starting quarterback Jay Cutler has been placed in the concussion protocol, head coach Adam Gase said Monday.
Cutler was taken out of Sunday's 30-20 loss to the Tampa Bay Buccaneers at halftime to be evaluated after taking a hit in the final play in the second quarter. Cutler threw for 83 yards, one touchdown and three interceptions at that point.
According to Gase, Cutler's playing status is up in the air for next week's game against the New England Patriots (8-2), but his status as the starter hasn't changed.
"Obviously him being in concussion protocol, I don't know how long this will be," Gase said. "Jay's really done everything I've asked him to do. So there's no reason for me to say he's not [the starter]."
Matt Moore replaced Cutler in the second half against Tampa Bay and provided a spark, throwing for 282 yards and a touchdown. He also produced the biggest play of the game with a 61-yard touchdown throw to receiver Kenny Stills.
Moore could make his second start of the season next week at Gillette Stadium if Cutler doesn't clear concussion protocol in a timely fashion. Miami was swept by the Patriots last year and hasn't won in Gillette Stadium since 2008.
The Dolphins (4-6) have lost four games in a row, and their chances to make the playoffs remain slim.
November, 20, 2017
Nov 20
7:00
AM ET
November, 19, 2017
Nov 19
4:27
PM ET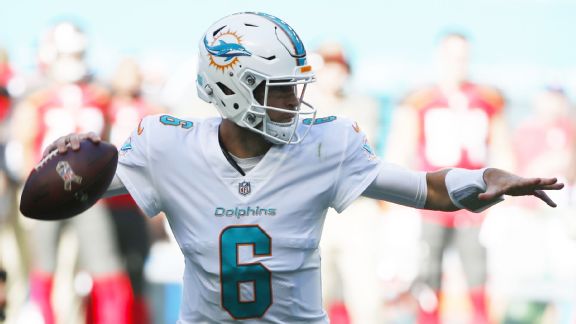 AP Photo/Wilfredo Leenull

It's time for the Dolphins to look to next season after a disastrous Jay Cutler performance and a 30-20 loss to the Buccaneers drops Miami to 4-6.

November, 19, 2017
Nov 19
3:01
PM ET
MIAMI GARDENS, Fla. -- Miami Dolphins quarterback Jay Cutler left Sunday's 30-20 loss to the Tampa Bay Buccaneers with a concussion.
He was hit on the final play of the first half and didn't return. He was ruled out in the fourth quarter.
Backup Matt Moore replaced Cutler at quarterback to start the third quarter and finished 17-of-28 for 282 yards and a touchdown.
Cutler got what is -- at least -- his third concussion in the past seven years in Sunday's loss, and now coach Adam Gase has a big question to deal with as the Dolphins prepare to visit the New England Patriots next week.
"I want to get to tomorrow first and see how he's feeling,'' Gase said on whether to move forward with Cutler or Moore.
Cutler had three interceptions against the Bucs in what was his first multi-interception game of the season and worst half of the year.
This is the second time Moore has replaced Cutler this season. Cutler broke multiple ribs earlier this season, causing him to miss one game.
"I was just the same as always: work the offense, communicate, execute, and get in the flow of the game,'' Moore said.
The Dolphins signed Cutler to a one-year, $10 million contract in August to replace former starting quarterback Ryan Tannehill, who suffered a season-ending knee injury.
November, 18, 2017
Nov 18
2:46
PM ET
The Miami Dolphins waived Rey Maualuga on Saturday after the veteran linebacker was arrested on a misdemeanor battery charge earlier in the morning.
The team announced the move without comment on the legal situation.
Police and court records show Maualuga was arrested after an early-morning incident at a downtown Miami nightclub, allegedly involving a dispute over a bar bill. It was unclear if Maualuga had retained an attorney.
His overnight arrest was first reported by Pro Football Talk.
The Dolphins said they were promoting running back De'Veon Smith from the practice squad to take Maualuga's roster spot.
Miami signed Maualuga, 30, to a one-year deal during training camp in August after he played eight years for the Bengals, including two seasons with current Dolphins defensive coordinator Matt Burke.
Maualuga had 23 tackles for the Dolphins this season in six games, four of them being starts.
The Dolphins (4-5) likely will turn to either Mike Hull or Chase Allen at middle linebacker for Sunday's game against the Tampa Bay Buccaneers.
Maualuga's arrest is another chapter in a crazy season for Miami that also included former offensive line coach Chris Foerster resigning following a video surfacing of him snorting a white, powdery substance and Maualuga's fellow linebacker Lawrence Timmons going AWOL before Miami's Week 2 game against the Los Angeles Chargers.
November, 17, 2017
Nov 17
7:00
AM ET
November, 16, 2017
Nov 16
7:00
AM ET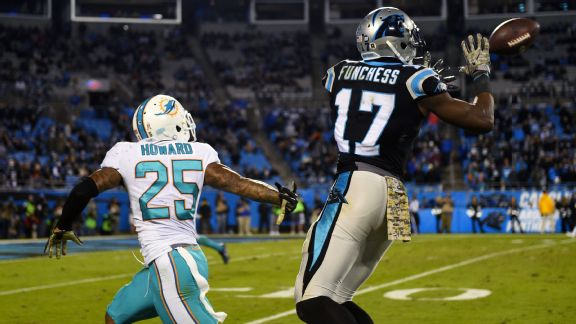 Bob Donnan/USA TODAY SportsDolphins cornerback Xavien Howard couldn't stop this catch by Panthers receiver Devin Funchess that led to a fourth-quarter touchdown on Monday night.

Xavien Howard struggled against Cam Newton and the Panthers, but coach Adam Gase says the young cornerback is learning and can't lose his confidence.

November, 15, 2017
Nov 15
8:30
AM ET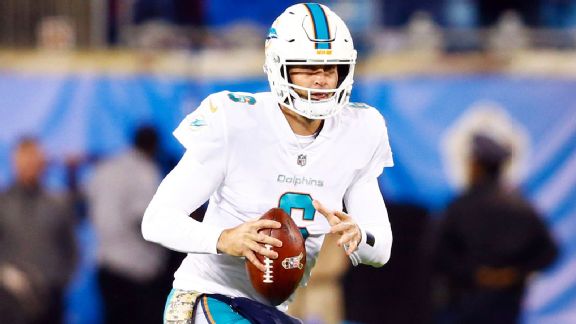 Jeremy Brevard/USA TODAY SportsJay Cutler's footwork might be the best part of his game at this point in his career

The Dolphins quarterback looks healthy and mobile, but bad decisions at the worst times hurt the Dolphins.