Silva at forefront of training trend: privacy
October, 12, 2012
10/12/12
6:22
AM ET
RIO DE JANEIRO -- As mixed martial arts fighters approach superstar status, a shift is taking place in their relationship with the media. Middleweight king
Anderson Silva
, who returns once more to 205 pounds in this weekend's UFC 153 main event against
Stephan Bonnar
, is one of the high-profile fighters setting a new trend.
As the top-tier fighters are becoming increasingly famous, they are also becoming more media shy -- particularly when it comes to their training.
Once, the media were a welcome and almost constant presence in every major fight gym. Just like what has happened for decades previous in boxing, reporters would filter in and out in search of stories and spend hours watching training and analyzing fighters ahead of big fights. Cameras were ever-present, ranging from documentary crews to photojournalists.
But there is an increasing trend where fighters are limiting (and in some cases denying) the media access to their gyms.
Why is this happening?
As the sport grows, so do the demands upon the fighters. Their work is not just to train for a few weeks, then show up to fight. Film crews want to follow their every move for documentaries and increasingly popular reality shows. Trips to TV and radio studios for promotional interviews can involve traveling and take away from precious gym hours. A nonstop stream of questions from curious reporters can disrupt training sessions and a fighter's focus.
"Right now Anderson is just overwhelmed," said Jorge Guimares, Silva's manager. "He's the best pound-for-pound fighter in the world and one of the most exciting in the game, and the media loves him."
Herbert Mota, Silva's marketing and press agent in Brazil, spoke of the demand upon him: "Three or four requests a week for interviews, a few more for dinners and networking events, appearances, and then two or three days a month for sponsors, like commercial recordings."
All of these demands don't leave the champion much time to train. Gone are the days of a fighter simply removing distractions a few weeks out from a fight. Instead, fighters are quite literally shutting the doors of their gyms, in some cases permanently.
The Blackhouse gym is located in a remote industrial area of Los Angeles and is owned and operated by the same team that manages Silva. Also on the roster are a number of other Brazilian fighters, including
Lyoto Machida
.
It is unusual for a fight gym in that it's a closed-door facility. There are no public classes, no gawkers or fans looking to bask in the limelight of famous names. Entry is by invitation only, and that goes for both fighters and media.
"We built it so guys like Lyoto could come in and have a sparring session with Anderson and there won't be a bunch of fans all over it," said Derek Kronig, one of the staff of the gym. "It's so the guys feel comfortable; more to do with the guys having tranquility and being at ease. It's so they don't have the bother of dealing with anything else other than training."
Though most MMA gyms still offer public classes, the practice of closing the doors to prying eyes during the professional training sessions is spreading. X-Gym -- Silva's base when in Rio de Janeiro -- has the same policy, as does
Antonio Rodrigo "Minotauro" Nogueira's
nearby gym.
But this isn't an exclusively Brazilian practice. Xtreme Couture,
Randy Couture's
gym in Las Vegas, has changed how it regulates the media presence within its walls. A few years ago almost anybody representing the media -- big or small -- could drop by and be allowed in.
[+] Enlarge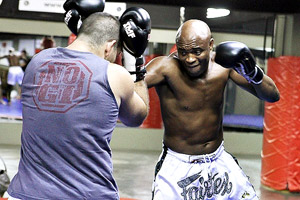 Marcelo AlonsoGetting a look inside the training of high-profile fighters like Anderson Silva could become a thing of the past.
Now, everyone has to log in at the front desk, fill out forms stating their affiliation and describe their usage of content before being permitted access. The practice is designed to avoid conflicts among film crews, but also to prevent fighters from being unduly bothered during training.
Part of this shutout of the media has been due to concerns over where information -- particularly training footage -- will end up. Fighters and coaches are most worried about studious opponents searching for weaknesses by studying tape from training sessions, and though reports of the practice are vague and there's no confirmation it's a real issue, there are deep concerns of spying.
"Anderson just doesn't like people to watch," said Guimares. "He's always training what he's going to be doing in the fight. He likes to keep it secret."
This desire to keep hidden details of game plans and techniques is not only confined to MMA -- NFL teams routinely practice behind closed doors, as do soccer teams and many other sports.
As the stakes rise, so do tensions between fighters and reporters. In some gyms, anyone with a camera is immediately told: "Pictures are OK, but no filming". It's not just the threat of video being leaked -- even an errant tweet could give away an injury or incident that could be valuable to an opponent.
When the problem becomes a problem
The symbiotic relationship between the fight game and the media relies on a certain level of intimate cooperation. The fight game knows that it can't exist without the media, but the media have always depended on the goodwill of the fighters and their staff in getting the level of access they need.
One UFC employee told me about the difficulty of working with some of the superstar fighters. After flying to Rio de Janeiro to film promotional videos some weeks ahead of UFC 153, he was met with extremely limited access from Minotauro and a polite, but firm, "no" from Silva.
When even the UFC is denied access to its own fighters, it's clear firm boundaries have been drawn -- and they look to stay that way.