Slowly, steadily, flyweights gain traction
July, 28, 2013
7/28/13
9:47
AM ET

By Josh Gross
ESPN.com
Archive
The worst idea coming out of UFC's eighth card on Fox is
Demetrious Johnson
already ran out of 125-pound guys to fight.
But how can a champion clean out a division if its foundation hasn't even set?
Flyweight is "not like 145 or 155, where you can have 10 fights, win nine of them, and still not be anywhere close to a title shot," seventh-ranked
Darrell Montague
told ESPN.com earlier in the week.
Montague is the only competitor ranked in the top 10 not featured among the 15 flyweights currently signed to fight in the UFC.
"Maybe my first fight could be against one of their top guys," said "The Mongoose." "I win that, then the next one is for the belt. Who knows?"
John Moraga put himself in position to pull it off. So can the 25-year-old Montague. Same with 19-year-old
Sergio Pettis
. And 26-year-old Olympic wrestling champion
Henry Cejudo
. Or, perhaps, a kid we haven't heard of before. This is why it's silly to say Johnson has done the yeoman's work of clearing out a weight class after only two title defenses.
"There's quite a few flyweights out there because it's not a weight they have a ton of options of where they can go," said Ed Soares, speaking on behalf of the Resurrection Fighting Alliance, a feeder organization for the UFC that promotes flyweights because the UFC does. "So, we're definitely trying to build up lighter weights and hopefully get them up into the UFC."
Many people expect Pettis to rise to Johnson's level over the next year. Montague, currently paving parking lots for a living, got an offer on Tuesday to fight in Japan -- he's considering it but doesn't sound crazy about fighting just to fight. Cejudo has all the hallmarks of a bankable star, so long as he doesn't embrace a safety-first style.
Throw in guys working their way through the UFC ranks, like hard-hitting
John Lineker
or green-haired
Louis Gaudinot
. Plus the guys we already know, like
Joseph Benavidez
.
[+] Enlarge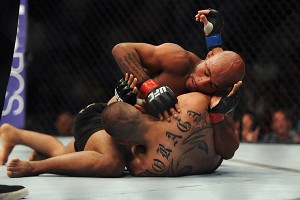 Rod Mar/ESPNDemetrious Johnson, top, is proving to be a tough champ to dethrone -- but not exactly a titlist who resonates with the masses.
Simply put, there's more than enough available 125-pound talent to threaten for the belt on a regular basis. And considering how impressive a champion Johnson has been so far (try "very"), chances are he'll be in position to take challenger flak for some time to come. At the moment, though, expecting him to match the dominance of established titleholders isn't fair. The weight class he fronts isn't mature enough. Moraga went from the first bout on Facebook to a championship main event on network television. Unknown to widespread.
This says a ton about the unpredictable mobility of flyweights, and why prospects might not be in a tremendous hurry to hit the UFC.
Several fighters that might give Johnson a run for his money aren't on the table yet because (1) the curbed 125-pound UFC roster is tough to crack, or (2) they're simply not prepared.
Fretting over talent is the wrong way to think about this. Instead, the true battle will hinge on whether or not fans dare to care about the smallest fighters on the UFC roster. Until the answer is a chest-thumping "yes," flyweights will struggle to receive the attention they need to flourish.
"No one really paid attention to 125 until the UFC brought them in," said Soares. "[The UFC is] the biggest, they're the best, so as soon as they decide to do something, everyone pays more attention to it. That goes for everything. Not only flyweights, but when they brought women in. They're the leaders. As soon as they start doing something, everyone is going to pay attention."
Flyweight men and bantamweight women made their UFC debuts nearly a year apart, and their respective impacts on the promotion's business couldn't be more different.
Ronda Rousey
is the most media-requested fighter on the roster and women have energized the UFC. Meanwhile, a hometown title defense for Johnson -- the only fighter to wear the promotion's flyweight belt -- was overshadowed coming into the event by a welterweight co-main between
Rory MacDonald
and
Jake Ellenberger
.
No surprise then that as women and the UFC bask in Rousey's glow, flyweight during the Johnson era has been slow to catch on. The UFC entered female MMA because of Rousey's magnetism. There wasn't an equivalent for men at 125, which is why the promotion held a four-fighter tournament to crown a champ. Out of that jumble emerged a bantamweight convert, "Mighty Mouse," a heck of a competitor who's yet to connect with the audience -- proving again it takes more than being a terrific mixed martial artist to become a UFC star.
Foregoing a showman at the top of the weight means flyweight could take longer to develop than its supporters want. But don't make the mistake of pinning a slow response on the fighters' diminutive size.
After all, many of boxing's most influential and entertaining stars over the years waged war at 126 pounds.