Velasquez evolved in trilogy, did JdS?
October, 22, 2013
10/22/13
10:17
AM ET

By Brett Okamoto
ESPN.com
Archive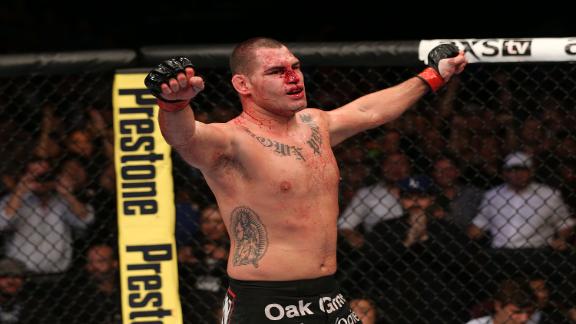 As UFC president Dana White put it a couple of weeks ago while speaking in Las Vegas, everybody is "high" after a great fight. It can be difficult to put things in perspective.
Well, we were all high in Houston after UFC 166. It was a great night of fights to witness live, capped by a dominating performance by the heavyweight champ.
So, even though I thought this on Saturday, I wanted to come down before I wrote it. And I did. I flew back to Las Vegas and did some yard work on Sunday. Watched my fantasy football teams go down in flames. Played with the dog.
And through all of that, the same sort of nagging thing came up every time I thought about the UFC 166 main event: What was
Junior dos Santos
doing?
To be perfectly crystal clear here: I am not taking anything away from
Cain Velasquez
's performance. He is a violent, emotionless machine turned up to its highest setting in the cage.
White believes Velasquez is the greatest heavyweight in the world, capable of defending the UFC belt more than twice (the current record for consecutive defenses) -- a belt, he says, that has been "always up for grabs." I agree with him.
But this entire heavyweight trilogy was built on the idea that Velasquez and dos Santos were, at least to an extent, evenly matched. Now that we've seen 10 consecutive one-sided rounds for Velasquez, it obviously doesn't feel like that anymore, and my first question is: Why?
The answer I consistently come to is Velasquez was willing to adjust. The common theme in combat sports is the best part of having a rival is that it forces you to grow. Velasquez grew during this trilogy; dos Santos didn't.
Here's the column
I wrote after dos Santos knocked out Velasquez in their first meeting. The topic I chose that night was about the look in Velasquez's eye that told me he'd get better.
Read his quote after that loss: "I didn't pressure enough. The game plan was to pressure. I waited far back too long. I was playing dos Santos' game. It was my fault."
Another common saying in combat sports is that you learn more from a loss than a win. Why does it feel as if Velasquez learned more from a 64-second loss to dos Santos, than dos Santos learned in a 25-minute beating in their second fight?
Here's what Javier Mendez, Velasquez's head trainer, told me two days before the third fight went down at Toyota Center.
"Junior is hungry; he's better," Mendez said. "He's going to be prepared for this one. Ask Cain, he'll tell you. We're expecting a new and improved Junior. More motivation and better tricks. If his camp is as good as I think they are, they're going to be better at everything."
And here's what Velasquez said: "I think his biggest adjustment would have to be his pace. He won't be backing up. He's going to be more aggressive. I think that's what we're looking at, is him being more aggressive."
I should be crystal clear about another thing here: Dos Santos is the No. 2 heavyweight in the world. That's better than No. 3, No. 4 and all the rest of them. He showed incredible heart last weekend (and in the previous Velasquez fight, for that matter). He still knocks out 80 to 90 percent of the division on any night.
Velasquez is unique, though, and dos Santos didn't treat him that way. My opinion is dos Santos actually fought better in the second fight than he did in the third. If he made any adjustments, someone tell me, what were they?
At UFC 155, dos Santos absorbed 210 total strikes, according to FightMetric. Seriously, 210 heavyweight strikes. Many of those were on the feet. In between rounds, dos Santos' corner told him he had to keep his hands up.
I asked dos Santos if he would keep his hands up in the third fight, or continue holding them at his waist, as he's preferred to do his entire career.
"No, I don't plan to keep my hands up," dos Santos said. "I like to keep my hands a little low. That's my way to fight. When the guy attacks me, I can see the moves better."
That's true. When a slower guy, or a guy who doesn't throw multiple punches at a time like Velasquez, attacks, maybe dos Santos can see it coming better. But this was Velasquez. It's strange that in the second fight, the corner yelled at him to get his hands up, but didn't train him to do so from the start for the third fight.
He was taken down 11 times in the second fight and only twice in the third, so one might say: "There you go, he improved his wrestling."
Velasquez attempted 20 fewer takedowns in Houston than he did in Las Vegas, though. Realistically, a better way to look at that statistic is that Velasquez learned he didn't necessarily need to take dos Santos down to win the fight. He was actually able to control him better with an underhook against the fence than top position.
Even in the first round on Saturday, dos Santos showed no urgency to get away from the fence. He backed himself into it at times. Part of that was Velasquez cutting off the cage (and no doubt, Velasquez tires out an opponent quickly, which makes it harder to get away from him), but the point is, dos Santos knew all of this.
It's possible that even if dos Santos had made adjustments, Velasquez still would have beaten him -- but we don't really know, because dos Santos was the same guy every time.
After Velasquez dominated the middle fight, dos Santos had excuses. As far as excuses go, they were A-plus. Most observers will ignore any self-pitying comments, but having muscle fibers in your bloodstream
and
going through a divorce -- OK, that does sound rather difficult to fight through.
It appears, however, dos Santos believed in those excuses too much. Maybe he thought that showing up and being the same old dos Santos was more than enough to knock Velasquez out a second time. Hopefully, he's learned better.