Thomson deserved win and a title fight
January, 26, 2014
1/26/14
7:49
AM ET

By Brett Okamoto
ESPN.com
Archive
CHICAGO -- It's an unfortunate truth about mixed martial arts: Judges get it wrong sometimes.
The wrong man won Saturday when it came to a lightweight bout between Ben Henderson and
Josh Thomson
.
Though Thomson wasn't completely "robbed" in the split decision, it was at least a case of petty theft. It was an especially difficult loss for Thomson due to what was at stake (a UFC title shot) and what he overcame in it (a broken hand).
Difficult enough for Thomson (20-6) to openly contemplate retirement, saying "this might be it" within the same breath of stating he is still a top-five talent in his division.
"I felt like I won," Thomson said. "I won with one hand. I beat the former UFC champion -- a guy who was here for two years. That's what I can't stomach. I'm a better fighter. That's what pissed me off."
For the record, there is no way Thomson retires after what happened in this fight.
"

I felt like I won. I won with one hand. I beat the former UFC champion -- a guy who was here for two years. That's what I can't stomach. I'm a better fighter.

"

-- Josh Thomson, on his narrow defeat to Benson Henderson
Not that he's a liar or that he shouldn't walk away if his heart isn't in fighting people for a living anymore. I'm just saying there's no way.
Javier Mendez, one of Thomson's coaches who was in his corner at the United Center, seemed to agree. Mendez confirmed Thomson spoke about retirement during his latest camp but said he simply cannot see Thomson walking away while still at his peak.
"Josh is honest, so if he's talking about [retirement] he means it," Mendez said. "But when things calm down, I think he'll realize how good he still is, and there is no way he should be thinking about that. No way.
"The only thing he should be thinking about is that title shot he deserves to have."
After the first round of Saturday's fight, which all three judges awarded to Thomson, the 35-year-old went to his corner, adjusted his glove and saw his right thumb fold backward clear to his wrist.
Mendez said his heart sank when he saw the injury and immediately wondered if he should throw in the towel to save Thomson from further injury.
It would have been an easy out for Thomson -- a built-in excuse for whatever happened next. To be fair, few UFC fighters would take such an out, which Thomson made a point of saying at the postfight news conference.
Not every UFC fighter would have still found a way to win the fight, though -- as Thomson, in my eyes, did.
[+] Enlarge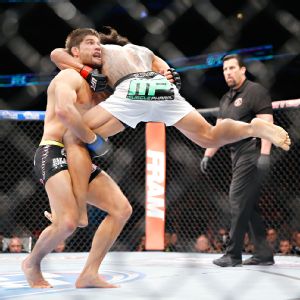 Ross Dettman for ESPNHampered by a thumb injury, Josh Thomson struggled to set himself free when entangled with Benson Henderson.
At one point in the fourth round, after Henderson worked back to his feet from a takedown, Thomson took a long look at the clock on one of the screens hanging in the corner of the arena.
It felt like a critical moment in the fight. Henderson had clearly won the third round and just created momentum in the fourth. Thomson's injured hand was affecting his ability to win crucial scrambles, which he knew could be the difference in the fight.
"It was really bugging me," Thomson said. "My corner was yelling at me to fight [my way out], but I couldn't grab anything. Every time I pushed on his hands to separate them, my thumb would push back.
"It was more irritating than anything, just to know the things you can't do [are] the things you need to do. To train this hard and this long and I can see my title shot just disappearing."
But he didn't let it disappear in that moment. After looking at the clock, Thomson scored a key takedown, which I believed put him up 3-1 entering the fifth.
Heading into the weekend, Thomson was a sort of de facto No. 1 contender, thanks in large part to the fact that
TJ Grant
remains sidelined due to injury.
Thomson's goal in Chicago was to prove he belonged in that role by outfighting a former champion.
Regardless of what his record says, in the eyes of many, he achieved that goal.