No sense in moving Cruz back up to 145 yet
October, 3, 2011
10/03/11
1:45
PM ET

By Chad Dundas
ESPN.com
Archive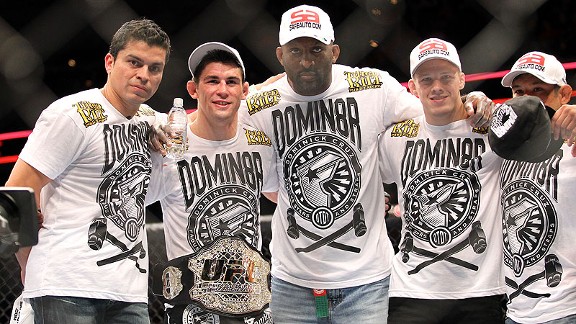 Ed Mulholland for ESPN.comDominick Cruz might be the cream of the bantamweight crop, but he's hardly a household name.
Ordinarily, you might look at a champion who is undefeated in his weight class, has successfully defended his title four times in almost three years
and
has already beaten five of the other fighters in the top 10 (Nos. 2-5, for those keeping score) and think: "It might be time for him to consider moving up in weight."
Unfortunately, while all those things are true of UFC bantamweight champion Dominick Cruz, the footing beneath the entire 135-pound division is still too unstable to consider such a move.
It's been 10 months since the UFC officially adopted the bantamweight division and, while Cruz is the only 135-pound champ the Octagon has ever known, the biggest struggle is still getting fans to know
him
and know his cohorts. Though he just defended his title on national television at UFC Live 6 on Saturday, it was just another baby step in the on-going process of familiarizing viewers with the former stars of the WEC.
[+] Enlarge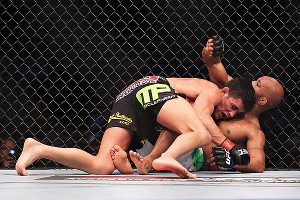 Ed Mulholland/ESPN.comHold tight: The time isn't right for Dominick Cruz to move back up to featherweight.
More than anything, what the UFC bantamweight division needs right now is consistency. What it needs is a dominant champion. Clearly, just as his nickname suggests, "The Dominator" can be that guy.
Superfights against other greats like featherweight champion Jose Aldo or even lightweight champion Frankie Edgar sound nice, but Cruz still has a lot of work to do at 135 pounds. At just 26 years old, he should think about sticking around bantamweight for at least another couple of years, even if it means rematching a cadre of challengers like Brian Bowles, Urijah Faber, Scott Jorgensen and Joseph Benavidez, all of whom he's already defeated.
Who knows? While he's busy with those guys, perhaps up and comers like Renan Barao and Michael McDonald will develop and international talent like Masakatsu Ueda will arrive to offer fresh obstacles.
Only once Cruz and the 135-pound division at large are as well-known as guys like Georges St. Pierre, Jon Jones and Anderson Silva should he think about bigger and better things.