November, 21, 2017
Nov 21
10:04
AM ET
Nathaniel S. Butler/Getty ImagesIn three appearances this season, Ron Baker is averaging 3.7 points and 3.7 assists.

New York Knicks guard Ron Baker has been unavailable to coach Jeff Hornacek since the third game this season because of a sore left shoulder.

November, 21, 2017
Nov 21
2:30
AM ET
November, 20, 2017
Nov 20
10:03
PM ET
Associated Press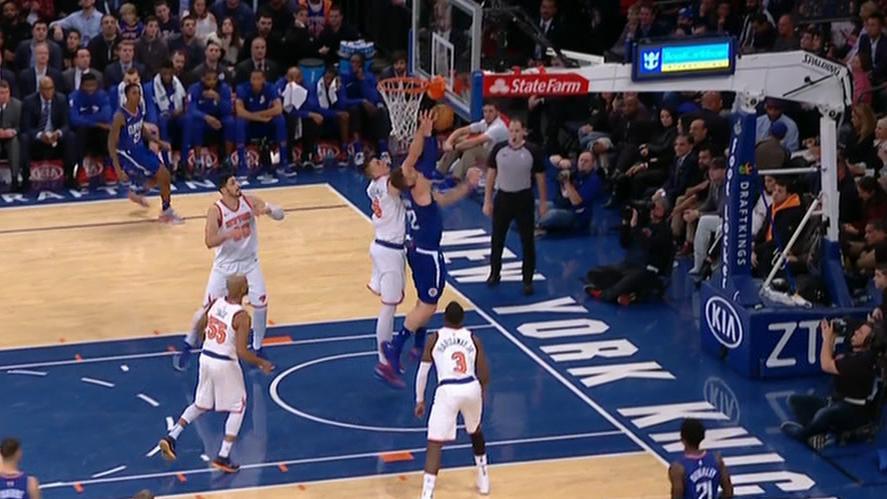 NEW YORK -- Kristaps Porzingis scored 25 points and the New York Knicks extended the Los Angeles Clippers' losing streak to nine games with a 107-85 victory Monday night.
Porzingis outplayed a frustrated Blake Griffin and helped the Knicks snap a 10-game skid in the series with their first victory over the Clippers in five years.
Doug McDermott added 16 points for the Knicks, including a 3-pointer that swung the momentum for good midway through the third quarter.
Griffin scored 21 points but shot just 6 for 17, picked up a technical foul and fouled out with 4:46 remaining. The Clippers (5-11) still haven't won since Nov. 1 at Dallas, when they improved to 5-2.
Patrick Beverley returned after missing five games with a sore right knee and had nine points and six rebounds. But the Clippers are still without fellow guard Milos Teodosic and the rest of their backcourt play was mostly dismal.
The Clippers fell behind by 17 early in the third quarter before running off 15 straight to cut it to 66-64 midway through the period. But McDermott hit a 3-pointer in transition and added another during a 12-0 response by the Knicks that gave them a 78-64 advantage with 4:11 remaining in the period.
New York then led by 26 in the fourth quarter.
The game was tied at 20 after one quarter, but the Knicks opened a double-digit lead late in the half after a 9-2 spurt and were ahead 56-44 at the break.
November, 20, 2017
Nov 20
11:00
AM ET
November, 17, 2017
Nov 17
9:51
PM ET
Associated Press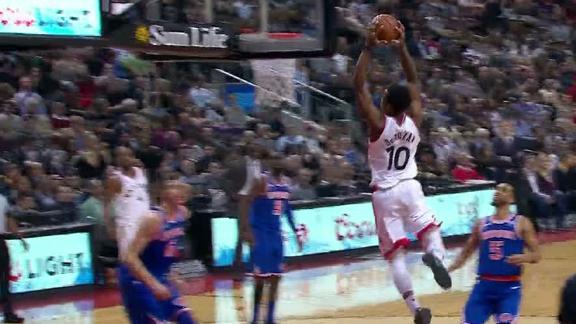 Kyle Lowry matched his season-high with 22 points and added 10 assists, DeMar DeRozan also scored 22 and the short-handed Toronto Raptors beat New York 107-84 on Friday night, their eighth consecutive victory over the Knicks.
Toronto played without two injured starters in forward Serge Ibaka (swollen left knee) and guard Norman Powell (right hip). Reserve guard Delon Wright (dislocated right shoulder) also was unavailable.
C.J. Miles scored 14 points for Toronto. Pressed into the starting lineup, second-year forward Pascal Siakam scored 13 points and rookie forward OG Anunoby had 11.
Lowry finished with eight rebounds as Toronto won its third straight and improved to 5-1 at home.
Tim Hardaway Jr. and Kristaps Porzingis each scored 13 points and Enes Kanter had 12 for the Knicks, who fell behind by double-digits in a poor-shooting first half and couldn't recover.
Porzingis shot 3 for 13 while Hardaway Jr. finished 5 for 11. The Knicks went 30 for 92 overall.