Prokhorov: Deal may help me avoid altar
July, 18, 2013
7/18/13
3:09
PM ET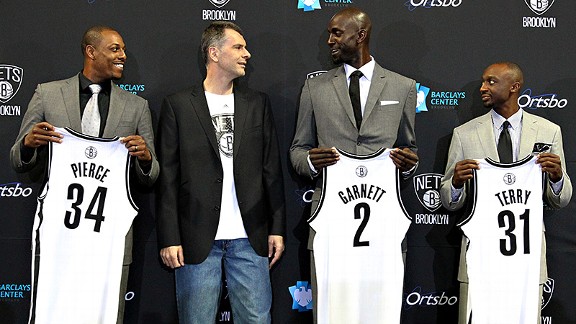 Nathaniel S. Butler/NBAE/Getty ImagesMikhail Prokhorov welcomes Paul Pierce, Kevin Garnett and Jason Terry to the Nets.
NEW YORK --
Brooklyn Nets
owner Mikhail Prokhorov doesn't plan on getting married anytime soon.
"I can assure you that no process for the time being [of] looking for a wife is under way. This is for sure," Prokhorov joked at Thursday's introductory news conference for
Kevin Garnett
,
Paul Pierce
and
Jason Terry
at Barclays Center.
Prokhorov, 48, has said he'll get married if the Nets don't win a championship by 2015; they are in the fourth year of his five-year championship plan.
"When I bought the team I promised to create a championship contender, and [a] team worthy of Brooklyn," Prokhorov said. "I've done what I can. And now I think it's time for the team to [win it all]."
Prokhorov's Nets are in position to contend for a title after acquiring Garnett, Pierce and Terry in a blockbuster trade and signing
Andrei Kirilenko
. Brooklyn already has a core of stars in
Deron Williams
,
Joe Johnson
and
Brook Lopez
.
"I'll be proud when we win the championship. I'm not a man of procedure, I am a man of results," Prokhorov said.
"We need a championship team. ... It's not [my] way to wait 10 to 15 years for results, and I don't think our fans [want to wait] either."
According to a league source, Prokhorov is going pay in the neighborhood of an NBA-record $184 million for his roster this season: $101 million in payroll and $83 million in projected luxury taxes.
"I think they're still counting [money] in the back office, but frankly speaking, I just hope the check doesn't bounce," Prokhorov said.
Prokhorov is close with Kirilenko, going back to their days when Prokhorov owned CSKA Moscow and Kirilenko played there. Prokhorov said he was involved in the deal to sign Kirilenko, but only called his Russian countryman after the deal was closed.
Kirilenko signed for $3.1 million, nearly $7 million less than he made with the
Minnesota Timberwolves
last season. Rumors circulated that rival executives were upset and that Kirilenko and the Nets had brokered a side deal to make up the difference.
"I respect all the NBA rules and we play by the NBA rules," Prokhorov said. "Like with the luxury tax, I will do whatever I can in order to win [a] championship, but under the NBA rules. Please, no mistake about this."
Prokhorov said he wasn't going to be at the news conference, but made the last-minute decision to come for a few hours to say hello to his team's newest acquisitions.
Prokhorov likes the additions of Paul, Pierce and Garnett.
"They are tough and they bring experience and what I like from my team is that we have a very good balance between youth and experience, between anchors and wings," Prokhorov said. "And [that's what] maybe we're missing that last season. So I'm quite happy we reached this balance."
Prokhorov also took a moment to address the budding Nets-Knicks rivalry.
"I'm very lucky that my new players are familiar to the New York audience. And I think that there will be great anticipation when the teams meet," he said. "I want to congratulate [Knicks owner] James Dolan. He's watching us for the time being."
Prokhorov says NBA championships must be won -- not bought.
"In the NBA, money is important, but you can't buy a championship only by spending money," he said. "The most important thing is to put pieces together and to create championship contender, and frankly speaking, I'll do whatever I can do in order to bring a championship here to Brooklyn. For me, that was my goal when I bought this team."