Rolle rants on analysts blaming safeties
December, 13, 2011
12/13/11
1:42
PM ET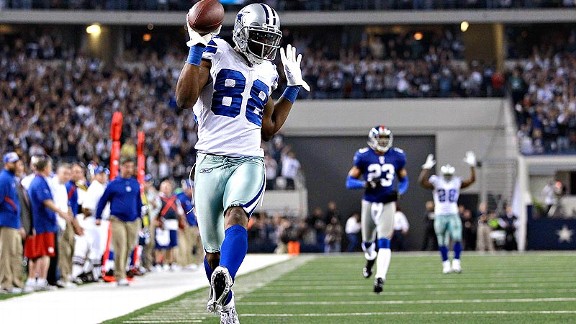 Ronald Martinez/Getty ImagesThe Giants' secondary was scrutinized after this Dez Bryant touchdown.
Antrel Rolle
knows what it looked like when
Dez Bryant
strolled through the Giants defense untouched for a 50-yard touchdown without a defender within 15 to 20 yards of him.
Rolle understands that many are pointing the finger at him and cornerback
Corey Webster
for allowing Bryant's touchdown with a complete defensive breakdown on Sunday night during the Giants' 37-34 victory.
But the safety emphatically said during his weekly appearance on WFAN radio that he was in the right place on that play. And Rolle delivered a passionate rant on how television commentators can often lead fans wrong by placing the blame on a safety when the defense has as a lapse.
"There are fans out there, fans that really don't understand the ins and outs of football, really don't understand coverages and things of that nature," Rolle said. "So whenever there is a big play, and you being the safety, you are always the one to get blamed and get finger-pointed. You know what? It is wrong.
"The commentators don't know what coverage we are in," Rolle continued. "They don't know how we are playing our defense, they don't know that I am disguising and showing a Cover 2 but really supposed to drop down and play a Cover 3. So they don't know.
"And it drives me crazy because when I speak about this, I don't just speak on behalf of Antrel Rolle, I am speaking on behalf of people across the league," he added. "Commentators always want to point the finger as if they know what they are doing and they know what they are talking about. but in reality they don't know half of the time."
Rolle says something did go wrong on that Bryant play, but that he was doing exactly what he was supposed to do, which was disguise a Cover 2 but play Cover 3.
"I am never going to be the one to sit here and point fingers because there is no one without sin in our defense," he said. "I am not saying that I don't make mistakes, because I do. But I am saying that if there is a coverage and I am supposed to be in a certain area, best believe that I am going to be where I am supposed to be, like I was Sunday night, like I was against San Francisco, like I was against the Packers.
"When the commentator says, 'Oh well, Antrel Rolle got burned,' no, Antrel Rolle didn't get burned," Rolle continued. "Antrel Rolle was exactly where he was supposed to be. Know what the hell you are talking about at the end of the day. I know what I am doing. My coaches know what I am doing. But you know what, these people watching on TV, the only thing they know is what the commentators are telling them at the end of the day."
On the fourth-quarter play, Bryant ran past Webster, who appeared to let him go perhaps thinking the safety would pick up Bryant. Rolle came up and Bryant ran past both Giants, leaving both Giants looking at each other helplessly. The touchdown put the Cowboys up 34-22 with 5:41 left.
"I am not going to explain exactly what happened on that play but I can say that I was in the right spot and I was exactly where I was supposed to be," Rolle said. "No one goes without sin on our defense. Just because I am the safety or
Deon Grant
or
Kenny Phillips
is a safety, it doesn't mean that we are always supposed to be that deep. We have a million different coverages that we play. Sometimes we are going to disguise a Cover 2 and walk down to a Cover 3 like we did on that play."
Rolle understands that the Giants defense has too many lapses each week and says that the defensive unit must clean up its act or else the team could be watching the playoffs for a third straight year.
He also vowed that the Giants will come out "ready" for the Redskins in Sunday. After the Giants lost the season opener in Washington, 28-14, Rolle told WFAN that the Giants were the better team and that
"if we played them 100 times, they might win five."
"I said 99," Rolle said on Tuesday when reminded of his comment. "I don't plan on losing to the Redskins. I am not guaranteeing a victory. I am very confident we will go out there and get the job done."
Rolle also went out of his way to deliver shout-outs to
Eli Manning
and the offense for saving the defense so many times this season, the special teams and
Jason Pierre-Paul
, whom he called the MVP of the defense and someone that should be heading to the Pro Bowl.
"On all-around defensive linemen, I don't see anyone playing at a higher level than him," Rolle said. "This guy does so much for our football team that honestly, I don't even think he realizes it. That guy, I laugh because I really don't think he understands how good he is. He is so humbled and honored."