January, 21, 2018
Jan 21
5:57
PM ET
Associated Press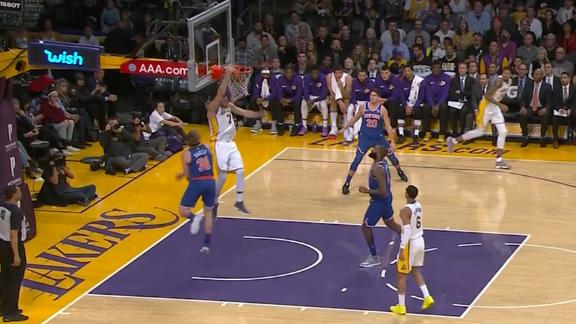 LOS ANGELES -- Jordan Clarkson had 29 points and 10 assists, Julius Randle added 27 points and 12 rebounds, and the Los Angeles Lakers beat the New York Knicks 127-107 on Sunday for their sixth win in eight games.
Kyle Kuzma added 15 points for the Lakers (17-29), who continued their midseason surge of solid play. Rookie point guard Alex Caruso set career highs with nine points and eight assists, making the most of extensive playing time in the absence of injured Lonzo Ball.
Kristaps Porzingis, Tim Hardaway Jr. and Michael Beasley scored 17 points apiece for the Knicks, who have lost 12 of 16. New York slipped to 2-2 on its seven-game trip.
Despite a solid shooting game, the Knicks couldn't keep up down the stretch with the Lakers, whose up-tempo offense flowed throughout their highest-scoring game in two weeks.
Ball missed his fourth consecutive game with a sore left knee, and Lakers coach Luke Walton said the rookie point guard might miss several more games.
But Clarkson followed up his 33-point performance Friday against Indiana with another high-energy effort. The veteran guard hit 12 of his 19 shots and added six rebounds.
January, 21, 2018
Jan 21
3:35
PM ET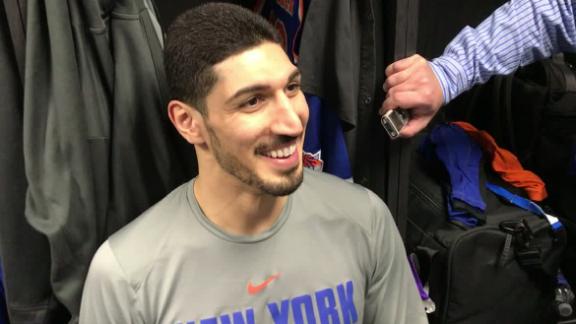 LOS ANGELES -- After his latest trolling tweet directed at LeBron James, New York Knicks big man Enes Kanter admitted that one of his former Oklahoma City Thunder teammates told him that the Cleveland Cavaliers star was going to get his revenge on the floor soon.
"One texted me just to say -- I'm not going to say who -- but he texted me, 'You're about to get 50 dropped on you, boy.'" Kanter said before Sunday's matinee against the Los Angeles Lakers. "I responded something back, but I'm not going to say what it is."
Kanter's latest tweet came immediately after the Cavs lost 148-124 to the Thunder on Saturday. He also included James' "strive for greatness" phrase:
When initially asked about the tweet, Kanter playfully said that he wanted to focus on the Lakers game, but when asked about the possibility of being in James' head, Kanter acknowledged that he has a lot of respect for the former MVP.
"He got mad at me, obviously," Kanter said, referring to remarks he made about James in the past. "I mess with him a lot, but obviously he's the best player in the league. I respect the guy a lot. But I think right now they are struggling or whatever. I don't even think he's even thinking about what I tweet. I think he's worried about his team. I don't even think he's thinking about what I'm going to tweet or not. Because I think they are struggling right now and the only thing he's thinking about ... just getting his team [on track]."
January, 20, 2018
Jan 20
1:28
AM ET
Associated Press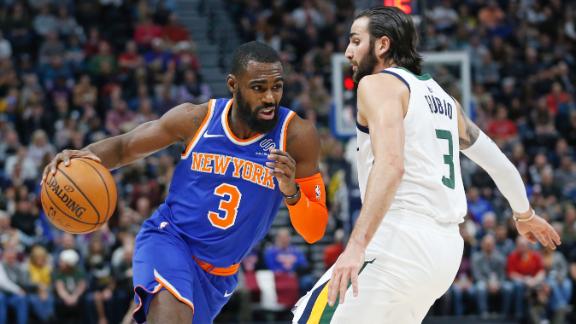 SALT LAKE CITY -- Tim Hardaway Jr. scored 31 points and the New York Knicks rallied to beat the Utah Jazz 117-115 on Friday night.
Hardaway pulled up for a 3-pointer from the top of the arc and finished the four-point play after a foul, then added a dunk to give the Knicks a 109-100 advantage with 3:21 remaining. The fifth-year guard was 6 for 7 from behind the arc as New York shot 55 percent from 3-point range.
The Jazz missed three straight 3-pointers on one possession with less than 30 seconds left that would have tied the game at 115 after a late 11-2 run that included Joe Johnson's corner 3 and Rudy Gobert's three-point play.
Courtney Lee scored 18, and his 13-point third quarter helped the Knicks rebound from a 10-point deficit to take an 85-78 lead into the fourth. Kristaps Porzingis added 18 points.
Gobert had 23 points and 14 rebounds in his first game since Dec. 15 due to a sprained knee, but the second-team All-NBA center looked athletic in his return. He also had three blocks.
Rodney Hood had 18 points, while Donovan Mitchell and Ricky Rubio each scored 17.
January, 19, 2018
Jan 19
4:46
PM ET
ESPN
Brett Davis/USA TODAY SportsKristaps Porzingis is averaging 23.6 points, 6.9 rebounds and 2.4 blocks in 39 games for the Knicks this season.
NBA players voted Knicks forward Kristaps Porzingis as an All-Star starter over Philadelphia's Joel Embiid, but Embiid won the overall vote with support from fans and media.
Porzingis stated clearly how he felt about the voting when asked about it on Friday.
"Players know," Porzingis said, according to published reports. "That's all I'm going to say."
Starters were determined by a vote from fans, players and a select group of media.
Embiid ranked third in fan and media voting for Eastern Conference frontcourt players but was fourth in the player vote. The top three frontcourt players from each conference earned a starting spot.
Porzingis finished third in the player vote for Eastern Conference frontcourt starter but was fourth among fan and media voters.
Fans accounted for 50 percent of the vote, while all current players and the media panel accounted for 25 percent each, which is how Embiid finished ahead of Porzingis in the overall vote.
Embiid, LeBron James and Giannis Antetokounmpo were named starters when the NBA announced the vote on Thursday.
Porzingis hopes to be voted in as an All-Star reserve. Head coaches vote for the reserves. Those results will be announced on Tuesday.
January, 18, 2018
Jan 18
4:53
PM ET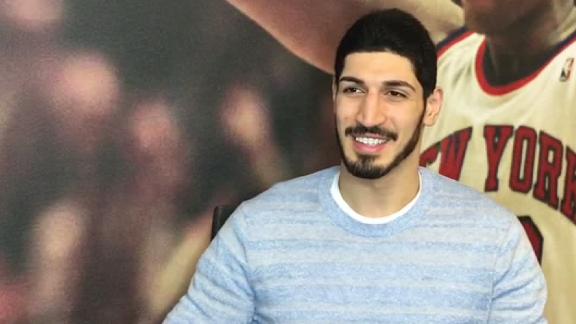 In some ways, Enes Kanter is a man without a home. Kanter hasn't been to Turkey -- the country where he spent much of his childhood -- in more than two years. He hasn't spoken with his parents, who live there, in more than a year.
The isolation is a result of Kanter's vocal criticisms of the government in his home country.
Kanter is a supporter of Fethullah Gulen, an Islamic cleric based in the United States whom Turkish president Recep Tayyip Erdogan has accused of orchestrating last year's failed coup attempt in Turkey.
According to The New York Times, Erdogan has jailed tens of thousands of people accused of plotting a failed coup. In response to those actions, Kanter has been one of the most vocal critics of Erdogan. The fallout from his stance has been severe. His father, Mehmet, wrote a public letter denouncing Kanter's views and disowning him. Kanter was detained in Romania last spring because his Turkish passport was canceled, but he was able to return to the U.S. after American officials intervened.
Last month, Turkey's state-run news agency reported that prosecutors were seeking more than four years in prison for Kanter on charges of insulting Erdogan on Twitter.
Kanter says now that nearly all of his conversations are centered on his political stance.
"It's never like, 'Hey, how are you doing buddy? Are you good? How's our family,'" Kanter says with a laugh. "They want to ask questions ask about what's happening. It's never a normal conversation."
At the moment, home for Kanter is New York. He lives in an apartment located just a short cab ride from Madison Square Garden, his new workplace following a late-September trade
January, 17, 2018
Jan 17
10:51
PM ET