April, 21, 2018
Apr 21
4:18
PM ET
ESPN News Services
New York Mets pitcher Matt Harvey has lost his spot in the starting rotation, manager Mickey Callaway announced Saturday.
Harvey, who will be available coming out of the bullpen starting Tuesday, was not happy about the decision.
"It's the decision that they made. I have to suck it up and go out there and do everything I can to get things back in gear," he said. "I don't have to agree with it, but I have to go out there and do the best I can to get things going and do everything I can to help this team get back to where I believe I can help this team, and that's as a starter.
"On a scale of 1 to 10, obviously I'm at a 10 with being pissed off, but my performance hasn't been there, and I just have to do whatever I have to do to get back in the starting rotation. And that's right now go to the bullpen and work on some things, get some things back to where they need to be and get my s--- in order and figure it out."
"He threw a bullpen today, and he'll be available Tuesday,'' Callaway said. "I don't think he is obviously very happy about it. I wouldn't say he's discouraged. I think he's motivated to go out there and show everybody that he can be a starter again at some point.
"He can help us ... it's inevitable that he's going to make more starts for us this year. That's how baseball goes. Everybody uses tons of starters; 11 was the average last year for every team."
Since a solid first start, Harvey has struggled, most recently when he allowed six earned runs in the first three innings Thursday night in Atlanta as the Braves beat New York 12-4. That dropped Harvey to 0-2 with a 6.00 ERA. In 26 innings over four starts, he has allowed 26 hits, 4 home runs and 4 walks.
April, 21, 2018
Apr 21
7:27
AM ET
Juan Salas/Icon Sportswirenull

The so-called dream rotation in Queens is finally a reality, so we judged each pitcher on his early 2018 performance.

April, 21, 2018
Apr 21
7:06
AM ET
ESPN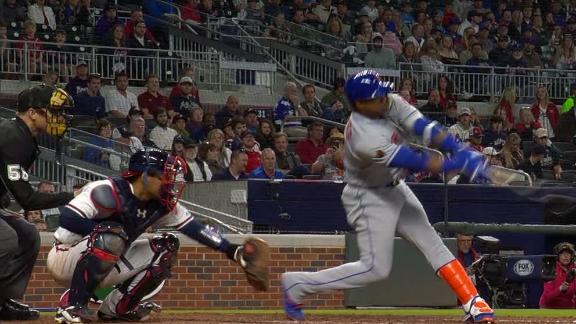 New York Mets outfielder Yoenis Cespedes wants to swing his way out of an early season slump, but with his golf clubs rather than his bat.
"One of the things that I did before, years ago, when I was in a slump, was playing golf and trying to get out of my slump," Cespedes told reporters through an interpreter after Friday's 5-3 win against the Atlanta Braves. "I said this season I wouldn't go to play golf. So one of the things that I'm doing now, that I didn't do before, is watching the videos. That's something different I'm doing right now. But unfortunately, it's not going too well so far."
Cespedes and the Mets took some backlash for his golf habit in 2016, when he played 18 holes hours before landing on the disabled list with a lingering right quadriceps injury. The team came to a "mutual agreement" with Cespedes' representatives that he would refrain from playing golf, with general manager Sandy Alderson saying it was "bad optics."
Two seasons later, with Cespedes hitting just .208 after striking out four times prior to his game-winning single in the 12th inning Friday night, the outfielder thinks golf might be more of a help than a hindrance.
"It wasn't a promise, but one of the things was, I went to play golf in the morning and then I came to play baseball in the afternoon," Cespedes said. "I stopped doing it in the offseason. But I think I'm considering playing golf again."
April, 20, 2018
Apr 20
7:14
PM ET
Associated Press
ATLANTA -- New York Mets manager Mickey Callaway said the team hasn't made a decision on what to do with struggling pitcher Matt Harvey.
Harvey was tagged Thursday night for six runs in six innings of a 12-4 loss to the Braves. After the game, the former ace took a firm stand against a possible move to the bullpen.
Asked Friday about Harvey's future, Callaway said, "I think he made that pretty clear yesterday, that he wants to be a starter, and I don't blame him. I think everyone wants to start. What we are trying to do as a team is do what's best for the team and for the players."
Harvey is 0-2 with a 6.00 ERA in four starts this year.
"I'm a starting pitcher," Harvey said after Thursday's game. "I've always been a starting pitcher. That's my mindset."
Callaway said he would like for a player to support a new role. He said that agreement is not necessary for a change to be made.
"Ideally you get buy-in," the first-year manager said. "But sometimes decisions are decisions, and people have to live with them. We'll do the best we can to help each and every one of these players succeed in whatever role they're in."
The decision on Harvey won't be made by Callaway alone. He said "there's been more talks" about Harvey's future and added that the Mets are "still not exactly sure what route we'll go."
Harvey has allowed a combined 14 runs in his past three starts. He was 5-7 with a 6.70 ERA in 2017.
The Mets must soon create room in the rotation for left-hander Jason Vargas, currently on the disabled list with a broken right hand. Vargas will make a rehab start on Monday in Las Vegas, instead of Sunday as originally planned.
Vargas tied for the major league lead in wins with 18 last season for the Kansas City Royals
April, 20, 2018
Apr 20
1:23
AM ET
ESPN News Services
ATLANTA -- New York Mets manager Mickey Callaway wouldn't commit to giving Matt Harvey his next scheduled start after Harvey struggled in a 12-4 loss to the Atlanta Braves on Thursday night.
Harvey (0-2) gave up six runs in six innings, including a two-run homer to Braves catcher Kurt Suzuki in the first inning. Harvey's ERA now sits at 6.00.
"We haven't made that determination yet," Callaway said. "We'll see moving forward. I'm not sure what we're going to do."
Harvey wasn't receptive to a question about possibly moving to the bullpen.
"I'm a starting pitcher," Harvey said. "I've always been a starting pitcher. That's my mindset."
Harvey at least took pressure off the Mets' bullpen by making it through six innings. He retired 11 of the last 12 batters he faced and ended a streak of 12 consecutive starts, including his last nine starts of 2017, in which he failed to last longer than five innings.
"That last three innings I think I was able to break through that mental block I was feeling every time I went out there," he said. "I know that the results aren't there. I feel bad that it took me so long to figure it out."
The Associated Press contributed to this report.
April, 17, 2018
Apr 17
9:36
PM ET
Our yearly Top 100 rankings have hit the press, which means that in my semi-official capacity as the ombudsnerd, it's time to submit our list for a bit of a roast. What's the fun of a list if you don't disagree with it, after all?
Too high: Bryce Harper, No. 5. I'm going to commit another act of Harper-related heresy. Bryce Harper is currently overrated around Major League Baseball. While I think he's a top-20 guy, phenomenally talented, still young, with the potential to be a perennial MVP contender, this is just too high a ranking for me right now. To rank fifth, I think you have to compete for an MVP/Cy Young year in and year out. Everyone else in the top 10 does. But Harper has really had only one season in which he has put everything together and had an MVP-type season. He might very well get there, but I don't think he should be in the single digits yet.
April, 17, 2018
Apr 17
1:14
AM ET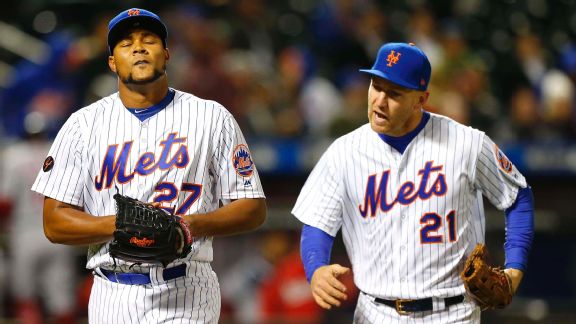 Noah K. Murray/USA TODAY SportsAfter blowing the save and walking in the go-ahead run, Mets reliever Jeurys Familia gets a pep talk from Todd Frazier.

One night after we offered the Mets as the potential team to beat in the NL East, their bullpen handed a win to the Nationals. Lesson learned.