December, 6, 2016
Dec 6
5:04
PM ET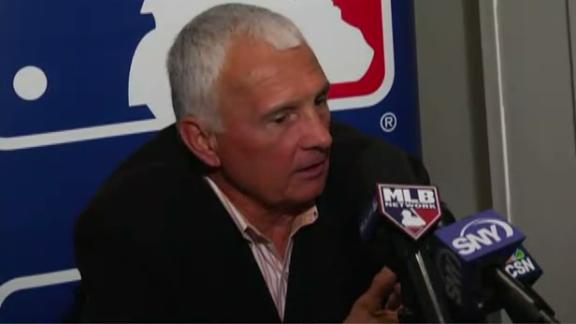 NATIONAL HARBOR, Md. -- Although the formal decision has not been made, New York Mets general manager Sandy Alderson foresees Tim Tebow being assigned to minor league camp during spring training.
Tebow, a former NFL quarterback and Heisman Trophy winner with the Florida Gators, nonetheless would be borrowed for occasional Grapefruit League games involving major leaguers. He then likely would break camp in April with a full-season minor league team, Alderson added Tuesday.
Tebow, 29, signed a minor league deal with the Mets in September. He proceeded to hit .194 with three doubles, two RBIs and eight walks while striking out 20 times in 62 at-bats in the Arizona Fall League. Tebow has also continued working as a college football analyst with ESPN.
"He was in the Arizona Fall League, but that's the only organized league he's ever participated in beyond high school," Alderson said. "And we understand he's a little bit older, so that the process needs to accelerate at some point. But we still need to be prudent about it and put him in situations where he can succeed and not be viewed as, I was going to say, a circus animal. But that's probably not appropriate."
Alderson indicated there's no compelling reason to have Tebow assigned to major league camp "except for advertising purposes."
December, 6, 2016
Dec 6
3:13
PM ET
December, 6, 2016
Dec 6
3:06
PM ET
December, 4, 2016
Dec 4
6:30
PM ET
NATIONAL HARBOR, Md. -- New York Mets general manager Sandy Alderson arrived at the winter meetings with much of his heavy lifting for the offseason already done. Left fielder Yoenis Cespedes has re-signed for $110 million over four years, and second baseman Neil Walker already accepted a qualifying offer worth $17.2 million for 2017.
The remaining items on the agenda:
Trade outfielder Jay Bruce or Curtis Granderson, with the preference being Bruce.
Acquire a couple of relievers, either on one-year deals via free agency or in a trade for one of those outfielders.
See if any free-agent bench options make sense.
Listen to trade pitches from other teams.
"The nice thing is we've filled a couple of our holes, and we don't have a huge amount to do," Alderson said Sunday night. "But that doesn't mean we can be any less prepared or less active. Just taking a look at our roster, from the bullpen to the bench, there are things we need to flesh out. We'll see where we go over the next three days."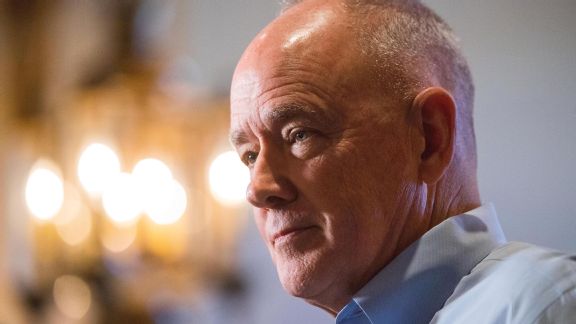 Mark J. Rebilas/USA TODAY SportsSandy Alderson said he doesn't expect to sign one of the top-tier closers, instead looking at midrange and/or internal options to boost the Mets bullpen.
Alderson said he has engaged only in preliminary discussions with respect to parting with an outfielder. Still, he speculated that he may benefit from the Houston Astros acting quickly in signing free-agent outfielders Carlos Beltran and Josh Reddick.
"To the extent that we have left-handed outfield assets, the fact that Houston has been aggressive in taking two guys off the board is maybe a good thing," Alderson said.
Alderson acknowledged that Granderson's three years of productivity with the Mets and being part of the organization's fabric would be a consideration in which player gets dealt between him and Bruce.
"That definitely would be a factor," he said.
That said, Alderson cannot foresee trading both players, then pivoting to acquire another outfielder -- such as Andrew McCutchen.
"I'd say it's unlikely," Alderson said. "I don't foresee that happening."
As for adding relief help via free agency, Alderson all but ruled out pursuing the likes of Aroldis Chapman, Mark Melancon or Kenley Jansen.
"I don't think we're looking at that top end," Alderson said.
Although a simple-assault charge may be dropped against Jeurys Familia at a Dec. 15 hearing in Fort Lee, New Jersey, the Mets still are bracing for MLB to suspend Familia. Alderson plans to have Addison Reed slide into the closer role in Familia's expected absence. The team potentially will add a couple of middle relievers, ideally on one-year deals.
"The first guy we signed was a two-year deal, and that didn't work out," Alderson said, referring to the Mets' signing of D.J. Carrasco in December 2010, shortly after Alderson took over as GM. "We've had subsequent two-year deals that didn't work out all that well. In fact, we have about one a year. That's why I think we'll be a little bit cautious, especially with that midrange."
Alderson said the answer may be using some of the Mets' starting-pitching depth in relief next season, assuming everyone is healthy. Alderson listed Zack Wheeler as a potential reliever, presumably with Robert Gsellman in the rotation. Wheeler has missed the past two seasons while dealing with setbacks from Tommy John surgery, which he underwent in March 2015.
Alderson suggested Wheeler may be a suitable reliever because he throws hard, and bullpen work may "minimize whatever lack of control may exist."
"There's no reason for us to say, 'Well, he's got to be a starter,'" Alderson said. "Now, he may feel that way himself. But it may be that coming back after two years he's better off pitching out of the pen. You might have to be careful. You might not be able to pitch him back-to-back [days]. It might have to be two innings at a time. These are all hypothetical at the moment. But I don't see any reason to just eliminate that possibility."
On Wheeler's health, Alderson added: "I'm not going to sit here and tell you, 'Oh, he's perfect. He's ready to go.' ... But we don't have anything to suggest he won't be ready to pitch in some capacity next year."
"With relievers, particularly with middle-relief types, you're always better off with a one-year deal if you can get it," Alderson concluded. "But sometimes that's not possible. That's why it's so important to be able to get most of your relievers out of your own organization."
December, 4, 2016
Dec 4
5:40
PM ET
Associated Press
OXON HILL, Md. -- Major League Baseball and its affiliates will auction memorabilia and experiences during the winter meetings to help fund Shannon Forde Field in Little Falls, New Jersey, in memory of the late New York Mets public relations executive.
MLB Advanced Media, the MLB Network and all 30 teams will participate in the auction, the commissioner's office said Sunday.
The auction will run through 9 p.m. ET Thursday. Among the items are a pitching lesson with San Francisco's Johnny Cueto, a trip to next year's All-Star Game in Miami and meet-and-greet sessions with AL MVP Mike Trout, former NL MVP Dale Murphy and Hall of Famer Randy Johnson.
Renovations to the field will include dugouts with protective fencing and benches, perimeter fencing, bleachers, a backstop, a scoreboard and field signs.
Forde died in March at age 44 from breast cancer.
December, 2, 2016
Dec 2
11:45
PM ET
Associated Press
AP Photo/Chris CarlsonTyson Ross was limited to one major league appearance this year and had surgery in October for thoracic outlet syndrome.
NEW YORK -- Tyson Ross, an All-Star pitcher for San Diego two years ago, was among 35 players who became free agents when their teams declined to offer them 2017 contracts Friday.
Washington outfielder Ben Revere and Philadelphia outfielder Cody Asche also were cut loose, along with Arizona catcher Welington Castillo and pitcher Rubby De La Rosa, Baltimore pitcher Vance Worley, and Los Angeles Dodgers reliever Louis Coleman.
Milwaukee first baseman Chris Carter and Pittsburgh pitcher Jeff Locke were non-tendered as well; their teams had already designated them for assignment earlier this week.
Teams cut players at the tender deadline to avoid committing to salary arbitration, in which about one-sixth of next season's salary is guaranteed.
December, 2, 2016
Dec 2
11:14
AM ET
December, 1, 2016
Dec 1
8:58
AM ET
AP PhotoCurtis Granderson has averaged 25 homers over the last three seasons.
The New York Mets have a surplus of outfielders after Yoenis Cespedes agreed to a four-year, $110 million deal on Tuesday, leading to speculation that Jay Bruce would be the odd man out.
ESPN's Adam Rubin, however, cautioned that the first outfielder to exit Queens could be Curtis Granderson. "Don't be surprised if that trade happens next week," Rubin wrote.
One trade partner could be north of the border, where the Toronto Blue Jays reportedly have interest in Granderson, tweets Jon Heyman of FanRag Sports.
The Blue Jays appear to casting a wide net in their search for a left-handed hitting outfielder. Bruce and free agent Dexter Fowler also have been linked to the Blue Jays in the past week.
Rubin reports the Mets will listen to offers for both Bruce and Granderson and could move one of them by the time the winter meetings conclude next week.
The 35-year-old Granderson hit .237 with 30 homers and 59 RBIs in 545 at-bats. His four-year, $60 million offer expires after next season. While Granderson played some center field in 2016, he would likely be used as a corner outfielder because the Blue Jays already have Kevin Pillar in center field.
-- Doug Mittler
November, 30, 2016
Nov 30
7:07
PM ET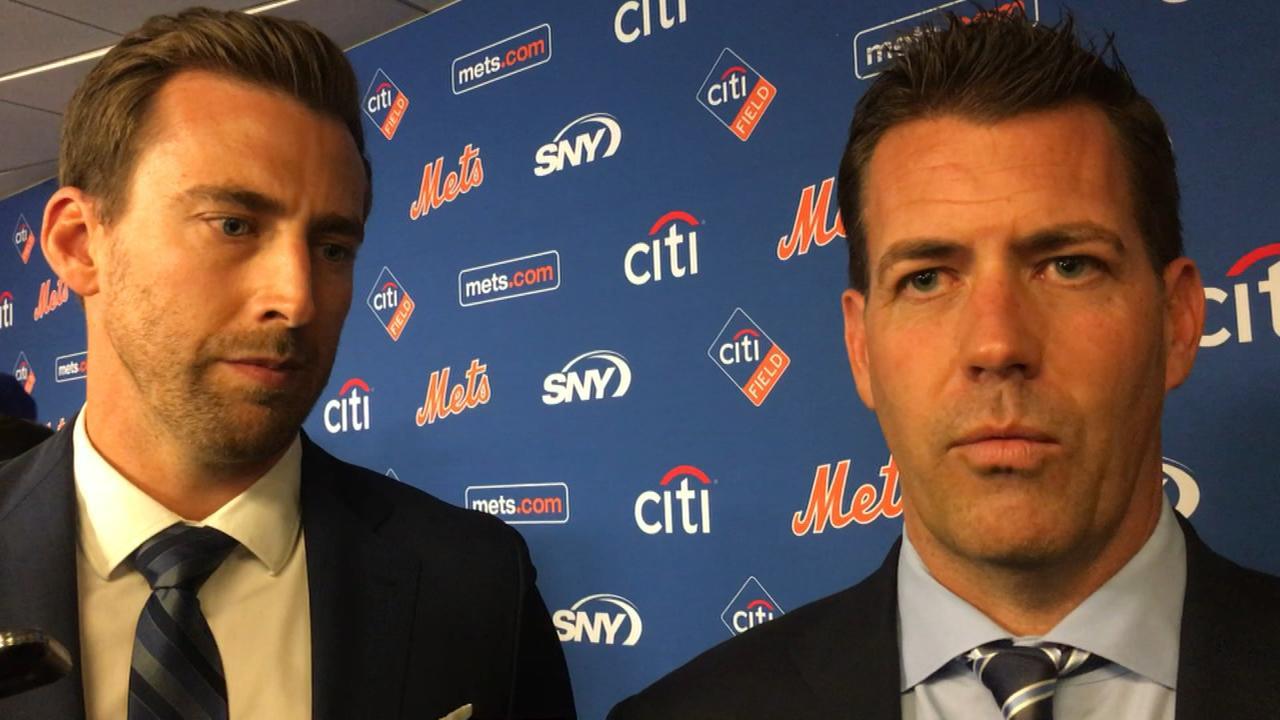 NEW YORK -- Left fielder Yoenis Cespedes would not have returned to the New York Mets without a full no-trade clause as part of his new four-year, $110 million contract, agent Brodie Van Wagenen said Wednesday.
"Without the ability to secure his future here, he wouldn't have signed here," Van Wagenen said as Cespedes' new contract with the club was announced at a news conference at Citi Field. "That was absolutely a deal point that had to be part of the contract."
Since arriving from Cuba for the 2012 season, Cespedes has been traded away by three teams and twice become a free agent after contracts with the Mets expired. So Cespedes valued having a stable home, especially in a place where he has thrived and he has enjoyed.
"I've experienced that now several times with Oakland, Boston, Detroit and then coming here," Cespedes said through an interpreter. "I didn't like that feeling of just when I was starting to get comfortable with the team that I could be gone. So that was a very important part for me."
Van Wagenen provided additional explanation.
"It's easier for players to be loyal if it's the only organization they've ever known," Van Wagenen said. "I think David Wright has demonstrated that here with this franchise that homegrown players oftentimes have a desire to be here. I think it is unique that a player that is traded for at the trade deadline signs up for another term because he had such a great experience."
Cespedes' four-year deal matches the longest awarded to a free agent during Sandy Alderson's seven winters as Mets general manager. Curtis Granderson
November, 30, 2016
Nov 30
5:39
PM ET