November, 20, 2017
Nov 20
9:45
PM ET
AP Photo/Carlos OsorioIan Kinsler has a .275/.328/.436 slash line over four seasons with the Detroit Tigers.

New York and Detroit have reportedly had preliminary talks regarding a deal that would send Ian Kinsler to Queens.

November, 16, 2017
Nov 16
11:21
AM ET
ESPN
Wally Backman's quest to return to Major League Baseball will take a pit stop in the independent Atlantic League this season.
The New Britain Bees announced Thursday that Backman has been hired as the club's second manager.
"Wally Backman is a proven winner," Bees general manager Brad Smith said in a statement. "His ability to instill a winning atmosphere and put an entertaining club on the field are two significant factors in bringing him aboard. We look forward to a successful 2018 season working with Wally and hope everyone joins us in welcoming him to the Central Connecticut community."
Backman, 58, managed in the Mexican Baseball League last season but was fired by the Monclova Acereros after just 42 games.
He resigned as a manager of the New York Mets Triple-A affiliate in Las Vegas in 2016 after clashing with the front office and told Newsday in January that a friend in the commissioner's office told him Mets general manager Sandy Alderson was sabotaging his efforts to get another job in the majors.
"There's been a bad roadblock, and I know where it's coming from. In the last phone call I had with Sandy [in September], he said, 'I will do anything I can to help you.' But he is not an honest man. People are telling me, 'Sandy has it in for you. You're being blackballed,'" he told the newspaper then.
November, 15, 2017
Nov 15
4:53
PM ET
Associated Press
NEW YORK -- The New York Mets have filled out their coaching staff, adding Gary DiSarcina, Dave Eiland and Ruben Amaro Jr. to the team.
The Mets made the announcement Wednesday.
DiSarcina will become the bench coach for new manager Mickey Callaway. DiSarcina was Boston's bench coach last season.
Eiland was hired as the pitching coach. He held the same position for World Series champion teams in Kansas City in 2015 and the New York Yankees in 2009.
Amaro will become the first base coach and outfield instructor. He was the first base coach in Boston for the past two years. He previously was the general manager of the Philadelphia Phillies.
Pat Roessler was promoted from assistant hitting coach to hitting coach and Glenn Sherlock will be back as the third base coach and catching instructor.
Ricky Bones returns as the bullpen coach and Tom Slater was hired as the assistant hitting coach. Slater coached in the Yankees' minor league system the past nine years.
November, 15, 2017
Nov 15
12:31
PM ET
Toru Takahashi/AP PhotoKnown as the "Babe Ruth of Japan," Shohei Otani will attract plenty of suitors this offseason.

Limits on a possible signing bonus reportedly could prompt the Mets to pursue Japanese two-way star Shohei Otani.

November, 9, 2017
Nov 9
8:44
AM ET
Ron Schwane/Getty ImagesJay Bruce hit a combined 36 homers with 101 RBI for the Mets and Indians this season.

The Mets reportedly are open to a reunion with Jay Bruce if he would be willing to be used in the outfield and at first base.

November, 8, 2017
Nov 8
12:56
PM ET
Ken Blaze/USA TODAY SportsBryan Shaw has been a durable reliever for the Indians, leading the AL in appearances three times in the last four seasons.

Bryan Shaw's past ties with new manager Mickey Callaway reportedly could make him a preferred option for the New York Mets.

November, 8, 2017
Nov 8
8:30
AM ET
Hannah Foslien/Getty ImagesBartolo Colon had a career-worst 6.48 ERA for the Braves and Twins last season, but still wants to pitch.

Bartolo Colon is 44 years old and posted a career-worst 6.48 ERA last season but reportedly has no plans to retire.

November, 3, 2017
Nov 3
3:23
PM ET
It was an injury-ravaged 2017 season for the New York Mets, who suffered a 17-game decline and missed the playoffs for the first time since 2014. They have their work cut out for them as free agency officially kicks off and the building of the 2018 team begins.
What's their biggest need? Which one move would you like to see them make before spring training? Would any of Keith Law's Top 50 free agents

look good in a Mets uniform? Weigh in on New York's offseason below and check out the other 29 teams here.
Keep track of the latest signings, acquisitions and rumored moves for every team from now through the start of spring training on ESPN.com.
November, 3, 2017
Nov 3
5:05
PM ET
ESPN.com
The New York Mets picked up the $8.5 million option on veteran infielder Asdrubal Cabrera, the team announced Friday.
Cabrera, who turns 32 this month, has played the past two seasons in New York, seeing time at second base, third base and shortstop. The switch-hitter batted .280 this past season, with 14 home runs and 59 RBIs.
Cabrera would have received a $2 million buyout if the option was not picked up.
"Asdrúbal can help us all around the infield," Mets general manager Sandy Alderson said in a statement. "The season didn't end the way we wanted but that didn't stop him from playing hard right to the very last out of the season. Asdrúbal is a great tutor to our younger players and a leader in the clubhouse. We're happy to have him back."
Added Cabrera: "This is where I wanted to be. I experienced the postseason with the Mets in 2016 and that's where I want to get back to this year. I'm open to playing anywhere. I just want to help."
The Mets also picked up the option on lefty reliever Jerry Blevins.
November, 1, 2017
Nov 1
10:19
AM ET
Adam Rubin/ESPNKevin Long might be looking for a new job after three seasons as hitting coach of the New York Mets.

Kevin Long reportedly will not be back as Mets' hitting coach after being passed over for the club's managerial opening.

October, 23, 2017
Oct 23
8:17
PM ET
Associated Press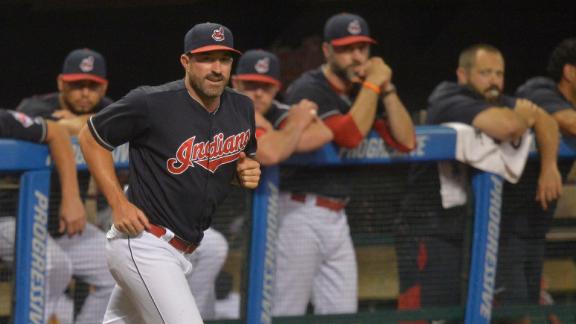 NEW YORK -- Once the New York Mets talked to Mickey Callaway, there was no need for a second round of interviews.
They had found their man.
Callaway was introduced Monday as the 21st manager in franchise history. General manager Sandy Alderson said he started with a list of more than 35 names for the job, but the process accelerated once he spent some time with Callaway.
"It was important for us to have someone, in our minds, who was personally excellent," Alderson said. "We had planned on having a second round of interviews but ended our first round and decided there was only one man for the job. So rather than going to a second round we spent the rest of our time convincing Mickey to come to New York."
The 42-year-old Callaway spent the past five seasons as the pitching coach for the Cleveland Indians. He agreed to a three-year deal with New York on Sunday that includes an option for a fourth season.
"I'm so excited to get to know the players," Callaway said. "Care more about the players than anyone ever has before. We're going to know that they're human beings and individuals. This is going to be a group that feels that every day we come to the clubhouse. That's going to be our main concern. To show them that we know this game is difficult and we care about you as a player, a human being and about your personal life."
Callaway replaces Terry Collins, who stepped down at the end of the season and accepted a position as a special assistant to Alderson. Collins, 68, spent seven seasons managing the Mets. He was the oldest manager in the major leagues.
Following consecutive playoff appearances under Collins, including a trip to the 2015 World Series, the injury-riddled Mets tumbled to 70-92 in 2017 during their worst season this decade.
October, 23, 2017
Oct 23
3:25
PM ET
Associated Press
ALEXANDRIA, Va. -- Former major leaguer and current television analyst Ray Knight has been charged with assault following an incident in his northern Virginia home.
Fairfax County Police said they were called to Knight's home in the Alexandria area at about 4 a.m. Sunday for reports of a fight. Police say Knight got into a fight with a 33-year-old male acquaintance and that both had visible injuries.
The 33-year-old went to a hospital with non-life-threatening injuries. Knight was also treated at the hospital and then taken to the county jail for booking on an assault and battery charge. He was released and has a court date in January. It wasn't immediately known whether Knight had an attorney.
Knight, 64, spent 13 seasons in the majors, mostly with Cincinnati and the New York Mets. He most famously took over third base for the Reds in 1979 after Pete Rose signed with the Phillies. Knight now works as an analyst for the Mid-Atlantic Sports Network on Washington Nationals broadcasts.
A person answering the phones at MASN offices said the network is aware of the charge and declined further comment.
MASN is jointly owned by the Nationals and Baltimore Orioles.
October, 22, 2017
Oct 22
2:08
PM ET
ESPN.com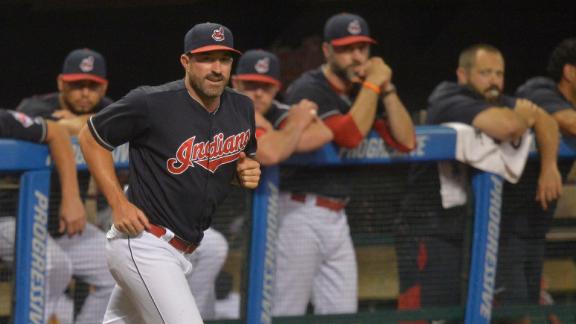 The New York Mets have named Cleveland Indians pitching coach Mickey Callaway as their new manager, the team announced Monday.
Callaway replaces Terry Collins, who stepped down as manager to take a position in the team's front office, after the Mets fell to a 70-92 record this season.
Mets hitting coach Kevin Long, White Sox bench coach Joe McEwing, Mariners third-base coach Manny Acta and Astros bench coach Alex Cora also reportedly had interviewed for the job.
Callaway, 42, has built the Indians' pitching staff into one of the best in baseball since joining the team in 2013. Cleveland, who finished with an American League-leading 102 wins, led the majors in ERA (3.30), strikeouts (1,614), shutouts (19) and complete games (7), and finished third with an opponents' batting average of just .236.
Indians starters Trevor Bauer and Carlos Carrasco, plus relievers Bryan Shaw and Cody Allen, all showed marked improved under Callaway's guidance, and also for the most part remained healthy.
Callaway also was influential in the Indians' decision to move Carrasco from the bullpen into the rotation in August 2014.
October, 17, 2017
Oct 17
9:47
AM ET
AP Photo/Kathy WillensKevin Long served as the Mets' hitting coach the last three seasons under Terry Collins.

Mets hitting coach Kevin Long reportedly has made a favorable impression as the club searches for a new manager.