October, 25, 2016
Oct 25
11:49
AM ET
Stan Grossfeld/The Boston Globe via Getty ImagesGame 6 of the 1986 World Series was tied when Bill Buckner committed his infamous error.
The conclusion of Game 6 of the 1986 World Series represents one of the most amazing endings in the history of not just baseball, but all sports big and small. It made household names of a hero and a goat and perpetuated the belief in a curse upon what is now one of the great franchises in pro sports.
How it began

The 108-win New York Mets were favored to win their second World Series and first since 1969, but they would have to do so the hard way. Trailing 3-games-to-2 to the Boston Red Sox, the teams returned to Shea Stadium, where the Boston Red Sox, winners of the first two games, had 24-game winner Roger Clemens pitching.
Clemens was given an early 2-0 lead on RBI hits by Dwight Evans and Marty Barrett in the first two innings (another notable moment came when a fan parachuted into the ballpark unexpectedly and was escorted away by police). The Red Sox could have had more, but they left two runners on base in each inning.
The Mets were held hitless through four innings, but rallied in the fifth, tying the game on a hit by Ray Knight and a double play that produced a run.
In the seventh inning, the game turned the other way on Knight, whose error cost the Mets an out and led to the go-ahead run scoring a batter later. But again, Boston missed an opportunity for more, when leftfielder Mookie Wilson threw Jim Rice out at the plate on Rich Gedman's hit and when Bill Buckner flied to center with the bases loaded to end the eighth inning.
That gave the Mets an opening to tie, which they did in the bottom of the eighth on Gary Carter's sacrifice fly off Red Sox closer Calvin Schiraldi (who had been traded the previous offseason for the Mets starter that night, Bob Ojeda).
The ninth inning provided an opportunity, but this time it was the Mets who missed out. With two men on base and nobody out, the Mets made three straight outs, sending the game to extra innings.
The home run

Red Sox outfielder Dave Henderson had already been a hero once in the postseason, homering with the Red Sox down to their final out of the ALCS against the Angels, and then hitting a sacrifice fly in extra innings. That helped Boston overcome a 3-games-to-1 deficit to win that series.
Henderson would again appear to become a baseball hero, homering on Rick Aguilera's second pitch of the 10th inning to put the Red Sox up, 4-3.
The Red Sox then netted a tack-on run on Marty Barrett's RBI single to lead 5-3 entering the bottom of the 10th.
Something curious happened after Barrett's hit that would come into play a few minutes later. Buckner writhed in pain after being hit by a pitch, but stayed in the game. In each of the Red Sox's previous seven victories that postseason, Buckner was replaced by Dave Stapleton near the end of the game.
But not in this one.
The ending

The Red Sox's win probability and chance to win their first World Series since 1918, jumped to 99 percent when Schiraldi retired the first two Mets in the bottom of the 10th. But the last out was an elusive one.
First, Carter singled to left. Then, pinch-hitter Kevin Mitchell, a former roommate of Schiraldi's, singled to center. Then on 0-2, Knight fought a pitch off the fists and singled to center, scoring Carter.
Red Sox manager John McNamara took Schiraldi out and brought in his other top reliever, Bob Stanley to face Mookie Wilson.
Wilson worked the count to 2-2, including a two-strike foul in which he barely ticked the ball. Stanley then threw an inside pitch and Gedman didn't slide over to block it. Mitchell scored to tie and Knight moved to second base.
Wilson extended the at-bat with two more foul balls, then hit a ground ball to first base that became forever memorable. Buckner, still in the game, moved for the ball, bent to field it and watch it tick off his glove and roll through his legs. Knight scored the winning run, evening the series, 3-3.
Did you know?

In 2011, we commemorated the 25th anniversary of this game and shared a number of tidbits. The most amazing of those is that Buckner made his major-league debut on Sept. 21, 1969, popping out as a pinch-hitter in the ninth inning. What was prominent about that game was how it ended. The Giants beat the Dodgers with the winning run scoring on a ground ball through a player's legs (shortstop Maury Wills).
Three World Series games have ended when a batter reached on an error. The Mets were involved in the last two- Game 4 of the 1969 World Series (J.C. Martin was hit by a throw after trying to bunt, allowing the winning run to score) and this game.
The Elias Sports Bureau notes that the Mets are one of eight teams to come back from being three outs from postseason elimination to win the World Series. The other seven are the 1912 Red Sox, 1977 Yankees, 1985 Royals, 1997 Marlins, 2001 Diamondbacks, 2004 Red Sox and 2011 Cardinals.
October, 25, 2016
Oct 25
11:00
AM ET
October, 25, 2016
Oct 25
1:37
AM ET
October, 24, 2016
Oct 24
4:48
PM ET
@Mets/Twitter
Thor becomes ... Thor?
New York Mets ace Noah Syndergaard dressed as his nickname-sake while filming an episode of "Kevin Can Wait" over the weekend. Mets superfan Kevin James stars in the CBS sitcom, which he also created and produced.
The episode looks to be Halloween-themed, with a photo of the set revealing a van set up for what appears to be a "Trunk-or-Treat" event, and some of the cast members dressed in costumes.
Never one to be shy on social media, Syndergaard let the world know his thoughts on his Thor getup.
The Mets shared more behind-the-scenes photos of Syndergaard on their Tumblr page, writing that he "might need a SAG [Screen Actors Guild] card after his weekend."
If Loki returns -- or there's another sitcom seeking an appearance from an ace pitcher -- we now know who to call.
-- Alex Tekip
October, 23, 2016
Oct 23
5:30
PM ET
Getty Images
Despite significant injuries to several of their top pitchers this year, the New York Mets could begin 2017 with a completely healthy staff.
The team is hearing from its doctors that Jacob deGrom, Steven Matz and Matt Harvey could all be ready to start next season without restriction, ESPN's Buster Olney reports

. DeGrom was the only member of the trio to throw a pitch in the majors from September onward, and he did so on the first day of the month.
Harvey is the biggest question mark as he returns from his surgery for thoracic outlet syndrome, Olney notes. Harvey underwent the operation in early July and his agent, Scott Boras, said at the time that he will be fully ready for 2017. The 27-year-old endured the worst season of his career in 2016, going 4-10 with a 4.86 ERA.
Matz elected to undergo season-ending surgery to remove bone spurs from his pitching elbow in late September. The Mets estimated a three-month recovery for the elbow procedure, but it's worth noting that the 25-year-old was also dealing with a left shoulder impingement this year. The left-hander was 9-8 with a 3.40 ERA in 22 starts.
Like Matz, deGrom also underwent season-ending surgery in late September to address a nerve issue in his pitching elbow. DeGrom said at the time that he expects a three-month recovery from the procedure and to be ready for spring training as well. He went 7-8 with a 3.04 ERA in 24 starts this season.
Also of note, Olney mentions that the Mets would like to bring 43-year-old Bartolo Colon back. For his part, Colon has said that he wants to continue pitching in 2017 and would like to return to New York, so a match appears likely.
Also in the mix is Zack Wheeler, who is continuing his recovery from the Tommy John surgery he underwent in early 2015.
-- Kyle Brasseur
October, 19, 2016
Oct 19
10:31
PM ET
Kathy Willens/AP Photo
This story is part of ESPN The Magazine's Oct. 31 NBA Preview Issue. Subscribe today!
New York Mets
Overall: 82

Title track: 67

Ownership: 102

Coaching: 99

Players: 87

Fan relations: 87

Affordability: 91

Stadium experience: 66

Bang for the buck: 46

Change from last year: +20
The Mets' 2015 World Series appearance -- their first since 2000 -- certainly earned them some goodwill from their fans and bumped them up 20 spots overall in these rankings. But even after an NL pennant, there's still doubt about the Mets' ownership ... and coach ... and roster ... and prices ...
---
What's good
October, 19, 2016
Oct 19
10:25
AM ET
Getty ImagesGame 7 of the 2006 NLCS featured an amazing catch and a historic home run.
The 2006 NLCS came down to one highly memorable Game 7 between the New York Mets and St. Louis Cardinals, played 10 years ago Wednesday.
It pivoted one team closer to an eventual and unlikely World Series title and another on a multi-year run of frustration and despair.
The catch

This was a tension-filled pitcher's duel early between Jeff Suppan and Oliver Perez, the latter of whom had a 6.55 ERA during the regular season and was pitching on three days rest. The Mets scored a run in the first inning and the Cardinals matched that in the second.
The Cardinals put two men on base in the third inning and fifth inning but didn't score. The Mets put two on in the fourth but couldn't score.
The sixth inning was eventful. With one out, Perez walked Jim Edmonds. Willie Randolph could have pulled Perez at that point but stuck with him and it looked like that would be a major issue when third baseman Scott Rolen crushed a fly ball to left field that appeared certain to be a go-ahead two-run home run.
Endy Chavez raced back, made a full leap and stretched his glove well over the fence. As the ball hit his glove, it took Chavez's wrist back, but he hung on for dear life as he came back to the ground.
Edmonds was already around second base by this point and Chavez turned it into a double play, throwing to Jose Valentin, who relayed to Carlos Delgado at first base.
It is one of the most memorable defensive plays in postseason history. On the Mets side, it ranks along with the multiple great catches by Tommie Agee and the diving play by Ron Swoboda in the 1969 World Series.
Amazingly, in the bottom of the sixth, things almost came full circle. A Rolen error extended a Mets rally, but with the bases loaded and one out, Valentin struck out and Chavez flied out, giving the Cardinals a great escape of their own.
The home run

The score stayed even until the ninth inning, by which time both teams had gone to their bullpens. The Mets had reliable setup man Aaron Heilman on (and not closer Billy Wagner) and it was perhaps a danger sign when he walked Rolen on nine pitches with one out.
Heilman's next pitch to Yadier Molina was crushed to left field. Chavez had no chance at this one. At the time, it was the fifth go-ahead home run in the ninth inning or later of a winner-take-all postseason game, joining Bill Mazeroski (1960 Pirates), Chris Chambliss (1976 Yankees), Rick Monday (1981 Dodgers) and Aaron Boone (2003 Yankees).
Molina hit .216 in the regular season, but .348 against the Mets in the LCS.
The strikeout

But the Mets, who tied the Yankees for the best record in baseball, would not go quietly into the night, down two runs against rookie Cardinals reliever Adam Wainwright.
They put the first two men on base, bringing up pinch-hitter Cliff Floyd. The Mets went for the win, meaning Floyd didn't bunt. Instead, he struck out. Jose Reyes followed by a line drive to center that looked for a moment like it would be a hit. Instead Edmonds caught it for the second out, with a runner moving to third.
The Mets' last hope was Paul LoDuca, who told himself he'd try to hit a home run if he got the right pitch. He didn't. But he did walk, loading the bases for Carlos Beltran.
There was no better hitter for this situation than Beltran. In 50 career postseason at-bats against the Cardinals, he was hitting .360 with seven home runs and 12 walks. He had also beaten the Cardinals with a walk-off home run earlier in the season.
Wainwright made it quick. Beltran fell behind 0-2 and took a big breaking curve down the middle for strike three. The Cardinals won the pennant.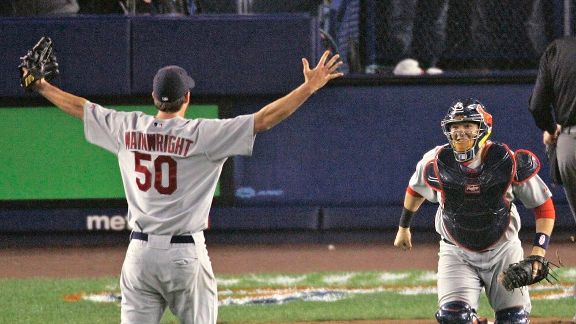 AP Photo/Bill Kostroun

The aftermath

The 83-78 Cardinals won the World Series, the worst record for a World Series winner. The Mets were eliminated on the final scheduled day of the regular season in each of the next two years, then had six sub-.500 seasons before getting back to the World Series in 2015.
Suppan parlayed his NLCS MVP award into a four-year deal with the Brewers. He pitched six more seasons to a 4.96 ERA.
Molina has crushed the Mets since hitting that home run. Over the last 10 seasons, he's hitting .329 against them, though with only one home run in 222 at-bats. Mike Baxter's catch on Molina's fly ball to left field helped preserve Johan Santana's no-hitter.
Wainwright became one of the best pitchers in the majors. He led baseball in curveball strikeouts in 2009 and 2010 and ranked second after returning from injury in both 2012 and 2013. He didn't face the Mets again until 2010. His ERA in nine starts against them since this game is 4.58.
Beltran is still active and has hit 218 home runs over the last 10 seasons. He made the World Series in 2013 – with the Cardinals.
Chavez is still active as well. At age 38, he hit .345 in 95 games and won the batting title with the Bridgeport Bluefish of the independent Atlantic League this season.
They said it
"I was praying to God to keep that ball away from Endy Chavez."

-- Molina on his home run.
"We went to the last out of the last inning of the last game and we gave it our all. What else can you ask for?"

-- Mets GM Omar Minaya to the media after the game
October, 18, 2016
Oct 18
11:18
PM ET
ESPN.com news services
Christian Petersen/Getty Images)Tim Tebow snapped a 13 at-bat hitless streak in the Arizona Fall League with a line-drive single on Tuesday.
It might have taken him longer than he would have liked, but Tim Tebow finally has his first hit in the Arizona Fall League.
Tebow snapped his 0 for 13 drought in the league that features many of MLB's top upper-level prospects by hitting a line drive single to left field in his second at-bat with the Scottsdale Scorpions on Tuesday.
The single came against Mesa Solar Sox right-hander Duane Underwood Jr., a Chicago Cubs prospect who went 0-5 with a 4.91 ERA in 13 starts with Double-A Tennessee during the regular season.
Tebow started 0-for-9 in the Arizona Fall League, then took the weekend off to fulfill his duties as a college football analyst for ESPN. He returned to the diamond on Monday and went 0-for-3 before his breakthrough on Tuesday.
The Mets signed Tebow to a minor league deal worth $100,000 last month.
Information from ESPN's Adam Rubin contributed to this report.
October, 18, 2016
Oct 18
9:50
AM ET
Gary A. Vasquez/USA TODAY Sports
Could the New York Mets make a big splash this winter by signing Los Angeles Dodgers closer Kenley Jansen when he reaches free agency in a few weeks?
John Harper of the New York Daily News floats the idea, noting the Mets need to capitalize on their shrinking window as championship contenders. Bullpens have become more and more important in today's game, and the Mets could pair Jansen with Jeurys Familia, who remains a top-shelf reliever despite his October struggles the past two seasons.
"Putting (Jansen) behind Familia, as well as Addison Reed, who is under contractual control for one more year, would create the type of super-pen that would allow Terry Collins to protect the likes of Matt Harvey, Jacob deGrom, and the other starters coming back next season from their various injuries -- and make the Mets especially tough to beat in October," writes Harper.
Jansen had 47 saves and a 1.83 ERA this season and is enjoying a big October with three saves and a 51-pitch effort in Game 5 of the National League Division Series in Washington. But there are whispers the Dodgers will pass on Jansen and pursue the Chicago Cubs' Aroldis Chapman, another elite closer who will reach free agency.
There has been little buzz as to the Mets' interest in Jansen, especially since they will undoubtedly need some extra free-agent dollars to re-sign outfielder Yoenis Cespedes, assuming he opts out of his current contract.
Harper suggests Jansen could land a deal in the four-year, $54 million range, calling it "the best non-Cespedes money the Mets could spend."
-- Doug Mittler
October, 17, 2016
Oct 17
3:45
PM ET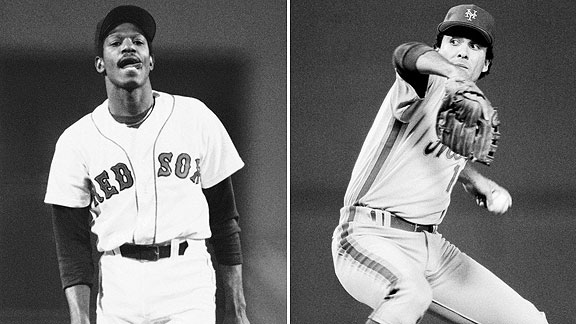 AP PhotosOil Can Boyd struggled, but Bob Ojeda dominated in Game 3.
Each week, we'll commemorate the 30th anniversary of the 1986 New York Mets championship run. We'll focus on the memorable games, players, stories and stats and the journey of dominance taken by one of New York's greatest baseball teams. We'll be aided by media accounts from the New York papers (especially the Daily News, which published every article after the season in a book titled "Yes!") as well as interviews past and present.
"Life is easy. The World Series is hard" wrote New York Daily News writer and editor Vic Ziegel in picking the Mets to win the World Series in the maximum seven games. And so it was for these Mets, the best regular-season team that baseball had in more than a decade, but one that struggled to get by the Astros in the NLCS. The Mets opponent in the World Series would be the Red Sox, who went the distance in ousting the Angels, rallying from a 3-1 deficit.
Game 1: Red Sox 1, Mets 0

For just about the entire season, the Mets got the big hit whenever it was needed. But that was not the case in Game 1 of the 1986 World Series. The Mets went 0-for-8 with runners in scoring position against Red Sox starter Bruce Hurst, who stymied them for eight innings.
Their best chance came in the bottom of the sixth, when Keith Hernandez walked and Gary Carter signled. But Darryl Strawberry struck out looking and Ray Knight hit into a double play. The Red Sox capitalized in the seventh when Ron Darling walked Jim Rice and after a wild pitch, Rich Gedman's ground ball went through Tim Teufel's legs, scoring Rice.
It would be the second-most-talked-about ground ball through someone's legs in the series.
The Mets went down in each of the next three innings, losing 1-0 and falling behind in the series, 1-0.
Stat of the day: Darling became the first pitcher in 65 years to pitch at least seven innings, allow no earned runs and be charged with a World Series loss. The last before him was Waite Hoyt for the 1921 Yankees against the Giants. The only pitcher since Darling to suffer this fate was John Smoltz for the 1996 Braves against the Yankees in Game 5 (a 1-0 loss).
They said it: "The ball just scooted on me. I didn't get my glove down." -- Tim Teufel.
Game 2: Red Sox 9, Mets 3

Game 2 was a highly anticipated matchup between Dwight Gooden and Roger Clemens that didn't live up to its billing, as Gooden allowed six runs in five innings and Clemens yielded three in 4 1/3 innings. Home runs by Dave Henderson and Dwight Evans led the way in an 18-hit attack and a 9-3 Red Sox win.
Stat of the day: To that point, only one team had come back to win the World Series after losing the first two games at home -- the 1985 Royals, who dropped the first two to the Cardinals and won in seven games, with the help of a late-game rally in Game 6 (sound familiar?)
They said it: "We just haven't done the things we're capable of doing." -- Davey Johnson.
Game 3: Mets 7, Red Sox 1

The most important game of the season for the 1986 Mets was this one, and the most important inning was the first one. It was there that the Mets made a statement that they were back in this series, scoring four times against Red Sox starter Oil Can Boyd. Highlights of the inning included Lenny Dykstra's leadoff home run (one of four hits he had in the game) and a botched rundown, immediately followed by a two-run single by DH Danny Heep.
The game was essentially noncompetitive after that. Bob Ojeda allowed one run in seven innings and the Mets won, 7-1.
Stat of the day: The Mets have the most leadoff home runs in World Series history -- four, by Tommie Agee (1969 Game 3), Wayne Garrett (1973 Game 3), Dykstra (1986 Game 3) and Curtis Granderson (2015 Game 5).
They said it: "I think the only one who got mastered was him." -- Dykstra on Boyd, who said earlier in the series that he would 'master' the Mets.
Game 4: Mets 6, Red Sox 2

Red Sox manager John McNamara made a curious decision for Game 4. Rather than pitch Hurst on three days rest, he went to his No. 5 starter, Al Nipper against Darling. For three innings that decision held up fine, but then came a Gary Carter two-run home run and a Ray Knight RBI single that put the Mets up 3-0 through four.
Darling kept the Red Sox at arm's length and home runs by Dykstra and Carter added to the lead. The result was a 6-2 series-tying Mets win.
Stat of the day: Carter is the last catcher to hit two home runs in a World Series game. The others to do it were Yogi Berra (1956 Yankees), Gene Tenace (1972 Athletics) and Johnny Bench (1976 Reds).
They said it: "If we can continue to hit like this, the '27 Yankees couldn't beat us.'' -- Ray Knight.
Game 5: Red Sox 4, Mets 2

A fully rested Hurst was up to the challenge. Gooden, pitching on short rest, was not, and was pulled three batters into the fifth inning. The Red Sox scored single runs in the second and third and tacked on two runs in the fifth inning to go ahead, 4-0.
The Mets got one shot to tie after that, scoring once against Hurst in both the eighth and ninth innings, but Dykstra struck out on three pitches to end the game. The Red Sox now led the series, 3-2.
Stat of the day: Red Sox first baseman Dave Stapleton entered the game as a defensive replacement in the ninth inning. This was the seventh time in the postseason that he entered a game as a defensive replacement. The Red Sox won all seven of those games. He never appeared in a postseason game again.
They said it: "Once again, it was a case of too much Bruce Hurst. He's got two good off-speed pitches that he keeps away from hitters, and a decent fastball than he runs in. If you have that combination, you can pitch anywhere." -- Davey Johnson
October, 13, 2016
Oct 13
7:23
PM ET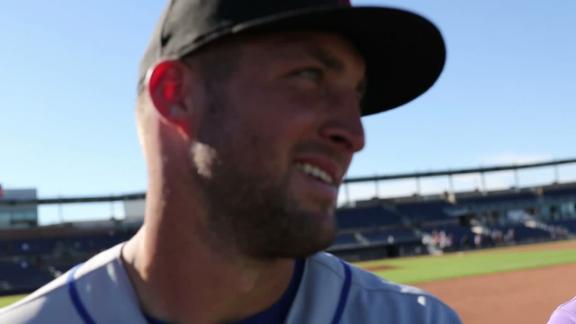 PEORIA, Ariz. -- Tim Tebow remains hitless in the Arizona Fall League as the ex-quarterback heads to Knoxville for Saturday's SEC football showdown between top-ranked Alabama and No. 9 Tennessee.
Tebow went 0-for-3 with a walk, two strikeouts and a run scored Thursday as the designated hitter for the Scottsdale Scorpions in a 5-2 loss to the Peoria Javelinas.
Through three games in the league for top prospects, Tebow is now 0-for-9 with three strikeouts, two walks and an RBI. All of his six outs put in play have been hit to the right side of the infield -- two grounders to second base, three to first base and a squibber in front of the plate. He manned left field in his opening two games.
"I'm getting adjusted. I need to get back into the rhythm," Tebow said. "I was a little late on a couple of fastballs I could have done something with."
Scottsdale hitting coach Damon Minor, who played parts of four seasons with the San Francisco Giants, said, "He hasn't done it in a while. ... He's very athletic, and you can tell he competes."
Tebow is excused from Friday and Saturday AFL games because of his ESPN broadcasting responsibilities. The AFL is dark on Sundays, so Tebow will resume his baseball pursuit on Monday.
Coincidentally, the New York Jets -- one of Tebow's former employers -- will be playing nearby against the Arizona Cardinals on Monday. However, Tebow will be unable to attend because the Scorpions have the AFL's lone night game on Monday.
Tebow signed a minor league deal for $100,000 with the Mets last month.
"The progress is being made," said Scottsdale manager Tom Goodwin, who also serves as the first-base coach for the Mets. "It's slowly but surely coming along. He's got some TV obligations to fulfill, and he'll come back Monday and he'll be ready to go."
Goodwin said Tebow does not seem overmatched.
"I'm sure he's said it to you before: He's missing pitches that he should hit," Goodwin said. "He's rolling over [pitches] right now. That's going to happen, because you're anxious up there. You want to hit the ball. So you go out and get it instead of letting it travel a little deeper.
"Every time he comes out and plays, I would expect him to get better at that. And then he's going to have to learn, when he gets his pitch to hit, to not miss it. There are a couple of balls, I'm sure, he feels he should have hit that he's not hitting. That's a part of baseball. That's a part of learning your strike zone and learning your bat path, and then putting a good swing on the ball that happens to be in your path."
The employees at Peoria Sports Complex, the spring training home of the Seattle Mariners
October, 13, 2016
Oct 13
5:09
PM ET
What happens when you put the New York Yankees' top prospect, Gleyber Torres, with the New York Mets' most popular prospect, Tim Tebow? A selfie, of course.
Feast your eyes on the future of New York.
Both Torres and Tebow are members of the Scottsdale Scorpions in the Arizona Fall League.
They're all smiles now, but let's see how they look in a few years if they're embedded within one of MLB's biggest inner-city rivalries.
-- Courtney Schellin