March, 18, 2018
Mar 18
9:52
AM ET
ESPN
New York Mets left-hander Jason Vargas has a broken bone in his non-pitching hand and will visit a specialist later Sunday, the team announced.
Vargas suffered a non-displaced fracture of the hamate bone in his right hand Saturday when he attempted to catch a line drive in a minor league game.
Initial X-rays showed no broken bones, but a CT scan performed later Saturday revealed the fracture.
The Mets did not announce a timeline Sunday for how long Vargas would be sidelined. Mets manager Mickey Callaway indicated Saturday, however, that the team did not think Vargas would miss the start of the regular season, even if he doesn't pitch again this spring.
Vargas, 35, signed a two-year, $16 million deal with the Mets last month after going 18-11 for the Kansas City Royals last season.
March, 16, 2018
Mar 16
6:10
PM ET
Associated Press
Focus on Sport/Getty ImagesEd Charles ended his eight-year MLB career as a World Series champion with the Mets.
NEW YORK -- Ed Charles, the third baseman known as "The Glider" who helped lead the Miracle Mets to the 1969 World Series title with his veteran guidance and poetry, has died. He was 84.
Charles died Thursday in New York, the J. Foster Phillips Funeral Home said.
Born Edwin Charles on April 29, 1933, in Daytona Beach, Florida, he was inspired to become a professional baseball player when he saw Jackie Robinson, then a minor leaguer in the Brooklyn Dodgers farm system, on a train at spring training in 1946. A year later, Robinson broke the big league color barrier.
Charles was signed by the Milwaukee Braves in 1952 and spent nearly a decade in the minor leagues before he was traded to the Kansas City Athletics after the 1961 season. He made his big league debut with the A's that April at age 29 but is best-known for his time with the Mets, who acquired him May 10, 1967, for outfielder Larry Elliot and $50,000.
Charles hit just .207 with three homers and 18 RBIs in 169 at-bats in 1969, which turned out to be his final season, but he inspired his young teammates with his poetry and came up with the occasional big hit.
He singled off Baltimore's Dave McNally in the ninth inning of Game 2 of the World Series and scored the go-ahead run on Al Weis' sacrifice fly as the Mets won 2-1 for a 2-0 series lead en route to the Mets' first title. Charles provided leadership to an expansion team that had established itself as lovable losers in its initial seasons. Mets broadcaster Bob Murphy was fond of saying: "Never hang a slider to the Glider."
March, 15, 2018
Mar 15
5:58
PM ET
Associated Press
PORT ST. LUCIE, Fla. -- New York Mets pitcher Noah Syndergaard tried to put his second straight Opening Day start in perspective but let his emotion show.
"I'm super jacked for it," he said Thursday. "It's just a great feeling, second year, starting Opening Day and coming out of the gates hot."
Mets manager Mickey Callaway said Tuesday that Syndergaard would start against St. Louis on March 29. The 25-year-old right-hander has a 1.38 ERA in 13 innings over four spring training appearances, striking out 18 and holding hitters to a .152 average.
"It kind of benefits me to just go out there and pretend it's another game," Syndergaard said. "I feel like we kind of put it on this pedestal."
Syndergaard pitched six shutout innings but did not get a decision in last year's opener against Atlanta. He will be the first Mets pitcher to start consecutive openers since Johan Santana pitched in three straight in 2008-10.
"The hype gets a little overwhelming, the same thing with playoff games, wild-card games. It's just another game of baseball," Syndergaard said. "You have to put that to the side and just go out there and have fun with it."
Syndergaard's 2017 season was cut short by a partial tear in his right lat sustained in a 23-5 loss to Washington last April 30.
He returned to the mound for the Mets' Gulf Coast League team and made two appearances for the Mets totaling three innings during the final 10 days of the season. That left him at 1-2 in seven appearances.
"The way Noah's throwing the ball, coming out throwing a 100 (mph) pretty much every game and striking everybody out, it's kind of hard not to give the big guy the nod," rotation mate Matt Harvey said.
Syndergaard said teammate Jacob deGrom
March, 13, 2018
Mar 13
5:33
PM ET
Associated Press
PORT ST. LUCIE, Fla. -- Tim Tebow was reassigned by the New York Mets to their minor league camp on Tuesday after he went 0-for-4 with four strikeouts in an exhibition against the Houston Astros.
The former NFL quarterback and 2007 Heisman Trophy winner hit .056 (1-for-18) with 11 strikeouts in seven big league exhibition games. The 30-year-old athlete, who is not on the Mets' 40-man roster, has been hampered by a left ankle sprain.
"I'll just continue to work in all the areas we've been working and making progress. That's really the focus -- to continue the process and the journey and keep working," Tebow said to reporters following the game.
Tebow's only hit was a hard single to center off the Washington Nationals' Erick Fedde on March 2. Tebow has been used solely as a designated hitter or pinch hitter because of the injury.
"The ankle was kind of disappointing. I got to put in a lot of good work and feel like I'm improving. It's getting there," Tebow said.
Earlier in spring training, Mets general manager Sandy Alderson said he thought Tebow would be in the major leagues one day. Tebow said that is not his focus at this point.
"It's definitely the goal, and we'll be putting in work every day to one day get that opportunity, but you can't just be focused on the end result. It's got be on every day in the process," Tebow said. "It's having a long-term mindset with a here-and-now focus."
Tebow, an outfielder, can appear in games for New York but would have to be brought over from the minor league side.
He said being in a major league clubhouse for the first time was rewarding.
March, 13, 2018
Mar 13
12:21
PM ET
Associated Press
PORT ST. LUCIE, Fla. -- Mets captain David Wright won't participate in baseball activities for two months because of back and shoulder issues, another setback in his attempt to return from injuries that have sidelined him for two years, and New York star outfielder Yoenis Cespedes is sidelined after hurting a wrist.
New York made the announcements Tuesday, a day after Wright was examined by Dr. Robert Watkins in Los Angeles.
The 35-year-old Wright has been limited to 75 regular-season games during the past three years. He was on the disabled list from April 15 to Aug. 24, 2015, when he strained his right hamstring and then developed spinal stenosis.
He returned as the Mets won their first NL pennant since 2000 but has not played for them since May 27, 2016. Watkins operated that June 16 to repair a herniated disk in Wright's neck. After Wright's minor league rehabilitation assignment was ended after three games last year due to shoulder pain, he had surgery Sept. 5 to repair his right rotator cuff, and Watkins performed a laminotomy in early October in which a bony layer over the spinal canal was removed to treat nerve compression.
A seven-time All-Star, Wright is guaranteed $47 million by the Mets over the next three seasons. New York signed Todd Frazier in case Wright would not be able to play.
The 32-year-old Cespedes hurt his right wrist while swinging in a game on March 6. He was to play Tuesday but was scratched.
"I felt something in my wrist, but I didn't care much about that,'' Cespedes said through a translator. "It started bothering me on Tuesday, but with the day off yesterday ... I thought it would be good for today.''
New York had X-rays taken, which were negative.
March, 12, 2018
Mar 12
9:50
AM ET
Associated Press
PORT ST. LUCIE, Fla. -- The question whether or not Jacob deGrom will be the New York Mets' starting pitcher on Opening Day wasn't resolved on Sunday. But if he isn't, it likely won't be because of his stuff.
Making his spring debut after being sidelined with back stiffness and leaving camp for his daughter's birth, deGrom overpowered the Houston Astros at times in his two-plus innings of work. He struck out the side in the top of the first, and hit 98 mph during his 47-pitch outing.
Overall, he allowed two runs on two hits and one walk in 2 2/3 innings, fanning four in a 5-2 loss.
DeGrom worked two innings Tuesday in a simulated game. The right-hander said facing opposing hitters other than his teammates or prospects resulted in a rush that had him ramping up his fastball.
"You go face your own hitters and live BP and sim games, whatever, you want to get them out. But when you go face another team and you're actually in a game game, then it's definitely different," deGrom said.
DeGrom fanned Jake Marisnick and Tony Kemp looking before finishing Alex Bregman with a swing-and-miss fastball. Many fans stood as deGrom walked to the dugout.
"I had some nerves, some adrenaline," he said, smiling.
Mets manager Mickey Callaway was impressed with the start.
"He looked fine. He came out of it healthy. We know who Jacob deGrom is," Callaway said.
March, 8, 2018
Mar 8
5:43
PM ET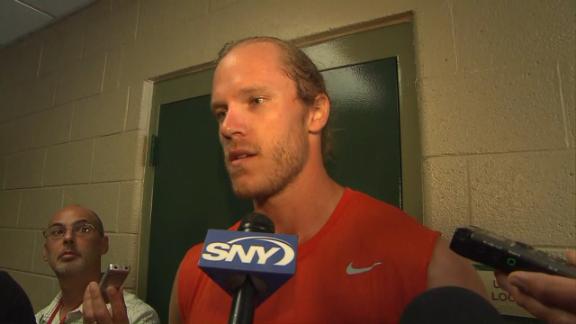 PORT ST. LUCIE, Fla. -- You don't get a lot of sizzle-reel moments in spring training, so when they happen, they tend to stand out.
There was one such sequence last week, when the defending champion Houston Astros sent Justin Verlander to the hill against New York Mets bolt thrower Noah Syndergaard in the first spring outing for both pitchers. They did not disappoint, throwing two perfect innings apiece and combining to strike out half the batters they faced. Verlander was hitting 97 on the scoreboard, and Syndergaard electrified the gathering at Ballpark of the Palm Beaches with 11 pitches that registered over 100 mph.
When asked about it the next day, one scout who was at the game simply pursed his lips and said, "Ooooooh. Filthy."
After the game, creaky, old Verlander commiserated with the media about the glory days of yore, bemoaning the inevitable ravages of time that prevented him from reaching triple digits on the scoreboard in that first spring appearance.
"Maybe not 100 right away," Verlander told the Houston Chronicle. "Yeah, I used to run it up there pretty good."
And that was that for the 35-year-old, who went back to living his life and preparing for the season. For Syndergaard, 25, the aftermath of the early velocity explosion was very different. First, he conducted his post-outing interview without a shirt on, which somehow created an internet sensation. Then, a couple of days later, he actually had to answer questions about whether he was throwing the ball too well.
That's life in the Mets' rotation. When it comes to this group of super-talented starters, it's always something.
Perhaps no position group in baseball has been as scrutinized as the Mets' rotation over the past half-decade. Part, or even most, of it is almost certainly because these pitchers ply their trade in the media capital of the baseball world, under the brightest of spotlights even in a market they share with the behemoth Yankees. Part of it, too, stems from the colorful group of personalities in question, bearing nicknames such as "Thor," "Dark Knight" and "deGrominator."
Also, the allure might be not just about the peak production of the staff over the past few years but about how the pitchers have gone about it. In this decade, 85 starters have struck out at least 21 percent of opposing batters. The Mets have five of those pitchers: Syndergaard (28.4 percent, seventh), Jacob deGrom
March, 6, 2018
Mar 6
5:49
PM ET
The best player in baseball over the past five years has been Mike Trout. And if I can go ahead and give something away, I expect that the best player in baseball over the next five years will be Mike Trout. I'm thinking in terms of wins above replacement, or WAR, which is the simplest way to distill overall value into a single number. Sure, WAR has its problems, but it has everything included except the intangibles. I'll leave measuring intangibles to somebody else.
Writing about the best players in baseball over the next half-decade comes down to equal parts math and guesswork. Whenever you're supposed to look forward, it can be instructive to look back. Here are the top 10 players since 2013:
10. Adrian Beltre
9. Andrew McCutchen
8. Joey Votto
7. Paul Goldschmidt
6. Corey Kluber
5. Chris Sale
4. Max Scherzer
3. Clayton Kershaw
2. Josh Donaldson
1. Mike Trout
Out of that group, eight players were terrific in 2012. But with Kluber and Donaldson there was very little warning. Both were late bloomers, with Kluber learning a sinker in Triple-A and Donaldson overhauling his swing. There's simply nothing I can do to be able to predict random breakouts such as those. The same would apply to someone such as J.D. Martinez. Sometimes we don't get indicators, aside from a player being in the majors or the high minors in the first place.
So going forward, I'm trying to think about the best probabilities. I'm not going to pick a non-prospect in Triple-A at random. Instead, we're going with players who have already shown they're good, emphasizing two things: youth and being a position player. Youth because we're focusing on value from 2018 through 2022, and baseball players just don't age very well. Being a position player because as a general rule, don't trust pitcher health. There is one pitcher included in the top 10, but I couldn't bring myself to add another. There's just too much risk, and just about every pitcher's body is a ticking time bomb.
I should note that this is independent of contract status. This is an article about the best players, not the players most valuable to their teams, which is a different question. There are certain players it pains me to leave out: My five honorable mentions are Jose Ramirez, Chris Sale, Mookie Betts, Nolan Arenado and Ozzie Albies. Those five extremely valuable players narrowly missed the top 10.
March, 5, 2018
Mar 5
7:12
PM ET
Associated Press
Peter G. Aiken/USA TODAY SportsMatt Harvey was pleased he was able to pitch out of trouble during Monday's spring training appearance.
PORT ST. LUCIE, Fla. -- Matt Harvey thinks he is on the right track as he tries to regain the form that made him an All-Star in 2013.
The oft-injured New York Mets pitcher allowed two hits over three scoreless innings against the Detroit Tigers on Monday in his second spring training appearance.
"I was pleased with putting up zeroes but also to be able to throw my pitches and keep guys guessing," the 28-year-old right-hander said. "I didn't go late into the game because we're only going three innings, but I finished the outing strong and came out with zeroes."
An All-Star who started the 2013 game at the Mets' Citi Field, Harvey has struggled since tearing the ulnar collateral ligament in his pitching elbow that August. He was 13-8 with a 2.71 ERA over 29 starts when he returned in 2015 following Tommy John surgery. He then slumped to 4-10 with a 4.86 ERA in 2016, when he didn't start after July 4 because of thoracic outlet syndrome, which required another operation.
He wound up 5-7 with a 6.70 ERA last year, when he was sidelined from mid-June until September because of a stress fracture in his scapula, which connects the arm with the collarbone.
March, 3, 2018
Mar 3
6:46
AM ET
ESPN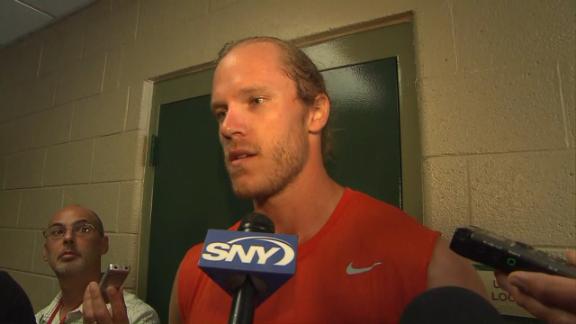 New York Mets pitcher Noah Syndergaard doesn't want anybody to freak out after he lit up the radar gun in his Grapefruit League debut this week.
Of his 22 pitches over two innings, Syndergaard threw 11 that registered 100 mph or more in his first start of the spring against the Houston Astros on Monday.
On Saturday, Syndergaard pitched three innings in his second start. He allowed one run on a hit and a walk and struck out four in a 1-0 loss to the Miami Marlins. His fastball once again topped 100 mph.
"Who is freaking out? People with no baseball expertise? I am not too concerned people saying there is a harm throwing too hard, too early," Syndergaard told reporters Friday. "If I am already there at this point and I am capable of doing that, then how is it too early? I wasn't overthrowing. I was throwing free and easy. ... That's not something I can worry about. I was under control."
The right-hander started just seven games in 2017, as a case of biceps tendinitis and a partially torn lat muscle caused him to miss the majority of the season. He pitched a significant chunk of the 2016 season with a bone spur in his pitching elbow.
"As long as he stays under control, then I am not going try and change anything," Mets manager Dave Eiland told reporters. "If the effort level and his ability to control his body and arm are there, then I don't worry about it."
March, 2, 2018
Mar 2
6:31
PM ET
Associated Press
PORT ST. LUCIE, Fla. -- Tim Tebow made his first spring training start this year, struck out against reigning National League Cy Young Award winner Max Scherzer and then singled off Washington's Erick Fedde in a 2-1 loss by a New York Mets split squad on Friday.
Batting fourth as the designated hitter, Tebow struck out on three pitches leading off the second inning.
"He's nasty," Tebow said. "The first pitch was a back-door slider, a really good pitch. The second pitch was a fastball, and I felt I put a really good swing on it. He's got so much movement on his ball, and it just stays true. Then he throws another back-door cutter 0-2. He's just got a lot of really good pitches, but it's awesome to see one of the best in the league. It's great work for me."
The 30-year-old former NFL quarterback singled on a first-pitch fastball in the fourth for his first hit of spring training.
"It was a little bit outside, but I wanted to stay on it and hit it where it's pitched. It felt good," Tebow said.
The 2007 Heisman Trophy winner reached on a fielding error by first baseman Jose Marmolejos in the seventh and is hitting .143 (1-for-7) in his second big league spring training. He sprained an ankle while stepping on a sprinkler, causing the Mets not to play him in the field.
"People get angry for some reason. I don't know why they get angry," Washington's Ryan Zimmerman said. "He didn't sign himself to come play. It's not his fault someone gave him a chance. He seems like a nice guy. It seems kind of silly to get upset over someone playing baseball. I've got no problem with it."
Tebow split last season between Columbia in the South Atlantic League and St. Lucie in the Florida State League.
"I get butterflies in almost everything I do. I just care so much about it -- I'm passionate. I love it. I enjoy it," Tebow said. "If I didn't have that, I probably wouldn't be playing."
GAME NOTES

RHP Jacob deGrom
February, 20, 2018
Feb 20
11:22
AM ET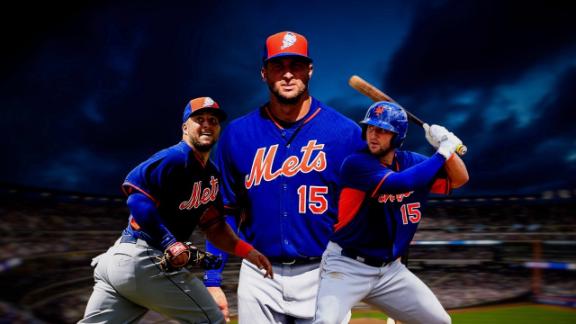 Is Tim Tebow a major leaguer? According to New York Mets GM Sandy Alderson, the former NFL quarterback is all but bound for the bigs.
"Somebody asked me whether I think he'll be a major league player at some point," Alderson said Sunday. "I think he will play in the major leagues. That's my guess. That's my hope, and to some extent now after a year and a half, a modest expectation."
So, for this exercise, we'll take Alderson at his word and assume Tebow will show up at Citi Field (or elsewhere) in a major league uniform at some point. But when? And for how long?
---
Will we see Tim Tebow in the majors this season?
Sam Miller: The premise we're going with today is that we will see him sometime, but man is it hard to see it: Tim Tebow is miles and miles away from being good enough to play in the majors; he will almost certainly never get good enough to make the majors; if he played in the majors, it would be nothing more than a stunt, and Sandy Alderson, his general manager, is not a general manager known for treating official major league baseball games like a stunt.
February, 28, 2018
Feb 28
7:58
AM ET
Quinn Harris/Icon SportswireJose Quintana went 7-3 with a 3.74 ERA in 14 starts with the Cubs last season.

From the Cubs' ace not enough people notice to the AL's answer to Nolan Arenado, these under-the-radar guys help teams win.