Toxicology report -- bad contracts to swap
October, 27, 2010
10/27/10
5:41
PM ET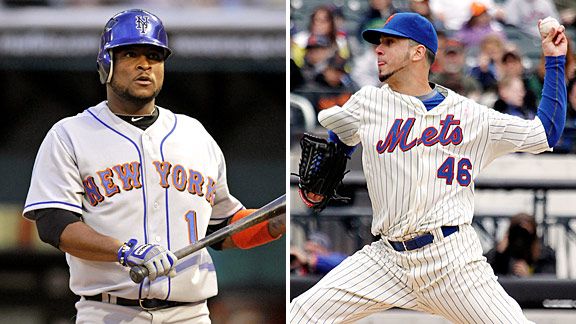 US Presswire
Luis Castillo (left) is owed $6 million in 2011. Oliver Perez (right) is owed $12 million. It will be a chore for Sandy Alderson to find matching bad contracts to swap for them.
When
Sandy Alderson
gets down to business, reshaping the roster will be one primary task. And Alderson will have his work cut out for him in finding takers for
Oliver Perez
and
Luis Castillo
, who are owed $12 million and $6 million respectively in the final years of their deals in 2011.
The Mets also could look into trading
Carlos Beltran
, who is owed $18.5 million in 2011. Yet with Beltran's contract expiring after next season, and given the amount the Mets would have to subsidize in a trade because of Beltran's balky knees, perhaps it's just best to hold onto the center fielder and see what he can produce in a walk year.
Finally, there's
Francisco Rodriguez
, whose grievance has been resolved. It would seem likely the Mets ride it out with the closer. Could they find a taker for his contract? K-Rod is owed $11.5 million is 2011. His contract would vest for the following season at $17.5 million if he finishes 55 games and stays healthy. Otherwise, he gets a $3.5 million buyout.
Here's a team-by-team breakdown of the big contracts major league clubs may look to move this offseason. If the Mets are to match bad contracts, it may come from the list of players below.
AL EAST
BALTIMORE ORIOLES:
Left-handed reliever
Michael Gonzalez
has one year, $6 million remaining on an original two-year, $12 million deal signed last offseason. However, with
Koji Uehara
a pending free agent who may or may not be re-signed depending on the cost, Gonzalez could be considered the top closing candidate if the season were to start soon. When healthy, Gonzalez was reasonably effective. So while Baltimore conceivably could move Gonzalez, it is not a case in which there is motivation to swap the southpaw for another bad contract. Actually, the O's largely have gotten out from under their bad contracts. The two remaining long-term deals are for right fielder
Nick Markakis
, their top performer, and second baseman
Brian Roberts
. Roberts has three years, $30 million remaining on his deal. While that may look onerous because he was limited to 59 games this past season because of the herniated disc in his back, he was effective once he returned in late July. Roberts also has a fan in owner
Peter Angelos
.
BOSTON RED SOX:
Contingent upon what the Sox do in the outfield this offseason, ex-Met
Mike Cameron
could be a handsomely paid fourth outfielder at $7.25 million.
Daisuke Matsuzaka
(9-6, 4.69 ERA) is owed $10 million each of the next two seasons. Right fielder
J.D. Drew
has $14 million owed in 2011, in the final year of his five-year, $70 million contract. Drew's modest 2010 numbers, at least when compared with previous production: .255, 22 HR, 68 RBIs.
NEW YORK YANKEES: Javier Vazquez's
contract, which paid him $11.5 million this season, is coming off the books, but fellow right-hander
A.J. Burnett's
contract remains. Burnett (10-15, 5.26 ERA) is owed $16.5 million annually through 2013 and has a partial no-trade clause.
TAMPA BAY RAYS:
No apparent albatross match, with the most unfavorable contract perhaps the $3.3 million owed to catcher
Kelly Shoppach
in 2011 with a buyout of the following season's option. Shoppach hit .196 with five homers and 17 RBIs in 158 at-bats. The only long-term deals are with third baseman
Evan Longoria
, right-hander
James Shields
and right fielder
Ben Zobrist
-- and those are primarily via options. Zobrist (.238, 10 HR, 75 RBIs) does have three years remaining at $14.5 million, plus a $2.5 million buyout.
TORONTO BLUE JAYS:
Center fielder
Vernon Wells
is owed a whopping $86 million over the next four years and has a no-trade clause based on an extension signed during the 2006-07 offseason. Wells, 31, hit .273 with 31 homers and 88 RBIs in 157 games.
AL CENTRAL
CHICAGO WHITE SOX:
Right-handed reliever
Scott Linebrink
is owed $5.5 million next season. He went 3-2 with a 4.40 ERA in 52 relief appearances.
CLEVELAND INDIANS: Travis Hafner
is owed $13 million each of the next two seasons, plus a $2.75 million buyout of a team option for 2013. While the Indians would love to shed the salary, there is a limited market for a DH with diminished power and recent injury issues. Hafner hit .278 with 13 homers and 50 RBIs in 396 at-bats.
DETROIT TIGERS: Carlos Guillen
is on the books for one more season at $13 million, has health issues and may need to spend the bulk of his time at DH rather than second base. Otherwise, the Tigers' bevy of bad contracts have expired.
KANSAS CITY ROYALS:
Right-hander
Gil Meche
is owed $12.4 million next season and has shoulder issues that have prompted him to shift to a set-up reliever role. Still, the Royals wouldn't entertain trading the Mets' unusable parts for him when engaged last summer. Right-hander
Zack Greinke
($27 million over the next two seasons) and Rutgers product
David DeJesus
($6 million in his final year) both are available via trade, particularly the outfielder DeJesus, but neither falls into the category of a contract to be dumped.
MINNESOTA TWINS:
First baseman
Justin Morneau
has three years, $42 million remaining, but that's a non-issue assuming he successfully returns from a concussion. Right-handers
Nick Blackburn
(three years, $13 million remaining) and
Scott Baker
(two years, $11.5 million) have deals that exceed their actual value, especially while both recover from arthroscopic elbow surgeries, but they don't fall into the albatross-contract category.
AL WEST
LOS ANGELES ANGELS:
The Mets already have taken two of the biggest albatrosses in Angels history in the past decade --
Mo Vaughn
and
Gary Matthews Jr.
, although L.A. kicked in $21.5 million of the $23.5 million owed to Matthews. The Angels' current bloated contracts: old friend
Scott Kazmir
and left fielder
Juan Rivera
. Kazmir produced a 9-15 record and 5.94 ERA in 28 starts, but could be salvageable. He is owed $12 million in 2011 and has an option for 2012 at $13.5 million, or a $2.5 million buyout. Rivera wore out his welcome after signing a three-year, $12.75 million deal before the 2009 season. He is owed $5.25 million next season, in the final year of that deal, and is a prime trade target to free up dollars for the pursuit of
Carl Crawford
,
Adrian Beltre
or the like. Catcher
Mike Napoli
and second baseman
Howard Kendrick
, both of whom are arbitration-eligible, are prime trade candidates as well because the Angels already have more than $120 million committed to payroll once arbitration awards are sorted out, and they'd like to be aggressive in free agency.
OAKLAND ATHLETICS:
Incoming GM
Sandy Alderson
is Oakland GM
Billy Beane's
mentor. Too bad there aren't big contracts in Oakland for them to discuss swapping.
SEATTLE MARINERS:
Second baseman
Chone Figgins
has $26 million remaining over three years and Seattle would willingly entertain offers. Still, the Mariners are not so down on him as to expect nothing in return. The biggest albatross: left fielder
Milton Bradley
(.205, 8 HR, 29 RBIs in 244 at-bats), who has one year left at $12 million and no great relationship with incoming manager
Eric Wedge
from their Cleveland days. Shortstop
Jack Wilson
also has one year remaining at $5 million and no use.
TEXAS RANGERS:
The worst contract had been right-hander
Rich Harden
, but he was released this month and the Rangers will buy him out for $1 million. Right-hander
Scott Feldman's
deal isn't ideal at $11.5 million guaranteed through 2012 considering he went 7-11 with a 5.48 ERA. Still, he was a 17-game winner the previous season. While third baseman
Michael Young
is overpaid at $16 million a season through 2013, there is no indication there is a desire to move him.
NL EAST
ATLANTA BRAVES:
With no room for right-hander
Kenshin Kawakami
in the rotation and one year remaining on his contract at $6.8 million, the Braves are attempting to get a Japanese team interested in taking on at least part of the amount owed for his rights. Right-hander
Derek Lowe
is owed $30 million over next two seasons, midway through a four-year, $60 million deal. While that might have been considered an albatross a year ago, Lowe's solid finish in 2010 (5-0, 1.17 ERA in September) changed that outlook, even if the Braves would consider swapping him for another starting pitcher. Third baseman
Chipper Jones
is owed $28 million through 2012. Still, there's no chance another Braves icon follows the migration of
Tom Glavine
from Atlanta to New York. Jones is coming off ACL surgery anyway, which would scare away trading partners.
FLORIDA MARLINS:
No match here. Only three Marlins are under contract for next season:
Hanley Ramirez
,
Josh Johnson
and
Wes Helms
. Ramirez and Johnson are the stars. Helms will make only $1 million in 2011 and is a nonissue. Florida does need left-handed bullpen help, so Perez conceivably could be of interest if the Mets eat just about the entire contract.
PHILADELPHIA PHILLIES:
The Phillies had bad contracts in their recent history, such as to
Adam Eaton
and
Geoff Jenkins
, but nothing like that exists right now. They would move left fielder
Raul Ibanez
($11.5 million next season) and possibly right-hander
Joe Blanton
($17 million over next the two seasons) if the right situation presented itself, but Philadelphia GM
Ruben Amaro
isn't desperate to trade either.
WASHINGTON NATIONALS:
Right-hander
Jason Marquis
went 2-9 with a 6.60 ERA in 13 starts this past season and is due to make $7.5 million next year. The Nats would trade him, but not as an outright dump. Marquis first should be given an opportunity to pitch next season and try to prove the subpar production was related to bone chips that were surgically removed. Other than Marquis, the other locked-up players --
Ryan Zimmerman
,
Stephen Strasburg
and
Bryce Harper
-- all are cornerstone building blocks.
NL CENTRAL
CHICAGO CUBS:
Top candidates in the bad-contract department: right fielder
Kosuke Fukudome
and right-hander
Carlos Silva
. Fukudome (.263, 13 HR, 44 RBIs in 358 at-bats) is owed $13.5 million next season. Silva (10-6, 4.22 ERA), who dealt with heart and elbow issues, is owed $11.5 million next season, plus the $2 million buyout of a 2012 mutual option.
Carlos Zambrano
($35.875 million over the next two years) now indicates he won't waive a no-trade clause.
CINCINNATI REDS:
Closer
Francisco Cordero
(6-5, 3.84 ERA, 40 saves) is owed $12 million next year. Otherwise, nothing notable as far as large contracts.
HOUSTON ASTROS:
Few Astros have any big money remaining on their contracts. Left fielder
Carlos Lee
is the exception with two years remaining at $18.5 million per season. Lee would be a trade candidate for salary relief. The only other notable contracts on the books:
Brett Myers
, who signed an extension during the season and is in the Astros' plans, and
Brandon Lyon
(two years left at $5 million apiece). Lyon is a major part of the bullpen plans and would not be likely to depart.
MILWAUKEE BREWERS:
Milwaukee's albatross contract to
Jeff Suppan
has expired. The Brewers are on the hook with left-hander
Randy Wolf
for two more years at a combined $20.5 million including a 2013 buyout, but the southpaw is not a dump candidate. Wolf went 13-12 with a 4.17 ERA.
PITTSBURGH PIRATES:
The Pirates would willingly trade
Ryan Doumit
, who is due $5.1M in 2011, plus a $500,000 buyout of two option years. The switch-hitting catcher/outfielder/first baseman hit .251 with 13 homers and 45 RBIs in 406 at-bats.
ST. LOUIS CARDINALS:
Right-hander
Kyle Lohse
(4-8, 6.55 ERA) qualifies as the Cardinals' bad contract with $23.75 million owed over the next two years, but the organization is not willing to classify it that way just yet. Lohse has not been healthy in the first two years of the deal.
NL WEST
ARIZONA DIAMONDBACKS:
Nothing to speak of. Third baseman
Mark Reynolds
isn't an ideal contract after his underwhelming season (.198, 32 HR, 85 RBIs), but his contract -- $5 million in 2011, $7.5 million in '12 -- isn't horrific.
COLORADO ROCKIES:
Right-hander
Aaron Cook
and first baseman
Todd Helton
are the two remaining bad contracts. Cook (6-8, 5.08 ERA) is owed $9.75 million when a 2012 buyout is factored in. Helton is owed considerably more than $20 million when deferred money is included. He has a no-trade clause.
LOS ANGELES DODGERS:
Most of the Dodgers' bad contracts have expired, except for deferred money owed to
Manny Ramirez
over the next three years. The closest things L.A. has to bloated contracts are for closer
Jonathan Broxton
($7 million in 2011) and center fielder
Matt Kemp
($7.1 million), but those are arbitration-eligible players who had been locked up and who are simply coming off substandard seasons with the opportunity to bounce back.
SAN DIEGO PADRES:
First-year GM
Jed Hoyer
didn't inherit bloated contracts from predecessor
Kevin Towers
in money or length. First baseman
Adrian Gonzalez
will have his 2011 option for $6.2 million exercised, while closer
Heath Bell
and right fielder
Ryan Ludwick
(both arbitration-eligible) will earn in the $7 million to $8 million range next season. Nothing qualifies in the Perez/Castillo category.
SAN FRANCISCO GIANTS:
Left-hander
Barry Zito
(9-14, 4.15 ERA) is owed $57.5 million over the next three seasons and cannot crack a postseason roster. Meanwhile, center fielder
Aaron Rowand
(.230, 11 HR, 34 RBIs in 331 at-bats) is owed $24 million over the next two seasons.
Thanks to writers scattered throughout the country for their assistance in putting together this list: Jeff Zrebiec, Baltimore Sun; Gordon Edes, ESPNBoston.com; Andrew Marchand, ESPNNewYork.com; Marc Topkin, St. Petersburg Times; Jeff Blair, Globe and Mail; Joe Cowley, Chicago Sun-Times; Paul Hoynes, Plain Dealer; Tom Gage, Detroit News; Bob Dutton, Kansas City Star; Joe Christensen, Minneapolis Star Tribune; Bill Plunkett, Orange County Register; Susan Slusser, San Francisco Chronicle; Jim Caple, ESPN.com; Richard Durrett, ESPNDallas.com; David O'Brien, Atlanta Journal-Constitution; Clark Spencer, Miami Herald; Todd Zolecki, MLB.com; David Murphy, Philadelphia Daily News; Mark Zuckerman, Nats Insider; Paul Sulivan, Chicago Tribune; John Fay, Cincinnati Enquirer; Zachary Levine, Houston Chronicle; Tom Haudricourt, Milwaukee Journal-Sentinel; Dejan Kovacevic, Pittsburgh Post-Gazette; Derrick Goold, St. Louis Post-Dispatch; Nick Piecoro, Arizona Republic; Troy Renck; Denver Post; Tony Jackson, ESPNLosAngeles.com; Corey Brock, MLB.com.