Wright Part I: On Citi Field, Beltran
November, 13, 2010
11/13/10
3:10
PM ET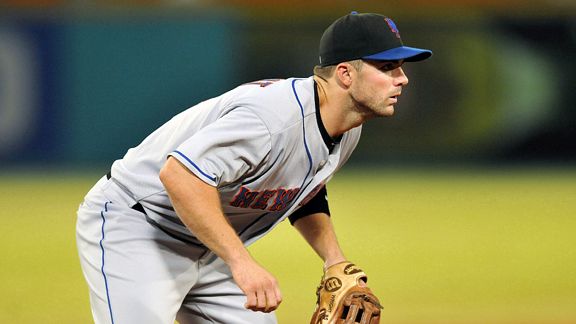 Steve Mitchell/US Presswire
David Wright, manning third base during a late-season game at Florida.
David Wright
was at Chelsea Piers on Saturday afternoon for a youth baseball clinic for After School All Stars (ASAS) New York. He discussed plenty of topics, including the pair of issues transcribed below -- his open preference for more manageable dimensions at Citi Field, and his thoughts on how delicate a move of
Carlos Beltran
from center field to right field might be. There's also a playful dig at his friend,
Jeff Francoeur
.
On Citi Field's dimensions, in light of Justin Morneau asking for the walls of the Twins' new home, Target Field, to be moved closer:
"I don't think there's any question that it affects your thought process and your swing. I haven't played at Target, but when you play at our place, or talking to some different guys from the Twins that obviously are frustrated with the fences where they are, you can't help but to try to alter things to try to fit the park you're playing in. I've kind of learned firsthand that you're just not going to hit very many opposite-field home runs at Citi. Apparently, Target is kind of the same way. So you just have to deal with it, you have to know the opposing team is going to have to deal with it, and really move on. I'd be lying if I said that I wish [the wall wasn't shorter in right-center] because I think one of my strengths is going the other way, and going the other way with power. Instead of home runs they turn into doubles, triples, whatever. But I think you have to adapt to your ballpark. There's no question [Morneau] is right when he says it can alter players' swings playing in the park that you play in -- good and bad. If you play in a big hitters' park, then I think that kind of alters your swing. I think if you play in the opposite, a big pitchers' park, that's going to alter your swing."
So you have to keep a positive attitude about the dimensions?
"Yeah. If they change it, they change it. If not, you've got to deal with it. It's ultimately their call. You have to go out there and adapt. I do think that playing in bigger ballparks can be beneficial to kind of the team that we have right now. But, at the same time, of course it's frustrating when you think you hit a ball pretty good to right-center, to left-center and the guy catches it at the warning track. I mean, it's frustrating. You've got to adapt and you've got to understand that some of those home runs might get taken away, but the outfield is so big that some of those cheap bloopers that might not fall in Philadelphia or Cincinnati are going to fall in at Citi Field."
Did the dimensions come up in your conversation with Sandy Alderson?
"No. I was maybe on the phone with Sandy for two minutes -- max."
You've got to get that on-base percentage up.
"So I hear."
Do you feel like you need to have a conversation with Sandy Alderson? He's making the tour speaking to Luis Castillo, Carlos Beltran, etc.
"I don't know that it's good or bad. Like I said, I reached out to him right after he got the job. It actually might have been right before he was going into his press conference. He said when he comes back to New York he'd like to get together and talk some baseball. Other than that, that's kind of been about it. I would love to sit down and talk to him. He's got just a tremendous resume both at baseball and just in his life in general. I'd love to sit down and shoot it with him a little bit. He just seems like a very interesting, intelligent guy and I'm excited to kind of work with him."
On being a leader:
"I think each year you kind of mature more into that kind of role. This team, I think, we need more from the guys that have been here for a while, and that includes me. I plan on this year getting into that role a little bit more, I think like last year and the year before. I think you gradually earn the respect of the organization and the players on the team. I think I've been there long enough now. I think we do need more leadership in the clubhouse, and I think I need to be part of that solution as well."
Wish Jeff Francoeur got a ring?
"I really was. I was rooting for him. I think he finds a way to get in the camera shot. He's everywhere. He didn't play all that much, but he was in every camera shot."
On the outfield alignment, and how delicate it might be moving Carlos Beltran to right field:
"I think they're doing it the right way. I think you go down. And I don't know what the plan is. But apparently one of the options is moving Carlos to right field. If that's the case, I think they're handling it the way it's supposed to be handled. You go. You talk to the player face-to-face. You kind of get a response from them. If that's what they feel is going to make this a better team, I hope Carlos is on board. I'd be shocked if he wasn't. I hope that's the case. And if that's what they feel is best for this team, I hope Carlos listens and understands that and has another great year."
You witnessed Mike Cameron's resistance, though, to moving from center to right field with the Mets.
"I think Cam was kind of open against it, though. I don't think he ever accepted the move, if I remember right. So I guess Sandy and whoever the manager is has got to get a feel from Carlos if he's willing to do it, and then kind of work from there. But you have to see how Carlos' health is, too. If he can move around the way he was moving around a few years ago, I don't think there's any question he can patrol center field. But if his knees are giving him a problem, maybe it's beneficial. I don't know the difference in wear and tear from right field to center field. But it seems like there's less ground to cover in right field than center. Hopefully all the parties kind of come to an agreement and do what's best for the team."