Mets 'deep into talks' with Chris Young
November, 29, 2010
11/29/10
7:36
PM ET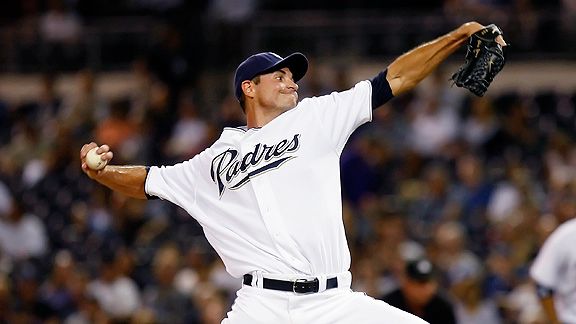 Jody Gomez/US Presswire
Chris Young is "deep into talks" with the Mets, ESPN's Buster Olney reports.
The Mets are "closing in on a deal" with right-hander
Chris Young
, ESPN's
Buster Olney
reports.
Young, 31, made three September starts for the San Diego Padres last season, after missing most of the season with a strained right shoulder.
The Mets desperately need starting pitching help. With
Johan Santana
not expected to be ready for the start of the season, the only healthy, established starters are
Mike Pelfrey
,
Jon Niese
and
R.A. Dickey
.
The 6-foot-10 Young played basketball and baseball at Princeton.
The Padres had declined an $8.5 million option for 2011 on the injury-plagued Young, although the pitcher expressed hope of remaining with San Diego when that occurred in early November.
He had shoulder surgery in August 2009. After one subsequent April appearance, he did not return until September this year. In three starts at the end of the season, he limited opponents to two runs and nine hits in 14 innings. His velocity was reportedly down despite the success.
"C.Y. proved at the end of the season how valuable a pitcher he can be when he is healthy," Padres manager
Bud Black
told the San Diego Union-Tribune as the season concluded. "Given his height and delivery, his high fastball is very hard to catch up to."
Young had a scary injury in 2008. He suffered a nasal fracture when he was struck by a line drive from
Albert Pujols
in the third inning on May 21. He underwent surgery to repair a deviated septum and the nasal fracture and returned from the DL two months after the incident.
Read Olney's news story
here
.
Here is biographical information directly from the Padres' 2010 media guide:
2009:
Made 14 starts before missing the second half of the season with a strained right shoulder…placed on the 15-day disabled list 6/19 (retroactive to 6/15) and transferred to the 60-day on 7/31. Made just 14 starts before missing the second half of the season…Padres went 6-8 in his outings…won his first two starts, allowing three runs (two earned) over 13.0 innings.
• Had six starts in which he surrendered two or fewer runs…five starts with five or more runs allowed.
• Allowed a .246 opponent average while striking out 50 and walking 40.
• Surrendered a career-high four home runs on two occasions (5/13 at CHI; 6/9 at LAD).
• Underwent arthroscopic surgery on his right shoulder 8/17…surgery performed by Dr. Heinz Hoenecke and Dr. Daniel Keefe at Scripps Clinic in Carmel Valley.
2008:
Missed 77 club games over two stints on the disabled list...went 7-6 with a 3.96 ERA (45 ER/102.1 IP) in his 18 starts…limited opponents to a .221 batting average (84-for-380), including .189 (39-for-206) vs. right-handed batters...struck out 93 compared to 48 walks…received the Padres Chairman's Award for contributions to the community.
• Yielded a .186 clip (18-for-97) to batters leading off an inning, .188 (12-for-64) with runners on with two outs, .215 (17-for-79) with runners in scoring position, .182 (8-for-44) with RISP with two outs and .125 (1-for-8) with the bases loaded.
• Placed on the 15-day DL 5/22 with a nasal fracture and laceration to his nose...sustained the injury when hit by an Albert Pujols line drive in the third inning 5/21 vs. STL...had successful surgery at Scripps Green Hospital to correct a deviated septum and repair a nasal fracture on 6/30...reinstated from DL 7/29.
• On the 15-day DL again on 8/14 (retroactive to 8/11) with a strained right forearm…reinstated prior to his start on 9/1.
• Tossed his first career complete game 9/7 at MIL, allowing one run over 9.0 innings…threw 7.2 perfect frames before giving up a home run to Gabe Kapler...the 7.2 perfect innings marked the longest perfect outing for a Padres pitcher, passing the mark of 7.1 set by Bob Owchinko on 7/16/77 in a loss vs. the Dodgers (Elias)...finished with one run allowed on two hits with five strikeouts in San Diego's 10-1 win...also collected a double and RBI with the bat.
• Knocked his first career home run, a solo shot 9/20 at WSH off John Lannan.
2007:
Earned his first All-Star appearance as the National League's leading vote getter on the Monster 2007 All-Star Game Final Vote…finished the season 9-8 with a 3.12 ERA (60 ER/173.0 IP)...tallied a career-high 167 strikeouts and 72 walks.
• Led the Majors with a .192 opponent batting average against (118-for-616) and 1.69 ERA (16 ER/85.1 IP) at home...finished among NL leaders in ERA (5th, 3.12), night ERA (7th, 3.07) and strikeouts per 9.0 innings (T-3rd, 8.7).
• Was the starting pitcher in all five of SD's 1-0 wins in 2007.
• Pitched only 3.0 innings of an eventual 1-0 Padres victory 6/16 at Wrigley Field and was ejected by home plate umpire Mike Everitt after hitting Derrek Lee with a pitch to lead off the fourth inning…dropped the appeal of his five-game suspension on 7/5, completing the suspension on 7/13.
• His 9-3 loss on 4/15 at LAD snapped a nine-game road winning streak in addition to his ML-record tying mark of 25 straight road outings without a loss…marked his first loss away from home since 6/20/05 at LAA with TEX…the undefeated streak began on 6/25/05 at HOU…only Allie Reynolds had gone as many as 25 road starts without a loss, spanning the 1948-49 seasons (Elias).
• Worked 80.2 homerless innings (315 batters faced) over parts of 13 games, 5/1-7/14...according to Elias, marked the third-longest streak in the Majors in 2007, behind WSH's Saul Rivera (86.1) and teammate Jake Peavy (84.0)...allowed two long balls to ARI's Tony Clark (4th and 6th innings) on 4/26 at ARI and did not surrender a homer again until Clark knocked a solo shot in the fifth inning 7/14 at ARI.
• Did not lose a game over 12 starts from 5/18-7/24, posting a 1.00 ERA (8 ER/72.1 IP) and 5-0 record during that span (Padres 9-3).
• Allowed just one home run at home while holding opponents to a .170 average (50-for-294)...did not allow a run at home over four starts, 6/23-8/15 (27.0 IP)…home scoreless streak was snapped at 28.0 on 8/30 vs. ARI when Mark Reynolds hit a two-run homer in the second inning.
• In his first All-Star Game, suffered the loss as the AL won 5-4 at SF…allowed Ichiro Suzuki's two-run, inside-the-park-homer in the fifth inning.
• On the 15-day disabled list from 7/29 (retroactive to 7/25) until 8/9 due to a strained left oblique…suffered the injury on 7/24 at COL, leaving that game after 2.0 innings...left his 8/21 start in New York after 5.0 innings with lower back tightness...missed his next scheduled start 8/26 at PHI.
2006:
Acquired in the offseason from the Rangers…compiled an 11-5 record with a 3.46 ERA (69 ER/179.1 IP) in 31 starts for the NL West Champion Padres.
• Led the NL with a .206 opponent batting average against and ranked sixth in ERA.
• Went 6-0 on the road with a Major League-best 2.41 ERA (25 ER/93.1 IP) in 15 starts.
• Took a no-hitter at least 5.0 innings on three occasions…5/30 vs. COL, tossed 7.0 hitless innings before Brad Hawpe's leadoff double in the eighth…was the first pitcher to take a potential no-hitter into the eighth in 2006…in his next outing, did not allow a hit over his first 5.1 frames, 6/4 at PIT…from 2000-06, the only other pitcher to begin consecutive starts with at least 5.0 hitless innings was Steve Trachsel on 6/20 and 6/25/02 (Elias)…deepest no-no bid came against the Pirates, 9/22 at PETCO Park, when he tossed 8.1 innings before surrendering a two-run home run to Joe Randa…became the first Padres pitcher to take a no-hitter into the ninth since Andy Ashby on 9/5/97 vs. ATL (8.0 innings).
• Made his Padres debut 4/7 vs. COL but did not factor in San Diego's 10-4 loss.
• Named National League Pitcher of the Month for June, his first such honor…went 3-0 with a 1.17 ERA (4 ER/30.2 IP) in five starts, recording 34 strikeouts compared to 13 walks during the month.
• Picked up the win in his first career postseason appearance, starting Game 3 of the NLDS 10/7 at STL...his 6.2 shutout innings led to the Padres only playoff victory in 2006...allowed four hits and two walks while striking out nine.
2005:
Tied a TEX rookie record with 12 wins (also accomplished by Edwin Correa in 1986 and Kevin Brown in 1989) in his first full Major League season…named to the Opening Day roster for the first time in his career.
• Placed among Rangers all-time rookie leaders in starts (T-3rd, 31), strikeouts (4th, 137) and innings pitched(6th, 164.2).
• Posted a club-rookie record eight wins before the All-Star break, joining Jeff Zimmerman (1999) and Jose Guzman (1986) as the only rookie hurlers in TEX history to accomplish the feat.
• Finished among qualifying ML rookies in strikeouts (2nd), wins (T-3rd), ERA (4th, 4.26), starts (5th) and innings pitched (5th).
• Ranked fifth in the American League with 7.5 strikeouts per 9.0 innings.
• 7.32 run support average was second highest in the Majors, trailing BOS' David Wells (7.97).
• Went 3-0 with a 1.42 ERA (5 ER/31.2 IP) in five May starts…ERA was third best among all qualifying Major Leaguers for the month.
• Pitched a no-hitter for 5.2 innings before Craig Biggio singled in the sixth inning on 6/25 at HOU.
• Named Rangers Player of the Month for August, going 3-1 with a 3.51 ERA (13 ER/33.1 IP) in six starts.
• Tossed just 1.0 inning on 9/7 at MIN, leaving the game with arm fatigue…did not start again until 9/22 at LA (AL).
2004:
Acquired by TEX from MON on 4/3…made his Major League debut 8/24, starting seven games for the Rangers…went 3-2 with a 4.71 ERA (19 ER/36.1 IP) in his first taste of the Big Leagues...after the season, signed a three-year contract through 2007.
• Purchased from Triple-A Oklahoma on 8/24 and made his debut in that night vs. MIN…fell one out shy of a quality start, allowing three runs in 5.2 innings…exited trailing 3-0 before the Rangers mounted a late comeback in a walk-off, 5-4 win.
• Was the first Princeton product to start a Major League game since Dave Sisler on 8/27/61 (GM 2) for the Washington Senators against Detroit, nearly 43 years to the day…the previous Princeton Tiger to appear in a Major League game was pitcher Robert Tufts, a reliever from 1981-83.
• Earned his first ML win in his third start 9/4 at BOS…allowed one run in 5.2 innings with five strikeouts.
• Went 2-0 with a 3.31 ERA (6 ER/16.1 IP) in final three starts beginning 9/19, issuing just one walk…lowered season ERA from 5.85 to 4.71.
• Combined to go 9-5 with a 3.72 ERA (49 ER/118.2 IP) in 23 starts between Double-A Frisco and Triple-A Oklahoma.
• Was 6-5 with a 4.48 ERA (44 ER/88.1 IP) in 18 starts with Frisco…promoted to Triple-A in late July and went 3-0 with a 1.48 ERA (5 ER/30.1 IP) in five starts for Oklahoma, issuing just nine walks with 34 strikeouts, holding opponents to a .189 (20-for-106) average.
• In his second career Triple-A start on 8/2 at Sacramento, took a no-hitter into the sixth inning before allowing a leadoff double.
• Named Pacific Coast League Pitcher of the Week for 8/16-22…threw 7.0 innings of two-hit ball, yielding one run and striking out nine on 8/18 at Memphis (GM 2).
2003:
Traded to the Expos in the offseason…began the season on the disabled list with mild triceps tendinitis then made a combined 23 starts between Single-A Brevard County and Double-A Harrisburg.
• Joined Brevard County in late April…went 5-2 with a 1.62 ERA (9 ER/50.0 IP) in eight starts.
• Was 3-0 with a 0.47 ERA (1 ER/19.0 IP) in his first three outings in Florida State League.
• Promoted to Double-A in mid-June and went 4-4 with a 4.01 ERA (37 ER/83.0 IP) in 15 starts.
2002:
Spent entire season with PIT's Single-A Hickory affiliate in the South Atlantic League, helping the Crawdads to the league title.
• Went 11-9 with a 3.11 ERA (50 ER/144.2 IP) in 26 starts.
• Allowed more than three earned runs in just two of his starts…opposing batters hit .234 (127-for-543).
2001:
Began his professional career at Hickory…went 5-3 with a 4.12 ERA (34 ER/74.1 IP) in 12 starts...threw two complete games.
PERSONAL:
Christopher Ryan Young...married to the former Liz Patrick...the couple has a daughter, Catherine Elizabeth (Cate)…NHL's former Patrick Division was named for wife's grandfather…graduated from Highland Park (TX) High School where he lettered three times in basketball and twice in baseball…had more than 1,000 career points, 500 career rebounds and 200 career blocked shots…first team all-state in basketball and baseball his senior year…averaged 16 points, 12 rebounds and three blocked shots senior year
and was District MVP…baseball team also won state championship that year and he went 8-3 with a 1.70 ERA with 95 strikeouts in 80.0 innings pitched…had a 14-3 record and 180 strikeouts during his high school career…starred in baseball and basketball while at Princeton University…for the 1998-99 season's, was the unanimous Ivy League Rookie of the Year in both baseball and basketball, the first male in league history to accomplish the feat in two sports…led the league with a 2.38 ERA (9 ER/34.0 IP)…named second-team All-Ivy League in basketball…won nine Ivy League Rookie of the Week honors (7 times in basketball, 2 in baseball)…named Ivy League Player of the Year and a freshman All-American by Basketball Weekly…set Princeton freshman records for points (387) and rebounds (160)…1999-2000: Ivy League's leading pitcher with a 1.82 ERA overall and 1.05 figure in league games…posted a perfect record of 5-0 in eight appearances with 52 strikeouts in 49.1 innings…was a unanimous first-team All-Ivy League baseball selection…in basketball, set a school record with 88 blocked shots, breaking his own record of 55…also set a school record with nine blocked shots in a game…led the team in scoring (13.8 points per game), rebounding(6.3 per game, the most by a Princeton player since 1978), blocked shots and steals (40) and was second in assists (105, the 13th player in school history to reach 100)…started every game over his career and finished with 801 points, 350 rebounds and 142 blocks…completed Princeton degree in June 2002...signed by Pirates scout Dana Brown.