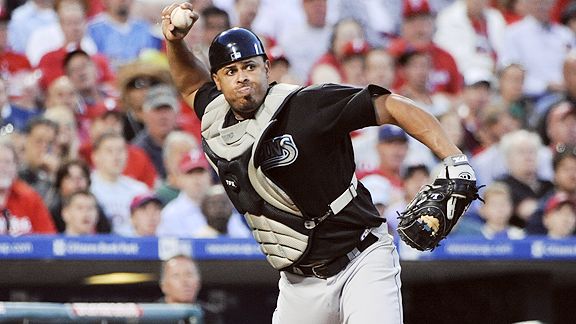 Howard Smith/US Presswire
Catcher Ronny Paulino, formerly of the Florida Marlins, is close to being the newest Met, according to ESPN's Jorge Arangure.

Catcher
Florida Marlins
Ronny Paulino, who was non-tendered by the Florida Marlins, should join the Mets as Josh Thole's backup or platoon partner, according to ESPN's Jorge Arangure.
It marks the first major league player addition of Sandy Alderson's tenure as GM.
Paulino, 29, will have to sit out the first eight games of 2011 -- the remainder of a 50-game suspension for testing positive for performing-enhancing drugs. He proved a workhorse last season with Florida, playing virtually every day with John Baker hurt last season. The righty-hitting Paulino wilted before the season-ending suspension as a result of the overuse. He hit .170 with one homer in his final 32 games after taking a .305 average into a July 3 game at Atlanta.
Overall, he hit .259 with four homers and 37 RBIs in 316 at-bats last season.
The Marlins replaced Paulino with John Buck, three years, $18 million.
Here are Paulino's career major league highlights, reprinted from the Marlins' 2010 media guide:
• Made second consecutive Opening Day roster with Pittsburgh in 2008...missed majority of the season due to a right ankle sprain, appearing in only 40 major league games...optioned to Triple-A Indianapolis on June 6 after Ryan Doumit was reinstated from the DL....placed on seven-day Disabled List on June 22 (retro to June 18) with a right ankle sprain...reinstated from DL on August 8.
• Made first Opening Day roster and made a career-high 129 appearances (119 starts) at catcher for the 2007 Pirates...batted .296 after the All-Star break, leading all NL catchers and ranking second among all major league catchers (Jorge Posada - .355)...batted .407 (44x108) vs. LHP, the third-highest average in baseball (Ryan Braun, .450; Magglio Ordonez, .410)...connected for first career grand slam (off Braden Looper) and tied a career high with four RBIs on Aug. 1.
• Began 2006 season with Triple-A Indianapolis before being recalled on April 16...finished second in average among NL rookies (.310), only 26 points behind Luke Scott (.336)...among NL rookies, finished eighth in hits (137), sixth in on-base percentage (.360) and tied for sixth in multi-hit games (38)...became second rookie catcher since 1969 to play at least 100 games behind the plate and bat .310 or better (Mike Piazza, LAD in 1993)...notched first career home run on May 9 vs. ARI (Bautista)...homered in three consecutive games from August 4-6...threw out 24 of 76 potential basestealers (32%).
• In 2005, made his major league debut on Sept. 25 at Los Angeles, recording his first career hit on Oct. 2 vs. Milwaukee...recalled by Pirates on Sept. 16.