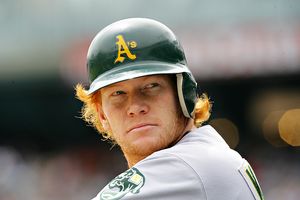 Tom Szczerbowski/US Presswire
Bobby Kielty (above) respected Dave Hudgens during their time together in Oakland.Bobby Kielty, who briefly played for the Mets' Triple-A affiliate in Buffalo in 2009 before requiring knee microfracture surgery, had 615 at-bats for the Athletics while Dave Hudgens served as hitting coach in Oakland from '03-05.
And Kielty, reached Monday, had positive things to say about his experience with Hudgens, the Mets' new hitting coach.
"I liked 'Hudge' a lot," Kielty said. "He was a real easy to get along with. He knows the game really well. I had a really good experience with Hudge. He was an awesome guy -- overall just a really quality individual. He was very available to work with. All the hitters really respected him and liked him."
With Hudgens' Oakland ties to the current Mets front office -- he also served as A's hitting coach in 1999, and was a minor league manager there in the mid-1980s -- the presumption might be Hudgens preaches high on-base percentage and walks. That would be a misperception, according to Kielty.
"He's not," Kielty said. "He's going to take the player and pretty much what he's good at, he's going to try to make sure he's performing the way he performs. I don't think he was ever about taking a player and making him a guy who is going to go up there and walk -- a guy who is going to go up there and take pitches. From what I remember, he always was about being aggressive and finding the pitch that you're looking for. If you don't see it, you take it, and that kind of works into walks. That was his whole kind of thing -- when you get pitches to hit, we're not going to go up there taking them. That's what I saw from him. ... He wasn't going to go change somebody. He was going to let them do their thing, and if they start struggling, he might bring some things up. But he wasn't a guy who has one certain philosophy. He was willing to work on what guys needed to work on."
The 34-year-old Kielty, by the way, has recovered from his knee surgery and is looking to latch on with a team for 2011.