Union chief on Mets owners, K-Rod option
February, 22, 2011
2/22/11
10:48
AM ET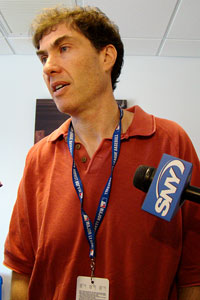 Adam Rubin
Michael Weiner speaks with reporters Tuesday in Port St. Lucie.

MLB union chief
Michael Weiner
visited Mets camp Tuesday and addressed the Mets' ownership situation and whether he's concerned the team may attepmt any funny business with respect to ensuring
Francisco Rodriguez's
vesting option for 2012 does not kick in.
With respect to ownership's Madoff situation, Weiner said he has been assured by the commissioner's office that players' guaranteed contracts will not be affected by
the Wilpons'
legal issues.
"There's a couple of levels there," Weiner said. "We want to make sure that all contractual obligations to the players are honored and we've been assured through the commissioner's office that's the case. So there's no concerns there.
"As far as broader questions, look, it's in the interests of everybody associated with baseball that the National League franchise in New York be a strong franchise. And the Wilpons have always attempted to field a competitive team. They've had success at doing that during their tenure. And we certainly hope they're in a position to continue to do that. But the real key is less what the payroll of the Mets is -- [it] is that a team like the New York Mets, the National League entrant from New York, should be in a position to be a strong franchise."
Asked specifically about having a big-market team not as active in free agency because of financial constraints being a concern, Weiner replied:"You're right in this sense: The key to a strong player market is having a number of different teams out there competing for players. We know that in any given year, you're not going to have 30 teams out there competing for players. It's just not the way it works. Look, whether it's the Mets, whether it's the Dodgers -- frankly the Twins, Tigers, any team -- if there's something that's going to prevent them from participating as they normally would in whatever cycle they would be in bidding for players, that's a concern for us. At this point, we've been assured through the commissioner's office that the Mets are going to be able to continue to operate as they have in the past."
K-Rod's option vests at $17.5 million for 2012 if he finishes 55 games this season. Otherwise, he receives a $3.5 million buyout in addition to his $11.5 million salary and becomes a free agent.
"We monitor every situation for compliance with the Basic Agreement," Weiner said. "But I have every expectation that the Mets are going to honor both the Basic Agreement and Frankie's contracts."
As far as how much latitude a team has in not using a player when a vesting option is nearing, Weiner said: "There's arbitration precedent that deals with that, that essentially says that the club's decisions for using a player have to be motivated by trying to win. There's arbitration precedent that makes clear that a team cannot sit a player down or decline to use them in order to prevent him from earning a bonus or having a year vest. But again, I have every expectation that the Mets are going to fully honor the Basic Agreement."