Postgame review: Mets 3, Cards (ss) 0
March, 3, 2011
3/03/11
5:41
PM ET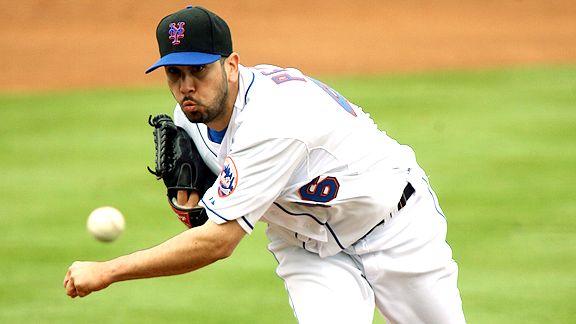 Marc Serota/Getty Images
Oliver Perez tossed two scoreless innings against the Cardinals, but his velocity averaged only 83-84 mph, not enough to regularly retire major league batters in-season.
The Mets snapped a three-game skid on Thursday with a 3-0 win against a Cardinals split squad that included
Matt Holliday
and plenty of reserves.
Oliver Perez
,
Francisco Rodriguez
,
Chris Capuano
,
Jason Isringhausen
,
Jenrry Mejia
,
Boof Bonser
and
Taylor Buchholz
combined on the shutout.
"The results speak for themselves,"
Terry Collins
said. "Our guys in the hunt for spots have really pitched well. … We haven't hit like I think we can yet, but we've certainly pitched very well."
Game details:
• Perez tossed two scoreless innings, allowing two hits and no walks, but his velocity averaged an insufficient 83-84 mph. Still, Collins deemed it a step up from Sunday's outing against the Braves, when Perez walked three straight to force in a run and surrendered four runs in two innings.
"I think what he did today was what we were hoping he would do, and that's he went after hitters and threw the ball in the strike zone," Collins said.
Collins said Perez was in no danger of being released with a poor outing Thursday, but the southpaw likely would have been reassigned to the bullpen competition if he bombed. Perez next should start a split-squad game either on Tuesday or next Thursday.
"If he would have had a tough day, I probably would have thought about the situation which we talked about when we came in here, and that is that situational lefty, because he does get left-handed hitters out," Collins said, alluding to Perez having retired all three left-handed batters he has faced in the Grapefruit League. "But he did what we asked him to do today and we're going to run him out there again [as a starter]."
Collins said the rotation competition -- in which
Chris Young
and Capuano appear in solid shape to emerge as the victors -- should be narrowed by late next week.
The manager had decided during Wednesday's game in Jupiter to make a late adjustment to his pitching order to allow Perez to start Thursday instead of Capuano. Collins reasoned that since Perez is accustomed to starting, he would have the best chance of succeeding if he pitched the first inning and could warm up like he's familiar. Perez did not know he would start until he arrived at the clubhouse Thursday morning.
"Major league pitchers are creatures of habit," Collins said. "And when you're a starting pitcher and you have a routine that you get ready for, perhaps it would have been easier for him to start the game. So that's why I asked
Danny
[
Warthen
] to switch it around and let him start this game, because obviously it was an important start for him."
Regardless, it's hard to foresee Perez not next getting reassigned to that lefty specialist competition, where Collins previously has declared
Tim Byrdak
on firm footing.
Frankly, it's doubtful Perez, operating at 85 mph with his fastball, really can hold down such a role either, meaning he's ultimately likely to get released.
"Is it going to be hard for him? Probably," Collins said about a lefty specialist role with mid-80s velocity. "He's going to have to move the ball around the strike zone. When he gets 3-2, sometimes he might have to pitch a little 'backwards.'"
That means, for example, throwing breaking balls or changeups in obvious fastball counts.
Perez originally came to the Mets from Pittsburgh with sagging velocity, and the Mets revised his mechanics, which allowed him to ramp up his fastball speed. Are there any mechanical adjustments now that could add to Perez's velocity, or is it simply whatever his arm strength allows will account for any increase?
"I don't really have an answer for that," Warthen said.
• Warthen confirmed K-Rod will get more action this spring training than the closer has preferred to get in the past. That's because Rodriguez has been relatively idle since August.
"He generally goes nine to 11 innings in a spring training," Warthen said. "We want to see that he gets somewhere in the 14, 15, even 16 innings."
• Bonser and Capuano required only 10 pitches combined for two scoreless innings.
"He's just been pounding the bottom of the zone, with good movement on his two-seamer," Warthen said about Bonser, who was the more efficient of the two, requiring only four pitches for a 1-2-3 frame.
Capuano elevated a pitch to the first batter he faced,
Allen Craig
, who smoked a shot over
Lucas Duda
in left field. But the ball was hit so hard, it bounced off the wall back to Duda, who threw out Craig trying to stretch the hit into a double.
"He keeps the ball down, sinks, changes speeds -- all the stuff that I've heard he does," Collins said about Capuano. "That's the kind of pitcher he is. Today he was right down in the zone all the time. He's going to get some groundballs."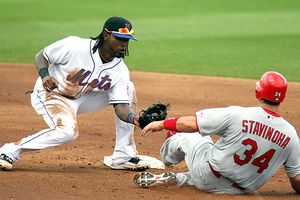 Marc Serota/Getty Images
Jose Reyes applies a tag to catch Nick Stavinoha of the Cardinals attempting to steal second base.

•
Jose Reyes
was at it again in the first inning Thursday. For the second straight start, Reyes reached base in the first inning and scored on a sacrifice fly by
David Wright
. The duo had done the same thing two days earlier against the Nationals in Viera.
This time, Reyes' speed forced a rushed, high throw by Cards third baseman
Matt Carpenter
, who was charged with an error. On an ensuing pitchout, catcher
Gerald Laird
could not hold onto
Jaime Garcia's
pitch, and Reyes advanced to second base when the ball squirted away. He moved to third base on
Willie Harris'
groundout to second, setting up the sacrifice fly by Wright.
"The other day David was mad in Viera because his fly ball wasn't very deep, and this guy still chews up the ground and gets an RBI for you," Collins said about Reyes. "Man, he's going to score a lot of runs. He's fun to watch. There's no question."
Said Wright: "Obviously you can't do that unless Jose gets on base. I think both times, actually, it was Willie Harris getting him over for me. That's the kind of baseball we have to play, especially at Citi Field. So far, so good."
• Isringhausen pitched a scoreless inning despite five of 13 pitches being strikes. He issued a walk and got three flyouts.
Before the outing, the former Cardinals closer Isringhausen told
Derrick Goold
of the St. Louis Post-Dispatch he would not go to the minors if he didn't make the Mets.
"I won't go. I'll go home," Isringhausen told Goold. "If I don't make it, then there's a reason I didn't make it and that will be good enough reason for me to go home."
Read Goold's full feature with Izzy
here
.
• Collins said he wants to have the second-base competition narrowed once the Mets return from a team off-day March 14.
Daniel Murphy
started at the position Thursday and went 1-for-3 with an RBI.
Brad Emaus
replaced him and walked in his lone plate appearance.
"Murph's as frustrated as anybody," Collins said. "He came to me today and said, 'Every time I play second base, I haven't got a double play yet. Everybody else gets a chance to turn a double play. I haven't.' I said, 'Well, you will.' Because everybody knows that's going to be the test for Dan. I'll tell you one thing: he's moving very good, for me. I watched him today. A lot of times today I just watched his footwork. When the ball's hit, I kept my eye on him a little bit to see how he reacted. He's moving good. His leg's not a question."
Justin Turner
, who has minor league options remaining and therefore is at a decided disadvantage, is scheduled to start at second base on Friday in Jupiter against the Marlins.
Luis Castillo
is expected to DH.
"It's one of my biggest decisions every day -- how to get those guys in there," Collins said. "… After that day off, we've got to have this narrowed down. We don't have time to keep running a guy out there every three days, or getting him one at-bat, because we split the game up."
• Friday's scheduled pitchers include
Chris Young
,
Pat Misch
,
D.J. Carrasco
,
Manny Acosta
and
Manny Alvarez
.
Acosta's velocity sat at 88 mph in his last appearance, leading one scout to wonder aloud if the reliever is hurt. However, Warthen said Acosta told him that he did not do much throwing in his native Panama during the offseason, and that partially accounts for the lower-than-expected velocity. Another factor: Acosta is working on his control. Warthen predicted the velocity would creep up Friday.
Acosta is out of options, so he must be exposed to waivers if he does not make the major league team.
• Scouts assigned to the Mets are not predicting much from the ballclub this season. Four of four surveyed picked the Nationals to finish ahead of the Mets.