Nickeas back up as backup
March, 28, 2011
3/28/11
9:11
AM ET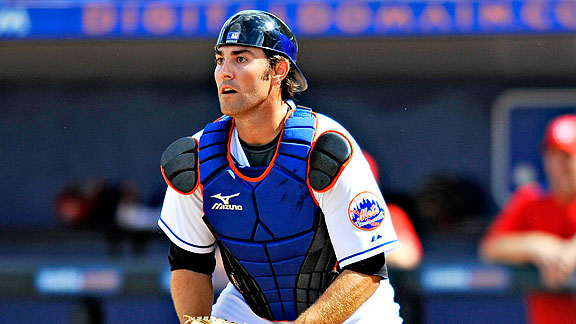 Ed Wolfstein/Icon SMI
Mike Nickeas, who made his major league debut in September, is due to break camp with the Mets as Josh Thole's backup catcher.
Mike Nickeas
was hitting in the cages on the back side of the Mets' spring-training complex near the end of last year's spring training when
Terry Collins
, then the organization's minor league field coordinator, summoned him to a meeting that Nickeas figured may put an end to his playing career.
"There were a lot of guys around. I wasn't sure where I was going to fit," Nickeas said about the volume of catchers in minor league camp. "I was kind of thinking, 'Hey, this might be it.' It was about four days before camp broke, and Terry called me in through the coaches' office. I'm like, 'That's not a good sign.'
"I go through the coaches' office and nobody is making eye contact. I get in there and [farm director]
Adam
[
Wogan
] is in there, 'Nate' is in there --
Bobby Natal
, the catching coordinator -- and TC."
Soon, Nickeas could exhale.
"Mike, we just want to let you know you've made a team," Collins told him. "We want you around. We're not quite sure what we're going to do with you yet. We want you to go on the exhibition with the big league club and go help them out. And then we'll tell you where you're going to go after that."
Nickeas ultimately was put on what is referred to as the "phantom disabled list" with Triple-A Buffalo -- supposedly unable to play because of injury, but actually healthy and the victim of a numbers crunch and in limbo. Soon, room opened up.
"A guy got hurt down in Binghamton. Another guy got hurt down in Binghamton," Nickeas said. "And then it just kind of worked out from there."
It worked out so well that Nickeas, a career .231 minor league hitter entering last season, ended up hitting .283 with five homers and 33 RBIs while producing a .403 on-base percentage in 318 plate appearances with the Double-A B-Mets.
Nickeas parlayed that into a September call-up to the Mets and his major league debut.
Now, the 28-year-old Nickeas is poised to break camp with the Mets as the backup catcher, at least for the first eight games of the season, until
Ronny Paulino
is eligible to be activated after completing a 50-game suspension for a performance-enhancing substance that carried over from last season.
"I still haven't heard anything, but if it is that way, it would be incredible for me, especially because of the things I've gone through in the past," said Nickeas, a fifth-round pick of the Texas Rangers and fundamentally sound defensive catcher, who came to the Mets in an Aug. 30, 2006 trade for outfielder
Victor Diaz
.
Nickeas' major league debut came Sept. 4 at Wrigley Field. He had to wait 25 more days for his first major league hit, which came off Milwaukee's
Yovani Gallardo
at Citi Field, on a groundball single to center.
"I think that's the highlight for everybody," Nickeas said. "That's something I'll have forever, and nobody can take that from me. So that's a great feeling. Even though I was a little older getting up there, I have a lot to learn. I learned a lot last September. The guys were great with me. Watching
Josh
[
Thole
] and
Henry
[
Blanco
], it was a cool experience. Being called up in September was an absolute life-changing experience."
Nickeas comes from an athletic family. His father
Mark
played professional soccer in England and in the North American Soccer League as well as for the indoor Dallas Sidekicks, and is now a serious amateur golfer, who played in the Senior U.S. Open last year at the Sahalee Country Club in Washington state.
Nickeas was born in Vancouver while his father played in the NASL there. He has a Canadian birth certificate, but has dual British-U.S. citizenship, probably disqualifying him from being president.
"I don't think that's in the cards anyway," Nickeas said.