Mets send Kunz to Pads
March, 29, 2011
3/29/11
1:40
PM ET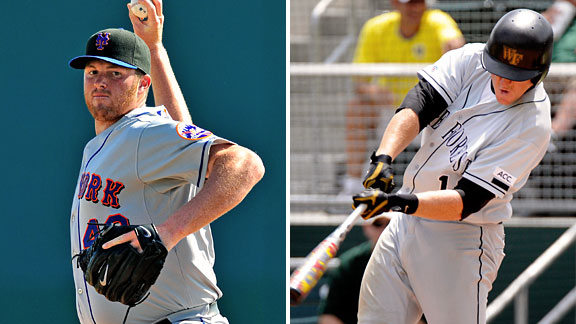 Icon SMI
Eddie Kunz (left) was dealt to the San Diego Padres on Tuesday, reportedly for former first-round pick Allan Dykstra (right).
The Mets have acquired minor league first baseman
Allan Dykstra
in a trade with the Padres for right-handed reliever
Eddie Kunz
, the Mets confirmed.
Kunz, 24, was the Mets' top pick in the 2007 draft (42nd overall) out of Oregon State. The Mets took closers with their top two picks that year, also selecting
Brant Rustich
out of UCLA.
Kunz appeared in four games in '08 with the Mets, but has not reappeared since. The right-hander was 7-8 with a 5.34 ERA in 42 appearances (12 starts) with Double-A Binghamton last season.
Dykstra, 23, hit .241 with 16 homers and 70 RBIs in 386 at-bats last season in Class A, with a .372 on-base percentage. He was a first-round pick (23rd overall) in 2008 out of Wake Forest by
Sandy Alderson's
Padres. He is not related to ex-Met
Lenny Dykstra
-- that's
Cutter
, who was just traded to the Nationals.
Kevin Gemmell
of The San Diego Union-Tribune wrote about Dykstra last summer:
The hope was that the physically gifted, 6-foot-5, 215-pound first baseman would be further along in his career two years out of Wake Forest. Not that anyone expected him to supplant Adrian Gonzalez overnight. But one would think that a first-round draft pick -- especially a power hitter with college experience -- would have climbed higher than Advanced Single-A Lake Elsinore and the California League by this point. ... "I've had a rough 18 months," Dykstra said. ... Dykstra attributes his struggles at the plate to overanalyzing his swing. ... Because of his draft status and the million-dollar-plus contract he accepted in 2008, he's going to get his share of mulligans. The fact that he's just the third San Diego native selected in the first round (23rd overall) by the Padres (Matt Bush 2004, Bob Geren 1979) might even win him some sentimental favor. But he's also a product of the Grady Fuson regime and might not carry as much regard with the current front office. In that draft, the Padres also coveted Reese Havens, an infielder who was taken one spot before Dykstra by the Mets. "You never want to say it's too late for a guy," Padres Vice President and Assistant General Manager Jason McLeod said. "But we certainly all know this is a performance-based business. And when you consider the position and the numbers that are expected out of that position, I'm sure he knows he's got to pick it up a notch."